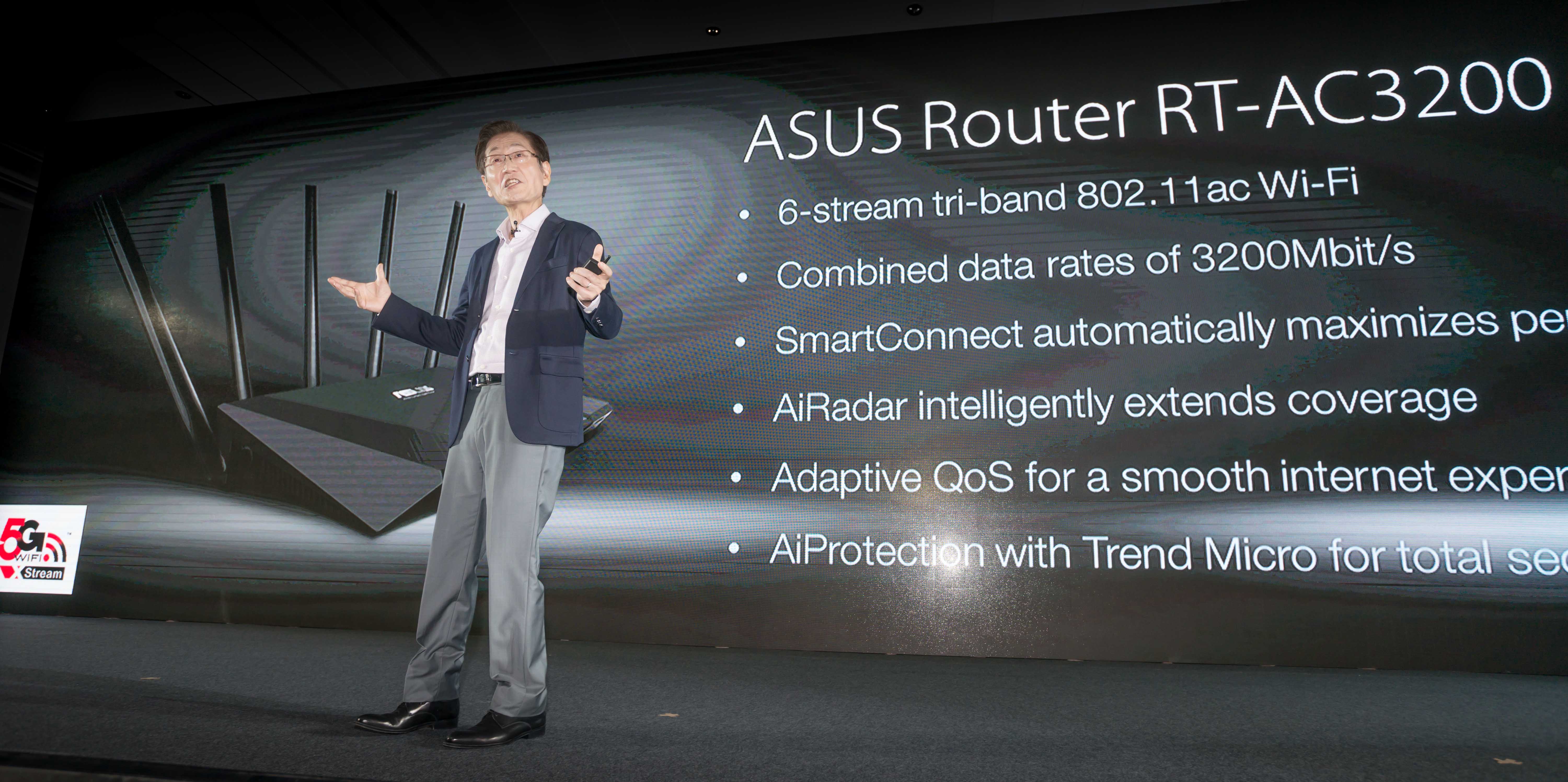 PCDIY is excited to give you some information on a new ultra high performance 802.11AC router the RT-AC3200. This is a game changing router that will redefine the experience for networking enthusiasts who have embraced 802.11AC enabled devices and are looking for class leading features and functionality ASUS routers have become known for. If you are looking for a potential one router to rule them all candidate and not looking to compromise on speed, range, throughout, connectivity or features or functionality you are going to what to find out more about the RT-AC3200.
Quick details and usage environments
The RT-AC3200 router is a dual band, 6 antenna router capable of handling multiple devices while considerably reducing, minimizing or eliminating slow down due to mixed  client usage. Its six antennas are linked to two 3×3 802.11ac radios and one 3×3 802.11n radio. This design affords the router very wide coverage and enables ultra high performance & throughput. In addition like all ASUS router it feature the award winning ASUSWRT firmware offering rich functionality and features some of these include ASUS SmartSync, AiCloud, network monitoring, ASUS Media Station, QoS, VPN and much more. It's designed for SMB & SOHO environments as well as for networking enthusiasts and modern digitally connected homes. All these environments share in usage of having to support many different types of devices and ensuring range and throughput for those devices. In addition the need to have flexibility for robust connectivity, solid attached storage performance and robust management and monitoring options is extremely high. All of these are ensured through class leading firmware development as well as complemented by advanced hardware designs.
One of the key benefits of this next generation 802.11AC router is its ability to ensure ultra high throughput to multiple 802.11AC devices. For networking installations utilizing the fastest wireless standard and digitally connected homes with the latest devices this ensure the best possible performance. AC3200 means 3200Mbps, which is the maximum concurrent bandwidth the router can provide to multiple clients. This is split between its 3 Wi-Fi radios, offering a maximum performance of 1300Mbps to multiple .ac devices, rather than always being limited to the slowest device speed on the network.
So what about the previously announced RT-87U? ACxxxx numbers represent the maximum throughput the networking product can handle. That doesn't necessarily mean per-device, as the RT-AC3200 talks to multiple .ac and .n devices at full speed, rather than having to slow down to the slowest device on the network. Only the RT-AC87U provides 33% more area coverage and more per-client bandwidth (1700 versus 1300), however it only has one .ac band versus the RT-3200's two.
Through our easy to use but powerful ASUS WRT firmware interface users will be able to optimally assign and configure their network and connected devices for the best performance. For users who have a lot wireless devices with different wireless standards at home. Many a/b/g/n clients will slow down the wireless speed to the lowest common setting. By owning the RT-AC3200, users will separate .ac clients and a/b/g/n clients in different 5 GHz bands: assigning ac clients to 5 GHz high band and a/b/g/n clients to 5 GHz low band.
Initial specifications
6×6 Gigabit Router: 6 streams of 802.11ac implementation
3.2 Gbps router and internet gateway platform
Tri-band: 160MHz usage with two 3×3 802.11ac and one 3×3 802.11n (maximum of 1300MBps per device, but multiple devices can run at full speed)
Double performance of previous models
ASUS SmartSync with Dropbox, WebStorage, FTP servers
ASUS AiCloud app with network monitoring
ASUS Media Station
Memory
256 MB DDR3 RAM (large 128 MB Firmware Flash)
Antenna
6 x External dual-band detachable Antenna
Operating Frequency
2.4 GHz and 5 Ghz (concurrent)
Data Rate
802.11b: up to 11Mbps
802.11a/g: up to 54Mbps
802.11n : up to 450Mbps
TurboQAM (2.4GHz): up to 600Mbps
802.11ac (5GHz):  up to 2.6Gbps between both bands
Interface Type
1 x RJ45 WAN
4 x Gigabit LAN Ports
1 x USB 3.0 Port, 1 x USB2.0 Port
Button
Power on/off Button
Reset Button: Push for 5 seconds to restore factory setting
WPS Button: Push for 5 seconds to enter WPS mode
FAQ
When will this be available?
We are targeting a Q3 to Q4 release. Stay tuned for more information. This product is currently on product design and development.
What will it cost?
MSRP pricing will be release closer to product availability.
What other functionality does it offer?
ASUS WRT is continually being refined and improved extending the overall features and functionality offered on the router. Some of these functions are noted below.
Continued commitment to ASUSWRT
Dedicated tablet and smartphone interface
Intelligent QoS auto-optimization, with greatly improved reporting/stats and network map UI
AiCloud with network view, device view, file view and network monitoring
SmartSync external USB HDD with Dropbox, WebStorage and FTP servers
ASUS Media Station share files across your network
Router to router sync for extended networks
Additional security: event notification, status monitor and secure remote control
What type of client antenna configuration is recommend for use with the RT-AC3200?
Currently there are limited add in adapters offering 3×3 802.11AC. ASUS does produce the only 3×3 PCIe solution with the PCE-AC68. This ultra high performance 802.11AC PCIe wireless adapter is an optimal product to be paired with the AC3200 for ensuring the best throughput and range.
Is this a 802.11AC wave 2 router?
No this is not a wave 2 router. This is a router based on a revised broadcom platform designed to maximize current 802.11AC performance while focusing on heavy 802.11AC client environments.
Does this router support MU-MIMO?
No this router does not support MU-MIMO. For those interested in support of MU-MIMO please consider our RT-87U.
Stay tuned for more information. If you have any questions or comments feel free to send them to PCDIY@ASUS.COM or post in the comments section. As more information becomes available I will update this post.