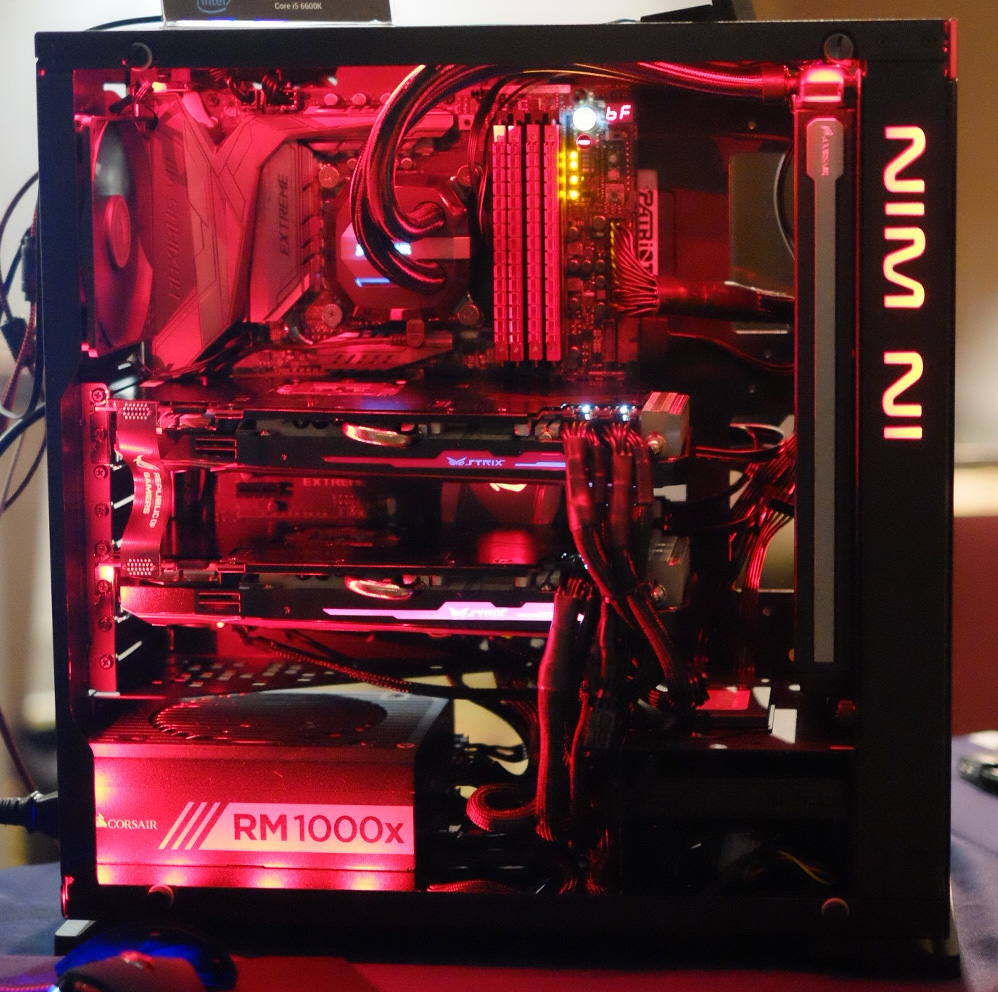 PDXLAN November went down over the weekend, and ASUS was there with a sweet custom gaming machine built around the ROG Maximus VIII Extreme motherboard and dual Strix GTX 980 Ti graphics cards.  The system spent the weekend running Grand Theft Auto V and The Witcher 3 on the upcoming ROG Swift PG27AQ gaming monitor.  If you didn't make it to Portland, here's what you missed: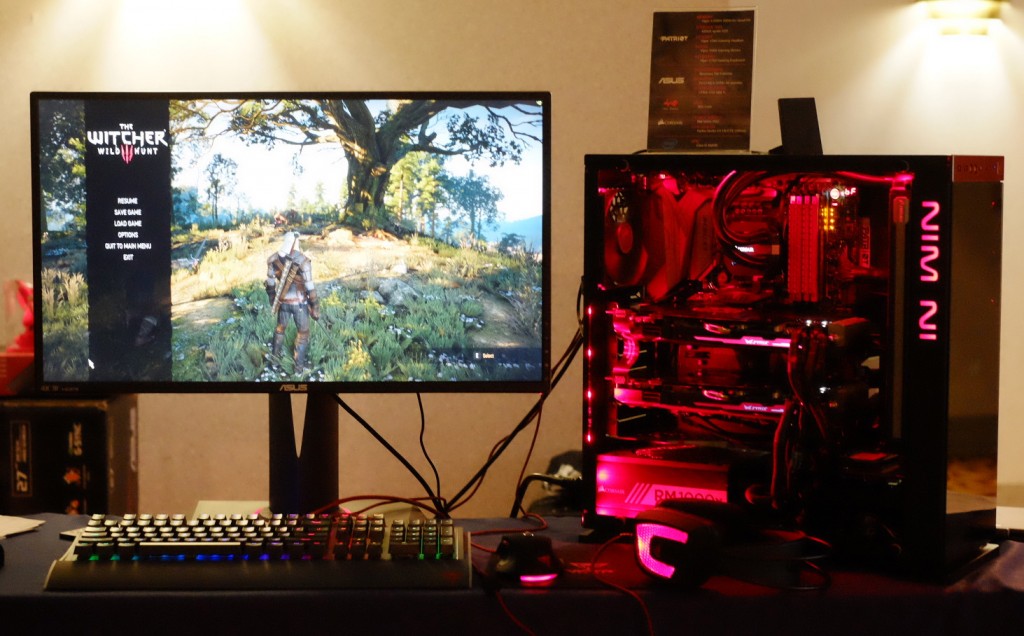 The Maximus VIII Extreme hosted an Intel Core i5-6600K processor backed by 16GB of Patriot Viper DDR4 memory.  Patriot also kicked in four Ignite 480GB SSDs, bringing the total storage capacity up to nearly two terabytes.  Most of the SSDs were mounted on the back of the motherboard tray, but they weren't hidden away.  The tempered glass panels on In Win's 805 mid-tower provide a clear view of both sides of the system.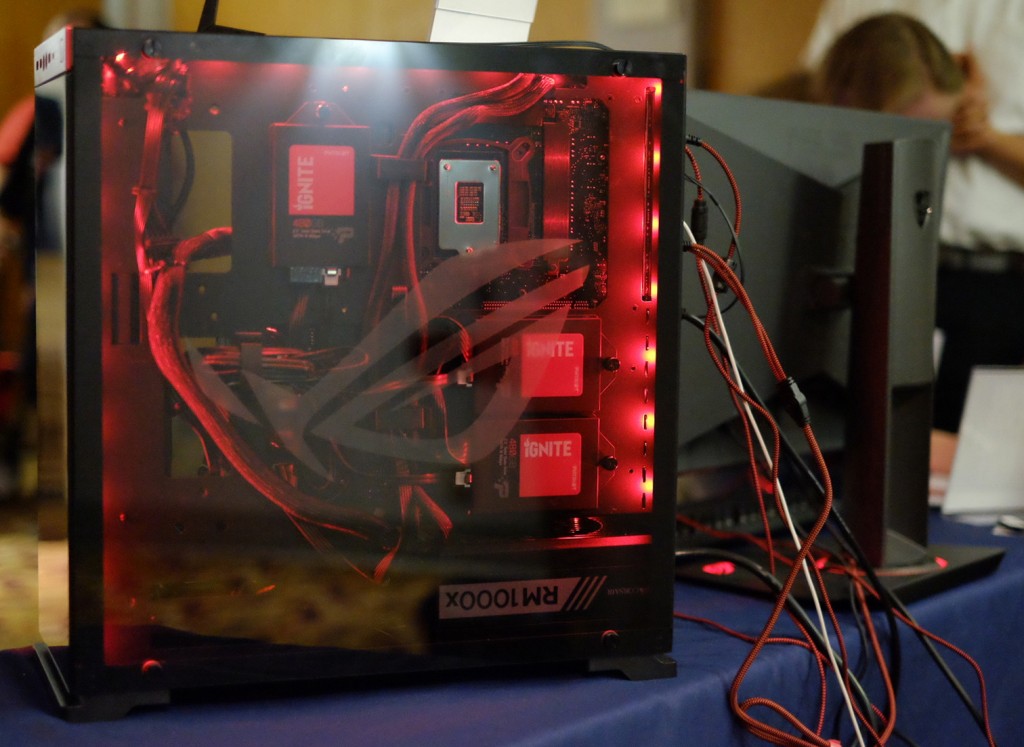 Not content with the stock glass, we had the ROG logo laser-etched into the side panels.  The subtle graphic adds a hint of flair without obscuring the view of the hardware inside.  We also lit up the internals by adding RGB light strips controlled by an IR remote.
The Maximums VIII Extreme offers its own onboard lighting, of course, and so do the Strix GTX 980 Tis.  This SLI tag team was connected to the ROG Swift PG27AQ, which brings G-Sync technology to a 4K IPS panel.  Running games at 3840×2160 isn't easy, but when this much horsepower is combined with a variable refresh rate that smooths out stutters and eliminates tearing, the result is an incredibly immersive and engaging gaming experience.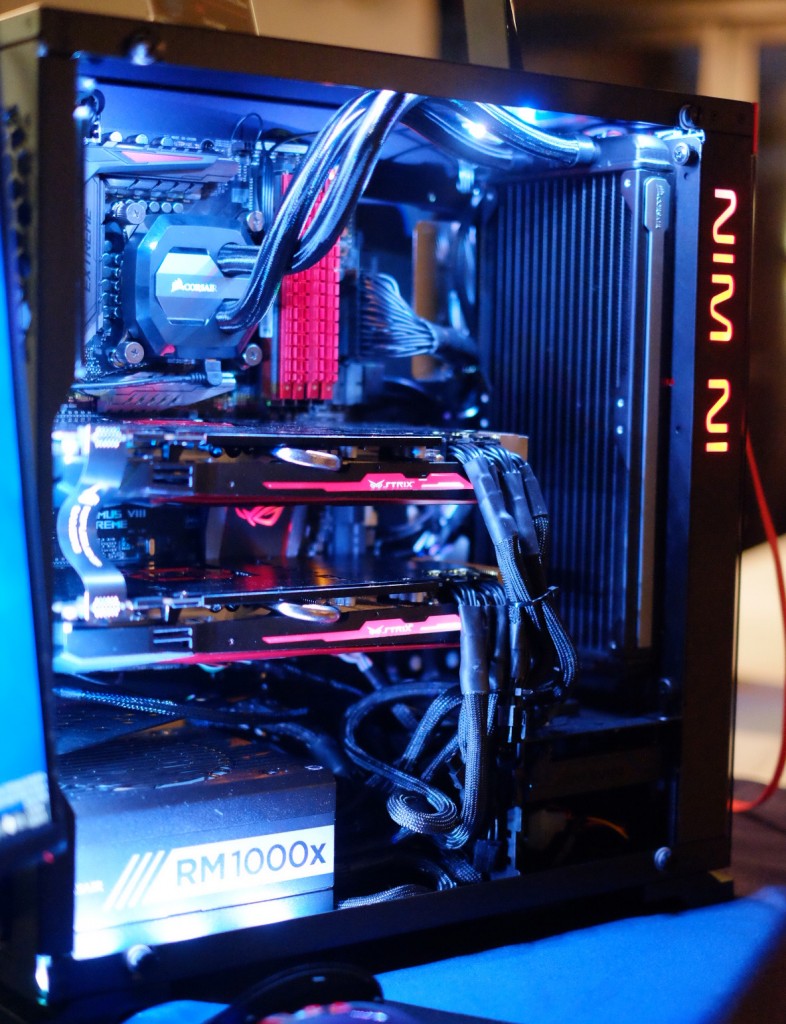 The build was powered by a beefy Corsair RM1000X PSU, while a Hydro Series H110i GTX chilled the CPU.  Both fit nicely into the chassis, which has ample room for high-end hardware despite its relatively compact, LAN-friendly proportions.
Over 450 people came to PDXLAN November, and they brought more than just their gaming rigs: attendees donated an amazing 30,378 pounds of turkey to local charities.  Thanks to everyone who showed up—and to the organizers for putting on a great event.