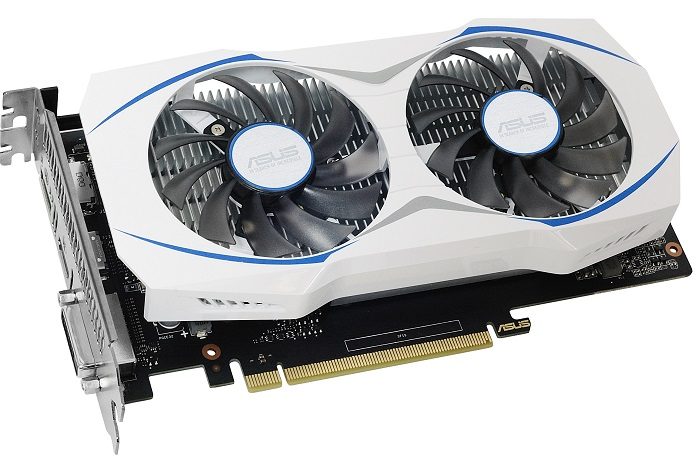 The staggered roll-out of NVIDIA's Pascal graphics architecture continues. This time, the GeForce 10 Series' essence has been distilled for the mainstream audience in two new GPUs. The GP107-400 chip is the stronger of the two, and it's our focus today under the guise of the ASUS Dual GTX 1050 Ti graphics card. With custom cooling and enhanced power delivery, the Dual is dressed to take full advantage of the GPU's abilities.
Armed with 768 CUDA cores clocked up to a Boost frequency of 1392MHz, plus 4GB of GDDR5 on a 128-bit interface running at 7008MHz, the GP107-400 offers both higher clocks and more memory than its predecessor. Internal testing shows that the GTX 1050 Ti is on par with the GTX 960 and capable of delivering smooth frame rates at Full HD (1920×1080) resolution in all games. Titles with less demanding graphics, such as Counter-Strike and Rocket League, should see performance pushing the boundaries of high-refresh-rate 1080p monitors like the latest ROG Swift PG248Q.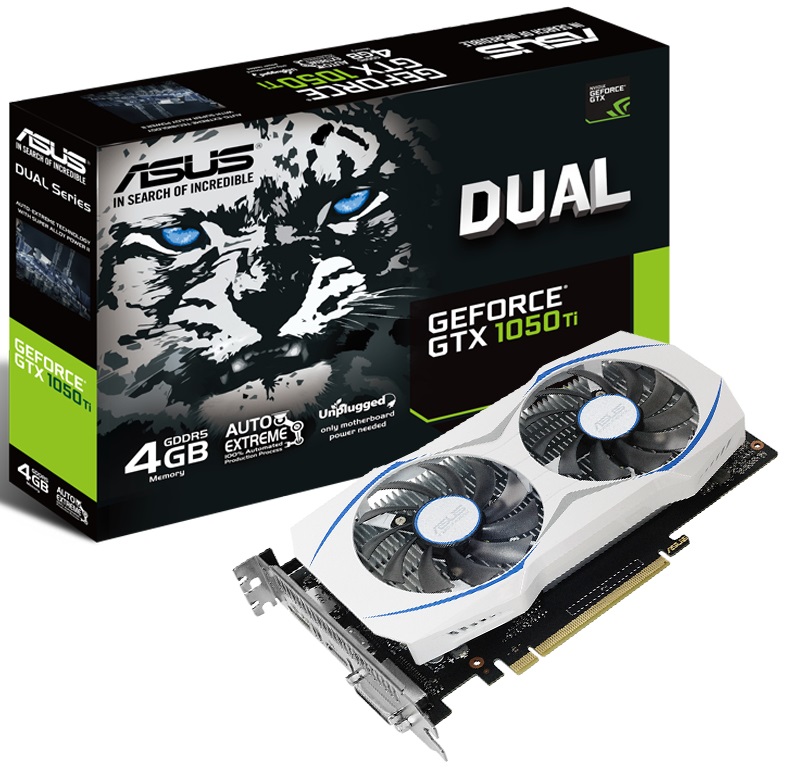 No auxiliary power connector
The GTX 960 is an efficient GPU, no doubt, but the 1050 Ti represents a landmark. At stock clocks, its power consumption is so low that the entire card stays within the 75W limit for PCI Express expansion slots. All power to the Dual is delivered by the slot, with no need for an auxiliary connection to the PSU. When paired with the GPU's graphical prowess, this power efficiency is compelling in multiple ways. The most obvious is being able to install the Dual GTX 1050 Ti in older and off-the-shelf PCs that lack the PSU wattage and cabling to power older cards with equivalent performance.
Lower power consumption also alludes to lower operating temperatures and noise levels, making the Dual a natural fit for affordable small-form-factor builds and gaming systems that reside in shared spaces. Acoustics always matter, but they matter a lot more when other members of the household share the same room as you. It isn't practical for everyone to use noise-canceling headphones just to eliminate the sound of an inefficiently cooled PC. Lower noise levels also benefit home-theater PCs—you don't want the sound of whirring fans to drown out the quiet moments of a movie.
To take advantage of the 1050 Ti's potential, the Dual features twin fans and a beefy heatsink that deliver 16% lower temperatures than the reference design. While function takes initial precedence over form, anything that's on display in your living space should also look attractive. That's why the shroud is color-coordinated with our Signature-series motherboards; you can easily put together an aesthetically cohesive system with ASUS hardware.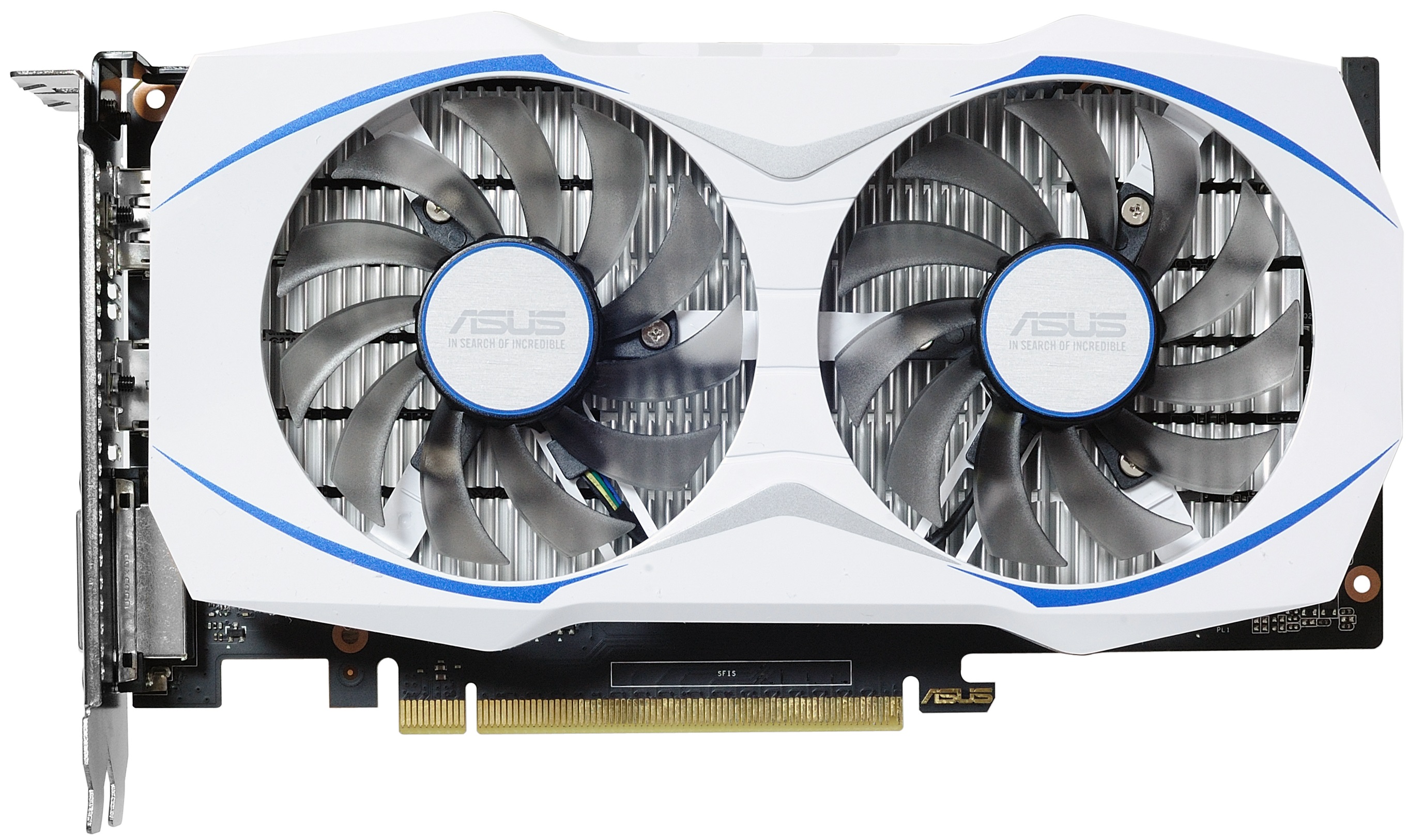 Graphics coolers aren't the only source of sound. The rapidly changing demands that modern GPUs place on voltage regulation circuits can result in annoying buzzing when the associated components pass current. As there are multiple sources of electronic noise within a complete PC, it's impossible to completely eliminate this piezo-electric whine—no matter what marketing departments claim. We can, however, employ measures to help tackle some of the antagonists. A primary source of objectionable sound comes from the components used to store energy for the GPU. The Dual GTX 1050 Ti features mechanically-damped Super Alloy II power chokes that substantially reduce audible resonance, helping to strike one of the main perpetrators off the list.
The inconsistency of conventional graphics card manufacturing can also lead to sources of unwelcome resonance and, in some cases, even premature component failure. That's why our graphics cards are built with ASUS Auto-Extreme Technology, a fully-automated manufacturing process that precisely places, bonds, and solders components. Auto-Extreme's tight production tolerances ensure optimal electrical performance and improved longevity.
Dual GTX 1050 Ti
Base clock
1290MHz
Boost clock
1392MHz
Memory
4GB GDDR5
Memory clock
7008MHz
HDMI 2.0
1
DisplayPort 1.4
1
DVI-D
1
Availability
10/25/2016
MSRP
$159.99
And there's more
The Dual GTX 1050 Ti comes with a one-year XSplit Gamecaster premium license worth $99 online. Right out of the box, it's ready to broadcast your epic skills—or newbie fails—to the rest of the world. XSplit and GPU Tweak controls are both accessible through a convenient overlay that also lets you keep an eye on graphics frequencies, temperatures, and VRM usage.
There are more GTX 1050 cards on the way than just the Dual; the most notable is the Strix GTX 1050 Ti. While we can't share full specs and pricing with you yet, we can share a picture that gives some of the game away.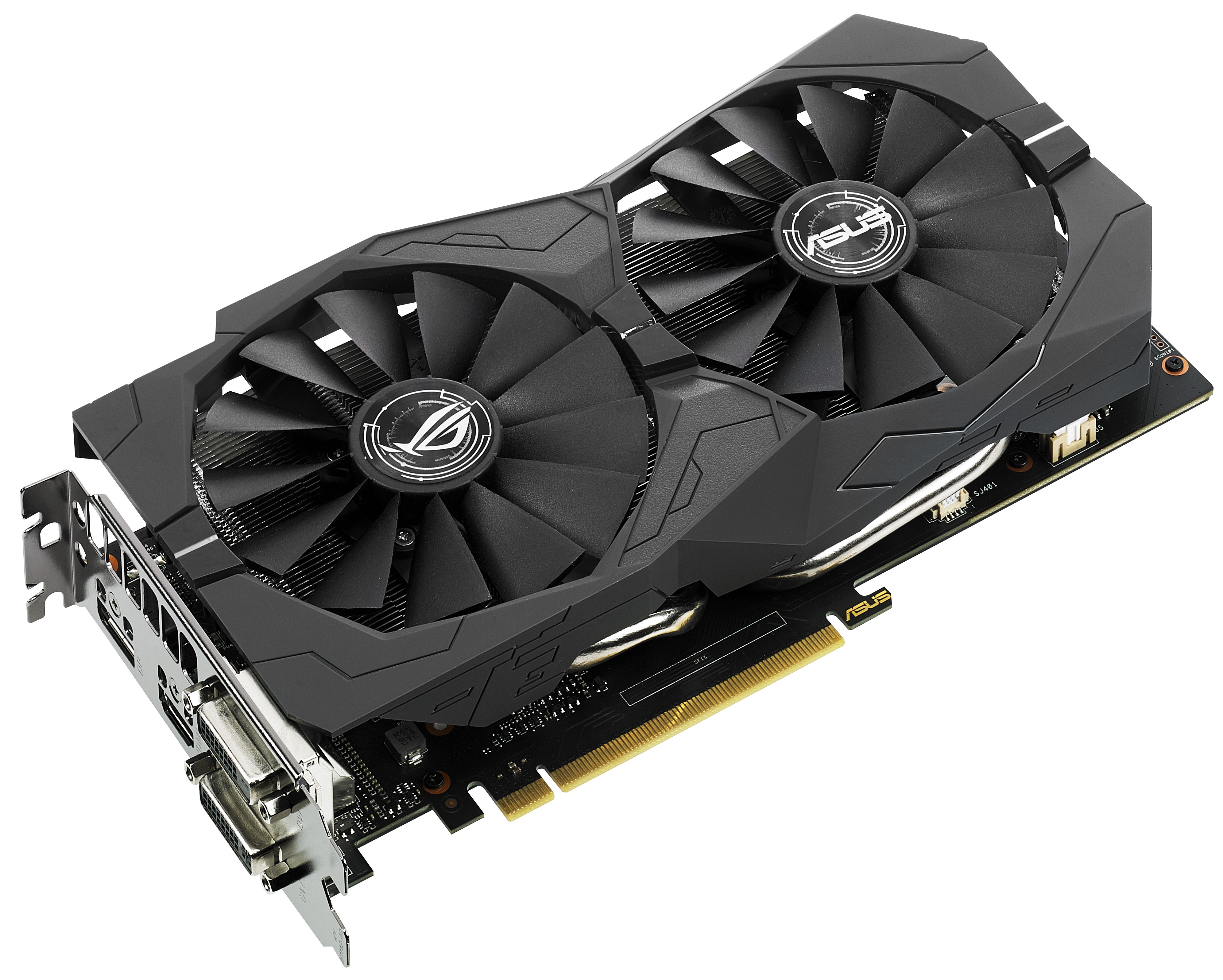 You can expect the card to have core Strix features like Aura RGB lighting, DirectCU cooling, and a 0db mode that turns off the fans under lighter loads. The elusive details are obviously the clock speeds, but rest assured the card will be overclocked out-of-the-box and provide some headroom to push further.
Pricing and availability
The Dual GTX 1050 Ti is available now for $159.99. Look for it at the following retailers, and stay tuned for more information on its Strix sibling.