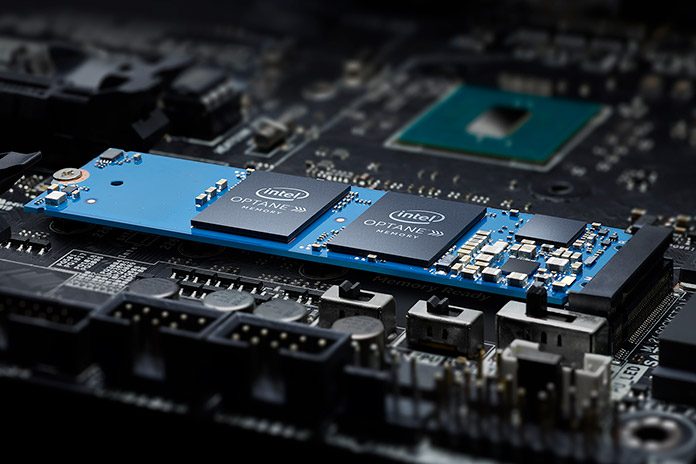 Intel's Optane technology brings a new class of non-volatile memory to PCs based on Kaby Lake processors and 200-series chipsets. We've been working with the company to ensure that its new drives work with Optane-ready ASUS and ROG motherboards, and we're happy to announce support across a broad range of models. All that's required is a UEFI BIOS update.
The first consumer-oriented Optane drives use the "gumstick" M.2 form factor. They're designed to serve as ultra-fast caches for slower storage devices like mechanical hard drives. Frequently accessed data is cached on the drives to improve boot and load times, yielding improved performance for high-capacity storage.
The table below lists the ASUS and ROG motherboards compatible with Optane—and the UEFI BIOS revisions required for each one. You'll also need a Kaby Lake processor; systems based on older Skylake CPUs aren't supported. The requisite firmware revisions are available for download on the individual product pages for each board. You can find more information on our Optane ready motherboards, links to UEFI BIOS downloads, and instructions on the update procedure on our Optane-ready microsite.
| Chipset | Model | UEFI BIOS version |
| --- | --- | --- |
| Z270 | ROG MAXIMUS IX EXTREME | 0906 |
| Z270 | ROG MAXIMUS IX FORMULA | 0906 |
| Z270 | ROG MAXIMUS IX CODE | 0906 |
| Z270 | ROG MAXIMUS IX APEX | 0906 |
| Z270 | ROG MAXIMUS IX HERO | 0906 |
| Z270 | TUF Z270 MARK 1 | 0906 |
| Z270 | TUF Z270 MARK 2 | 0906 |
| Z270 | PRIME Z270-A | 0906 |
| Z270 | PRIME Z270-AR | 0906 |
| Z270 | PRIME Z270-K | 0610 |
| Z270 | PRIME Z270-P | 0608 |
| Z270 | Z270-DRAGON | 0608 |
| Z270 | PRIME Z270M-PLUS | 0607 |
| Z270 | ROG STRIX Z270E GAMING | 0906 |
| Z270 | ROG STRIX Z270F GAMING | 0906 |
| Z270 | ROG STRIX Z270H GAMING | 0906 |
| Z270 | ROG STRIX Z270G GAMING | 0906 |
| Z270 | ROG STRIX Z270I GAMING | 0607 |
| H270 | ROG STRIX H270F GAMING | 0607 |
| H270 | PRIME H270-PRO | 0607 |
| H270 | PRIME H270-PLUS | 0609 |
| H270 | PRIME H270M-PLUS | 0605 |
| Q270 | PRIME Q270M-C | 0609 |
| Q270 | Q270M-CM-A | 0609 |
| B250 | ROG STRIX B250H GAMING | 0303 |
| B250 | ROG STRIX B250G GAMING | 0403 |
| B250 | ROG STRIX B250F GAMING | 0606 |
| B250 | PRIME B250M-A | 0612 |
| B250 | PRIME B250M-PLUS | 0607 |
| B250 | PRIME B250-PLUS | 0608 |
| B250 | PRIME B250-PRO | 0608 |
| B250 | PRIME B250M-C | 0607 |
| B250 | EX-B250M-V5 | 0608 |
| B250 | EX-B250M-V | 0307 |
| B250 | EX-B250-V7 | 0607 |