ROG motherboards
While the Prime and Strix series strike the right balance for the mainstream audience, the five models making up the ROG motherboard stack go all out to cater to true enthusiasts. Starting at the engineering level, more focus is given to PCB trace optimization and firmware to help users extract every ounce of performance the platform has to offer. And as we move through the board stack, we'll find innovative hardware enhancements that target specific user groups such as water cooling aficionados, modders, and extreme overclockers, making for a distinct lineup.
Aesthetics and lighting options are also more refined; all boards feature multiple lighting zones and two 5050 RGB headers.  Unlike the Prime and Strix models, each header can be controlled independently, or synchronized to display a range of colors and effects.
The Hero, Code, Formula, and Extreme also get enhanced audio capabilities, thanks to Supreme FX1220, which utilizes the Realtek 1220 codec, the ESS Sabre DAC, and a dedicated headphone buffer to deliver an audio experience that rivals the best plugin soundcards.
You also get access to the finer ROG user-experience value-adds, such as ROG BIOS flashback and CMOS clear buttons on the rear IO cluster, taking the frustration out of updating firmware or recovering from over-zealous overclocking attempts.  There's more work put into firmware from an overclocking perspective, too; the firmware contains special profiles that are tuned by our in-house experts, helping you to get the most from the latest high-performance memory kits.
Maximus IX Hero
Maximus IX Apex
Maximus IX Code
&
Maximus IX Formula
Maximus IX Extreme
CPU support
Intel® Socket 1151 for 7th/6th Generation Core™ i7/i5/i3/Pentium®/Celeron® Processors
Chipset
Intel Z270
Memory
4 x DDR4 up to 4133+
2 x DDR4 up to 4266+
4 x DDR4 up to 4133+
4 x DDR4 up to 4133+
Onboard VGA outputs
1 x HDMI (1.4b)
1 x DP (1.2)
1 x HDMI (1.4b)
1 x DP (1.2)
1 x HDMI (1.4b)
1 x DP (1.2)
1 x HDMI (1.4b)
1 x DP (1.2)
PCIe 3.0 x16 slots
2 (supporting x16, x8/x8)
2 (supporting x16, x8/x8)
2 (supporting x16, x8/x8)
2 (supporting x16, x8/x8)
PCIe 3.0 X 16 (x4) slots
1
1
1
1
PCIe 3.0 X 4
1
PCIe 3.0 X 1 slots
3
2
3
-
Multi-GPU
2-way SLI/CrossFireX
2-way SLI/CrossFireX
2-way SLI/CrossFireX
2-way SLI/CrossFireX
3-Way AMD CrossFireX
Gigabit Ethernet
1 x Intel
1 x Intel
1 x Intel
1 x Intel
Wireless
-
-
2x2 802.11ac
Wi-Fi
Bluetooth v4.1
2x2 802.11ac
Wi-Fi
Bluetooth v4.1
Storage
2 x M.2
6 x SATA
2 x M.2 on DIMM.2 Ext. Card
4 x SATA

2 x M.2
6 x SATA
2 x M.2
8 x SATA
USB 3.1
2 x Type-C
1 x Type-A
1 x Type C
1 x Type A
2 x Type-C
1 x Type-A
1 x Type C
1 x Type A
Audio
SupremeFX S1220
SupremeFX S1220
SupremeFX S1220
SupremeFX S1220
Aura lighting
Onboard + 2 x strip headers
Onboard + 2 x strip headers
Onboard + 2 x strip headers
Onboard + 2 x strip headers
Audio
SupremeFX S1220
SupremeFX S1220A
SupremeFX S1220
SupremeFX S1220
Form factor
ATX
E-ATX
ATX
EATX
Price
$229
$289
Code = $319
Formula = $389
TBD
ROG Maximus IX Hero: The next level
The Maximus IX Hero offers all of the important ROG trimmings at an attractive $229 price point. Stepping up to ROG, you get some notable upgrades over the Strix, Prime, and TUF series motherboards. Off the bat, audio gets a boost via SupremeFX S1220; with more than enough oomph to drive not only gaming headsets, but also the more serious loads of headphones that are aimed at audio enthusiasts.  RGB lighting is better distributed across the board, spread across multiple independently-controllable zones. And it doesn't take more than a cursory look at the Hero to realize there's an air of aesthetic refinement and togetherness that eludes mainstream alternatives.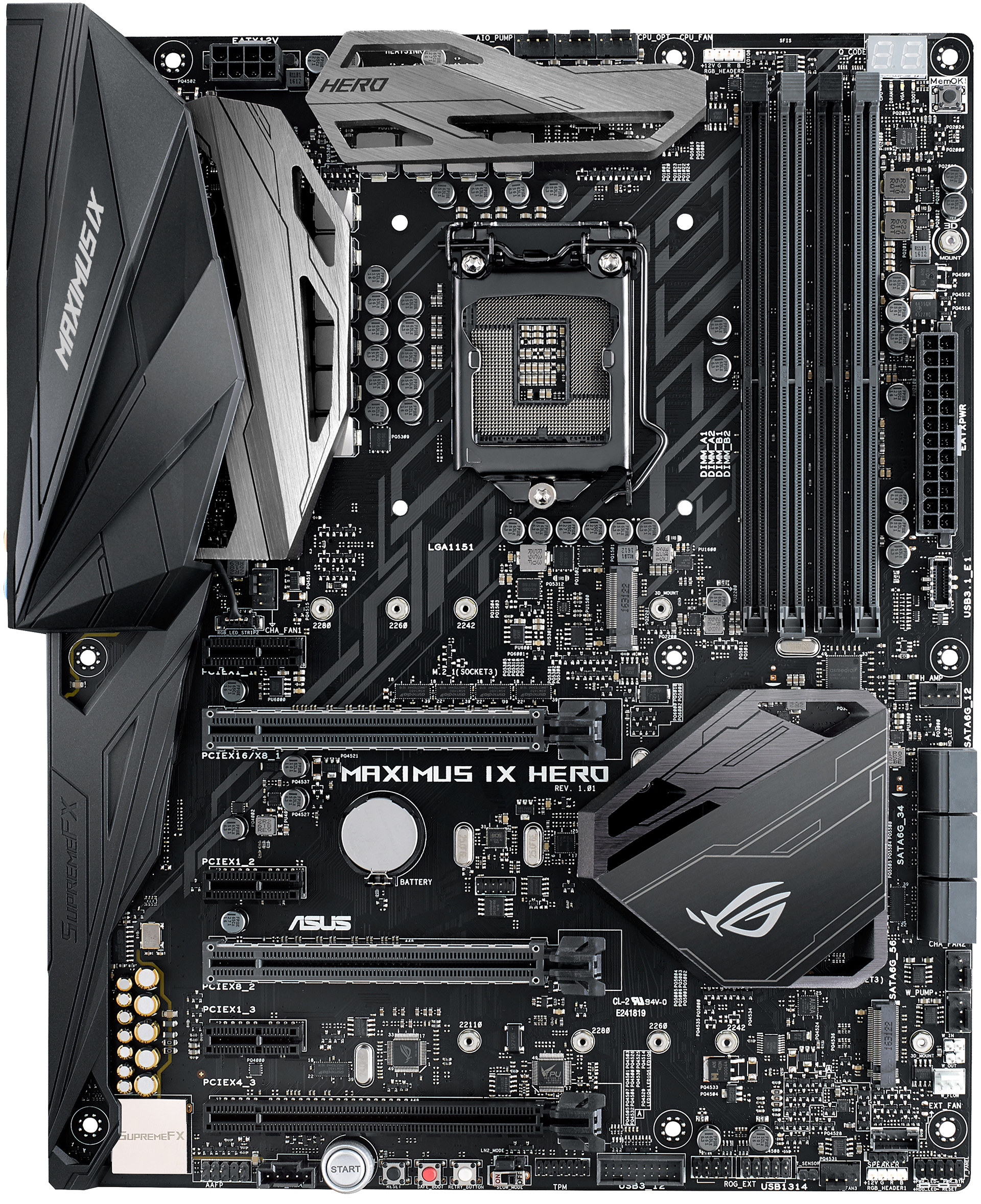 Like the other 4-DIMM-slot ROG motherboards, the Hero hits the DDR4-4133 mark for memory support, surpassing the capabilities of the Prime, Strix, and TUF models by a notable margin.
While the Hero doesn't focus as deeply on niche user groups like some of the other ROG boards, it does inherit a few of their water-cooling features; onboard headers for flow rate meters and temperature probes. These are little touches that sweeten the deal, catering to system builders who want a fully-featured system, without incurring the additional expense of aftermarket fan controllers.
In comparison to the Strix Z270-E, the Hero concedes onboard WiFi, but sheds the legacy shackles of DVI and PS/2 on the rear panel, favoring the addition of four USB 2.0 ports instead. With that, you still get USB 3.0 and USB 3.1 options at the front and back, so there's plenty of scope for expansion. Options that I'm sure will be welcomed by gamers that have more than a few USB peripherals to plug in.
ROG Maximus IX Code: Tailored for high-end builds
Landing at the $319 mark, the Maximus IX Code is aimed at squarely at PC enthusiasts that want the latest features, plus the luxury look and finish that's fitting of a high-end product.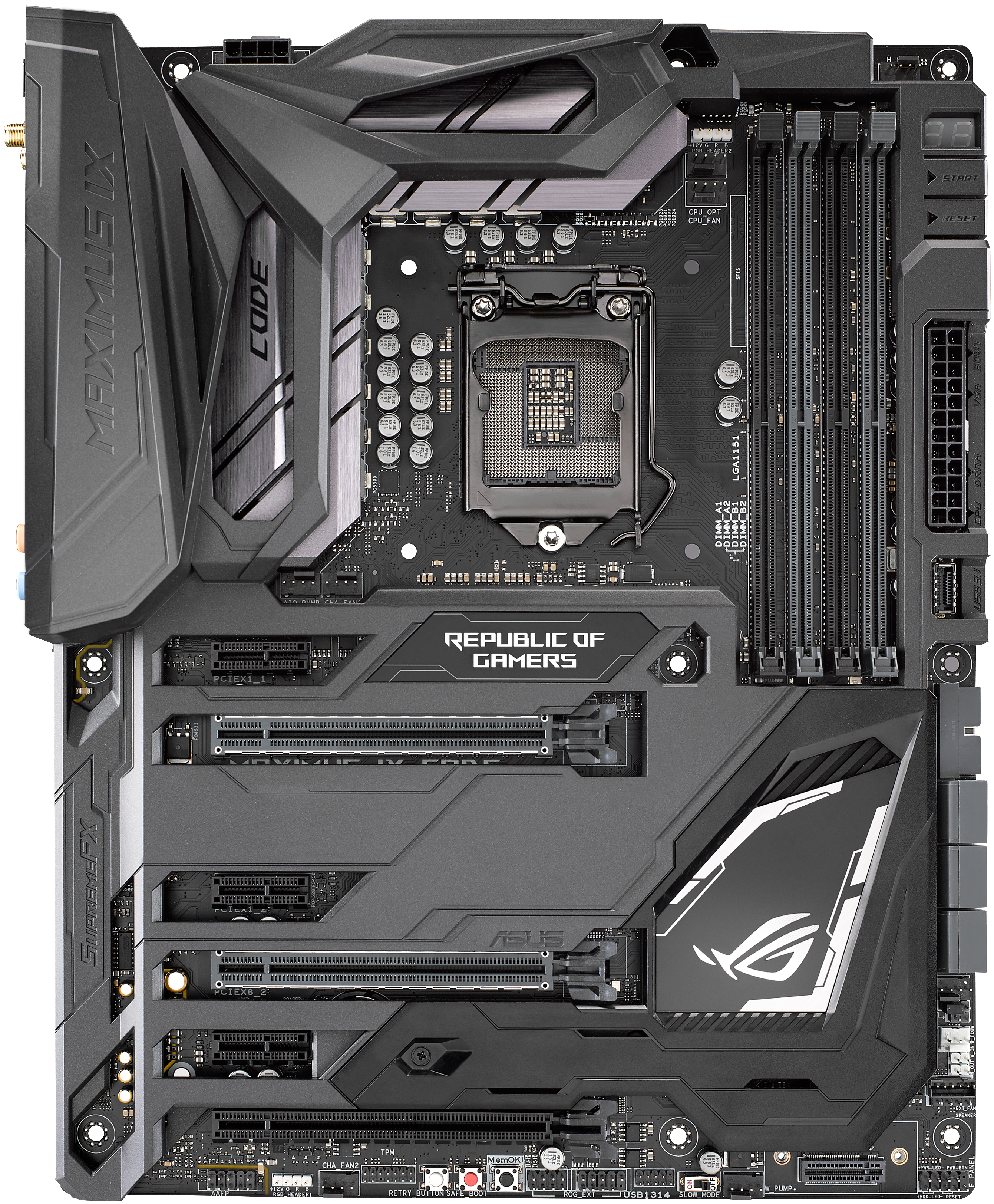 Taking inspiration from the Maximus IX Formula, the Code makes the distinctive ROG Armor accessible to a wider audience. Behind that armor, it is essentially a Maximus Formula, sans the full backplate, integrated IO shield, and VRM waterblock. The streamlining shouldn't be viewed as a complete negative because the Formula's integrated VRM water block urges you into the complex world of custom water cooling, while the Code adopts an open-minded approach, allowing you to define the complexity of the build.
Users that pick system parts carefully will find the Code's neutral canvas a joy to work with. And the parts-matching process is made easier still by Aura RGB lighting, which illuminates the Republic of Gamers logo, IO shroud area, and up to two 5050 lighting strips with the full gamut of colors and effects.
At this level, you'd expect support for all the cutting-edge IO, and again, ROG doesn't disappoint. With onboard 802.11 AC WiFi, Bluetooth 4.1, Intel Ethernet, dual M.2 slots, front panel USB 3.1, and SupremeFx Audio onboard, the Code minimizes the need for unsightly expansion cards, leading to less cluttered builds. In fact, if you give the Code a home in a tempered-glass chassis, it's practically impossible not to end up with a system that looks rather special.
ROG Maximus IX Formula: For water cooling experts
For some of us, a PC isn't considered to be high-end unless it's built using the best parts in every location. And if you're really passionate about it, things go even deeper than that. The process of putting the build together is a hobby in itself.  Within the framework of those ideals, there's no room for slapdash DIY, air cooling, or the convenience of all-in-one water cooling kits. Custom water cooling is a must. Not only that, but the water loop needs to be a work of art.  There's no shame in admitting there's a bucket load of vanity in such choices. There is, however, some logic behind them. With the right components, you can build a custom water loop that dissipates the heat of multiple components in near silence. There's something alluring about having a rig that uses the latest high-end CPU and graphics cards, is overclocked to the nines, yet quietly purrs along under the most arduous of workloads. If you've experienced such a build, there's no going back to the mundane.
With an integrated hybrid VRM water block designed by the specialists at EK, the Maximus IX Formula is the perfect motherboard for the hardcore water cooling enthusiast.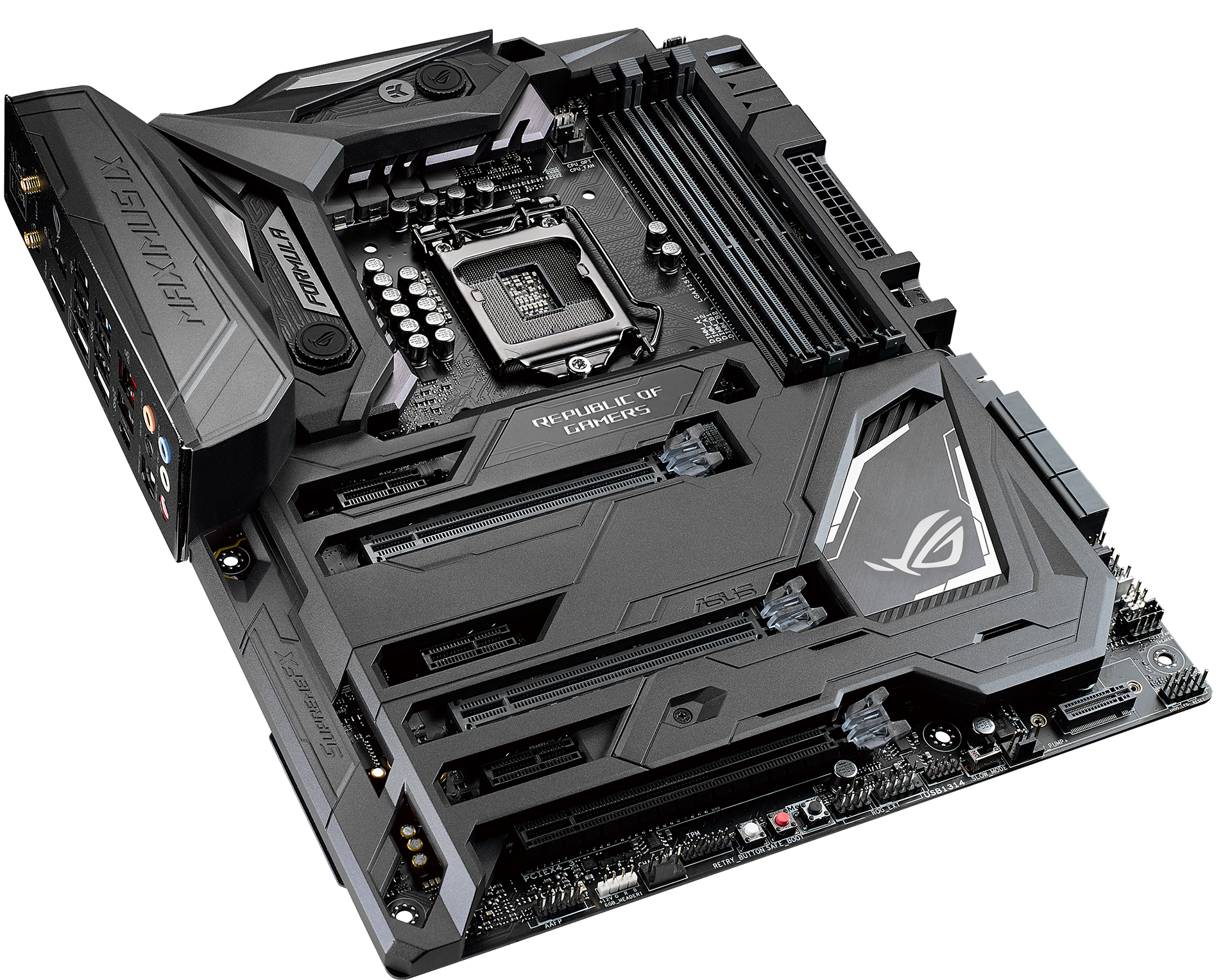 Dubbed CrossChill EK II, the VRM water block incorporates a copper water channel and features standard G1/4" threads that are compatible with a wide variety of fittings. As it's a hybrid design, you don't have to use water cooling at all, but then, you might as well opt for the Maximus Code. Getting back on track, with the addition of water cooling, Crosschill EK can drop VRM temperatures by up to 20 Celsius, so you can overclock the system to the limits without needing to provide airflow over the power delivery area. Of course, the vain elephant in the room will tell you that it looks nice when water cooled, and that's reason enough. Whichever side of the fence you sit on, the bigger story is that it's better if motherboard manufacturers co-work with leading third-party specialists to integrate these solutions, instead of leaving customers to fend for themselves.  Limited runs can take time to develop, resulting in long lead times. There's nothing worse than buying a new motherboard and then having to wait months before a dedicated water block is released.
At this end of the market, every detail matters. The series IX Formula features a full cover backplate, adding structural rigidity across the entire board. That makes the Formula more resilient to mishaps during installation, such as the inevitable torque when fitting hard line tubing for the first time. It doesn't give you complete freedom to plumb the loop haphazardly, but we all know a few strange shenanigans can take place during initial attempts at acrylic tube bending. It's nice to have a layer of protection against those first-time endeavors.
Speaking of DIY hassle, sometimes, even the most focused of us forget to fit the rear IO cover into a chassis before installing the motherboard. No matter how much you like DIY, taking a supposedly complete build apart just to install the rear IO cover, isn't enjoyable…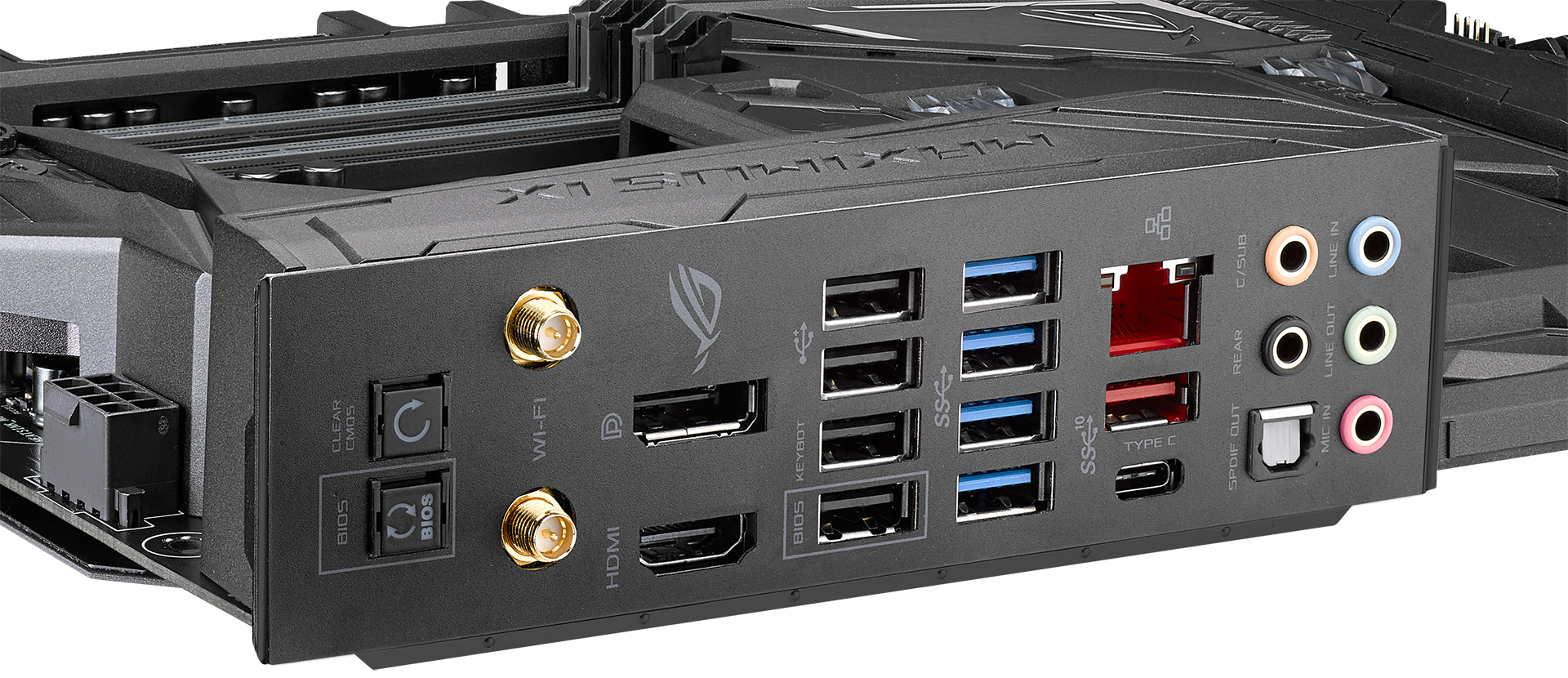 The Formula IX integrates the rear IO cover onto the motherboard, preventing such situations from occurring. It's another of those neat touches that true high-end products are made of.
Onboard IO functionality includes SupremeFX audio, 802.11AC WiFi, Bluetooth 4.1, dual M.2 slots, front panel USB 3.1, and Intel Ethernet. In comparison to the Maximus IX Code, the Formula's Aura capabilities are enhanced by the addition of two extra onboard lighting zones, bringing the PCH's ROG logo and the PCIe slot latches into the mix for sake of visual balance. And finally, onboard support for flow rate meters and water temperature probes complete the Formula's list of water cooling credentials.
Add all the functionality and the thoughtful touches together, and you can see why the Maximus IX Formula is the board of choice for passionate DIYers.