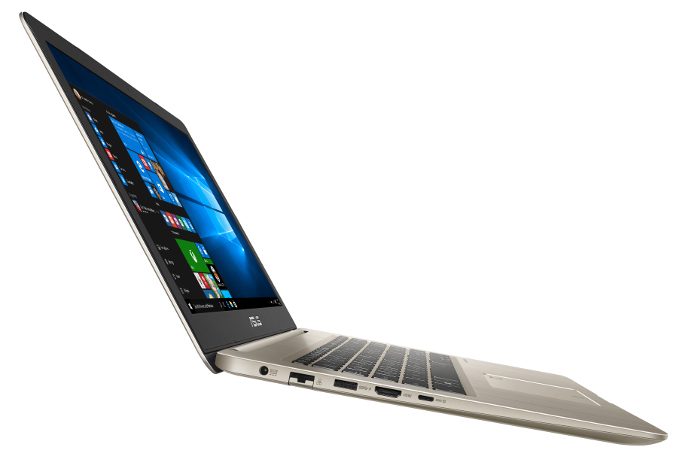 "What will you be using your computer for?" It's a question any half-decent salesperson will ask, but they might as well be asking, "Where do you see yourself in five years?" If your answer is anything but definitive, it'll immediately incite a discussion based solely on your current needs. Do you play games? Are you a photographer? Will you be using this computer for work? All great questions, but they're designed to help you figure out what you need right now, and they tend to preclude talk of what you might want to do in the future.
The problem with eliminating all the things you don't do is that you may not be left with a whole lot of wiggle room for things you might do someday. The great deal you got on that mid-range laptop might be enough for now, but your next job or a newfound love of graphic design could well send you back to the store within the year.
The VivoBook turns semi-pro
We built the VivoBook Pro as a consumer machine but gave it the flexibility of a professional-grade notebook by upgrading certain components. The idea is to insure yourself against the things that are likely to cause problems, and save money on the stuff that won't. That way, you're less likely to run out of power when you pick up a new hobby or skill, but you won't pay an exorbitant amount either.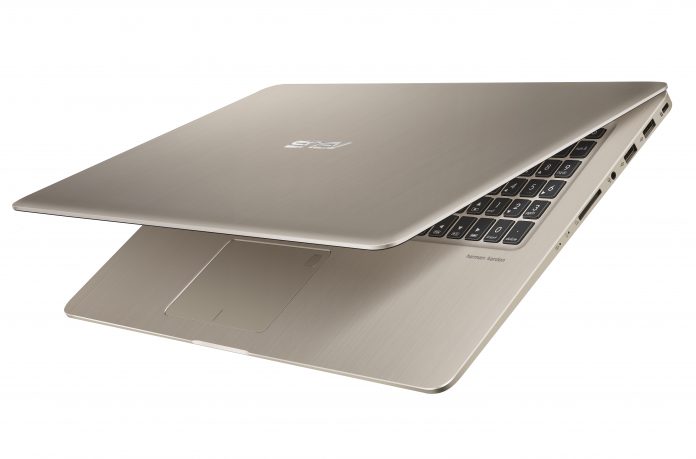 Running the whole show is Intel's latest Core i7 HQ-series quad-core processor, the same breed of CPU that powers other Pro portables and high-end gaming machines. That's paired with 16GB of RAM, which might even be more than what's in your desktop computer. Either way, you're covered for content creation, productivity, and multitasking across different applications.
NVIDIA's GeForce 1050 GPU handles graphics and offers more than enough power for the casual day-to-day, with plenty left over for whatever else might take your fancy. Gaming is a go thanks to the dedicated GPU. You won't be playing today's most demanding titles with the settings dialed all the way up, but things like Call of Duty Infinite Warfare and Titanfall 2 will run on high details at 1080p resolution with frame rates exceeding 30 FPS pretty consistently. Less demanding games like FIFA 17, Rocket League, and even Overwatch will also play very well. If you're keen for more info on the GeForce 1050's gaming performance, check the gaming benchmarks in our hands-on look at the ROG Strix GL553 and GL753 gaming laptops.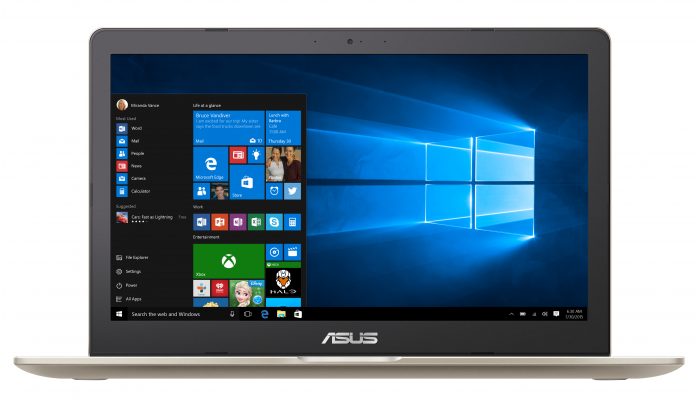 If you've got any interest in photo or video editing, your projects will enjoy a nice boost courtesy of the GPU acceleration that comes with a dedicated GPU. Discrete graphics are not wholly necessary to run programs like Photoshop or Lightroom, especially if you're just doing light edits. However, more complex projects with multiple layers and special effects will benefit from the extra muscle.
The VivoBook's optional 4K display is a huge help if you're working with really large images. North American models are expected to ship with a Full HD 1080p screen, but that's still plenty of detail for a 15.6" laptop. You get more pixels per inch on a 15.6" display at 1080p than if you were to use a 24" or 27" monitor with the same resolution. All display configurations for the VivoBook Pro cover 100% of the sRGB color gamut. They also have 178° viewing angles, which will come in super handy if you're working on a group project or even just streaming Netflix with a buddy.
The VivoBook Pro packs 512GB of M.2 SSD storage, so you'll benefit from the faster startup, decreased load times, and the general boost in responsiveness that comes with solid-state drives. There's also support for 2.5" drives, so you can install additional storage if you run out of room.
A high-end finish without a high-end price
Of course, specs are only half the equation when shopping for a laptop. Just as important is the surrounding chassis; it needs to be light enough to carry around and not too bulky to fit in your bag. The VivoBook Pro takes its design cues from our premium ZenBook line with sleek metal accents and a tapered profile. The whole package weighs in at 4.8 lbs and measures 20.5 mm thick. The lid and top plate are fashioned from brushed aluminum and colored in a classy champagne tone that'll blend in just as well at school as it will at the office.
Long work sessions are made more comfortable by a backlit keyboard with a full-sized layout that includes a numpad. It's accompanied by a roomy touchpad that boasts an embedded sensor for secure sign-in using your fingerprint. Audio comes via a Harmon Kardon-certified sound system with a smart amplifier that pumps out more than three times the volume of a regular amp, and larger-than-average speaker chambers for clearer audio.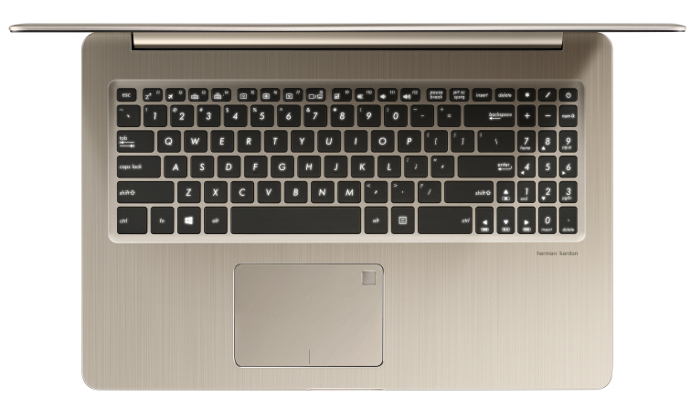 One of the biggest issues with today's laptops, regardless of price range, is a lack of connectivity. Ports are sacrificed in a quest to make devices thinner, and therefore more portable. That's the logic, but it falls a bit flat when you're carting around dongles and hubs to get the connectivity you need on a daily basis. The VivoBook Pro ensures you don't have to pack anything extra to plug in a USB stick, use the wired-only internet at your hotel, or transfer photos to your computer. It's got two USB 2.0 ports, one USB 3.1 Gen 1 Type-C with support for displays up to 4K resolution, a full-sized HDMI port, an SD card reader, an audio combo jack, and a Gigabit Ethernet port. All you need is your laptop and charger.
VivoBook Pro N580
CPU
Intel Core i7-7700HQ,
2.8 GHz (6MB cache, up to 3.8 GHz)
GPU
NVIDIA GeForce GTX 1050 2GB
Display
15.6" Wide View touchscreen
Resolution
Full HD 1920 x 1080
Memory
16GB DDR4 2400MHz
Storage
512GB SSD
Networking
802.11ac Wi-Fi with 2x2 antenna
Connectivity
2 x USB 2.0 Type-A, 1 x USB 3.0 Type-A, 1 x USB 3.1 Gen1 Type-C, 1 x audio jack combo, 1 x full-sized HDMI 1.4, 1 x SD card reader, 1 x Gigabit RJ-45LAN

Dimensions
14.96" x 10" x 0.75"
Weight
4.9 lbs
OS
Windows 10 (64-bit)
Blending professional with great value
The mid-range laptop aisle has neither the attractive low prices of the entry-level segment, nor the reassurance of a maxed-out spec sheet geared towards professional users. No wonder so many people walk out with a budget machine claiming it's all they really need. The VivoBook Pro is designed for a more ambitious kind of user. The kind of person that's open to the possibility of doing more and wants a laptop that can make that happen. Announced at Computex 2017, the VivboBook Pro will be available in North America later this summer.