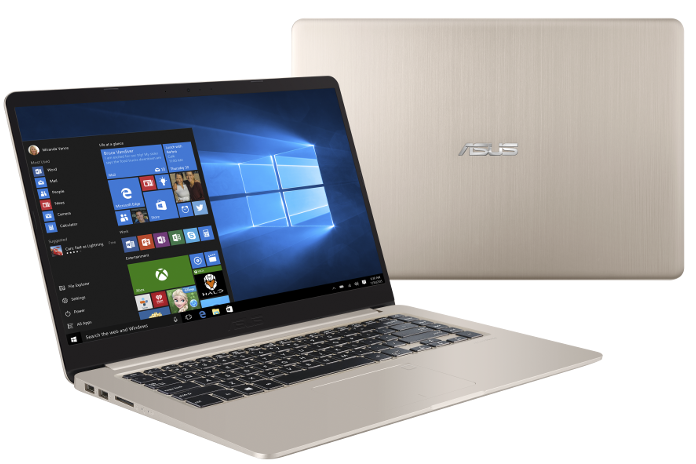 Shopping for an affordable laptop is super easy; decent battery life, relatively lightweight, and fast enough for browsing, streaming, and basic productivity is all you really need. And you can check all those boxes with a few hundred dollars.
Double your budget and suddenly it's not so easy. Gone is the luxury of low expectations. Even if your needs match that of the average entry-level shopper, you want to know you're getting value for the extra money you're spending. The problem is the mainstream segment is pretty vast, and it's full of laptops that are a hodge-podge of upgrades and downgrades based on the manufacturer's best guess of what you might want. Sometimes you end up with a feature you don't use, and a lot of the time you end up missing something you really need, like more USB ports or an SD card reader.
Back to basics
We went back to the drawing board with the VivoBook S. We surveyed 20 million ASUS users to figure out what's most important to people when they're buying a laptop. Our goal was to determine the non-negotiables and figure out what extras we could add to enhance day-to-day activities.
Performance was top of the list for the majority of folks, so old hardware was a no-go, and the components we did choose had to be easy on the battery. To that end, the VivoBook S is based on Intel's latest generation of Core i5 and Core i7 U-series processors, the same chips powering today's ultrabooks. These CPUs pack enough punch for multi-tasking, web browsing, streaming video, and regular productivity. They're also very power-efficient, so they won't kill your battery.
The VivoBook S variants destined for North America ship with 8GB of RAM, though the system supports up to 16GB if you're feeling ambitious. To balance storage space with storage speed, we paired a high-capacity HDD with an SSD. You can store all of your files on the HDD and put your programs on the SSD, so your laptop boots and loads applications much quicker.
For networking, we added dual-band 802.11 b/g/b/ac along with a 2×2 antenna. When you connect to a dual-band Wi-Fi router, you'll be able to access the less crowded 5GHz band in addition to the regular 2.4GHz one. Less interference equates to faster performance. The antenna does its part with two transmit radios and two receive antennas. This 2×2 configuration boasts double the throughput of a 1×1 setup and offers a more reliable connection.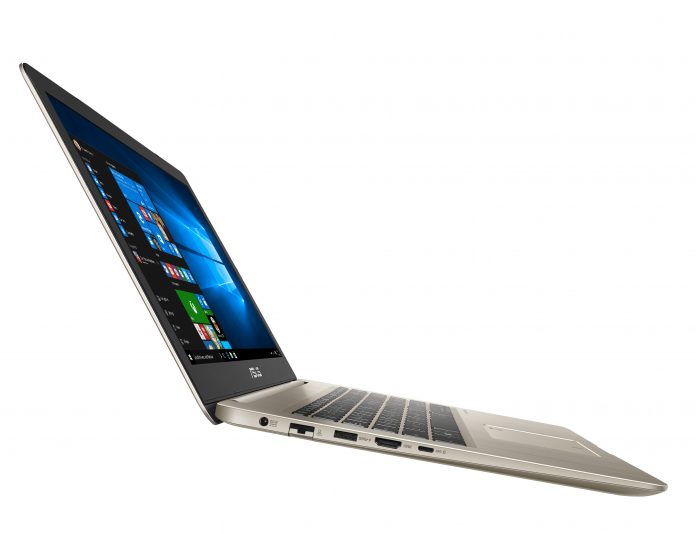 Users also said they wanted a nice big display for watching videos, and the VivoBook's 15.6" Full HD panel more than fits the bill. We actually went one step further and cut the screen's frame down as much as possible to limit distractions while you're using it. Implementing the same 7.8-mm bezels present on our premium ZenBooks keeps the focus on your movie or TV show rather than the border around the display. A 178° viewing angle and matte coating mean you can watch Netflix or flip through photos, and the person next to you won't be craning their neck to see around skewed colors or glare.
High-end features finds their place in the mainstream
The VivoBook S takes its design inspiration from our high-end ZenBook line. It's got a similarly tapered body, and an aluminium lid with a brushed hairline finish gives the champagne-colored laptop an upscale feel. The full-sized keyboard is backlit for late-night work and boasts 1.4 mm of key travel. Longer travel equates to fewer typos, and while some ultrabook keyboards make do with just much less travel, the VivoBook doesn't sacrifice day-to-day comfort in the name of absolute thinness. The trackpad has an integrated fingerprint scanner, so no one can access your laptop without your permission, even if they are privy to your mother's maiden name.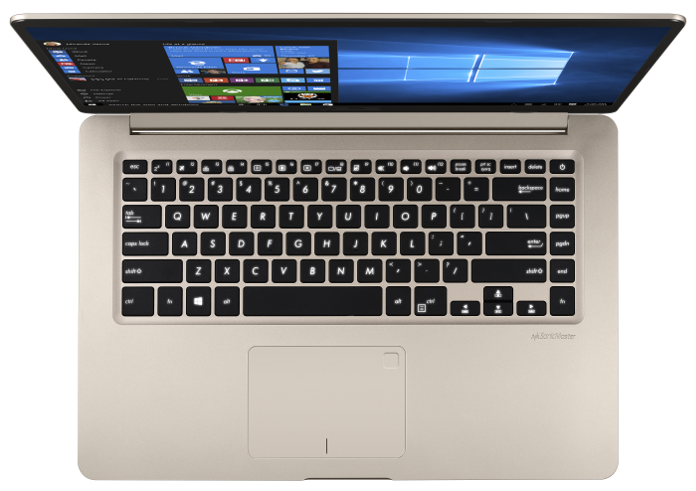 In news that should surprise pretty much nobody, even casual laptop users display a preference for a slim form factor. All laptops travel quite a bit, so "compact and light" is kind of a no-brainer. The VivoBook S checks in at just 17.9 mm thick and manages to fit its 15.6" display into a 14.2" x 9.6" package that weighs 3.7 pounds. That's with a full suite of ports adorning its edges, including a reversible USB 3.1 Gen 1 Type-C port to eliminate "right side up" stress. That's joined by one USB 3.0 Type-A port, two USB 2.0 ports, a full-sized HDMI port, an SD card reader for transferring media, and the requisite audio combo jack.
Super charged for all day performance
Battery life when you're out and about and away from an outlet is eight hours on a full charge. We've also included some intelligent technology to extend the battery's lifespan so that it won't wear out before you're ready to upgrade your computer. Keeping your laptop fully charged at all times is actually bad for the battery. Our Super Battery technology preempts this by not quite charging all the way up, which can extend the battery's lifespan by up to three times compared to regular charging. Out of the box, this feature is switched off, but you can activate it via the Battery Health Charging app and manually set your charging limit to either 60% or 80%. Fast charging will get you from dead laptop to 60% in just 49 minutes, so you don't need to worry about the Super Battery tech getting in the way of your day.
| | VivoBook S150 |
| --- | --- |
| CPU | Intel Core i7-7500U, 2.7GHz (4MB cache, up to 3.5GHz) |
| GPU | Intel HD 620 |
| Display | 15.6" non-reflective matte, wide view |
| Resolution | Full HD 1920 x 1080 |
| Memory | 8G DDR4 2133MHz |
| Storage | 1TB 5400RPM HDD + 128G M.2 SSD |
| Networking | 802.11ac Wi-Fi with 2x2 antenna |
| Connectivity | 1 x USB 3.1 Gen1 Type-C, 2 x USB 2.0 Type A, 1 x, USB 3.0 Type-A, 1 x audio combo jack, 1 x full-sized HDMI, 1 x SD card reader, Bluetooth 4.2 |
| Battery | 42Wh |
| Dimensions | 14.2" x 9.6" x 0.7" |
| Weight | 3.7 lbs |
| OS | Windows 10 |
The VivoBook S revamps the mainstream laptop based on the needs of today's users. Gone are the superfluous bells and whistles and misguided compromises designed to boost the spec sheet while keeping pricing sane. Instead, the VivoBook S doubles down on the features that matter most and enhances them with thoughtful extras that deliver the best experience possible without driving the price through the roof. Announced at Computex 2017, the VivoBook S is headed for North American retailers in July.