Gaming Impressions from a PC Perspective is a series of ongoing articles looking at hands on experience of playing the latest and greatest games on your PC. Whether you are wondering about image quality, temperatures, memory utilization or other items this series of articles should give you some insight on playing these games on the PC.
It is November 6th. Do you know what yesterday was? The launch of Call of Duty Ghosts. The highly anticipated new edition of Call Of Duty that brings considerable changes to multiplayer, single player and many other facets of the game such as the inclusion of Riley an awesome, German Shepard that you can play. In addition an entirely new squad system has been incorporated that adds a whole other dynamic to gameplay experience and replay value. Like any self respecting PC gaming enthusiast, I stayed up until midnight launch night to bring you guys some awesome screenshots and hands-on impressions with some performance numbers. In addition we provide some interesting information on how the ASUS GeForce GTX 780 DirectCU II enables a great gaming experience.
Overall Game Impressions –
So jumping into it, how was it? So far it is pretty awesome. As always, the pacing and story in COD is great and really helps to provide a great level of immersion when paired with the extensive overhauling Infinity Ward and crew have done to the game engine, gameplay and player dynamics. I must admit a couple of hours into it with some limited squad based testing I am really enjoying Ghosts . This also comes from someone who generally first and foremost is a RPG/Action and strategy guy. That being noted I pride myself on being a very diverse gamer who appreciates gameplay and design over genre every day of the week and twice on Sundays. Getting back to the game, there is no doubting the polish and enjoyment the game has to offer. From the beginning scenes and the dynamic environments, whether it be outer space or Southern California the game puts you in interesting and enjoyable situations with consistent variation to maintain your interest and immersion. As any game should, it makes you want to keep playing.
Overall, while I have not spent enough time in the campaign or new MP modes give how little time I had to play and write, I feel confident in saying the game is worthy of your consideration and more importantly your time. So with gameplay impressions out of the way let's answer the next big question…. what about the graphics?
Graphics and Aesthetic Impressions –
Being a PC gamer graphics is always something I am interested in, and not just from a pure fidelity standpoint, but overall from the aesthetic and world that it helps to creates. Thinking a little out of the box let's consider Trine 2. It is an amazing looking game in a very different way than Ghosts, but both have impressive designs throughout. Or what about Shank or Bioshock – these titles along with many others bring different types of graphical experiences based on the designers intended look and feel relative to the environments, worlds, characters and situations they want you to experience in game. With that in mind COD Ghosts does an amazing job of putting in a great deal of polish and incorporating some impressive PC centric graphic technologies. Point blank it is a great looking game and stands out as being one of the best looking PC titles out! In addition not to be undervalued, the audio engine and sound design have had considerable care taken in their collection, creation, development and overall implementation creating a rich and detailed soundscape that impresses and helps to create a richer, more detailed and immersive environment.
I played on a ASUS GeForce GTX 780 DirectCU II because it is a beast of card that is ultra-cool and quiet not to mention UBER fast. When paired with the optimization work NVIDIA has done with Infinity Ward and crew you get an outstanding experience. Here the "NVIDIA GAMEWORKS" relationship has paid of in spades. I was able to jump into action easily using the GeForce Experience software to quickly optimize the game for my 2560×1440 display resolution while enabling so much of the awesome eye candy that is present in the game.
To take some information from NVIDIA check out some of the amazing graphics tech integrated into the game engine
*Detailing and information below from GeForce.com
NVIDIA HBAO+ adds realistic Ambient Occlusion shadowing and shading around objects and surfaces that occlude light, with a considerably-higher degree of precision than previous AO techniques.
NVIDIA TXAA temporal anti-aliasing eliminates the distracting movement of anti-aliased lines and edges, and also eliminates other artifacts associated with anti-aliasing. Edge anti-aliasing is comparable with 8xMSAA, but at the performance cost of 4xMSAA.
NVIDIA GPU-accelerated animal fur will add high-quality, realistic, dynamically-reacting fur to Riley, NPC wolves, and multiplayer attack dogs.
NVIDIA GPU-accelerated PhysX will add realistic, dynamically-reacting particle effects throughout the game, dramatically enhancing their appearance.
Higher-resolution textures, effects and assets make full use of the available VRAM and system RAM of PCs, adding extra detail even at 3840×2160, the next-generation 4K Gaming resolution
Let's take a look at some of the in game screenshots. These were taken at 2560×1400 with Max IQ settings and 2x TXAA. Seriously great looking engine with some great attention to detail. Please keep in mind these images have been compressed multiple times and the overall fidelity, sharpness and detailing is superior in game.
For those of you wanting to even check out more amazing screenshots from in game action check out the gallery below.
Lastly a few others screenshots from NVIDIA and crew. These screenshots are at 3840×2160 "4K Resolution" Playing COD Ghosts at 4K is a truly insane and immersive experience  that must be experienced to be believed.
*Screenshots below from GeForce.com
Like any enthusiast, I played around and tried out my own settings and was very happy to see the gameplay was very smooth overall fluidity and response were never an issue.. With that in mind, it does definitely push your hardware when all the IQ settings are cranked up. Keep in mind though you can easily use the GeForce Experience software to quickly and easily optimize your IQ settings for a great balance of great image quality with fluid gameplay. So enough about settings and IQ let's jump into some of the numbers.
Temperature Performance –
So who does not wonder about temperatures when playing a game? Well I know do, with that is in mind I have spent some time collecting some information to give you guys visibility on the thermals you can expect. This is temperature performance when running COD Ghosts at 2560×1440 all IQ set to max with 2x TXAA. I have included some screenshots for reference.
Due to the high end graphics engine and high IQ settings we are seeing pretty much seeing peak temperature being reached, these temperatures are representative of the most demanding PC based gaming titles. When comparing this to overall landscape of AAA titles out there that also feature advanced graphics engines there is nothing out of the norm to report. With that in mind, it is important to remember the importance and overall value in an outstanding thermal design like what is offered in the ASUS GeForce GTX DirectCU II series of graphics cards. The ASUS GeForce GTX 780 DirectCU II we used easily handled the temps in part due to the massive finned heat sink assembly and direct contact heat pipes. Overall the dissipation area is 2.2X greater than the reference design 4112 vs 1850. All this and more helps us keep some great temps. We also have the ability to further improve our gaming experience by overclocking the GPU due to the VRM heatsink the card offers and the thermal headroom still available on the card.
Peak Temperature – 68c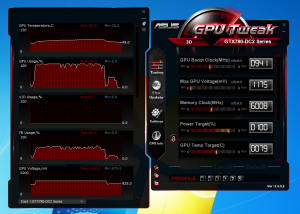 Keep in mind temperature varies based on onscreen environment, characters and other gameplay factors overall temperature varied between mid 50's and at times peaking close to 70c. Overall it is nothing the ASUS GeForceGTX 780 DirectCU II cannot handle. Next up let's look at memory usage on the GPU side.
GPU VRAM usage –
With temperature information out of the way let's evaluate VRAM ( Video Memory ) usage during high resolution gaming. Many gamers do not always factor what is the realistic amount of memory used when playing a game. We will be using GPU Tweak in the same way we utilized this awesome graphics card utility to measure our GPU Temperatures. Memory usage as you would expect will vary in the same way temperature varies. With that in mind we monitored consistent usage exceeding 2GB ( 2000MB ). Thankfully the ASUS GeForce GTX 780 DirectCU II offers 3GB of VRAM. This helps us to ensure we have enough memory for all of games advanced rendering techniques like subD rendering, TXAA, PhysX  and IQ settings at 2560×1440. Overall we are seeing that when the IQ is cranked up with the resolution we are fully taking advantage of all that wonderful GDDR ( Graphics Memory ).
Peak Memory Usage – 3049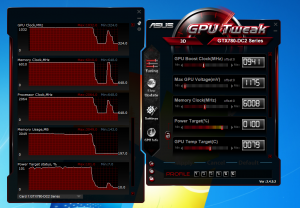 Overall the average VRAM footprint was varied approx. between 2600MB – 2900MB. With this in mind you are definitely are going to want to consider a card like the GTX 780, GTX 780Ti or GTX TITAN if you want to push the IQ settings to their max. Not only will you need the memory but the CUDA cores and overall pixel pushing power of the GPUs are going to be needed to create the most realistic and immersive experience possible. Let's round out performance analysis with a bit of information on frame rate.
Overall FPS / Frame Time Analysis –
Considering that today is launch day and I am evaluating performance along with launch drivers, NVIDIA and Infinity Ward deserve a big pat of the back. The game is responsive and looks to be generally bug free and offers a great "out of the box experience". As we know, this is not always the case this is why I continued to be impressed by the maturity of GeForce driver and the experience it enables with launch title support and performance. Moving forward and focusing in on frame rate analysis, I mostly completed my run troughs or playing at manually set highest settings that were previously noted. In addition I also completed run-throughs with GeForce Experience optimized settings. Lastly I did some testing with settings at high instead of max while maintain the 2560×1440 resolution and turning off AA. The last setting noted was more for users interested in highest frame rate performance vs my preference of good to great fluidity along with best IQ ( Image Quality ).
Testbed Configutation #1
[qd_list]
Motherboard – ASUS ROG Rampage IV Extreme
CPU – Intel Core i7 4960X
Memory – 16GB DDR3 1600MHz
SSD – 1TB
PSU – 760 Watt Platinum
GPU – ASUS GeForce GTX 780 DirectCU II
Sound Card – ASUS ROG Xonar Phoebus
[/qd_list]
Testbed Configutation #2
[qd_list]
Motherboard – Maximus VI Impact
CPU – Intel Core i7 4770K
Memory – 16GB DDR3 1600MHz
SSD – 120GB
PSU – 850 Watt Gold
GPU – ASUS Geforce GTX 780 DirectCU II
Sound Card – Onboard SupremeFX
[/qd_list]
Time – 3 Hours of gameplay.
Levels / Map – Varied, with the majority in single player campaign and some spent in the Squad based multiplayer.
The overall performance data and general responsiveness is based on general play through across multiple levels. The specific FPS data is based from quick run through of a specific level in the single player campaign.
Picking a pretty standard scene with indoor and outdoor environments, varied activity from enemies performance was overall solid. KEEP IN MIND that gameplay performance and overall fluidity and frame rate are affected by a number of variables. The performance numbers below are just a general representation of performance. In addition, they do not provide as extensive of a picture of performance as they are not tested using the FCAT capture system.
Max Settings 2560×1440 with 2X TXAA
Avg: 57.421 – Min: 33 – Max: 95
Playability – Great and Fluid
I found this setting to be entirely playable with no issues and no perception that it impacted my gaming experience. This was roughly with between 2 and half to 3 hours of gameplay in the single player campaign. I additionally did about 30 minutes in the squad based multiplayer.
Jumping to a lower set of IQ settings but maintain the same resolution we can see for gamers wanting an outstanding fluid and responsive experience we have all settings at high with no AA.
High Setting 2560×1440 with No AA
Avg: 80.911 – Min: 48 – Max: 202
Playability – Outstanding and fluid and very responsive ( great for twitch gamers )
Wrap Up and Conclusion –
We have covered a little bit of everything and hopefully given you some good information on how a quality GPU enables a fast and fluid and immersive experience along with keeping that experience cool and quiet. For you gamers out there who are looking for a similar experience but at a lower resolution or slightly reduced IQ settings consider the ASUS GeForce GTX 770 DirectCU II or the ASUS GeForce GTX 760 DirectCU II. Both of these cards will offer a great gaming experience where you do not have to compromise IQ for frame rate. With that noted I want to also ask for you the reader's opinion. As we are still working on the content and information being rolled out here on the ASUS PCDIY site I look forward to any feedback on this article so feel free to comment! For you guys looking to jump into some action with the same cool and quiet and fast experience I did check out the links below for a range of options from 250 dollars to 500+ dollars. Keep in mind right now there are also some awesome game bundles with the purchase of these cards. If you pick up the ASUS GeForce GTX 780 DirectCU II I used in my testing and for this write up you are looking at pretty sweet bundle of games not mention a pretty nice discount on the NVIDIA SHIELD which we have also been internally testing here at the ASUS PCDIY Labs.
In conclusion playing Call of Duty Ghosts has been a outstanding experience both as a FPS game and and in general as a PC game. The experience can really only be realized when taking advantage of a card like the ASUS GeForce GTX 780 DirectCU II. Offering performance that is just awesome along with all  eye candy gaming enthusiasts yearn for.
For details on the NVIDIA SHIELD promotion go here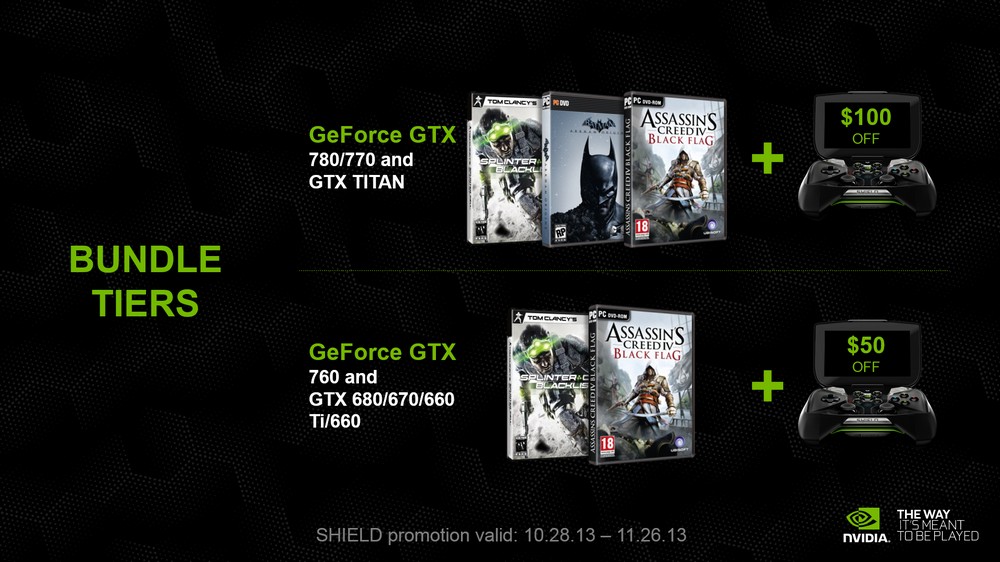 Below are links to GPUs at different price points.
$500+ Dollar GPU
ASUS GeForce GTX 780 DirectCU II
BUY NOW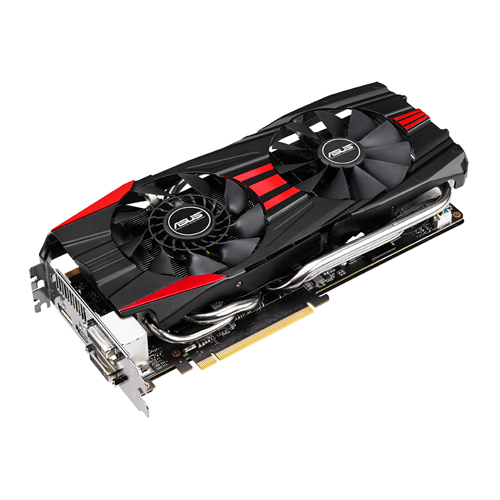 $300+ Dollar GPU
ASUS GeForce GTX 770 DirectCU II
BUY NOW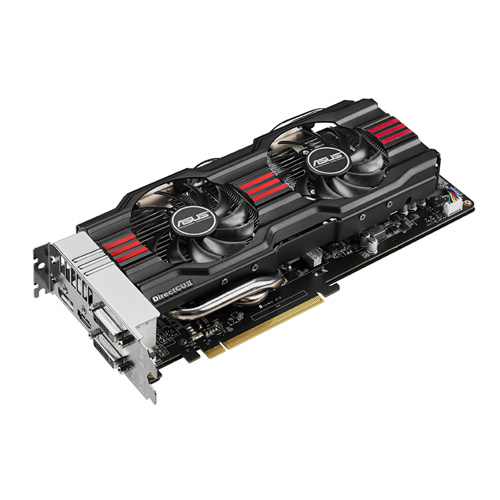 $250+ Dollar GPU
ASUS GeForce GTX 760 DirectCU II
BUY NOW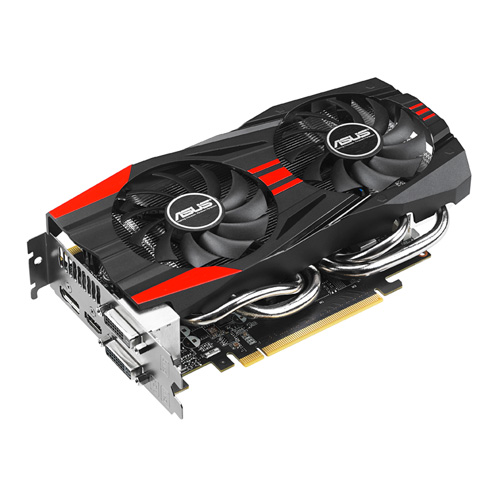 Ultra Small Form Factor GPU ( For MiniITX chassis or mATX chassis )
ASUS GeForce GTX 670 DirectCU Mini
BUY NOW