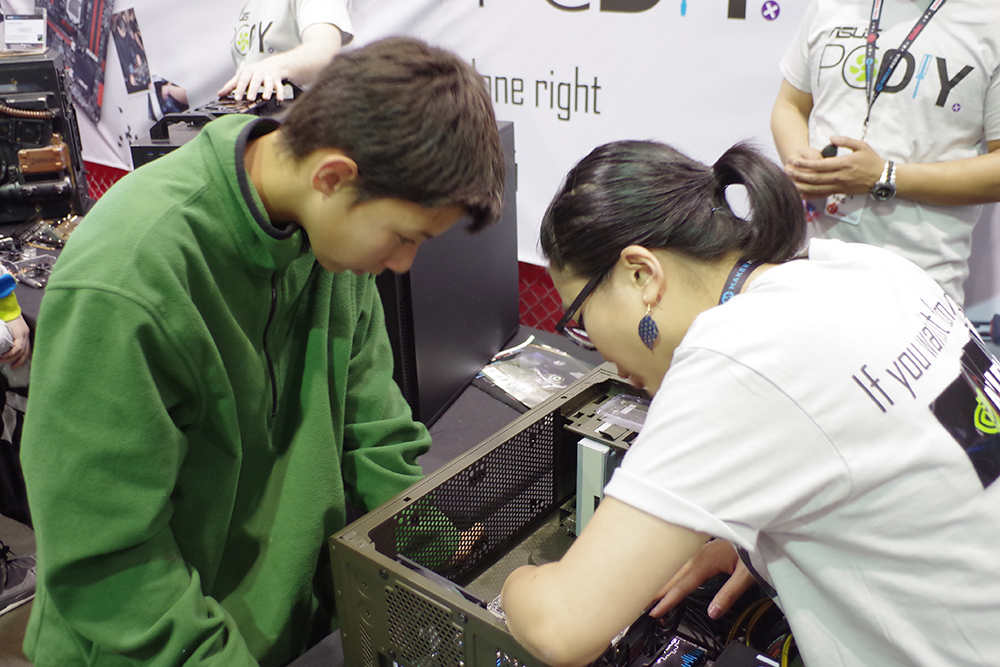 The University of Toledo located in Toledo, Ohio will be hosting a summer Technology Camp aimed to give high school students exposure to modern business technologies including building your own computer, creating your own website, learning about databases, smartphones, building your own apps and more. The University of Toledo's 2013 Camp Session has been enhanced with the help of many big name and generous partners including ASUS, Intel, Corsair, Verizon Wireless and Eaton Corporation.
Students say they are most excited for the PC Do It Yourself portion of the camp, also known as PC DIY.  The PC DIY event is a new event for the 2013 session of the Technology Camp. Educators, professors and college students will be teaching the campers what it takes to build a computer, the purpose of each component and then assemble the computer in the hope that everything was built correctly when the power button is pushed the first time.
ASUS is well known by many PC Building enthusiasts, so it was a no question that partnering with ASUS would jump start the program.  Campers will be able to experience ASUS's innovations by providing top of the line motherboards and graphic cards for students to utilize.  With ASUS's connections, Intel and Corsair also jumped on board and found this to be a great chance for students to build with their technology.
"I'm very excited to be teaching the campers how easy it is to build their own machine and how cost effective it can be." said Donald Bensch Jr, desktop building coordinator. "With the help of ASUS, Intel and Corsair, campers will not be able to fathom the power that will be at their disposal.  The exciting part will be that a few lucky campers will be able to walk home with a brand new desktop in their hands."
Intel will be providing the brand new 4770K core i7 processors to power the ASUS Z87-A motherboard and Corsair will be providing their rugged-looking Vengeance C70 gaming case to house the components.  Not only that, ASUS will be providing their ASUS GTX 660 Ti to enhance the graphics potential and Corsair providing 120GB Force GT SSDs and 8GB Vengeance Memory Kits for each machine as well as their CX600 power supply unit.
Once the desktops are built, these powerful computers will be raffled off to a few lucky campers.  The technology in these machines will surely last well into the future.
Social media is essential to teenagers today, but we also want to show local high school students the technology behind applications like Facebook and Twitter. COBI's Technology Camp is a wonderful opportunity for students to discover, in a very hands-on way, both the power and the fun of information technology (IT). We know that some of the students will become so enthralled by this experience that they will decide to study IT.
Not only will the desktops be given to certain lucky campers, attendees will also have the chance to win a brand new ASUS Vivobook laptop with Windows 8, a Blackberry Z10 from Verizon Wireless, and many other prizes that are sure to excite.
"The COBI Technology camp changes and expands every year to offer new activities for past and future campers." said Terribeth Gordon-Moore, Senior Associate Dean for the College of Business.  "Coupled with the University of Toledo's gorgeous campus and positive learning atmosphere, our Technology Camp invites curious students into the world of technology where they will be able to get their hands dirty exploring business technology and how it applies to their daily lives."
The best part is that the University of Toledo COBI Technology Camp is free. The camp will take place July 9th, 10th, 11th 2013 and run from 9am to 3pm.  Lunch will also be provided. More information here
ASUS + The University of Toledo College of Business and Innovation. Incredible Together.
– Written by Timmy Moore