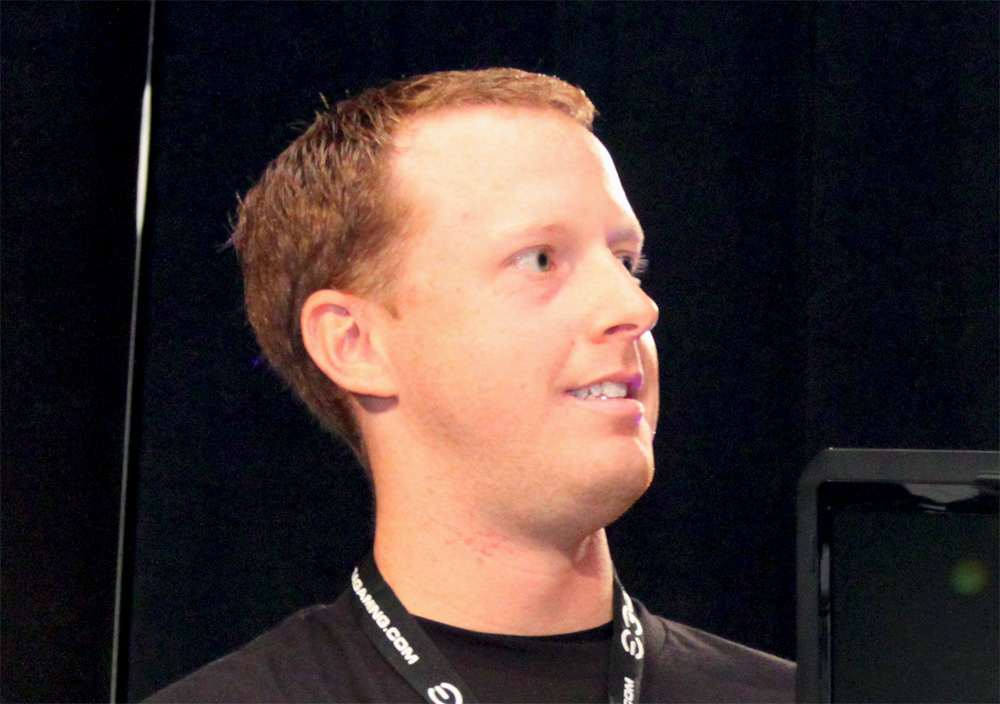 Ryan Shrout is the owner and editor-in-chief at PC Perspective (www.pcper.com), a hardware-centric PC technology website that serves hundreds of thousands of readers a month.  He has been writing reviews of components since January of 2000 and also hosts the PC Perspective Podcast and This Week in Computer Hardware show with Patrick Norton on the TWiT (This Week in Tech) network.
The road to building your first PC is likely very similar for most of us, but mine begins with a 14 year old Ryan hanging out an Electronics Boutique store in my local mall with gamers that were generally much older than I was.  One summer day while wandering the mall a friend asked me if I wanted to go with him to a computer show at a convention hall nearby.  Not knowing what that entailed he told me that he was planning on buying some new parts to build a PC for new games coming out.  Until then I had never really thought about the idea of "building" a computer at all, but it instantly intrigued me.
Entering the show was like walking into a new world with motherboards, processors, hard drives, floppy drives and ISA sound cards sitting on every table.  Giant beige metal boxes littered the floors with hand written prices on white paper cards and people everyone were reading backs of boxes to find the specific component they needed or wanted.  After we had picked up all the parts needed for his system I spent the rest of the afternoon watching him construct the computer, install an operating system and then start up a first person shooter – my first experience with that as well.
I was hooked – instantly.  I began to save what little money a grass-cutting 14 year old could make in order to buy the components I would need to build my own custom PC.  It took quite a while but I obsessed over computer magazines and even early web articles, reading about the different graphics card options, sound card APIs and even the on-going AMD/Intel/Cyrix processor battle.  It was a completely different world than I had ever been involved in before – all previous computing and gaming had been done on consoles from Nintendo and Sega.  The complexity and flexibility of PC gaming was different and engaging.  It required patience and knowledge but rewarded me with experiences none of my other friends were going to have.  And it all seemed worth it.
As should be obvious to you now as you read this, I saved my money and built that PC late in that summer, against my mother's wishes actually.  (She thought for sure it was a waste of all that money I had saved to build a new computer when we had a perfectly good one sitting in the living room.)  The first game I installed was a flight simulator, followed by games like Doom 2 and Hexen.  Comparing console and PC games at the time was an instant reaction and I knew that while both were fun, my heart rested with the PC.
Following this self-discovery was a job in high school working a local PC shop repairing and building new computers for customers and other PC gamers.  Though we focused mostly on the least expensive hardware available, I always found myself upgrading my hardware to support technology like Glide and bought into the first wave of multi-GPU technology SLI (scan-line interleave).  This lead to a website, reviews, technology shows and writing this very blog post today, to you.
What has your journey been like in the world of DIY PC building?  Are you just taking your first steps or are you a veteran of the field?  There are limitless paths that building a PC can take you – from simply saving a few bucks or changing the direction of your life completely.  Now is a great time to see where yours goes.