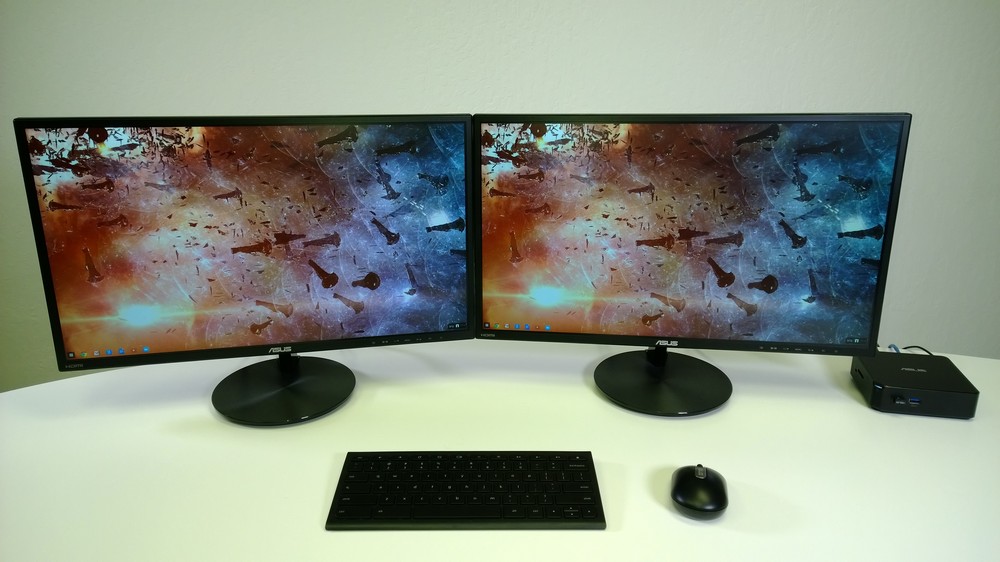 Today we have something a little different for you here at PCDIY. We will be taking a look at a Chromebox. As some of  you may know Google has been developing its own operating system outside of Android with Chrome OS. Chrome OS is designed from the ground up to offer a connected usage model of syncing between your digital devices while also being more than a browser and offering web enabled applications, secure and sand boxed environments for enhanced security and much more. Whether it be the web, email, hangouts or YouTube Chrome OS has you covered. ASUS will be releasing a Chrome OS computer next month with the ASUS Chromebox. A ultra small form factor computer integrated with Intel's latest CPU architecture and some robust connectivity. So with the introduction out of the way let's jump into finding a bit more about the ASUS Chromebox.
So what is a Chromebox? A ultra small computer with rich connectivity and a cloud centric OS for your everyday needs.
Something you may find interesting is that the Chromebox comes from our motherboard product management team. It has been a project they have worked on for sometime. Their goal was to find a balance of rich connectivity and solid performance all while leveraging the many benefits of the Chrome OS operating system. After spending some time with it I think you will find it has some great elements that can complement your current computing needs or lifestyle. So where does a Chromebox fit? It can fit in a number of ways depending on your wants and needs. Maybe you are looking for a small and very quiet system with low power consumption but are also looking for computer that still has enough processing power to handle comfortable modern multitasking. The ASUS Chromebox has the hardware chops for this whether it is running TweekDeck, 10 Tabs in Chrome, YouTube in background along with playing some music through Spotify. Maybe you are looking for a system to be a quick portal to check your email and social media updates while syncing seamlessly with your smartphone and tablet. Or maybe you are someone who appreciates the enhanced security of a sandboxed OS and browser providing you comfort however or wherever you surf the web. What about you AV guys who are looking for media portal to connect to your HDMI enabled receiver or TV so you can easily have access to all the digital content available online. Let us not forget you guys out there who love remote desktop /RDP, this is a great solution for that. Or maybe you are just a hardware enthusiast like myself who appreciates new and different hardware and software.
So what about the hardware?  There is a lot elegantly engineered into a small cool and quiet "box", that is surprisingly capable and responsive.
We have a clean ultra small form factor "box" with some great hardware inside. A current generation CPU specifically a Celeron 2955U based on Haswell architecture. At later date there will also be an i3 version available. If you are one of those questioning the fact it is a Celeron, this is not an old "Celeron" but a new Celeron that really offers great performance easily beating out the performance offered by previous entry dual core CPUs as well as current ARM based solutions. In addition, a M.2 16GB SATA SSD helps to ensure a quick post and  fast boot up along with responsive desktop usage. As for connectivity it is rich and meets the demands of modern day computing and digital connectivity. You start with four USB 3.0 ports then two display outputs ( HDMI & DP ) which can be run at the same time, as well as dual band ( 2.4Ghz & 5GHz ) 802.11N wireless with Bluetooth 4.0. Add to that an integrated SD card reader ( supporting SDHC & SDXC ) and you are covered in all the ways that matter. Rounding out the connectivity the Chromebox has VESA mount support for those of you that want to mount the Chromebox to the back of a VESA compatible monitor to further simplify or clean up your desktop.
Below you can see a 360 tour of the ASUS Chromebox and all it's connections. Wi-Fi is not visible due to it being internal ( like a notebook ) where the antennas are internally positioned and optimized.
In addition to the hardware there will be an optional keyboard and mouse bundle optimized for the best Chrome OS experience. The keyboard will feature a specialized layout and shortcuts that fit the search centric usage model of Chrome OS along with offering quick and easy to use shortcuts. You can see a pre production version of the keyboard and mouse below. The optimized functions have been detailed below.
Shortcut keys
If you're using a Windows keyboard with your Chromebox, the F keys at the top of the keyboard will work just like the keys below.  ( information and text taken from Google support page )
| | |
| --- | --- |
| | Go to the previous page in your browser history (F1) |
| | Go to the next page in your browser history (F2) |
| | Reload your current page (F3) |
| | Enter Immersive mode, which hides the tabs and launcher (F4) |
| | Enter Overview mode, which shows all windows (F5) |
| | Decrease screen brightness (F6) |
| | Increase screen brightness (F7) |
| | Mute (F8) |
| | Decrease the volume (F9) |
| | Increase the volume (F10) |
| | Search your apps and the web at the same time. On a Chromebox, this key is located on the side, where you'd normally find the Caps Lock key. If you're using a regular keyboard, the Windows key in between Ctrl and Alt will work as the search key.Tip: To turn Caps lock on temporarily, press Alt + the search key. |
So what about the day in and day out usage? Overall it has been great. It took a little time to adjust to the differences in the OS environment, but once up to speed, it was great to have a browser that synced all my information across all my other Google and Chrome enabled devices. I was also pretty impressed by the integrated codec and video format support. While there are no dedicated applications that can be run within Chrome OS for additional support the Goggle Chrome OS team has integrated a fairly robust level of interoperability and compatibility.
Supported file types
The following file formats are supported on Chromebox:  ( information and text taken from Google support page )
Microsoft Office files: .doc, .docx, .xls, .xlsx, .ppt (read-only), .pptx (read-only). Learn more about viewing and editing Office documents.
Media: .3gp, .avi, .mov, .mp4, .m4v, .m4a, .mp3, .mkv, .ogv, .ogm, .ogg, .oga, .webm, .wav
Images: .bmp, .gif, .jpg, .jpeg, .png, .webp
Compressed files: .zip, .rar, .tar, .tar.gz (.tgz), .tar.bz2 (.tbz2)
Other: .txt, .pdf
| Container | Video codec | Audio codec |
| --- | --- | --- |
| ogv | Theora | — |
| webm | vp8 | — |
| mp4 | H264 | — |
| | MPEG4 | — |
| mov | MPEG4 | — |
| | H264 | — |
| avi | MPEG4 | MP3 |
| | DIVX | MP3 |
| | XVID | MP3 |
| 3gp | H264 | AAC |
| | MPEG4 | AMR-NB |
The simplicity of the OS also  adds to a secure feeling for those not as knowledgeable with file systems and control panels or root access. It also makes the OS environment friendlier and less worrisome for those that worry about "breaking something" or deleting something important. For enthusiasts, it will be a quick and easy to use system that allows you to connect to the things you do most whether its websites, email or engaging in social media. All in a form factor just a little larger than the palm of your hand. Pretty impressive for a piece of hardware that has a projected MSRP of $179. Add to it that compared to a Chromebook you have more connectivity, more memory and more flexibility to run a wider and more productive desktop via dual monitors or higher resolution all while not sacrificing on the responsive and secure aspects of Chrome OS. Whether the Chromebox is an addition to your current digital home or the start of one it finds solid footing.
Make sure to check back soon as we will have some tips on getting the most form your Chromebox in the form of what apps should you consider. Additionally we will detail what kind of games there are.  Closely out our content we will have a well a crash course in how to setup, use and recover Chrome OS.
For those interested in specs and some of the finer details check out the information below.
AVAILABILITY & PRICING and SPECIFICATIONS
ASUS Chromebox will be available at leading North American resellers in March with pricing starting at $179 US.  Please contact your local ASUS representative for further information on availability, configurations and pricing.
SPECIFICATIONS

1
ASUS Chromebox
Operating System
Google Chrome OS
CPU
Intel® Core™ i7-4600U Processor (optional sku in selected markets)Intel® Core™ i3-4010U ProcessorIntel® Celeron™ 2955U Processor
Memory
2GB / 4GB x DDR3-1600MHz; 2 x SO-DIMM
Graphics
Integrated – Intel® HD Graphics (up to 4400)
Storage
16GB M.2 (NGFF) SSD, 100GB of Google Drive space for limited time
LAN
10/100/1000Mbit/s
Wireless
Dual-band 802.11 a/b/g/n; Bluetooth V4.0
Interfaces
1 x 2-in-1 Card Reader4 x USB3.01 x HDMI1 x DisplayPort1 x LAN (RJ45) Port1 x Audio Jack (Mic-in/Speaker-out)1 x Kensington Lock1 x DC-in
Power Supply
65W
Dimensions
4.88 x 4.88 x 1.65"
1 support for 4KJ/UHD 4K resolution requires Core-i3 or higher SKU