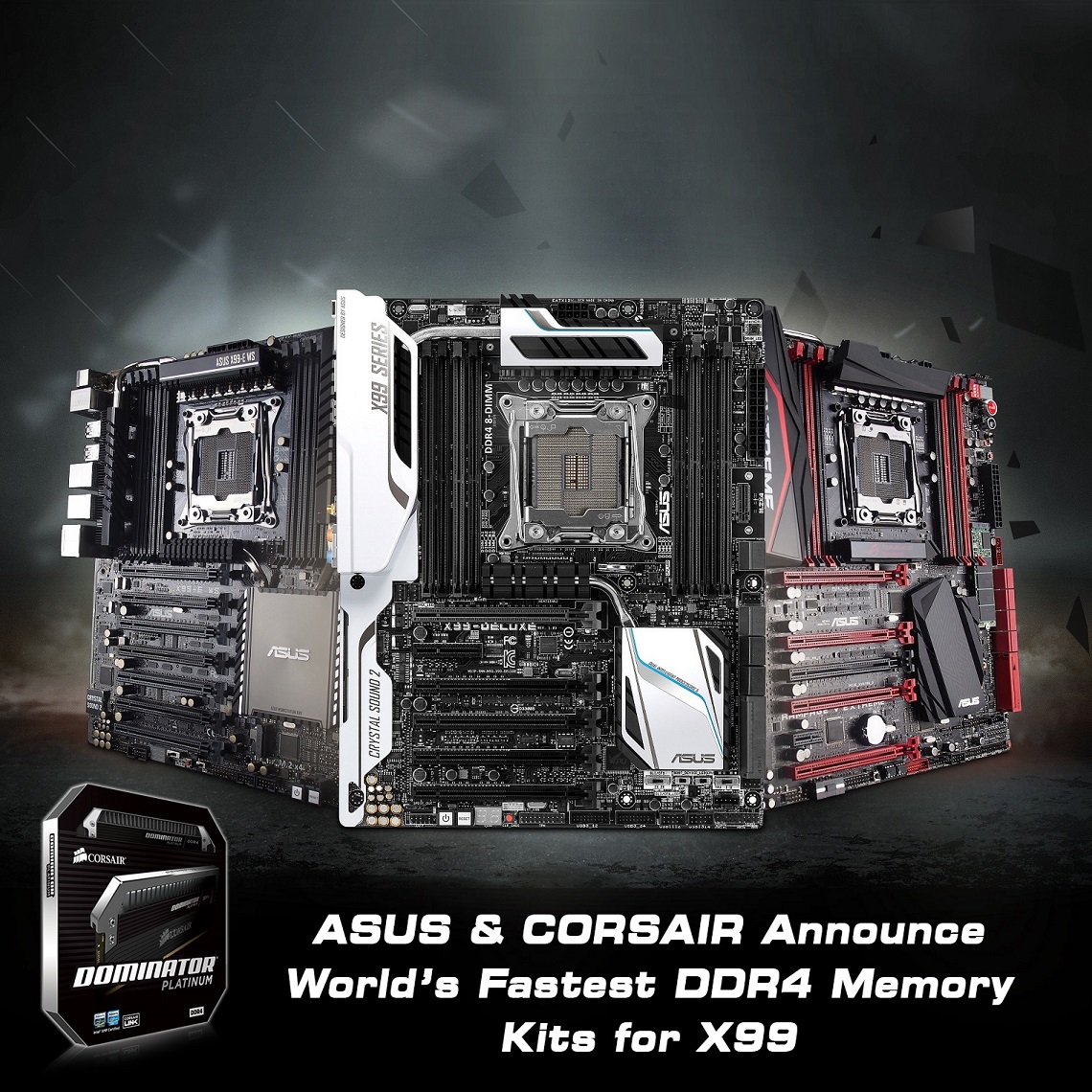 Here at PCDIY we are lucky to be able to have access to the absolute best components in the industry. With amazing partner support from companies like CORSAIR we can help to develop and enable some truly impressive product designs and levels of performance. During the course of our X99 motherboard development we worked closely with CORSAIR who mirror a passion and interest in pushing the envelope in DDR4 memory frequencies. ASUS and it's MB RD team have a long track record in impressive industry leading memory topology design and trace layout. Along with carefully developed firmware tuning to enable outstanding interoprability, compatibility and overclocking. I have been able to see this hands on with our latest range of X99 motherboards and to say least I have been truly impressive by the performance being offered at the onset of a platform launch.
If you consider that at the launching day one of a chipset ASUS and CORSAIR have already validated memory speeds that were recently just reached on DDR3 it is truly impressive. Even more so when you consider things are just getting started for DDR4!
Below you can see a picture of two systems I built featuring some awesome Vengeance LPX DDR 4 memory. These kits not only perform outstanding, run cool and overclock but do alll three while good doing! This is another area it has been great to work with CORSAIR on. Their passion and interest in producing products designs that align with the wants and needs of the community mirror our same interests. This is shown in the aesthetics and color matching offered on a wide range of CORSAIR products that pair beautifully with ASUS hardware. Again look no further than the system below. I cannot wait to see how the white DIMMS will look or the red DIMMS look in these system, although as the saying goes black is timeless and goes with everything.
Overall I am excited to see DDR4 and the exciting improvements in brings in improved efficiency, increased DRAM bandwidth, higher frequencies, larger densities and lower voltage and superior stability and reliability. Of course stay tuned to PCDIY to see more on DDR4 and some awesome kits from CORSAIR. I have some great content planned including RAM cache, RAM disk overviews and how to's and more.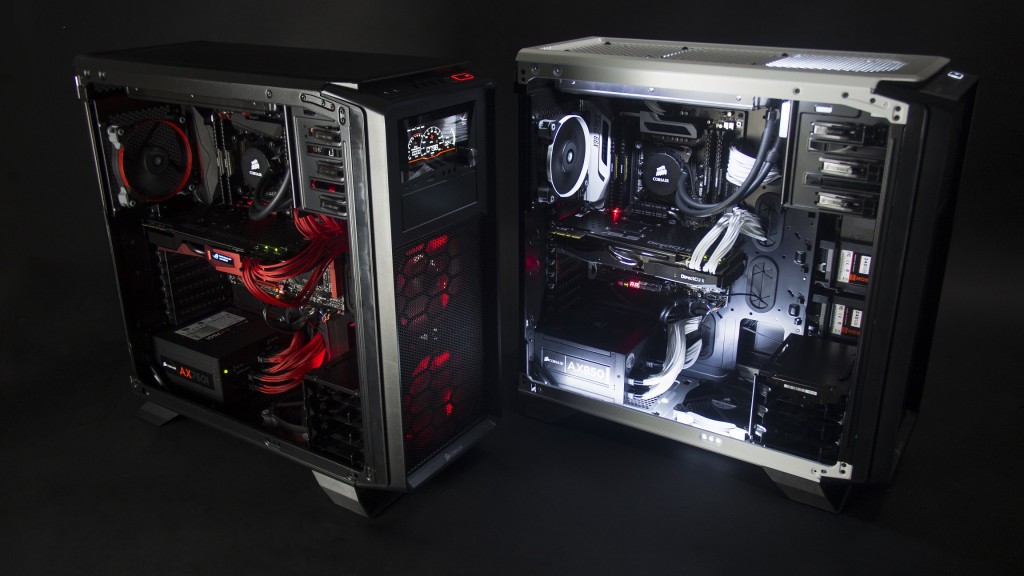 Corsair and ASUS Join Forces to Create World's Fastest Production DDR4 Memory Kit for the latest generation of Intel Haswell-E CPUs and X99 motherboards.
Corsair adds 3300MHz, 3200MHz, and 3000MHz memory kits to its DDR4 memory lineup
PAX Prime, Seattle —August 29, 2014 — Corsair®, a worldwide leader in high-performance PC components and ASUS a worldwide leader in motherboards, today announced the availability of the Corsair Dominator Platinum DDR4 memory kits in 3300MHz, 3200MHz and 3000MHz speeds – the world's fastest production memory kits. Corsair developed the new high-speed DDR4 memory in close collaboration with ASUS, tuning and validating the memory timings to take advantage of the optimized DRAM layout and UEFI firmware of ASUS's new X99 motherboards. The new Dominator DDR4 memory kits, when paired with the ASUS X99 Deluxe and Rampage V Extreme motherboards, creates some of the fastest, most stable enthusiast PC platforms available for the new Intel® Core™ i7 processors (codenamed Haswell-E).
"Our rigorous validation with ASUS has enabled us to make Dominator Platinum 3300MHz the fastest desktop DDR4 memory available at launch," said Thi La, Chief Operating Officer at Corsair. "Our OC team and engineers are excited to see such performance headroom the new Intel platform and are looking forward to releasing even faster kits in the near future."
"It is always exciting when two companies renowned for being at the forefront of innovation and pushing performance boundaries work together to create new products for end-users. The combination of ASUS X99 motherboards with Corsair Dominator Platinum ushers in a new era of memory performance and stability for enthusiasts,"  Joe Hsieh, ASUS Corporate Vice President and General Manager of the Motherboard and Desktop System Business Unit.
Corsair Dominator Platinum DDR Memory
Dominator Platinum memory kits have a striking industrial design for good looks, patented DHX technology for cooler operation, user-swappable colored "light pipes" for customizable downwash lighting, and Corsair Link compatibility for real-time temperature monitoring. Dominator Platinum memory is built with hand-screened ICs, undergoes rigorous performance testing, and incorporates state-of-the-art cooling for reliable performance in demanding environments.
Corsair Vengeance LPX
In addition to the Dominator line Corsair is also releasing an updated line of Vengeance memory specifically designed for DDR4 as well as being validated for interoprability, compatibility and outstanding stability with ASUS X99 motherboards. Vengeance LPX memory is a new Corsair memory line designed for high-performance overclocking with a low-profile heatspreader made of pure aluminum for faster heat dissipation and the eight-layer PCB helps manage heat and provides superior overclocking headroom. The memory kits are available in black, red, white, or blue so that enthusiasts, gamers, and modders can eaily color match their builds. Additionally their low profile design allows for easy and trouble free installation and optimal compatibility with a wide array of cooling solutions.
For the Vengeance LPX line they will be offer in a wide range of colors
Black
Red
Blue
White
Vengeance LPX and Dominator Platinum DDR4 Specifications
Unbuffered DDR4 SDRAM in 288-pin DIMM
Capacities at launch: 8 GB (2x 4 GB), 16 GB (4x 4 GB), 32 GB (4x 8 GB) and 64 GB (8x 8 GB)
Speeds at launch: 2666 MHz, 2800 MHz, and 3000 MHz
Intel XMP 2.0 (Extreme Memory Profile) support
About DDR4
DDR4 is faster: Even at the baseline speed of DDR4 delivers twice the bandwidth with 2133 MT/s (million transfers per second) compared with the base DDR3 1600 MT/s. With optimizations games and applications have the potential to load faster and run more smoothly.
DDR4 uses a lot less power and runs cooler: With each new generation of CPU and GPU architecture, system power consumption and heat generation become more and more important. DDR4 modules operate at an ultra-low standard 1.2 volts compared to the 1.5 and 1.65 volts of DDR3 memory, allowing DDR4 memory to consume significantly less power and generate less heat.
DDR4 memory modules will allow for larger densities: DDR3 is limited to 8GB modules for a maximum of 32GB on standard four-socket motherboards. DDR4 will have the ability to enable 16GB per module by 2015. A motherboard with eight memory slots will be upgradeable to an amazing 128GB or DDR4 memory.
The ASUS X99-Deluxe and Rampage V Extreme
ASUS series of X99 motherboards have been designed for the ground up to offer superior overclocking margin as well as stability. Advanced power topology and trace layout have ensure the best performance and overall interoprability and compatibility. The ASUS X99-Deluxe and Rampage V Extreme have been qualified to ensure out of the box readiness for these ultra high performance DIMMS. This is coupled with a highly customized and refined UEFI firmware that allows easy setup and tweaking – perfect for getting the most from Corsair Dominator Platinum & Corsair Vengeance LPX DDR4 memory.
Availability and Warranty
The DDR4 memory kits are available in Corsair's Vengeance LPX and Dominator Platinum lines. The memory kits are available immediately via Corsair's worldwide network of authorized distributors and resellers and are backed by a lifetime warranty.
The ASUS X99-Deluxe and Rampage V Extreme motherboards are available now at ASUS authorized distributors and resellers worldwide. Both motherboards are covered by a three year warranty with advanced replacement in the first year.