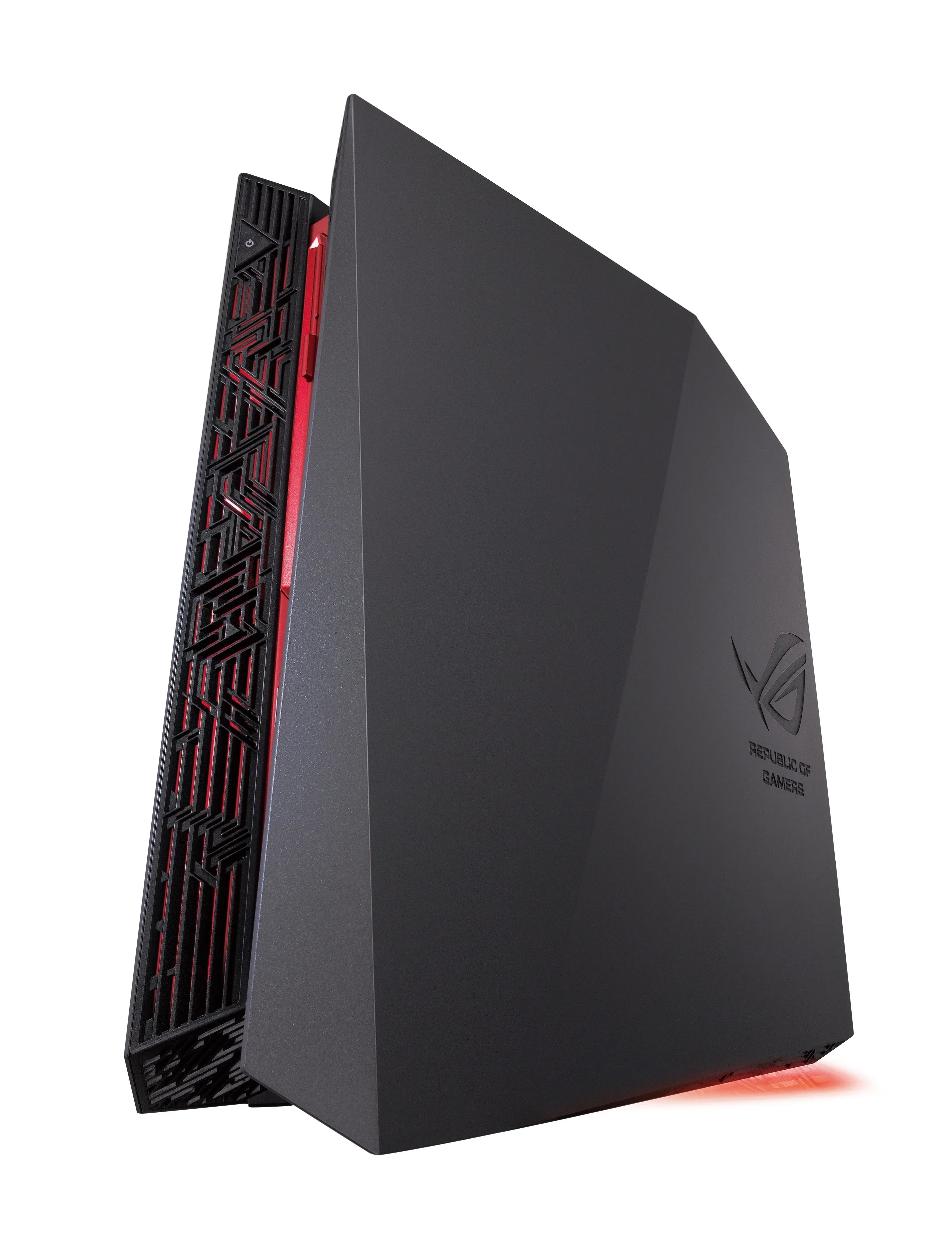 One of the biggest trends over the last couple of years in the desktop space has been a diversification of form factors and a serious push for high performance small form factor PCs. Historically going with a smaller PC and defiantly a slim PC has meant lower performance. It has also meant that you compromise on the features and functionality you may want. As the DIY community has shown along with gaming oriented system integrators small form factor does not have to compromise on performance. Through advancements in PC architecture and efficiency which translate into lower power consumption and improved thermal characteristics we have entered an era of having a small form factor PC that can offer truly desktop class performance. ASUS and its ROG desktop team have been hard at work over the last year to design and develop a uniquely styled performance oriented gaming desktop. Unlike traditional desktops it is considerably slimmer and smaller. I have been lucky enough to spend some time with this new desktop and put it through it paces and see what it is all about.
Generally here on the PCDIY website I focus on DIY or do it yourself. While it is possible to build your own small form factor PC, SSF builds are some of the more challenging builds to take on due to the tight dimensions and number of restrictions that exists due to significantly reduced total usable space. PCDIY builder likes myself who have large hands find it even more difficult especially due to the generally cramped interiors. Looking to the outside chassis designs for small form factor PCs have been limited in their diversity and general aesthetic. When the ROG team decided to take on the challenge of designing a truly gaming class desktop PC purpose-built with features and functionality to compliment the gamer as well offer a visual design that set it self apart they did not realize the difficulty and challenges that would ensue. While difficult the team exercised its expertise, insight and engineering know how to accomplish some impressive design implementations that ultimately produced the desktop I have been working with for the last week and a half.
When you first lay your eyes on the G20 you are not 100% sure what you might be looking at. Outside of its considerably reduced footprint compared to a traditional desktop it has multiple angled lines that provide a dynamic visual to the chassis. The contour these lines yield give the G20 a unique appearance. Beyond the contouring you will see the bold red and black colors and soft LED glow from the front. This only leaves you scratching your head further as to what it is. Is it a console? It is something to do with audio or video? As you look more closely you see glyph designs molded into the body inspiring a sense of technical design grown over time. It is only when you look at the G20 dead on center that you begin to see some signs of the desktop that lies beneath its heavily stylized exterior. You see the front USB 3.0 ports ( which have been colored red ) as opposed to their traditional blue. This subtle touch helps to ensure a consistent look and feel to the G20. In addition to the front USB 3.0 ports you see headphone and microphone inputs. These are also colored red to match the rest of red accent and trim featured throughout the center of the G20. Finishing a fly over of the "chassis" you really get a sense of the creative design effort put in the G20. It has an inherent technical feeling to it which imbues it with a sense of performance lying beneath its matte graphite colored panels. Ultimately it looks cool and compliments a gamer aesthetic. Equally important the inside brings the same inspired design offering innovative design implementations with great performance.
The stylized lines with technical glyphs and the contrast between red and black really give the G20 a unique look. The G20 has a modern and aggressive style that gamers and enthusiasts will love.
Below we have a picture of the G20 next to the PG278Q otherwise know as the ROG SWIFT. This 27″ 2560 x 1440 monitor with G-SYNC helps to put in to perspective the height as well as the thinness of the G20. The slim nature works really well on a desk, you can easily fit it onto a desk and adds a great deal of weighted presence while taking up minimal space.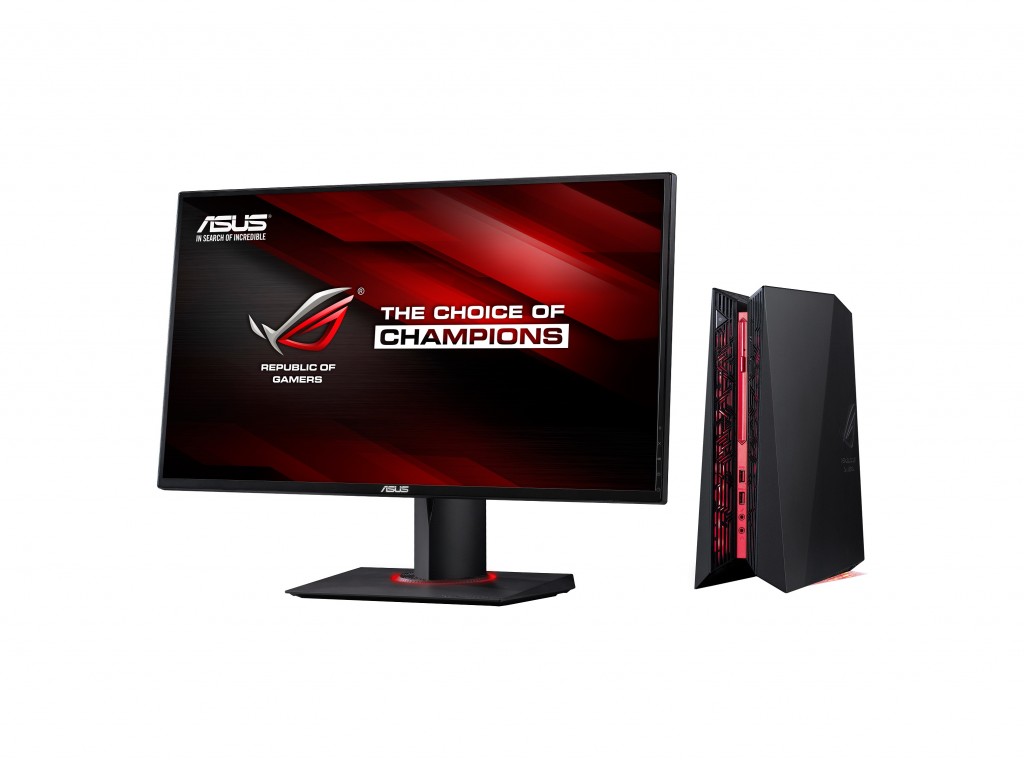 Key dimensions and specifications
The G20 was designed and developed to be a small and slim gaming desktop and it definitely meets that criteria. While small and slim it does not compromise on performance to reach those criteria. The G20 will have varying hardware configurations the one I tested was equipped with a desktop class 4th generation Intel i7 CPU specifically the 4790. As for the graphics card it was equipped with a desktop class NVIDIA GeForce GTX 760. These are impressive performing parts to fit in the dimensions of the G20 especially considering they are not mobile solutions. It is not just the CPU and GPU combination though that makes this an impressive desktop but a complete array of specifications & features.
Dimensions
104 x 340 x 358 mm
CPU  – Up to a 4th generation Intel Core i7 ( desktop class Haswell Refresh )
This is a great choice in a CPU it offers robust performance whether it be single to lightly threaded games benefiting from the default high turbo frequencies and advanced CPU micro architecture to the most advanced games which leverage four to eight threads. For more robust users the additional cores and cache help to offer great multitasking abilities and performance. Of course some games with complex AI, expansive worlds and environments and large multi player components can also benefit from the additional cores and cache. Prosumers who work as well as play will enjoy the performance afforded across all kinds of advanced content creation workloads like audio, video or image editing.
RAM / Memory – ranges up to 8GB of DDR3L
8GB is a perfect density for a gaming PC allowing for more than enough for general windows usage as well as broad application utilization. This density is also great for gaming as you have more than enough to meet requirements while also having a sufficient amount free if you are multitasking prior to playing a game. Whether it be having multiple tabs open, streaming video, listening to music or general usage you can rest assured you have enough memory to help ensure fast and fluid application performance.
GPU / Graphics Card – Up to a NVIDIA GeForce GTX 760
The GTX 760 is a great graphics card offering impressive performance even with high quality image settings. Gamers looking to have a great 1080 gaming experience will be well served by this graphics card. The GTX 760 is based on NVIDIA's Kepler architecture which provides great efficiency and performance per WATT along with extensive graphics and gaming features. Beyond its cores specifications there are are a literal slew of advanced features and functions that to enable and create a richer and more immersive gaming experience.
The GTX 760 features 1152 CUDA Cores
Base Clock ( MHz ) 980 MHz
Boost Clock ( MHz ) 1033 MHz
Memory Clock ( GHz ) 6GHz ( 6000 MHz )
Memory type and density 2GB of GDDR5
Display output Four ( 4 ) display outs inclding one dual link DVI-I, one dual Link DVI-D, one HDMI, one DisplayPort. You can easily support dual monitors.
Beyond the core specifications you have support for some great features including
GPU Boost 2.0
DirectX 11 support
NVIDIA G-SYNC
NVIDIA Shadowplay
NVIDIA 3D Vision
CUDA acceleration
PhysX and NVIDIA Gameworks ( including hairworks, faceworks and turbulence )
Advanced anti alising support including FXAA, TXAA
DSR- Dynamic Super Resolution
Adaptive VSync
NVIDIA GameStream
Networking connectivity – Intel LAN and 802.11AC with GameFirst packet priority & control
The G20 comes with an upgrade not every gamer knows they should want or need. Specifically an Intel network adapter which has been internally tested to offer superior UDP performance which is key for games. Intel network adapters set the bar for enthusiasts offering outstanding performance, ultra low power utilization and advanced management configuration parameters through the Intel Proset. This along with GameFirst, an integrated and easy to use packet and priority application helps you to maximize your network connection for superior ping, latency or throughput. Whether it be downloading, streaming, browsing or gaming you can tweak it and tune it specific to your needs. For users using WiFi the G20 comes integrated with a dual band high throughput 802.11AC wireless adapter. This helps to offer speeds faster than standard 10/100 Ethernet. Whether your are wired or wireless you are covered.
Superior sound – SonicMaster audio design
Sound is a critical part of a gaming PC. It helps to provide positioning and detailing in-game as well as increasing  your immersion and excitement. The ROG team has worked closely with the ASUS SonicMaster team to carefully layout the internal audio topology to maximize its performance and offer superior performance improving key metrics such as SNR and dB. Additionally users can configure audio based on their preferences with a custom equalizer along with five custom presets. So whether it be movies, music or games you have a great audio experience.
Robust connectivity – USB 3.0, Bluetooth, enhanced USB charging with AiCharger II
The G20 comes equipped with all the modern connections a gamer and enthusiast wants including ultra high-speed USB 3.0 as well as integrated Bluetooth. Bluetooth is perfect for pairing your tablet or smart phone as well as peripherals. Beyond traditional connections digital device enthusiasts with smartphones or tablets can quickly charge their devices via an enhanced port in the front of the G20 even when the system is off.
Customization – Three controllable lighting zones
The G20 comes with ROG Command an advanced but easy to use system utility enabling a wide range of functionality including control of ROG lighting effects on the G20.
ROG G20 special features
AEGIS monitoring utility – Integrated advanced system monitoring including CPU temperatures.
ECO Energy Mode – Advanced hardware and software design helping to offer considerably lower idle power consumption as well as maintain active network connectivity for incoming messages, updates and maintaining downloads.
Advanced exhaust airflow design – Specialized copper CPU heat pipe design has been implemented with a guided exhaust airflow design to ensure minimal internal heat build up. Additionally the graphics card features an NVIDIA reference cooling solution designed to exhaust the majority of hot air outside of the chassis.
Design story
When the ROG team decided to target a small form factor PC they knew there would be a number of challenges especially in regards to thermals and layout. They made the process and ultimately the execution even more difficult by wanting an extremely stylized exterior that did not have any visible venting and was slim in profile. Considering that the G20 can come equipped with up to a Core i7 and a GTX 760 this made the design more complicated and difficult. Ultimately the the design team implemented some slim profile cooling designs found in our high performance G series notebooks and instead of thinking horizontally they thought vertically. This led to the utilization of a specialized dual copper heat pipe cooling solution which is connected and feeds into a large finned heat sink assembly. This assembly is positioned at the top of the chassis to exhaust hot air which is expelled by dual low profile "blower" fans which help to dissipate the heat sink assembly. You can see in the picture below the side panel has been removed allowing us access and visibility to the inside of the G20. You can see how much hardware has been placed into the small internals, yet careful consideration was put into the design ensuring effective placement especially in regards to thermals. In the next photo you can see the an internal shot of the heat sink assembly and it the high performance cooper plate making contact with the CPU. This is quite a bit more advanced than what is found in traditional desktops.
Directly below the dual CPU blower fans we have the graphics card which features a blower fan. Again just like the CPU blower fans this design helps to expel the majority of hot air from the GPU out of the system. Due to the small and compact form factor this is an important design implementation. To further improve on efficiency and thermals the design team implemented Lucid VirtuWATT a specialized implementation that allows the G20 to leverage the iGPU on the CPU as well as the discrete NVDIAI GeForce GTX 760. This allows the GPU under idle or light workloads to disengage the discrete GPU and even turn it off. This not only reduces power consumption but additionally minimizes the build up of additional heat. Beyond this innovative approach to dealing with consistent power draw and build up of heat the ROG team further differentiated the G20 from traditional desktops by removing the internal PSU ( power supply ). Traditionally desktop PCs used an internal power supply. While this was an option it would have increased the dimensions of the G20 while also increasing internal temperatures and noise output due to active cooling needing to cool the PSU components. What was implemented was innoative. Two AC adapters are utilized one for the CPU and another for the GPU this produces superior load efficiency while also not introducing any additional heat build up inside the chassis that must be ventilated and the AC adapters also are silent in their operation.
Continuing on innovations relative to efficiency another G20 feature not only offers great power efficiency but helps to maintain a responsive "connected" system. The G20 leverages CPU and chispet technology from Intel which enables Intel Ready Mode. This specialized mode operates like an advanced form of sleep and hibernation. Working in concert with the OS and hardware it enables a network / internet connected system at ultra low power states.  This is a great feature for enthusiasts and gamers as it allows you to be connected to the internet for emails, IMs, Skype messages, Google+ messages, Facebook & Twitter updates along with other social media. Overall stay connected at minimal power and quickly resume your system with all your updates and notifications waiting for you including steam notifications. Furthermore gamers do not worry about 20 to 100GBs worth of downloads needed for the latest generation of games. Leave your system on and either turn off your display or let it go to inactive state and the system will consume as little as 10 WATTs while letting your system download or patch the latest game. For users of remote desktop data sharing applications and cloud services like OneDrive, Dropbox or Google Drive or BitTorrent you can also leave your system on allowing you to complete syncing or sharing at minimal power consumption. As you begin to put all these additional design elements and enhanced usability implementations together you begin to see the attention to detail the G20 brings in offering a small form factor design while not compromising on enthusiast class features or functionality. Moving towards the future Intel Ready Mode with supporting applications like Cyberlinks MediaStory will allow you to transfer files from your mobile device automatically without even the need to wake the system and initiate a transfer. Pretty awesome!
Networking & audio diving into the details – GameFirst & SonicMaster
For many gamers networking connectivity, performance and control is a huge part of the gaming experience. Gamers are looking for the best ping, latency and throughput and if possible looking for the ability to monitor and control their network connections tweaking and tuning it specific to their needs or usage. Beyond that clarity, sound stage and positioning are critical parts of a quality audio implementation especially for gamers.  With this in mind it is easy to see why when looking for an improved gaming experience it is not as simple as making sure the PC has a network adapter and on board sound. The G20 features a Intel gigabit Ethernet controller. This is important as Intel NIC have been proven to offer outstanding general performance for all types networking usages as well as excellent interoprability with applications and extensive control for network parameters via the Intel Proset ( a management and configuration utility ). What many do not know though is the performance of an Intel network controller is very good when it comes to UDP traffic. This is important as UDP traffic makes up the majority of game traffic ( game packets ). Beyond this important benefit the Intel NIC also offers excellent power efficiency using 50mW or less when connections are idle compared to the norm of 500mW. The controller can also offload UDP/TCP checksums from the CPU, reducing PCH-CPU traffic and overall CPU usage.
Below is some of the internal testing done to show the difference between Intel and other common network controllers specific to UDP performance. Testing was done using iXChariot an industry leading tool in network performance analysis and bench marking.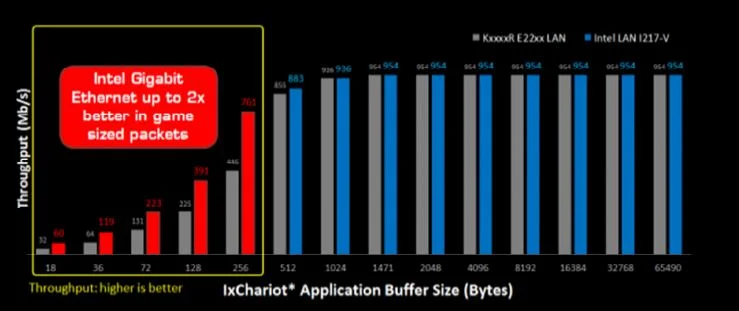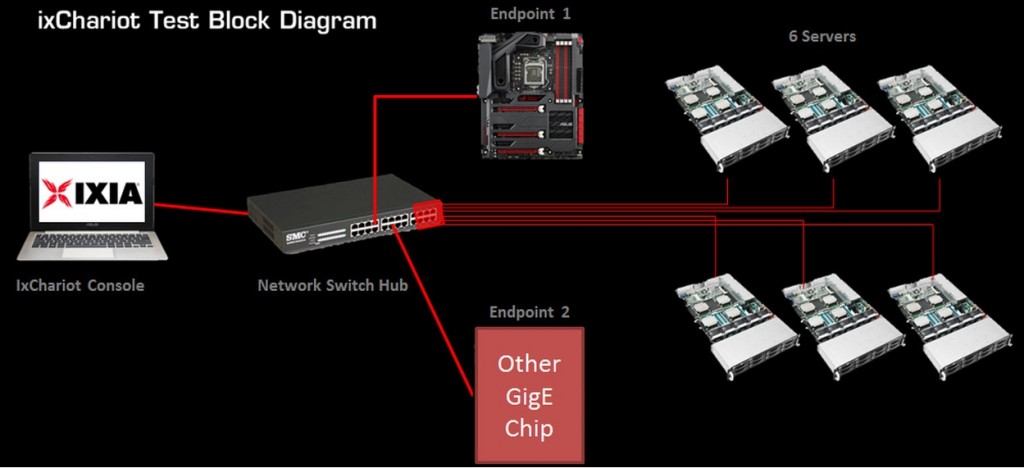 Online game packets are usually less than 256 bytes (small). Here, Intel Ethernet shows up to a 2x performance advantage. Keep in mind all testing was also executed without use of the GameFirst packet priority application or any configuration to the Intel network controllers performance parameters ( available within the Intel Proset ).
Beyond the physical Intel network adapter the G20 features 802.11AC WiFi. Fort those unaware 802.11AC is the latest generation wireless specification offering improved range and throughput compared to previous 802.11N WiFi. With a quality 802.11AC router like the RT-AC66U or RT-68U gamers can have a great experience even when connected wirelessly. In fact users can experience connectivity speeds that are equal to that of 10/100 Ethernet "wired" connections. Whether it be in ping, latency or overall throughput 802.11AC can offer some impressive performance. Additionally it support RX beam forming which helps to further improve performance and connectivity with 802.11AC enabled routers.
Wireless Performance
Of course being a network enthusiast and this being PCDIY I had to do a bit of WiFi testing. Testing was completed with the G20 approximately 15 to 20 feet away from the router.  You can see we had some very good throughput overall with our minimum throughput still roughly equal to that of a 10/100 Ethernet. Looking at the AVG and MAX throughput you can see faster throughput than 10/100 Ethernet. Overall it is a great to see this class of WiFi integrated into the G20 which helps to ensure whether you stream, sync, share or game you can have a solid performing WiFi adapter.
While our internet connection does not saturate the wireless connection it goes to show there are no problems having a very high-speed wireless ISP service.
Network Packet Priority & Control with GameFirst
Beyond the physical Intel LAN and 802.11AC dual band WiFi you also have a packet priority and control utility on the G20, specifically GameFirst. This utility can be made to work with either network controller ( wired or wireless ). It allows you to prioritize network centric services / applications as well as favor bandwidth or ping / latency. GameFirst offers a easy to user interface with robust functionality and extensive tweaks for networking enthusiasts. Some of the key features are noted below.
Ensure fast throughput and connectivity while downloading or uploading
Improve your ping & latency
Reduce audio & video streaming issues
Enhance performance by applying RWIN expansion
Prioritization of specific applications or network protocols.
Overview of all active connections
Optimize and tune for VoIP calls
You can see the interface overall offers an EZ primary interface allowing for quick selection between common usages such as VoIP, Media Streaming, Gaming or File Sharing. Beyond the EZ mode you have the advanced section allowing for extensive control over many aspects of the application including system wide prioritization of protocols or enabling of traffic shaping as well as much more. You can easily monitor all active RX & TX ( Downlink and Uplink ) connections. Moving away from networking we have audio. The ROG team has spent considerable time and effort to carefully implement the audio design on the G20.
 Superior Audio Design with SonicMaster
SonicMaster is a program initiative internally started by ASUS in previous generations of products that include notebooks, desktops and more. The goal with SonicMaster was to provide a superior integrated audio implementation carefully analyzing and evaluating hardware specs, layout and overall topology. This is needed to help and ensure reduction to interference as well as improve metrics such as SNR, THD & dB. Beyond the pure hardware improvements SonicMaster additionally integrates an advanced audio suite providing users with the ability to quickly and easily customize the audio EQ to or apply one of the predefined presets. Some of the specific features and benefits are noted below
Optimization for pitch and bass which help to extend the range for music, movies, games and vocals
Less noise than industry standard implementation, overall helping to improve clarity whether it be the headphones or speakers
5 customized audio modes
SonicMaster includes Waves professional audio processing by Waves company a professional audio production software. Using a similar set of controls and tools users can customize and apply processing to their sound helping to define an audio experience they can prefer. I can say I have been pleasantly surprised in using it especially the multimedia option which provides noticeably better tonality, clarity and sound stage to general audio, music and video playback. I have also found in some game titles certain presets can provide a richer and warmer tone with better bass. Below you can see some of the images of the user interface with detailing on some aspects of functionality.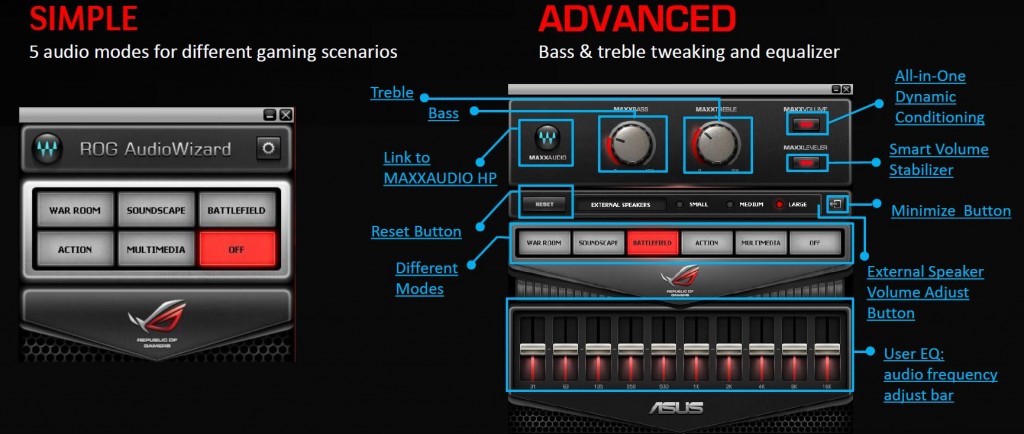 You can see it offers two modes of operation a simple interface for quickly enabling or disabling it as well as quick selecting different profiles. The advanced user interface offers a range of adjustment options including access to the same presets as well as a user definable EQ.
Preset System
MaxxAudio is custom-tuned for each individual ASUS ROG model, providing presets designed by Waves audio engineers to realize the full potential of your ROG audio system for a maximized gaming experience. At any time, these presets may be restored by clicking the preset buttons. Whenever MaxxAudio settings are modified, the Custom preset becomes active, while preserving current user settings. The ROG MaxxAudio GUI consists of 5 customized presets, each tuned differently to bring out sonic nuances for specific gaming and multimedia content:
War Room – for role-playing and strategy games.
Soundscape – for sports, racing and flight simulator games.
Battlefield – for first-person shooter and survival games.
Action – for action, adventure and racing games.
Multimedia – for music, movies and web content
To ensure optimal headphone and external speaker performance, MaxxAudio includes specialized presets for external devices, categorized by device size.
The Headphones/External Speaker controls are grayed out by default, and become active when an external jack is connected to the Line-out input or headphone-out input.


The Speakers/Headphone display will show the currently active Output Mode. Whenever an external output jack is detected, the 'Headphones/External Speakers Size' controls become active. Three speaker sizes are available: Small, Medium and Large.
When no external output jack is connected, the 'Headphones/Speakers Size' control is grayed out.

MaxxBass
virtual subwoofer technology uses the science of psycho-acoustics to deepen bass. Unlike traditional bass boost technologies which use EQ and can overpower your system, the patented MaxxBass process utilizes the scientific principle known as the Phenomenon of the Missing Fundamental to analyze audio content. Based on its calculations, MaxxBass delivers perceived bass response up to 1.5 octaves below the speakers' physical low-frequency limit. Best of all, the ROG MaxxAudio interface gives you hands-on control over your frequency cutoff point and volume as well as the intensity of the MaxxBass effect.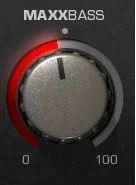 MaxxTreble
is an intelligent high frequency enhancement process that harnesses the dual power of multiband compression and dynamic equalization. Once you define the high-end frequency range and the amount by which to accentuate, MaxxTreble helps to add clarity and distinction to music and movies overall adding a lending a crispness to the audio.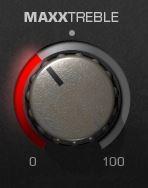 MaxxEQ
is an advanced 10-band equalizer that gives you the power to shape your sound. Based on Waves award-winning professional Q10 paragraphic processor, MaxxEQ features a full range graphic equalizer of high quality, enabling users to further customize sound performance.
MaxxEQ's ten bands are set to cover the entire frequency range; the left side of the frequency range, starting at 31 Hz, covers low (bass) frequencies; the right side, ending at 16 KHz, covers high (treble) frequencies. Midgrange is between 500 Hz and 2 KHz.
MaxxEQ Gain Controls
Band Gain determines the amounts of amplitude boost or attenuation for its frequency range.
Range: +/- 18 dB (in increments of 0.1 dB)
Examples for typical EQ applications:
Raise the 63 Hz and 125 Hz faders to increase speaker's bass reproduction.
Raise the 8 kHz and 16 kHz faders to increase treble, for a sharper, clearer sound.
Raise the 1 kHz and 2 kHz faders to boost the level of vocals and guitars when listening to music.
MaxxVolume & MaxxLeveler
is a 4-way dynamics processor that works its magic using a combination of high level compression, low-level expansion, gating, and leveling, plus expert presets designed by top sound engineers as well as customizable parameters for each function. High level compression keeps louder sounds under control, while low-level expansion brings up the relative volume of quieter passages. MaxxVolume's noise gate silences unwanted background and system interference, while its MaxxLeveler function smooths out volumes, automatically adjusting differences in level for richer performance at all volumes. From program to program, video to ivdeo, song to song, just set it and forget it; MaxxVolume will keep your levels in check.

MaxxVolume Controls
Active/Inactive toggles on/off the high-level volume boost and low-level compression functions.
MaxxLeveler
Active/Inactive toggles on/off a transparent loudness stabilizer which smooths inconsistent volumes.

When fully accounting for all the features and functionality and flexibility that GameFirst and MAXX Audio with SonicMaster provide you can see the experience offered by the G20 when it comes to networking and audio is anything but industry standard. Gamers and multimedia enthusiast can definitely expect an improved experience compared to traditional desktops.
Thermal design & acoustics – Cool & Quiet
I have detailed a bit regarding the customized heat sink and fan assembly used to coll the G20 but thermals are only part of story. In the design and development acoustics played an equally important role. Gamers not only want a system they can feel confident in when it comes to the temperatures but also do not want it to sound like a leaf blower. Whether it is just checking your email, watching a Twitch or YouTube game stream or video or movie online you want the system to be quiet. The G20 I found to be very good in these respect when at idle the unit is essentially inaudible, this is great as you will probably spend equals time not gaming on the G20 as you spent gaming. When under demanding loads or gaming it does become audible but has a minimal tone and low acoustic profile. For many users once they have headphones on or speakers even a low volumes it will effectively cancel out the noise footprint of the system again having the real world experience be very very useable.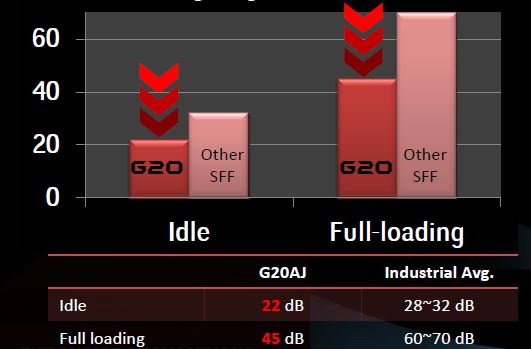 In regards to noise the G20 is near silent at idle.
Moving to temperatures the model I had in hand was the highest end G20. It was equipped with a Core i7, specifically the 4790 Intel latest 4th generation refresh Haswell based CPU. This is a seriously fast CPU offering impressive performance in everything you throw at it. I decided to measure temperature by loading it up and looping Unigine Heaven and looping it for four ( 4 ) hours. I also spent about two ( 2 hours ) actually playing in Marvel Hero's and Company of Hero's 2 as well as Crysis 3. Temperatures were essentially the same in both test configurations. As a whole I was impressed to see the CPU stay pretty much under 70c especially consider the slim profile of the chassis. The GPU pretty much was exactly where it should be reaching temperatures between 76c to 83c depending on the game load.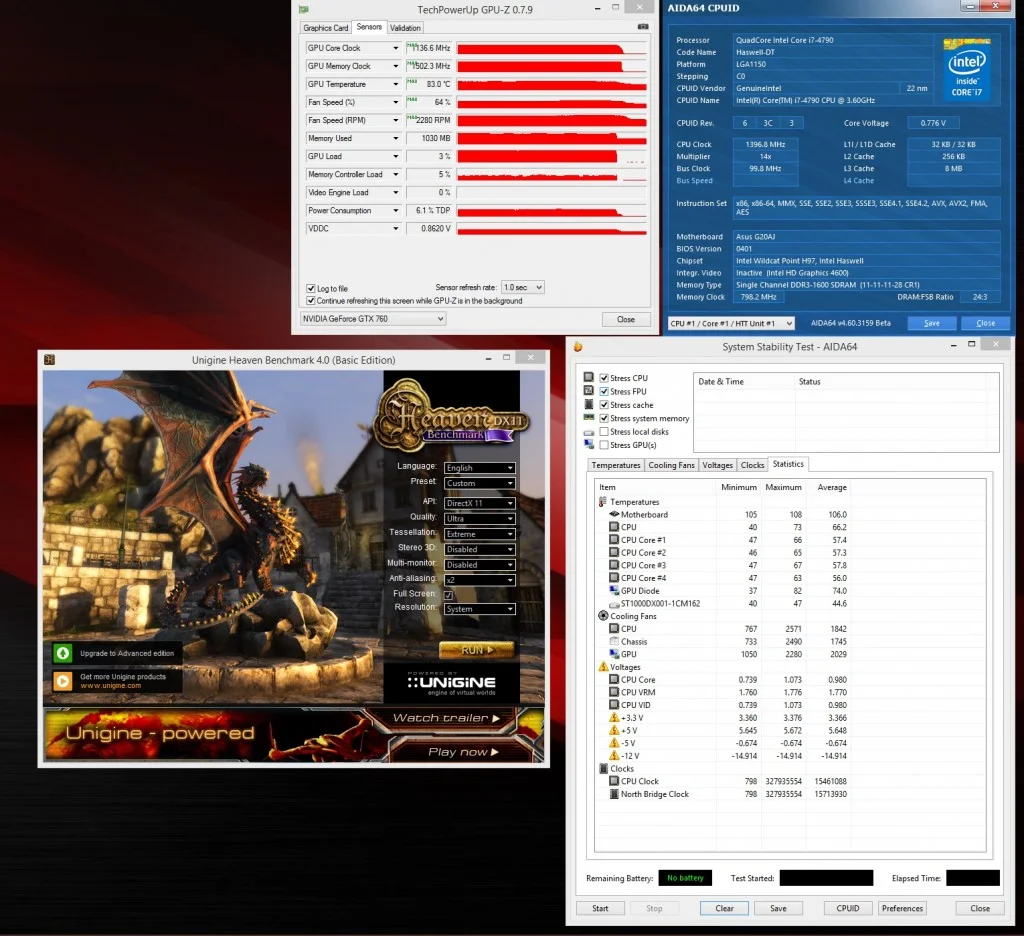 Temps overall were great for a slim small form factor system with the CPU staying under 70c and the GPU avg about 80c.
All the way around anyone wondering on whether the G20 compromises on its thermal and acoustic performance to reach its slim and compact form factor will not have to worry. During the week and a half I have spent continually running this system for extended periods whether it be benchmarks, gaming, streaming and more it has never has the system felt hot or been a leaf blower. This really is awesome especially for users looking to keep this on their desk due to its great looking design and minimal footprint. Something that ties directly into thermals and temperatures is efficiency. The G20 has some pretty interesting design implementations to help improve system efficiency which reduces power consumption and assists in reducing temperatures and noise output.
Power consumption – ECO energy mode with Lucid Virtu WATT & Intel Ready Mode
The G20 has implemented some pretty advanced designs requiring a combination of hardware, firmware and software development.Two specific features required this trifecta.
Lucid Virtu WATT
Intel Ready Mode
Both of these are great technologies are designed to maximize features and functionality introduced in the latest generation of CPUs and chipsets along with maximizing system power efficiency. Lucid Virtu WATT is a great application that allows the discrete GPU to be shutdown saving considerable power at idle power stages as well as helping to reduce the build of heat internally from the GPU. For Intel ready mode your system can maintain responsiveness and connectivity when your display is turned off or it has gone to sleep. Once this has occurred the The network controller maintains an active connection. The CPU powers down to an ultra low C7 C-state. This reduces power consumption considerably and when tied in with the Intel integrated network adapter which has excellent idle or  light load power consumption allows the system to still receive notifications, IM's updates and more. Users even have the ability to have applications like Cyberlink MediaStory auto sync from their mobile desktop to the desktop in this state all without any engagement at all and with the system in this low power state.
Here is a reference chart for the two operating modes. Keep in mind that maximum reduce power consumption is only achieved with an SSD.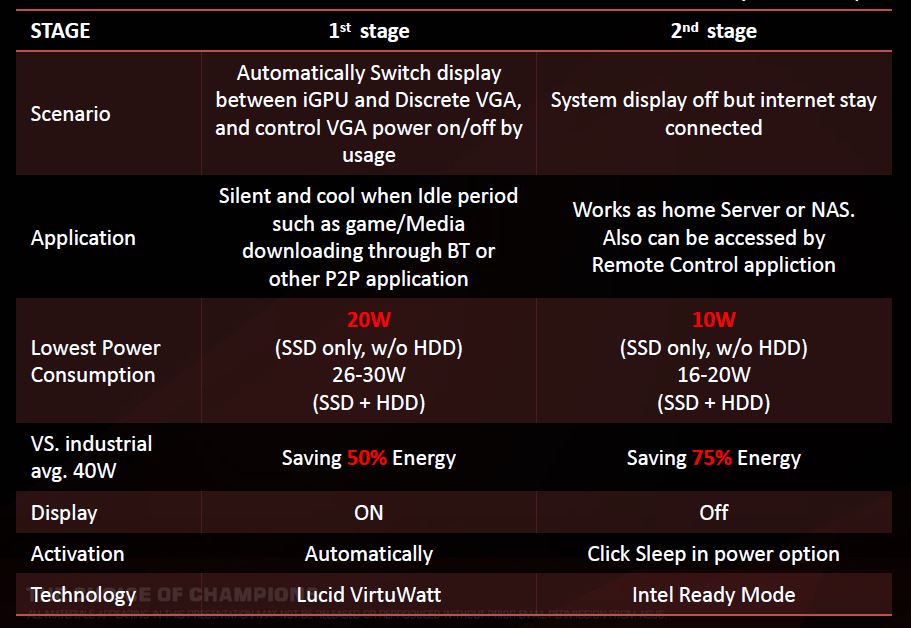 By default while the system has been designed for Intel Ready Mode it is disabled. Should you want to enable it it is as simple as go to the search field and typing in "Intel Ready". You be displayed a result for the application setting interface.
If you want to see how Intel Ready Mode compares to other standby or connected power states take a look at the chart noted below.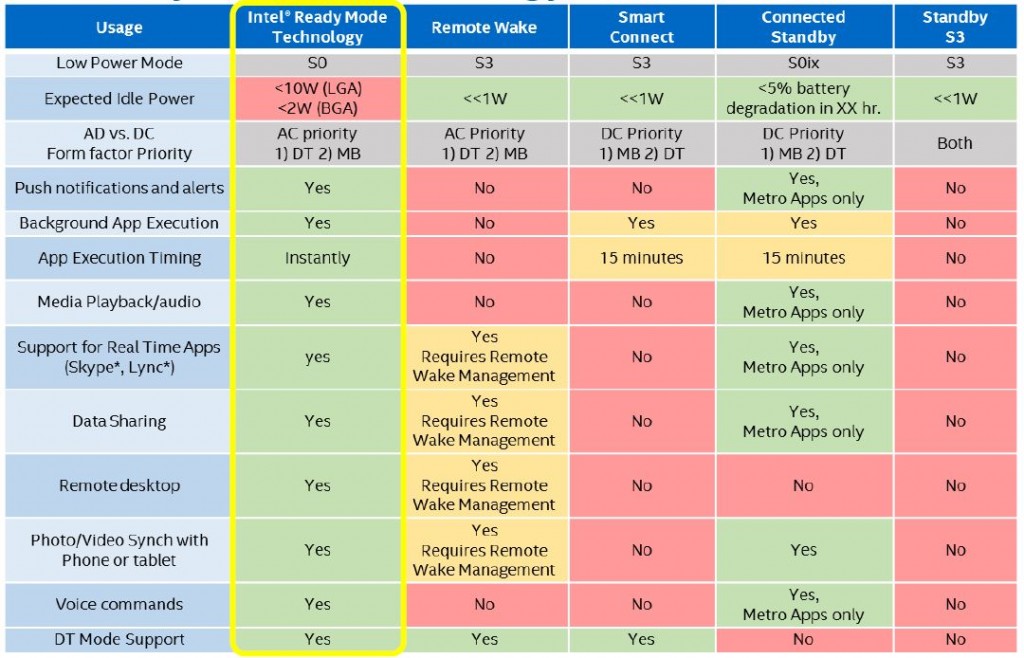 Storage & peripheral performance USB 3.0 & UASP & HD
USB performance is something that often gets overlooked but one of the key benefits of Windows 8 along with newer generation USB 3.0 controllers is their absolutely amazing performance. The G20 not only support USB 3.0 but also supports UASP which is a new protocol for USB transmission. I decided to test out the performance to see what type of numbers we get with a mix of flash drives. This helps to provide a perspective of whether you are transferring files, backing up files or saved games or whatever files you may be moving by using USB. Overall the G20 offered up some very impressive numbers.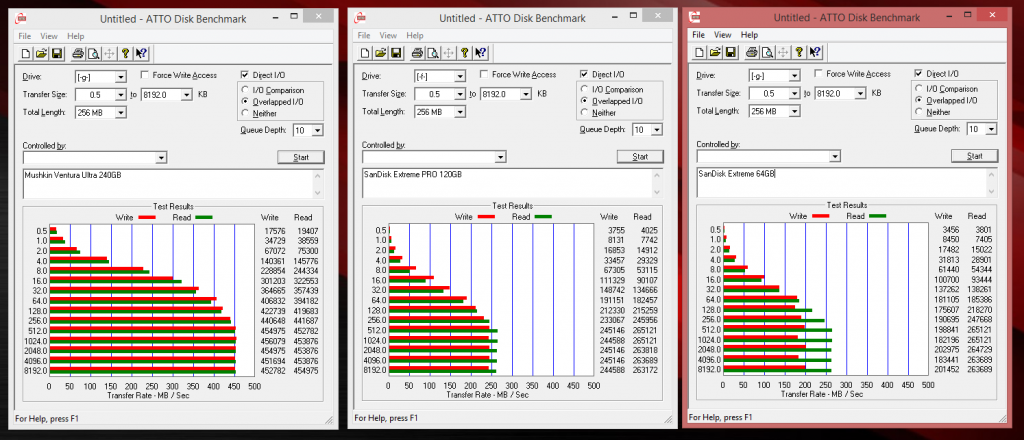 You can see in the ATTO 2.47 benchmarks that the Mushkin Ventura Ultra ( UASP ) just flys. This UASP enabled flash drive offers up essentially 450MB's! of read and write performance. That is close to SATA6G SSD speeds! With the two other non UASP flash drives you see we still have very impressive numbers reaching speeds beyond 200 MBs a second. Next up we have the HD no big suprises as the G20 features hybrid storage drive ( a mechanical HD with a SSD cache ). This design helps to improve the boot speed of the G20 as well as gives it a better general system performance as the majority of actions on a system day in and day out are read based. A true SSD is still considerably faster in every respect but this type of hybrid solution gives us a good balance of improved read performance while offering a large capacity which is needed for a gaming PC. Those that are willing to open up the G20 you can replace the HD with an SSD. Keep in mind that upgrading the memory or storage will void your warranty. With that noted overall the usage was solid and responsive enough to provide a good day in an day out experience.
Customization & monitoring – AEGIS & ROG Command
The G20 comes with a pretty unique chassis design. Beyond its distinctive design users can customize the look by controlling three ( 3 ) zones. This is done by using ROG Command. ROG Command is a system utility which contains numerous functions. It helps to enable functions like advanced USB charging and much more almost all special features or functions can be launched from the ROG Command console interface.
Having the ability to customize the lighting adds a personal styling not traditionally found on any desktop further reinforcing the distinctive design and feature set of the G20. Users looking to have an easy way to monitor information can utilize the AEGIS system utility. This stylized utility allows you to view critical system information like CPU temperature and fan speed rotation in a full screen overlay as well as a in a desktop friendly widget.
Users have the ability to easily adjust thresholds for temperature as well what items they would like to monitor. For users looking for a simple and effective way to monitor resources that does not conflict with the system and uses very minimal resource Aegis has you covered.
Beyond AEGIS and the lighting control within ROG Command there is number additional functions. They are broken into 6 groups, Power, Update, Security, Backup and Recovery, Tool and Support.
Application updating
Driver updating
UEFI / BIOS updating
AiCharger II ( quick / fast charging for iOS, Android & Windows mobile devices )
Advanced power management settings ( sleep & hibernation )
Easy enabling of parental controls
Browser cleanup
Secure file deletion
Access to recovery, backup and restore point
ROG Audio wizard
Access to the manual and support pages online
System information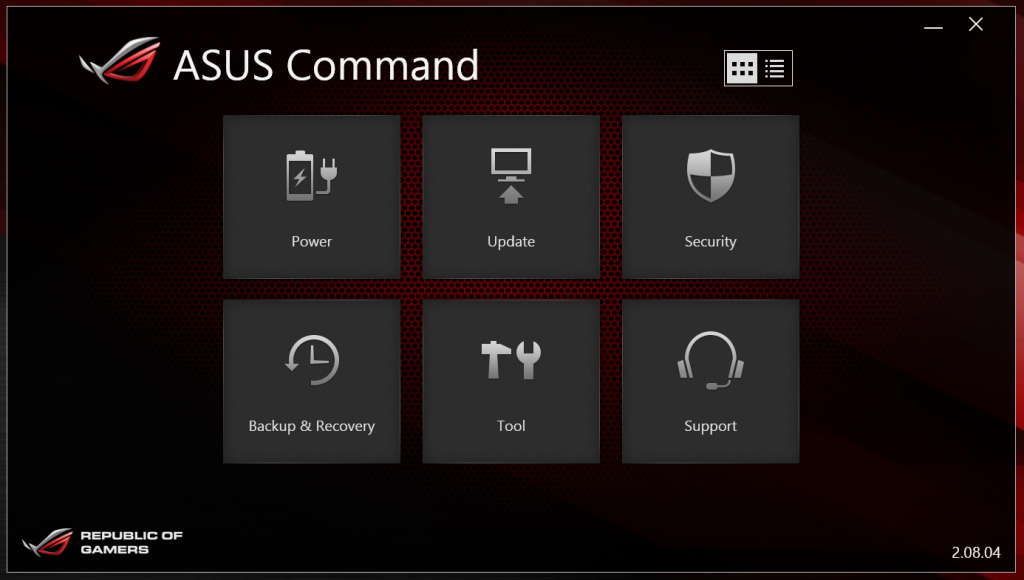 Attention to detail and  validation
ASUS has long had a track record of quality design and implementing designs that are superior than the industry standard. This continues in the design and development of the G20 as well as in its validation. On the inside the G20 motherboard feature designs implemented to help to protect against ESD and surge. Both these types of discharges can cause damage to a system or affect its functionality or usability. Beyond that the CPU VRM features ultra high quality 5K rated capacitors. These capacitors offer twice the lifespan of traditional capacitors. Beyond the on board components the G20 has been put through extensive reliability testing and validation. This is done to ensure solid operation in varying environments as well as under extended usage. Gamers definitely care about a system that maintains its up time. Some of the validation steps are noted below
Thermal shock and stability – Tested from -40c to 60c. This is the complete system.
There is a 24 hour aging test ( burn in test ) – This is done to ensuring stability, functionality and overall reliability to the complete configuration and verify the total design. Testing is performed to the CPU, RAM / Memory, Storage, USB.
Performance impressions
Our model pretty much represents the best possible performance the G20 can offer. Keep in mind depending on the configuration performance van vary considerably. At the entry-level you have a Core i3 with a GTX 745. The model I tested was equipped with a Core i7 and a GTX 760. The performance was exactly where I expected it to be. The 4790 offers outstanding performance across all applications, workloads and is about the fastest CPU you can have for gaming. It also eliminates any bottle necking of the GPU helping to ensure the 760 offers up the best performance possible. Overall this configuration enables a high level of performance and solid frame rate with IQ settings dialed in at high to maximum. About the only limiting IQ setting would be advanced lighting features, ambient occlusion or advanced levels of AA. The performance of the GTX 760 is extremely robust at 1920 x 1080  with most games frame rate being in a range of 35 to 70 FPS. The card even offers moderate 2560 x 1440 gaming performance for some titles. I strongly recommend users consider using the GeForce Experience software which is part of the driver. This great utility helps to automatically adjust image quality settings and resolutions for support games helping to ensure you have a fast, fluid experience will offer enabling the best combination of IQ ( IQ settings ). For users looking for more granularity and control or prefer to target performance as opposed to image quality you can easily adjust this via an adjustable slider.
Conclusion and wrap up
Wrapping things up I have come away impressed with the features, functionality and general performance offered by the G20. It offers a uniquely styled slim and small form factor chassis design which pays homage to ROG design ques while offering a fresh styling not seen in traditional desktops. Add to that the ability to control and customize lighting and the styling and overall aesthetics may be reason enough for some to consider the G20. Beyond the external aesthetic the features and functionality are rich and robust and more than just "marketing points". The additional features and functions truly benefit gamers and enthusiasts. The inclusion a Intel network adapter with GameFirst along with SonicMaster audio makes for some great additions not seen on traditional desktops. Rounding out final statements on the rest of the specifications they are extremely solid ensuring you have the CPU, Memory and GPU to load up just about any game or application and have a great experience. The Hybrid SSD is the only area where compared to a pure SSD solution improvement could be made but there is no arguing with the benefit of the increased capacity which is needed when games like TITANFALL, BF4, RYSE and others are seeing installs in the range of 30 to 60 to 100GB of disk space. Thankfully the mechanical HD is assisted with a 8GB cache helping to offer improved boot and read performance. As a whole there is a lot to like in the G20.
FAQ
1. Is the BestBuy version any different from other versions?
Yes it is please ensure you check specifications compared from one retailer to the other. Additionally the BestBuy sku comes with a different keyboard and mouse than those shown on this site or USA.ASUS.COM. Please check BestBuy's website for a visual of the keyboard and mouse included with their version of the G20.