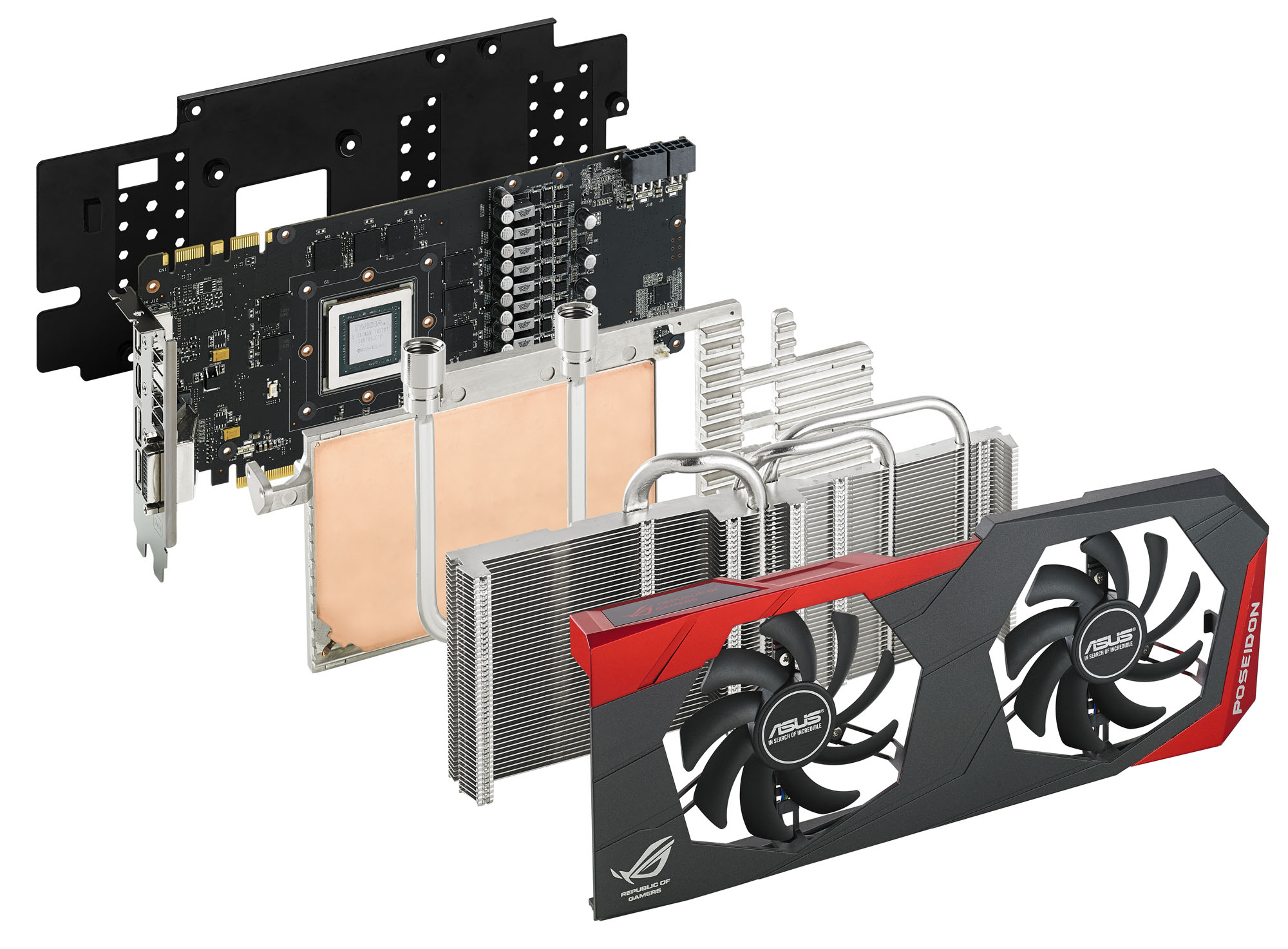 The ASUS ROG graphics team has been hard at work looking to bring our POSEIDON hybrid cooling solution to the new GTX 980 GPU. I am excited to show you guys the first images of this high performance graphics card. For those of you that have been waiting on a ROG GTX 980 you will only have to wait a little while longer.
So first up lets get the preliminary specifications out of the way. Keep in mind until formal release these are subject to change.
Specifications
GPU BOOST Clock – 1279 MHz
VRAM – 4GB 7010 MHz ( 7 GHz )
Display out configuration – 1 x Native Dual-link DVI-I output, 1 x HDMI 2.0 output, 3 x Native DisplayPort 1.2 output
All other features that are part of the GPU still apply. For more information on GTX 980 check out our write up on the STRIX GTX 980 or NVIDIA GTX 980 product page.
Initial details
For those of you not in the know the POSEIDON is a unique hybrid cooling solution allowing for air cooling or water cooling. Under both types of cooling the card will offer superior performance compared to the reference design. In short the POSEIDON will operate cooler and quieter as well as faster. In addition to its unique hybrid cooling design the POSEIDON leverages an advanced full non reference PCB and VRM design. These improved aspects help to provide superior performance, higher power ratings and overall improved reliability, stability.
The heat sink design is innovative and impressive. A custom vapor chamber is in direct contact with the card's GPU for faster heat dispersal, while copper heat-pipes and extended cooling fins further transfer heat out and away from the card to keep it running cool. The heatsink assembly also ensures low temperature operation not just for the GPU but for the VRM assembly as well as the memory. With standard G¼-inch threaded fittings, ROG Poseidon GTX 980 easily accommodates any water cooling equipment whether it be bards or compression fittings. This allows users looking to have outstanding temperature performance via water cooling easy integration into their loops. Users can also be more comfortable in not needing to disassemble the card which can be time consuming and potentially damaging.
Even when water cooling the card the fans continue to operate at low RPMS helping to additionally dispel heat and provide a safe guard in the event there is an issue with your water cooling setup. Whether air cooled or water cooled the fans offer superior performance through their optimized design as well as offer superior reliability and ensured performance & operation due to the double sealed hub assembly. This design is ASUS's Dust Proof Fan design which helps to block dust, debris and dander from the internal hub assembly.
Underneath the impressive heat sink and fan assembly the PCB and VRM is full non reference. The card features 10K capacitors (5x the lifespan of standard capacitors ) along with outstanding thermal thresholds ( offering considerably higher and lower temp thresholds ), fully molded alloy based inductors (chokes ) which considerably reduce or eliminate coil whine while also offering improved performance across a number of metrics. Rounding out the VRM are specialized mosfet and driver implementations offering impressive voltage thresholds and efficiency
Photos
Make sure to come back to PCDIY soon as we have a sample coming in to put it through its paces! FAQ is up below if there are any questions feel free to post them in the comments section.
FAQ
1. Is this card reference design? What is reference design.
Reference design is the original launch design of the card including its heatsink and fan assembly along with PCB and VRM provided by NVIDIA. The POSEIDON features a complete non reference design that leverages ASUS graphics card division insight and experience in graphics card design. The goal of the non reference design is to provide superior performance which includes temperatures and acoustics. This translates into cooler and quieter operation as well as faster performance due to improved GPU BOOST clock performance.
2. What are the differences between traditional capacitors and "10K capacitors"?
The capacitors utilized on the POSEIDON GTX 980 are extremely high performance. They offer improvements in a number of way.
5x the lifespan. Traditional solid capacitors are rated for 2K operating lifespan.
Beyond the extend lifespan these 10K capacitors have significantly improved temperature thresholds. Traditional capacitors have operating thresholds between -55c – 105c. 10K capacitors offer thresholds down to -70c – 125c.
The capacitance ( farad ) rating is generally much higher than that of a traditional capacitors.
3. When will it be released?
As of now their is no confirmed launch date. Current estimates will be late Nov to early Dec. Stay tuned for more information
4. How much is it going to cost?
Currently there is no MSRP set.
5. Does this card have coil whine?
All graphics cards are prone to coil whine. It is inherent to the use of an inductor. ASUS has carefully selected and implemented a specialized inductor which is fully molded. This design along with a specially deigned PCB and power topology help to significantly reduce or eliminate coil whine.
6. What type connections does the POSEIDON use?
The POSEIDON features G 1/4 connections. These provide the most flexiblity offering users the ability to connect barbs or compression fittings
7. What part of the GPU does the water block cover?
The water block covers the GPU, memory ( VRAM ), as well as the VRM ( mosfets & drivers ).