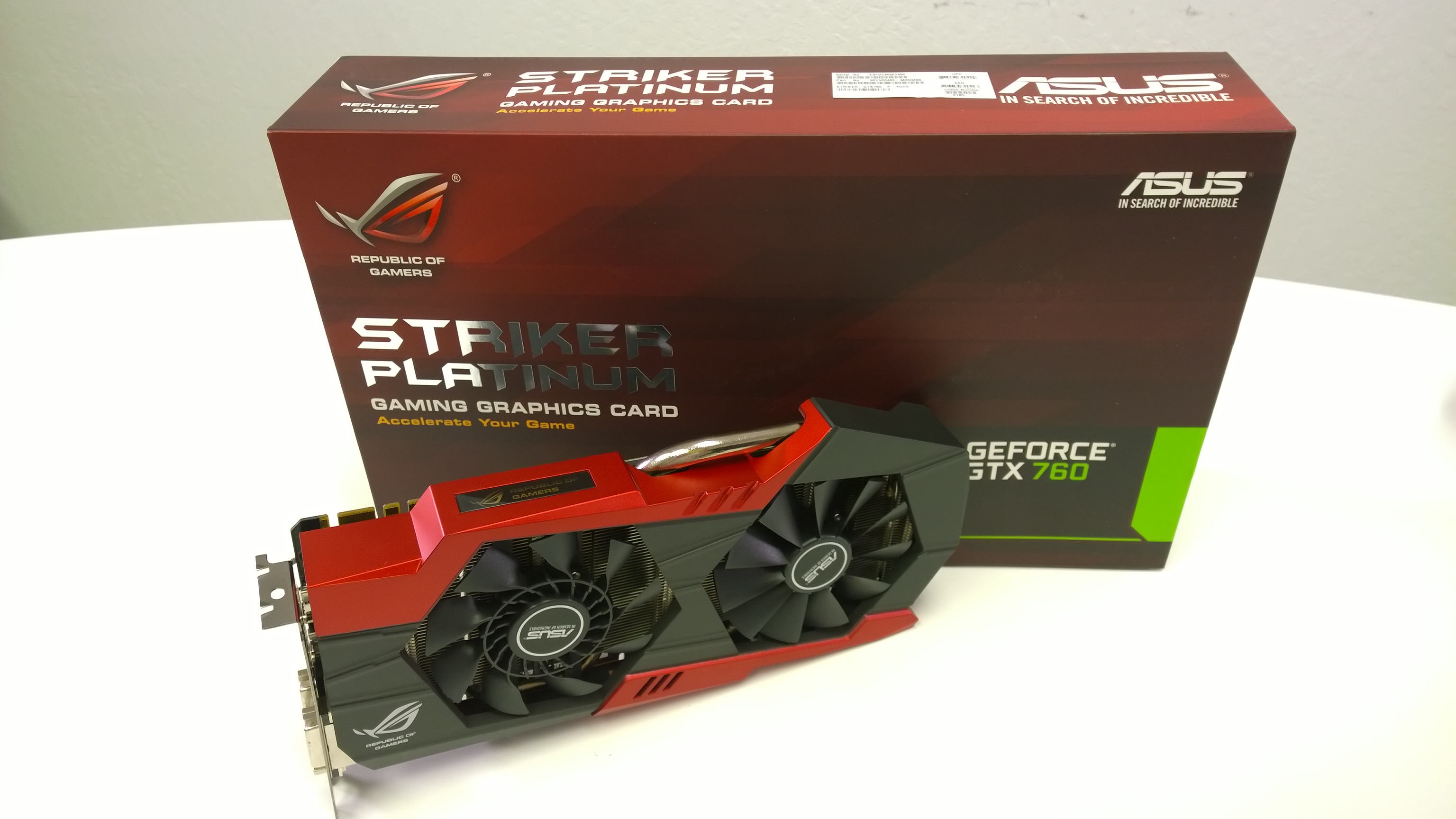 So here in the PCDIY labs it has been an absolute whirlwind of activity with testing, feedback and a whole lot more going on. You should know the next few months are going to be packed with content here on the site as well as on the PCDIY YouTube Channel.  Well enough about the future let's focus on the now. I am excited to finally write about a graphics card that we began kicking around the idea for years ago. Specifically the reintroduction of the MATRIX series of graphics based on a mainstream / midrange GPU. For those of you that know ASUS and know ASUS graphics cards you will be familiar with the MATRIX line of graphics cards. They represent our flagship graphics cards with a focus on hardcore enthusiast gamers that love cool and quiet cards as well as appreciate innovative and impressive designs. The MATRIX series has continually shown it leads the industry in advanced designs, offering impressive features and functions especially for those that appreciate tweaking and tuning. Well enough with the stalling let's jump into finding a bit more about this new graphics card.
So diving straight into it I am extremely excited we are discussing a mid-range ASUS ROG graphics card. Many of you have been wanting a graphics card akin to our MAXIMUS series of motherboards specifically the MAXIMUS VI HERO. This new graphics card is squarely aimed at the enthusiast mid range otherwise known as the gamers sweet spot.  After spending some time this card I can say for certain the ASUS ROG STRIKER GTX 760 hits the nail on the head. Leveraging the awesome enthusiast mid-range GPU that is the NVIDIA GeForce GTX 760, the STRIKER will offer up GPU performance that delivers an outstanding 1080 gaming experience but also equally offers a strong 2560 gaming experience. It's accessible price point also makes it a great graphics card to SLI and double up on the performance and help to really drive outstanding frame rates along with low frame latency. Add to that its support for advanced NVIDIA technologies like those noted below and you are ready to have the foundation of a great gaming PC.
Some of the technologies present on the GeForce GTX 760. While you may glance over this you should not. One of the most frequent questions I get is what graphics card I should consider. The technologies below do a lot to add real value and functionality. Additionally the seamless of how many of these work is another big value add in that they generally just work not getting in the way of your gaming but helping you to have a better more immersive experience.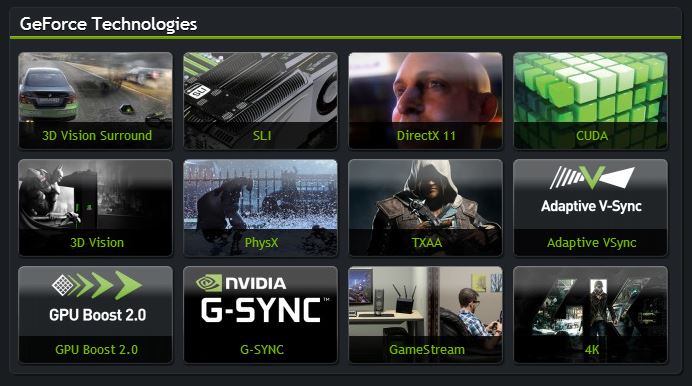 Let us not forget support for the GeForce Experience software suite which includes GeForce Shadowplay. I call these two out due to there amazing functionality.
*taken from NVIDIA.com
http://www.geforce.com/geforce-experience#autoCapture
http://www.geforce.com/geforce-experience/shadowplay
GeForce Experience offers up
Keep Your Drivers Up To Date
GeForce Experience automatically notifies you of new driver releases from NVIDIA. With a single click, you can update the driver directly, without leaving your desktop.
Auto-Optimize Your Games
GeForce Experience uses the power of the NVIDIA cloud data center to provide optimal settings tailored to your PC. Optimise your game's graphics with a single click. Or use the custom slider to easily dial in your preferred framerate or image quality
Shadowplay offers up
Share Your Greatest Gaming Moments
GeForce ShadowPlay™ is the easiest way to capture your favourite gaming moments. It's also the quickest way to broadcast your game on Twitch. ShadowPlay runs in the background, so you can record or broadcast at any time. And thanks to GPU acceleration, it's so fast you won't even notice it's capturing.
Features of Shadowplay
GPU accelerated H.264 video encoderRecords up to the last 20 minutes of gameplay in Shadow Mode
Records up to the last 20 minutes of gameplay in Shadow Mode
Records unlimited length video in Manual Mode
Broadcasts to Twitch
Outputs 1080p at up to 50 Mbps
Minimal performance impact
Full desktop capture
Card Aesthetics and Overall Visual Design
First and foremost what does the card look like? In one word AWESOME. It carries over the new ID introduced in previous higher end ROG graphics cards but brings more defined angles that create a distinctive and aggressive profile. ASUS graphics team has really done an outstanding job of creating a card that is uniquely ROG and carries a immediate visual aesthetic. It is a bold design that oozes enthusiast.
Below you can see some of the initial ID design ideas / sketches.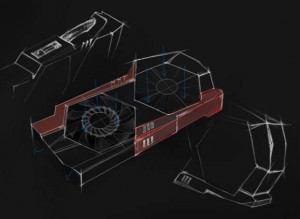 Overall the red and black aesthetic and clean angled lines uphold the design heritage of other ROG graphics cards and of course will look great when paired with an ROG series motherboard. The soft metallic red color also adds a visual depth to the heat sink adding to the premium feel. In addition you have a 3 stage LED load indicator that will change color depending on GPU load. Not only is it functional in this respect but looks great. It also helps that at peak load the LED load indicator lights up bright red fully illuminating the REPLUBLIC OF GAMERS outline. Rounding out the aesthetic is a secondary LED on the backside of the STRIKER in the form of an angled line that produces a soft accent glow.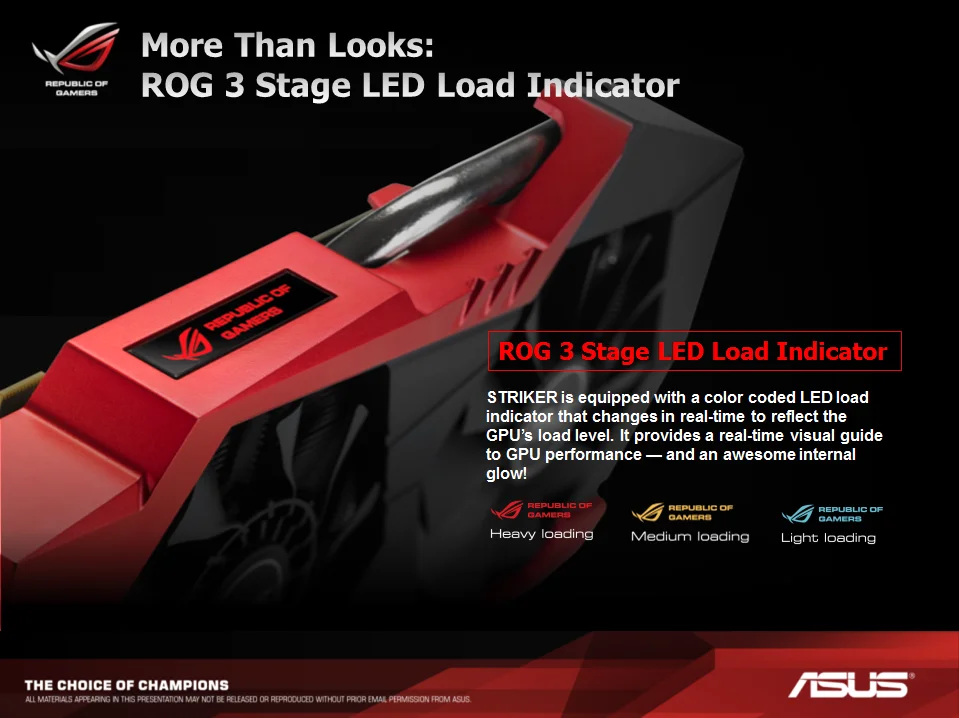 Aesthetics are important but any self-respecting enthusiast knows it not just the outside that counts but what's on the inside and how it performs.
Non Reference Design and Specifications
The STRIKER GTX 760 is built on the amazing non reference design of the ASUS DirectCU II GTX 760. It pushes pass this already impressive design by incorporating a more advanced heat sink and fan assembly as well as more advanced and higher performing VRM components (power delivery component s). In the end this means you get a card built from the ground up that offers outstanding out of the box performance with a screened and sorted GPU that is already overclocked. In addition as always the breakaway from reference design yields a considerably improved experience, offering cooler and quieter operation with enhanced and extended reliability.
Specifications for the ASUS ROG STRIKER GTX 760
| | |
| --- | --- |
| Model name | STRIKER-GTX760-P-4GD5 |
| GPU | NVIDIA® GeForce® GTX 760 |
| Bus standard | PCI Express® 3.0 |
| Video memory | 4096 MB GDDR5 |
| GPU boost Clock | 1150 MHz |
| GPU base Clock | 1085 MHz |
| Memory clock | 6008 MHz |
| Memory interface | 256 bit |
| DVI output | 1x Native Dual-link DVI-I1x Native Dual-link DVI-D |
| HDMI output | 1x Native HDMI |
| DisplayPort | 1x Native DisplayPort 1.2 |
| Software bundled | ASUS GPU Tweak & Driver |
| Dimensions | 11.3 x 6 x 1.6 inches |
A close look at how the STRIKER comes together.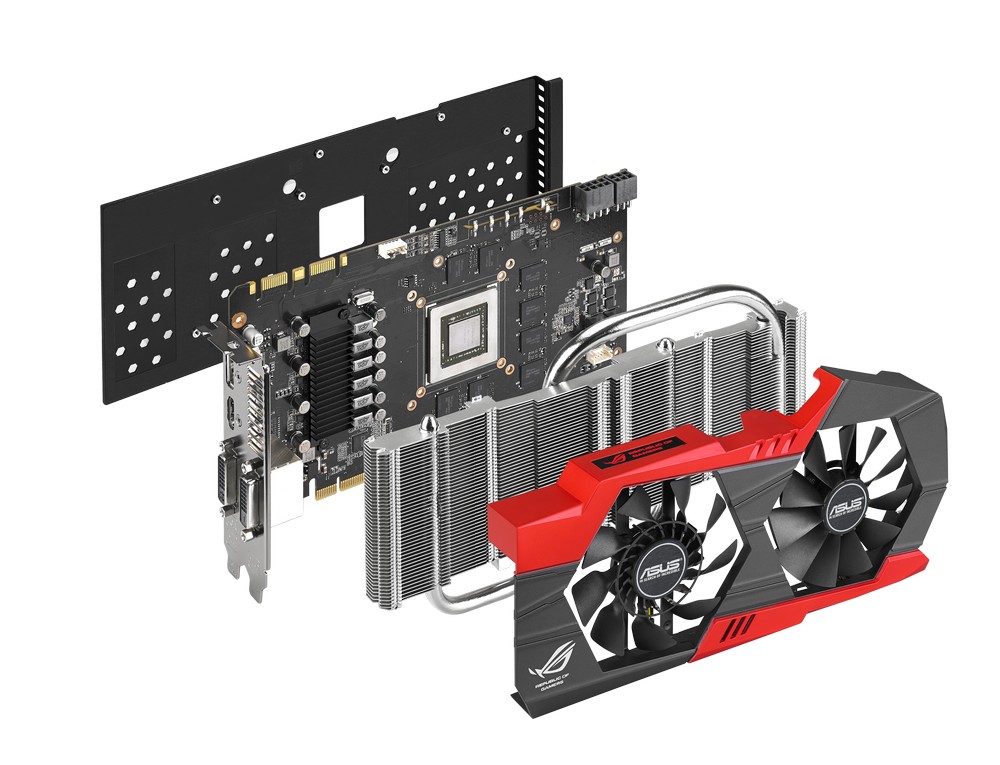 Two of the big items that are upgraded when compared to the reference GTX 760 is the video memory being increased to 4GB from 2GB. While gaming at 1080 and even 2560 resolutions does not necessitate the need for this large VRAM ( video memory ) it can potentially be beneficial at 4K gaming. One thing to keep in mind though is that GPU performance needed for comfortable 4K gaming will generally be higher than what a single GTX 760 can offer. This also goes for STRIKER GTX 760. With this in mind the cards 4GB frame buffer has been implemented for users who will consider two STRIKER graphics cards and operate them in SLI, offering extremely impressive frame rates and low frame latency. With two cards in SLI 4K gaming becomes a reality. The 4GB comes into play in that some high res texture games or game utitilzing heavy AA will exceed the 2GB frame buffer / VRAM offer on a standard GTX 760. With this in mind you can begin to see how 4GB frame buffer is a welcome addition in helping to ensure a consistent and fluid gaming experience.
In addition to the increase in frame buffer / VRAM the GPU has been pre overclocked. The boost clock has been increased from 1033MHz to 1150MHz. This increase yields  nice bump in the min and avg frame rate. In real world numbers this can increase performance in the range of 6 to 10 FPS ( frame per second ). More importantly the outstanding thermal solution offers additional performance by keeping the GPU so cool that it consistently leverages GPU BOOST 2.0 and its auto overclocking functionality based on temperature. With the temperature being consistently low you will see the STRIKER clocking up to and maintaining a frequency around / above 1250MHz!
Moving past pure spec the STRIKER incorporates a number of premium design implementations including a digital PWM offering optimal power delivery and control. In addition the VRM components have been upgraded. Compared to the reference design the STRIKER features an 8 phase power delivery section which features fully molded SAP ( super alloy power ) inductors ( chokes ) which offer superior thermal performance, higher amperage output and considerably reduced or eliminated coil whine. Moving over to the mosfets the STRIKER features premium SAP mosfets offering higher voltage thresholds and superior thermal efficiency compared to traditional mosfets. Completing the SAP trifecta the capacitors have been upgraded to ultra-premium,  high performing Nichicon 10K capacitors which offer not only 5x the lifespan of traditional 2K capacitors used by many competitors but also offer considerably enhanced thermal margins whether it be  an increase or decrease in temperatures.
Lastly the STRIKER also implements poscaps ( high performance low z height capacitors ) on the back on the graphics card directly behind the GPU. This helps ensure consistent power delivery to the GPU especially at more aggressive GPU BOOST clocks. As the GPU frequency can fluctuate having an increased level of capacitance immediately behind the GPU ensures the most efficient and direct power delivery possible.
Last but not least we have the biggest portion of the non reference design. Specifically we have the large high density finned aluminum heat sink. The heatsink assembly is further enhanced with multiple high performance nickel plated copper heat pipes including an ultra large 10MM heat pipe. The combination of this massive heat sink assembly with dual dust proof fans yields ultra cool temperatures. The STRIKER takes the fan implementation further than our traditional DirectCU II cards in that it leverages our advanced CoolTech fan which offers the benefits of a blower fan by helping to radially exhaust heat above, below and through the center of card. In addition it maintains the downward firing / cooling benefits of an impeller fan. This design implementation when paired with optimal placement of the heat sink assembly and the primary 10MM heat pipe help to ensure a high degree of thermal efficiency in dissipation of heat. Lastly the card benefits from enhanced and extended reliability in that both fans feature a dust proof design. This design double seals the internal fan hub assembly stopping dust, debris, dander from building up inside the assembly.
The Numbers – Performance Detailing ( Temperatures and Acoustic Impressions )
Moving into the numbers the STRIKER has the numbers to back up its position as a premium mid range graphics card that bears the ROG branding.
Idle Performance
30c at 32% Fan Duty
Acoustic impressions – Overall the card is essentially inaudible with the idle fan duty cycle being approx 32%.
Temperatures – Idle performance is outstanding with the card operating at 30c.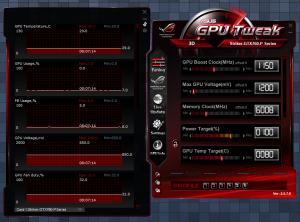 Jumping into some gaming and load testing we see how well the advanced heat sink and fan assembly work to continue keeping the card cool and quiet.
Load Performance
68c at 46% Fan Duty
Acoustic impressions –  Overall the card operates quietly in part due to a carefully tuned fan curve ensuring a balance of cooling and acoustics. It is Impressive that this design is not only very quiet but even quieter than the reference design. The STRIKER only reaches a moderate 46% on the fan duty cycle. This is great as it shows there is quite a bit  left in the tank for those that are willing to sacrifices the quiet operation of the card for even better thermal performance.
Temperatures – While the card is extremely quiet you do not compromise on cooling performance. Temperature performance is outstanding with the card running approx avg of 68c under load. Keep in mind this is cooler than the reference card while also being overclcoked to much higher frequencies. Remember than the STRIKER is not only boosting ot a higher clock speed than the reference but is considerably overclocked.
Another important factor is the power target utilization. This metric is important in helping to determine what may be left in the tank when overclocking. This in combination with temperature will help to define how much the GPU may boost beyond the defined GPU BOOST frequency. This card even with the aggressive out of box clocks is only using a max of 74% leaving quite a bit left for users looking to tweak and tune the card even further.
GPU BOOST 2.0 In Game Frequency
In game GPU BOOST frequency in excess of 1250MHz
One last performance metric that is also important to consider is GPU BOOST 2.0. NVIDIA has a technology present in all Kepler series GPUs that allows for the GPU to dynamically overclock based on a number of operating parameters. Due to the considerably cooler operation of the card even though it is programmed with a boost clock of 1150MHz it actuality the frequency is consistently in excess of 1250MHz!
More Megahertz! Overclocking
Moving into overclocking the STRIKER does not disappoint. Through the combination of an advanced non reference design, accessible tuning parameters and some good luck we had some great results.
First off lets confirm what adjustments the card has available
GPU Voltage – Adjustable up to 1.2x vid ( approx 1.213 )
Power Target – Adjustable up to 120%
Both these options are fully adjustable when using the GPU TWEAK graphics card utility. In addition you have advanced monitoring functionality supporting up to 11 items that can be monitored and logged in real-time.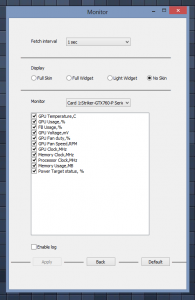 In addition to the monitoring  parameters offered within GPU TWEAK, tweaking enthusiasts can utilize their multimeter's with the STRIKER. The card features onboard voltage probing points yielding confirmation of operating voltages for those pushing the limits.
Moving into overclocking the results were outstanding especially considering the card is already overclocked considerably past the reference boost clock and further  boosts due to the advanced thermal solution. I was able to successfully dial in GPU BOOST frequency of 1225MH which under game load consistently boosted to and exceeded 1300MHz, when measured under gaming load. As for the memory the card comes equipped with overclocker friendly Hynix memory modules which are renowned for their range. I was able to easily reach 6800MHz! I will take this overclock every day of the week and twice on sundays!
Overall final overclock results are noted below. Keep in mind overclocking is never guaranteed and margin varies from GPU to GPU.
Final Stable GPU Boost Frequency – 1225MHz
Final Stable VRAM Frequency – 6800MHz
There was no adjustment to the gpu voltage or power target. Additionally even at this aggressive overclocks the card handle the increase frequencies easily never exceeding 70c under full gaming load. In addition the power target utilization was outstanding still considerably under 100%.
Wrap up and conclusion – Should I buy it?
After spending quite some time with the STRIKER GTX 760 I am impressed. While you might expect this keep in mind the bar had already been set very high considering that the ASUS GTX 760 DirectCU II is already an outstanding card that is cool and quiet as well as factory overclocked and elevates build quality and overall design by featuring a fully non reference design that easily eclipses the reference design. With that in mind the ASUS ROG STRIKER GTX 760 impressed me by honing in the additional area enthusiasts and gamers appreciate the "details". Offering a new aggressive aesthetic that looks amazing when paired with an ROG motherboard was just the begining. The more time I spent the more I was impressed, by the time I got into performance testing I could see the writing on the wall. This is going to be the best GTX 760 out there. If you are looking for a very fast, cool and quiet card that offers attention to detail, superior build quality and a full non reference design look no further than the STRIKER GTX 760.
FAQ
1. When will it be available?
Projected on shelf availability is currently around the second to third week of May.
2. How much will it cost?
Projected MSRP is currently set for 309.99.  Street pricing may vary.
3. Is this a limited edition ( limited QTY ) graphics card?
The STRIKER is a screen / sorted GPU as such yield / production is in a lower quantity than our normal DirectCU II graphics cards but it is a normal production graphics card and does not have a pre existing max production quantity.