Hello PCDIY readers we have had a lot of interested in the latest generation of 802.11 AC enabled routers and there storage performance.  It has been great to see the network enthusiast community see the value and functionality that can be afforded via higher performance USB attached storage. With that in mind we want to provide a little more insight and information on some of the latest generation of routers and how they compare to the recently released RT-87U which not only features USB but a s special topology and hardware design to offer the best real world usage performance of any current USB 3.0 enabled wireless router. This write up also is brought to by one of our own ASUS internal team members Marcus who has a different writing style than mind but offers up some great information in a concise and clear way. So lets jump into the meat of this article.
Putting top-end routers to the USB test
Today at PC DIY, we're shining the spotlight on something that does not get the lip service we feel it so rightly deserves for routers—USB storage performance. More importantly, USB storage performance in real world situations. Showcasing the latest, greatest WiFi router, the RT-AC87, we have gone through tested not only our RT-87U but other routers in the same enthusiast WiFi router space to see how they measure up and which router comes out on top.
The problem with the not so real world tests
When you read about USB storage performance, it is done so in a semi realistic way albeit but not ultimately realistic in the way many of us use our WiFi networks at home. Typically, it's a router, connected to a storage device, connected via LAN to a PC, transferring files back and forth. While straightforward and very much a a consistent reference of performance for a large group of people including perhaps yourself, this test does not show performance with a very critical variable. This variable? How the storage performance is affected or holds up during simultaneous use of WiFi and USB. This type of scenario is how most of us will most likely utilize the USB on a router and more importantly not only impact USB performance but can impact wireless performance as well.
When wireless and multitasking come into play
Wireless signal interference and multitasking capability can both severely affect USB performance. There are two major factors that come into play when transferring to a USB-connected storage drive while a wireless signal is active. Although it is a hardline connection, wireless signal interference and distance can hinder USB performance when transferring data. This results in slower transfer times and reduced stability. Adding on to this, when a router performs other tasks concurrently as most routers in homes do, it has to juggle an immense number of multiple tasks at once just like any PC does. And even with the highest-end routers, there is a limit to how much a router can process before performance begins to get affected. All of these factors can add up to noticeably slower transfer speeds. So what's the solution for removing these performance-hindering side effects? A special design and using two dual-core processors.
The power of 2
The RT-AC87 is built with 2 dual-core processors: one Quantenna processor dedicated to handling 5 GHz wireless activity and processing and one Broadcom processor that handles both 2.4 GHz wireless activity and processing as well as USB processing. These processors work independently from one another and are specially-designed with hardware isolation implementation and firmware optimization to deliver a seamless experience that ensures superior performance and stability. The RT-AC87 is the only router on the market today to sport 2 processors in one router. In addition the RT-87U is the only router that allows you to manage performance parameters for your network environment. This is handled by specialized options within the ASUS WRT firmware that allow users to prioritize specific connections for the best performance. While it can be at the expense of another connection this is a reality of current WiFi standards.
Proof is in the pudding
So what kind of USB transfer performance can you expect from the RT-AC87? Let's dive into the numbers.
Quickly, the testing method. We aimed to keep the test as consistent as possible with as many constants that any scientific test needs to ensure limited variables for meaningful data. Specifics are detailed below.
OTA Test environment
Computer
Ÿ  ASUS Desktop CG8350 with PCIEx1 slot
Ÿ  CPU: The 3rd generation Intel® Core™ i5 Processor
Ÿ  RAM: 2GB
Ÿ  Chipset: Intel® H77
Ÿ  WLAN card: ASUS PCE-AC68 (Utility v2.0.5.4, Driver v.6.30.223.75)
Ÿ  OS: Win7 64bit
RT-AC87U (Router):
Ÿ  encryption: Open system
Ÿ  2.4G channel/bandwidth : set to CH6/BW20
File specifics
a 4GB file was used for NTFS and 1 GB file was used for FAT32.  The windows command line and use the robot copy to test USB writing and reading. We used the parameter /np and /e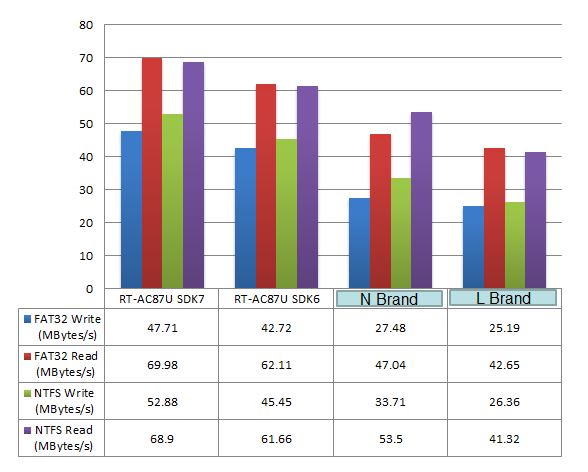 Tip our hat to the USB power design
Though not directly related to the USB performance, we feel that it would be remiss to not mention the USB power design of the RT-AC87. Both the USB 2.0 and 3.0 ports have bumped up voltages respectively 1500mA and 1750mA from the standard 500mA and 900mA. Why is this notable? Because this means that you only need 1 port for storage devices that typically require 2 USB ports (one to power and one to transfer). We have extensively tested the most popular storage devices to ensure that the RT-AC87 offer great compatibility and meets expected levels of functionality and overall usability. This is important as it ensures you have two truly usable USB ports while with competing solutions one port could be lost to limiting your ability to have multiple USB devices connected to the router.
Conclusion
The RT-AC87U consistently and significantly outperformed other top mainstream routers, delivering not only faster USB transfer speeds, but also, from our data, greater stability. Thanks to the 2 dual-core processors and unique design, the RT-AC87U even with an active 5GHz wireless connection and utilization of the USB 3.0 port we mirrored almost the same ultra fast throughput offered on the router when no wireless connection was active! While it will still be some time before WiFi routers reach NAS levels of consistent performance wired or wirelessly the 87U has ushered in a new level of performance. Overall, the final takeaway? The RT-87U offers very impressive storage performance especially and significantly better performance than competing solutions when both USB and WiFi are active at the same time. So whether you are downloading, streaming, gaming or backing up your files you can expect to see consistent high level throughput.
The RT-AC87U and RT-AC87R are available now.
For a more in depth look into the RT-AC87 make sure to check out the overview article and video, and always check into PC DIY for the latest, in depth look at ASUS products and the PC DIY community.