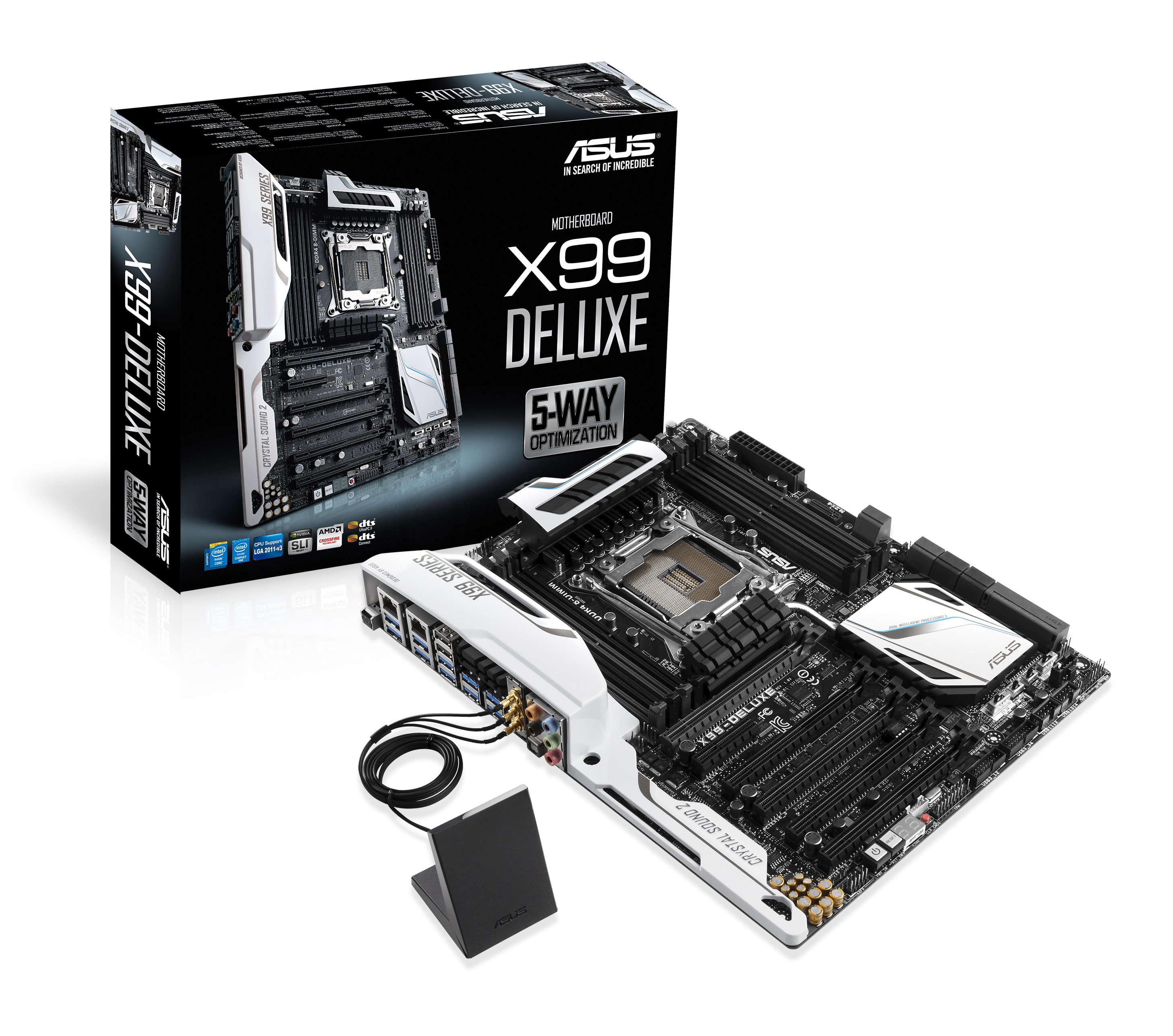 It has been a long time coming and the day if finally here. I am excited to announce the release and availability as well as information on the range of ASUS X99 motherboards. For the better part of a year ASUS has been hard at work designing and developing a range of truly impressive motherboards that push forward expected features, functionality and overall design. Whether it auto overclocking, fan control functionality, expansion and connectivity as well as much more each aspect has been looked at and improved upon. These boards set the bar for the PCDIY building experience if you are looking for the best then look no further.
The mainstream series introduces a new aesthetic based in white accenting that compliments the almost monochromatic base of black and dark grey. The boards have a fresh and clean and modern aesthetic that compliments white and black builds equally. Beyond the general aesthetics and look of the board all three boards offer ASUS quality and design ensuring superior functionality and feature set and outstanding interoprability, compatibility and performance. With this generation the trend of ASUS non negotiable design implementations continues. This type of design helps to ensure users can pick any enthusiast class ASUS board and be ensure of consistent levels of functionality and feature set regardless of the segmentation.
ASUS Announces X99 Series Motherboards
The ASUS X99-Deluxe, X99-Pro and X99-A – Best in class features and functionality. A board for all usage scenarios whether it be gaming, productivity or content creation. These boards set the standard in value and the experience you can have in PCDIY.
Fremont, California (August 29, 2014) — ASUS today announced the X99-Deluxe, X99-Pro and X99-A, three new ATX motherboards based on the new Intel® X99 chipset.  Packed with exclusive technologies, including AiSuite III with 5-Way Optimization, ASUS' X99 motherboards ensure ultimate performance from the latest LGA 2011-v3 Intel Core™ i7 processors as well as the latest DDR4 memory.
The X99-Deluxe is the flagship model, with a bundled ASUS Hyper M.2 x4 expansion card for ultra-fast 32Gbit/s transfer speeds; onboard 3×3 antenna 802.11ac  with beam forming and TurboQAM for ultra-fast Wi-Fi speeds of up to 1,300Mbit/s; and a ASUS Fan Xpert fan hub expansion card.
Some of the key specifications and features are
Robust storage support: All board offers native SATA6G, M.2 SSD support as well as SATA EXPRESS. For PCDIY enthuiasts looking for the most flexibility and performance when it comes to storage X99 offers unmatched expansion capaibilites. In addition updates to Intel RST and supporting option rom have enabled native PCIe storage solutions.
Superior quality integrated audio: All ASUS X99 Series motherboards feature Crystal Sound 2 audio – A fully isolated "seperated' audio design implementation helping to maximize operating specifications of the integrated HD audio codec. Helping to ensure superior performance and tonality and soundstage. Along with a fully isolated design Crystal Sound 2 features Nichicon audio capacitors, a shield audio codec and a on board Op Amp to provide superior driving strength to headphones and extend dynamic range and increase volume. Users looking for a more complete audio experience also can benefit from playback medium optimization for IEM headphones, over the ear headphones and desktop speakers. Additionally specialized audio profile presets have been developed with the DTS sound group to offering tuned profiles for music, movies or games. Lastly users connecting to digital speakers or receivers, soundbars or televisions via optical / toslink can benefit from DTS CONNECT. All for multi channel digital re encoding.
Network packet prioritization: AllASUS X99 motherboards feature Turbo LAN packet priority software which can optimized and accelerates any active network interface whether it be wired or wireless. users looking for superior streaming, gaming or downloading can easy prioritize and customize to their needs.
Robust UEFI updating and recovery: ASUS X99 series motherboards features non soldered UEFI rom chips helping to ensure superior flexibility in the event a chip becomes corrupted and no longer operates correctly. As opposed to soldered designs that require the board to be shipped in for service or replacement users can contact ASUS customer support for a replacement rom if needed. As a added layer of protection and repair ASUS include USB BIOS FLASHBACK a exclusive UEFI update and recovery mechanism. Users can easily update their UEFI or attempt to recover it in the event of corruption. All that is required is a flash drive with the coressponding UEFI on it. Connect the flash drive to the corresponding USB BIOS FLASH BACK port and depress the FLASH BACK button. This will begin the update or recovery process. This advanced hardware based solution can even operate if the system fails to post or do not have a CPU, RAM ( Memory ) or Graphics Card installed. All that is required is PSU power.
Quick USB Charging and S3 or S5 Charging: ASUS X99 motherboards offer specialized hardware designs allowing for advanced quick high amperage charging for mobile devices likes smart phones and tablets. In addition users can even take advantage of quick charging if their system is operating under sleep or hibernation or even powered off.
Thunderbolt II ready: ASUS X99 users will appreciate the ease at being able to integrate and take advantage of Thunderbolt the fastest I/O connection currently available. All that is required is the separately sold Thunderbolt II  EX expansion card which connects to the TB connection header on the board and installs into the corresponding PCIe slot. This allows storage enthusiasts and content creation prosumers and professionals and easy way to add on this advanced specification.
A plethora of advanced software features and our renowned UEFI BIOS for intuitive setup and platform control. With a refined look, the ASUS X99 motherboard lineup delivers the cutting-edge performance and style demanded by PC enthusiasts
Model
X99-DELUXE
X99-PRO
X99-A
CPU Support
New Intel® Core™ i7 Processors on LGA 2011-v3 Socket
Chipset
Intel® X99 Express Chipset
Memory
8 x DIMM, max. 64GB, DDR4 up to 3300(O.C.) MHz
DIP Version
5-Way Optimization by Dual Intelligent Processors 5
CPU Power
Industry leading DIGI+ VRM8-phase design
DRAM Power
Industry leading DIGI+ DRAM4-phase design
PCIex16 Slots
5
4
PCIex4/x1 Slots
1*PCIex4
2*PCIex1
Multi-GPU
3-Way/Quad-GPU SLI & CFX; 3-Way bandwidth up to 16/16/8 mode
Gbit LAN
Dual Intel LAN
Intel LAN
Wireless Connection
3T3R Wi-Fi 802.11 a/b/g/n/ac
Dual-band 2.4/5GHz & BT v4.0up to 1300 Mbit/s transfer speed
2T2R Wi-Fi 802.11 a/b/g/n/ac
Dual-band 2.4/5GHz & BT v4.0up to 867 Mbit/s transfer speed
–
Audio
Realtek 1150 8-ch HD (High quality 112dB SNR stereo playback output), DTS Connect/DTS UltraPC2
Storage
12*SATA 6Gb/s (4 shared with SATAe)2*SATA Express1*M.2×4(PCIe3.0) type3
10*SATA 6Gb/s (2 shared with SATAe)1*SATA Express1*M.2×4(PCIe3.0) type3
USB
14*USB 3.0 (4@front); 6*USB 2.0
10*USB 3.0 (4@front); 8*USB 2.0
OC Socket for extended overclocking headroom and ASUS 5-Way Optimization
X99 Series motherboards are equipped with a brand-new ASUS innovation — our patent-pending OC Socket. This unique socket includes extra pins that connect proprietary circuitry to extra contacts found on Haswell-E's land grid array (LGA) and is 100% compatible with Intel's new LGA 2011-v3 ('Haswell-E') processors. In combination with the ASUS UEFI BIOS, OC Socket enables higher DDR4 memory frequencies, lower memory latencies and enhanced stability while overclocking, extending all the way to extreme overclocking conditions, such as Liquid Nitrogen (LN2).Users are also able to increase DDR4 memory frequencies to 3300MHz and beyond, even with all eight DIMM slots populated. Additionally superior total platform efficiency can be reached due to ASUS design and tuning enabling significantly improved cache ratio ( ring bus ) overclocking.
PC enthusiasts also benefit from exclusive 5-Way Optimization technology to easily and automatically optimize a X99-Deluxe, X99-Pro or X99–A based PC with one click. First up is Turbo Processor Unit (TPU), a custom microprocessor that provides automated overclocking and advanced voltage controls – catering for novice and advanced users. Then there's Energy Processing Unit (EPU) to deliver system-wide real-time power savings, controlled via a simple onboard switch or the easy-to-use AI Suite 3 utility.
5-Way Optimization technology also encompasses tuning of the Digi+ voltage-regulator module (VRM) to enhance performance, increase efficiency and ensure reliability, and Fan Xpert 3 for peerless fan calibration and control. Completing the 5-Way Optimization technology line-up is Turbo App, an intuitive tuning panel to tailor and boost all parts of the system for specific games or programs.
Auto Tuning – The Most Advanced Auto Overclocking Implementation Ever!
The most complete and advanced auto overlocking implementation ever developed. ASUS Auto Tuning which is part of the 5 Way Optimization functionality inside of AiSuite III is truly impressive even on a enthusiast level. It is the solution currently out that offers realtime auto overclocking derived on insight, experience and expertise of the ASUS overclocking team and ASUS motherboard RD team.
It is CPU specific. All CPU's have varying margin meaning some can operate at faster frequencies than others. Some can operate a higher frequencies on a lower number of cores ( per core overclocking ) compared to all cores. Auto Tuning overclocks your system and find the margin of your CPU providing you a easily executed overclock that is efficient and stable. These points are important as Auto Tuning uses the most advanced voltage adjustment available in the form of adaptive voltage control. This allows the CPU to reduce its voltages when idle or under minimal workloads reducing power consumption, heat output and consistently higher voltage being supplied to the CPU. In addition all power saving and speed reduction features such as SpeedStep are left enabled. Allowing you to have performance when you need. No other auto overclocking application comes close. This is due to the continual fine tuning over multiple generations as well as the fact it is a firmware and hardware based implementation. The software is purely the mechanism used to enable it. This is the same level of overclocking normally reversed for enthusiast who manually defines all parameters in the UEFI ( BIOS ).
Additional new features include
Selectable voltage
Seletable target frequency
Selectable temperature target
New stress testing algorithms including multi threaded memory stress test as well as AVX instruction set support
Fan Xpert III – The Most Advanced and Complete Set Of Fan Controls!
Fan Xpert III  introduces the the most advanced and complete set of fan controls available on a motherboard.  With boards featuring six ( 6 ) on board headers that all support being controlled in the UEFI BIOS or within the OS. Each header can be controlled in an extensive number of ways including fan duty, ramping, output signal ( DC or PWM ) temperature input source and more. ASUS X99 boards currently exclusively are the only boards enabling true DC and PWM control ensuring superior granularity and control as well as expansion flexibility. While all headers are 4 pin based all can be set to operate and support as well as calibrate 3 pin ( DC ) or 4 pin ( PWM ) based fans. Further refining and extendign the fan controls each header offers input mapping for temperature sources whether it be the CPU, VRM, MB or the PCH. Users can even use there own included thermosistor and create their own temperature input source whether it be the GPU, HD, SSD or even ambient temperature inside the chassis. Not enough for you every header supports full fan calibration allowing the fan curve to be automatically found so each fan can be optimally manged and tuned for the best performance as well balance of acoustics. Once calibrated users can name the fan headers making it easier to monitor as well as map the location of each fan. For the most demanding scenarios the DELUXE and PRO takes it to another level including a fan hub extension module that connects to the board allowing for a additional 3 fan headers for a total of 9. In addition 3 additional temperature input sources. The fan headers on the module have the same exact class of control and functionality as the onboard headers and are all controable via the UEFI or the OS. Making it even more useful users can map the input sources from module to the chassis fan headers on the motherboard. All the way around it does not get better than this when it comes to fan control flexibility , functionality and control. The X99-A support the Fan Xpert fan hub expansion card.
X99 DELUXE
AVAILABILITY & PRICING
The X99-Deluxe is priced at $399 and will be available nowatauthorized ASUS resellers and distributors. TheX99-A lands with an MSRP of $279 and will be available fromearly September,whilethe X99-Pro is expected in early October, price TBD.  Additional information is available at www.asus.com .
[1]Specifications, content and product availability are all subject to change without notice and may differ from country to country. Actual performance may vary depending on applications, usage, environment and other factors.