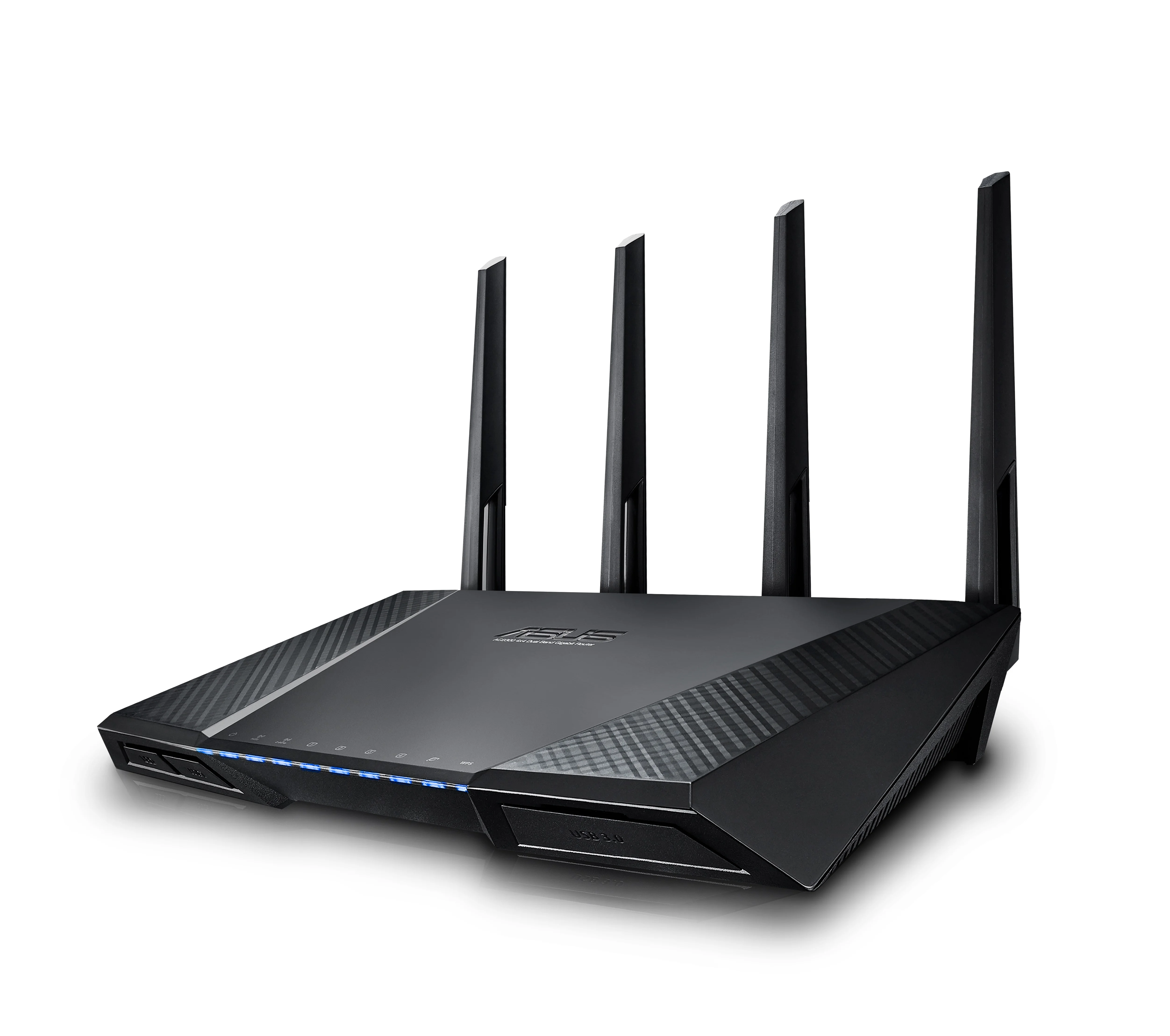 If you are looking for the proverbial "best" high performance wireless router on the market look no further than the ASUS RT-AC87U or AC87R. With that noted wireless is a complex technology and requires many points of consideration including environment, connected devices and usage. In addition there is no "one fits all" solution. With that noted when considering real world performance and features and functionality more often that not the 87U will be at the top of the list when it comes to what you can experience with a high performance router. The new RT-AC87U has risen to the titles of best range, fastest throughput and best storage performance of any current 802.11AC consumer router. It features many first to including the first 4×4 ( 4 stream ) and MU-MIMO ready 802.11AC router. The AC87U and the AC87R routers are identical when it comes to their hardware and design, the difference in their naming comes in where they can be purchased ( the 87R being a BestBuy specific sku ) and the 87U being available at all other retailers an etailers. This new ultra high performance router is truly impressive in respect to its features and functionality as well as was its performance. In addition to a number of advanced hardware designs and advanced specification support the 87U includes a wide range of new features within its award winning ASUS WRT firmware some of these include dual WAN support, more extensive VPN functionality, new parental controls, new advanced security mechanisms powered by TrendMicro. Possibly the most exciting is an entirely new robust intelligent adaptive upstream and downstream QoS. While these features alone could justify a new router these additions are just some of what this new router is packing in regards to its newly improved firmware. As we move through this overview we will cover many of these new features in more detail as well as improvements to other aspects of the firmware including new UI updates and further improvements to the streaming, syncing and sharing functionality offered by the exclusive AiCloud. With the intro out of the way lets jump into more about what makes this router so special and perform and function the way it does.
A closer look at the 87U as well as features and specifications :
The 87U features a number of key specifications including the distinction of being the first "wave 2.0" 802.11AC wireless router. I have detailed some of the most important features and specifications to provide a sense of what the unit brings to the table relative to other wireless routers currently on the market.
Ultra-fast Wi-Fi router with a combined dual-band data rate of 2334 Mbps and world's fastest 5G at 1743 Mbps  ideal for multiple high bit rate video streams as well as local playback of HD or UHD video files,  large file transfers or system backups as well as low-latency online gaming.
World's first 4-antenna, 4-stream design with AiRadar & universal beamforming offering the potential for expansive wireless signal coverage up to or greater than 5,000 square feet (over 465 square meters). Additionally featuring implicit and explicit beamforming ( universal beamforming ) for superior client reception and throughput and environmental response.
2X dual-core CPU with dedicated 5G Wi-Fi processor and unique hardware structure for robust multitasking performance, superior stability and the best WiFi performance for 5GHz 802.11AC as well as simultaneous utilization of 802.11AC with USB 3.0.
256MB DDR and 128MB DDR onboard memory enables roubust performance dedicated memory for each chipset.
Built-in USB 2.0 and USB 3.0 ports with high power output design enabling robust connected device flexibility including USB attached storage streaming, syncing or sharing of files via AiCloud, FTP connections and locally connected PCs. Additional support for printers and multi function devices as well as support for ISP connectivity with support for 3G/4G devices. High power output ensures superior compatibility and performance with the widest range of bus powered storage devices.
ASUSWRT firmware with advanced graphical user interface for easy, CD-free / sofware-free 30-second setup whether it be on a desktop, notebook, smartphone or tablet. Additionally featuring robust network monitoring, management and control. A class leading firmware offering the most feature complete functionality of any high end performance router including parental controls, VPN, FTP, QoS, wireless parameter adjustment, iTunes media server support, media server interoperability with CE devices, dual WAN, WAN to LAN reassignment for 5 LAN ports, Guest Wi-Fi ( guest SSID ) and much more.
Advanced router security and protection with AiProtection with Trend Micro helps to assess and secure your router and minimize exploits, intrusions and other malicious attacks. Additionally it can assist in malware protection and prevention.
Newly design advanced Adaptive QoS identifies and categorizes home network traffic to intelligently allocate the optimum bandwidth for each application or  connected device. Based on advanced deep packet inspection  adaptive QoS offers robust optimization with easy management. Additionally it can co operate with NAT acceleration and enables per client prioritization and monitoring.
Updated ASUS AiCloud 2.0 to locally connected PCs and attached storage devices to access, sync, share and stream your files from home anywhere you have an internet-connected device. You can even remotely wake up locally connected PCs.
Two Stagae Hardware acceleration design "Hardware NAT" offers superior performance and routing throughput.
For Those of you interested in checking out an in depth video overview check out the video below.
Visual overview and connectivity :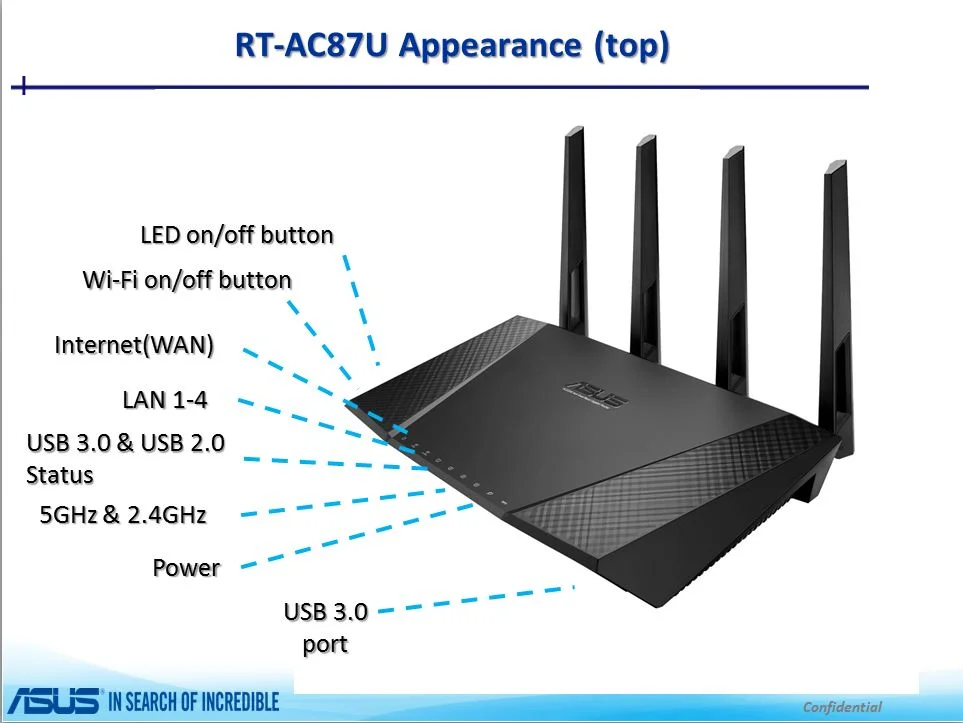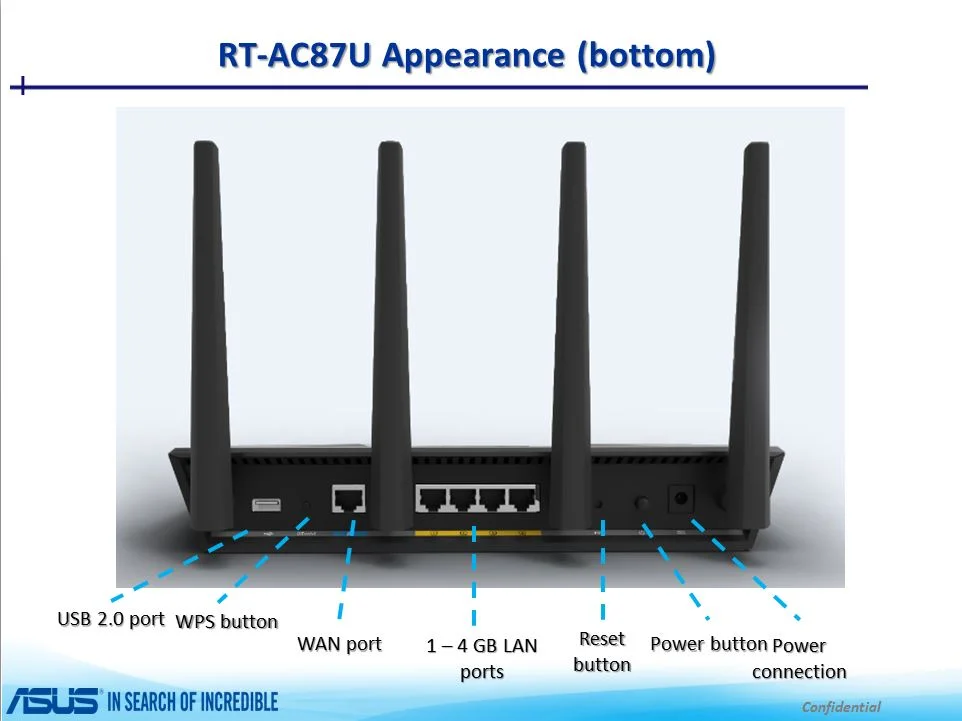 Visually the 87U is a departure from the previous 68U and a return to the flatter and more angled profile of the AC66U. It incorporates new angles and lines though that offer it a clean but aggressive feel along with a element of premium design highlighted by the lattice finish used on the left and right sides of the unit.
The 87U has all the key connections one would expect from an enthusiast wireless router. Locally connectivity includes four ( 4 ) Gigabit LAN ports with support for a 5th LAN port via WAN to LAN reassignment available within the firmware. This is a great option for users who will utilize the 87U as an access point as opposed to it default operating mode as a wireless router. In addition the LAN ports supporting teaming functionality enabling the ability to offer higher throughput. Additionally the 87U is primed for multi ISP connectivity or for users who are looking for fail over support, Users can enable dual WAN functionality by reassigning any of the LAN ports to serve as a secondary WAN port. Going along with the robust LAN connectivity you have two USB ports. One port is located in the back and is USB 2.0 based. This connection is great for connection to a multi function printer or printer as well as USB attached storage. The firmware additionally supports connection of 3G & 4G enabled devices. Moving to the front the unit it offers a protected USB 3.0 port. This ports offers truly impressive performance especially under concurrent usage ( when Wi-Fi and USB ) are being utilized at the same time. Due to a dual dual core design and specialized topology the Quantenna 802.11AC 5GHz chipset can work essentially unaffected by the Broadcom 2.4GHz & USB chipset. This enabling outstanding storage performance who are looking for entry level NAS functionality as well as entry level NAS performance out of a router. Rounding out the back you have the remaining connections you would expect including a WPS button, power button, and a recessed reset button. For users who are interested in the DIY approach of potentially improving range and throughput through antenna replacement they will be happy to see the continued use of fully flexible and replaceable antennas.
Moving to the front of the unit there are number of easy to use elements including a quick on and off LED button as well as a Wi-Fi on and off button. In regards to the LEDs they are a soft blue and are present for all keys connections including internet ( WAN ), LAN ( all for ports ), USB, 5GHz and 2.4GHz and power.
What does 4×4 ( 4 stream ) and universal beamforming mean? How does it help me?
When looking at the the 87U one of the  most distinctive elements you immediately see if the utilization of 4 antennas. This is due to the wireless chipset offering true 4 antenna utilization ( 4 stream design ). This is different than other high end routers on the market which may similarly offer 4 antennas but cannot utilize them all at one time. The 87U can fully utilize these antenna by pairing with another 87U in bridge mode or connect to the upcoming EA-87 client adapter, access point, media bridge or repeater. The more important question though is can additional improvement be had in range and throughput with non 4×4 clients such as more entry level products that have 1 stream or 2 stream designs like basic 802.11AC USB adapters or the Wi-Fi in many smartphones, tablets and notebooks? They answer is yes it can. How is that? Two words, reception sensitivity. With the 4×4 design there is an improvement to reception sensitivity and this helps effective range and throughput for all 802.11AC clients including the most common 1×1 or 2×2 or mixed configurations adapters, clients or devices. I had overall improved throughput and performance with adapters like our USB-AC51, USB-AC53 and USB-AC56 as well as others compared to high performance 3×3 ( 3 stream ) wireless routers like the AC66U and AC68U. The great thing about this is users who are utitlizing the highest end performing 3×3 devices like our PCE-AC68 can still realize improvements as well being ready for the with with support for 4×4 client adapters when they become available.
In addition one of the biggest features of the 87U is support for MU-MIMO an advanced technology that can improve signal reception and range and effective throughput. This functionality is hardware ready but not yet enable within the firmware but will be enabled via a update at a later date. The great news is companies have already communicated design and development support for MU-MIMO devices coming as early as late Q4 of this year continuing into early 2015. For those of you who are early adopters of smartphones, tablets and notebooks this means your performance is only going to get better!
For reference I am including a chart for those of you to see what the differences are in peak speeds offered by different stream ( antenna configurations ). Keep in mind these are theoretical numbers and in the real world you have to factor aspects that affect these numbers including environment, overhead, number of connected devices, mixed Wi-Fi connectivity and many other factors that reduce these numbers. With that noted We have achieved real world throughput at ranges from 10FT to 25FT between 600 to 900mbps+. These are some truly impressive numbers considering not to long ago the best wireless was offering throughput speeds between 100 to possibly 200Mbps. What this ultimately means is the throughput ( speed ) is there for heavy real world usage whether it be streaming, syncing, sharing, downloading, uploading gaming or even backing up.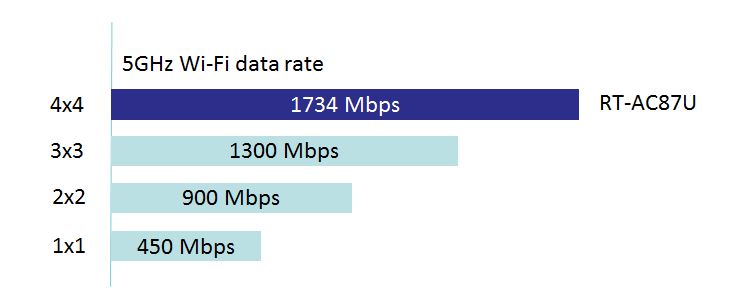 Boasting a true 4×4 antenna design, RT-AC87U gives you up to 5,000sq ft of wireless coverage¹ that's 33% further than the latest generation tri-band routers¹, making it your ideal choice for large homes and multi-floor buildings. Thanks to AiRadar beamforming and unique multi user-MIMO technology, the more devices you use the more the throughput increases². While MU-MIMO is not yet enabled and the devices are not yet here the support for inherent implicit and explicit beamforming helps to ensure 802.11AC client adapters like the PCE-AC68 and the USB-AC56 which both support beam forming get the best performance and range possible.
RT-AC87U is the 1st router to support multi-user MIMO technology for up to 2 times greater performance than single-user MIMO when streaming or transferring data in multi-device environments. While single-user MIMO routers communicate with one client at a time, multi-user MIMO router communicates with 2 MU-MIMO enabled clients simultaneously to better utilize the router's capacity and reduce the client's waiting time.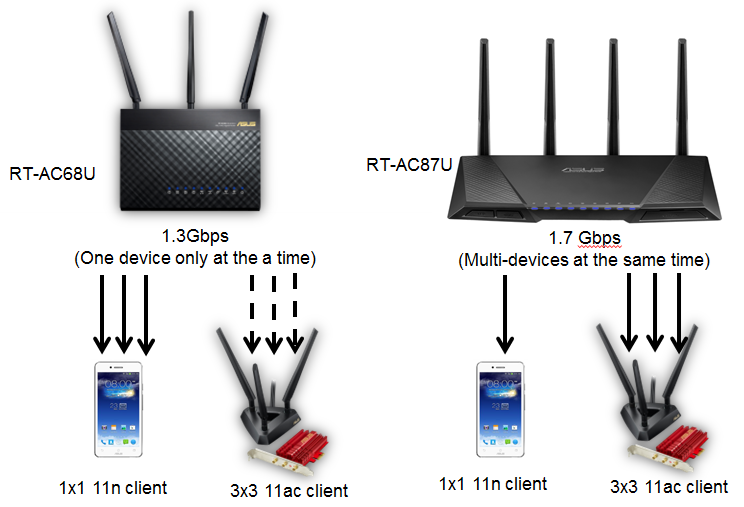 * taken from Quantenna design implementation information. Beamforming is an important companion to 4×4 Multiple Input Multiple Output (MIMO) technology for Wi-Fi wireless networking. When it is included, it enables dramatic improvement in Wi-Fi 802.11ac/n performance, reliability, range and coverage. Beamforming is a signal processing technique used to control the directionality of the transmission and reception of radio signals. The most effective type of beamforming is dynamic digital beamforming. This type of beamforming uses an advanced, on-chip digital signal processing (DSP) algorithm to gain complete control over Wi-Fi signals. By creating several independent signal paths to optimally focus radio energy to and from client devices on a per-packet basis, performance is dramatically improved. In the case of a two-stream configuration, this makes it possible to steer the energy of the antenna array in the independent spatial directions associated with both data streams, while simultaneously avoiding interference.
Overall you can see the 87U incorporates a slew of advanced Wi-Fi technology to ensure you have outstanding range, throughput and ultimately a great "connected" experience. The 87U does not stop there and feature some of the most specialized enthusiast class designs to help to ensure its performance and functionality across a wide range of aspects is class leading even when compared to other high performance 802.11AC routers. In addition for power users out there who like to tweak and tune there routers the ASUS WRT firmware offers a professional section off many tuning parameters for enthusiasts.
More than meets the eye, advanced hardware designs enable the best performance & experience :
2X Dual core design with offload implementation
Looking at the 87U it may look like there is not alot going on internally especially when compared to the visual complexity of motherboard. That would not be true though, below the clean stylized exterior lies some seriously impressive hardware as well as some impressive design implementations. So why are we going into this? Mainly because spec does not always define experience and usability. ASUS worked extensively on the hardware topology of the 87U to ensure outstanding performance in a number of ways. So lets take a closer look at the layout of the 87U to see how advanced design thinking enables the great real world performance.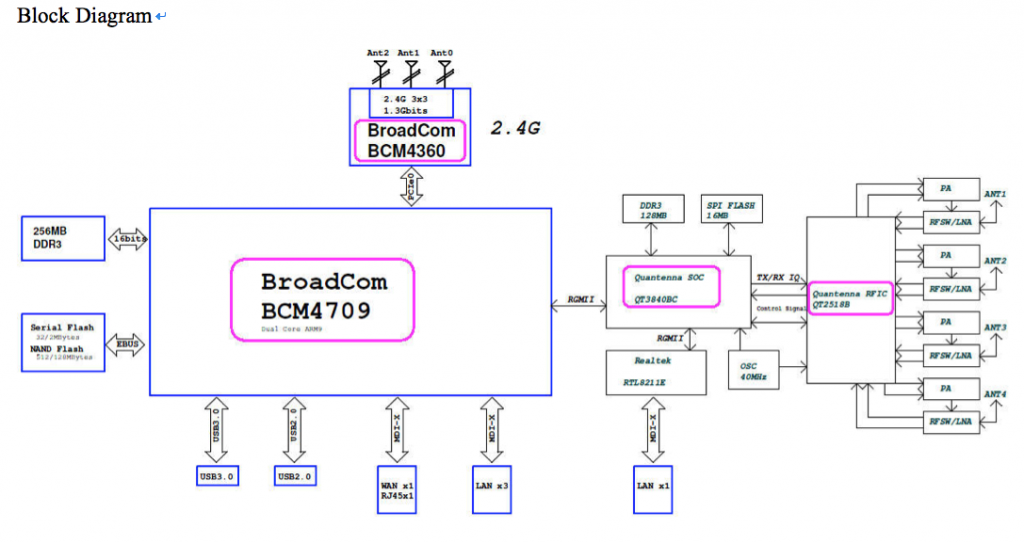 As you can see in the block diagram there are two separate chipsets with their own associated memory one for the 5GHz 802.11AC ( Quanntenna ) and another for the 2.4GHz and USB ( Broadcom ). What this means essentially is that the RT-AC87U uses a dedicated dual-core CPU to handle complicated 802.11ac 4×4 algorithm and tasks. Due to the specialized linking mechanism and its hardware structure this design reduces the CPU utilization rate to a very low level and ensures almost 1 GHz dual-core computing power for other applications. The result is improve wireless throughput and robust multitasking performance especially when Wi-Fi and USB 3.0 are being simultaneously used. This affects users by creating superior storage performance as well as having additional processing power for other newly enabled advanced functions for monitoring and packet analysis and optimization.
For those that did not know what they were looking at in the block diagram a simplified version is shown below.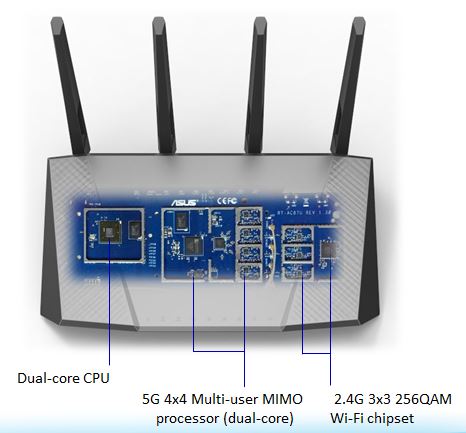 Gigabit LAN with hardware NAT
The RT-AC87U comes with 5 gigabit Ethernet ports for up to 1000 Mbps of throughput for each port. More importantly many enthusiasts will be excited about the inclusion of a hardware NAT that intelligently analyzes and optimizes traffic based on its type so whether you're playing an online game, browsing the web or having a video call, you're getting the best performance for your task at hand.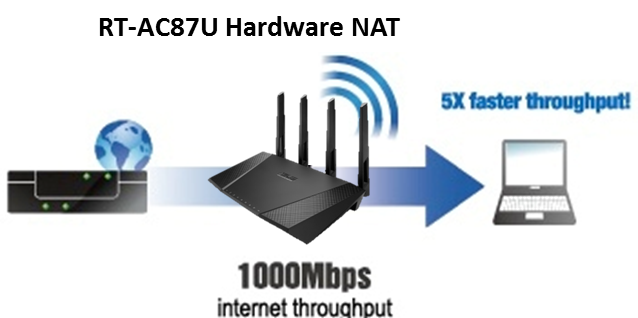 Going a bit deeper in the NAT implementation on the 87U, it features two levels of acceleration. These can be managed within the ASUS WRT firmware. They are under the option of NAT Acceleration and reffered two as level 1 CTF or level 2 CTF. So what does these options mean or do?
CTF(Cut Through Forwarding) is software optimization technique to accelerate NAT.
FA(Flow Accelerator) is a hardware NAT acceleration mechanism design for accelerating wired  DHCP and Static IP connections.
Level 1 CTF = CTF
Level 2 CTF = FA + CTF
Another improvement and exciting aspect of the 87U design and firmware is that it allows the utilization of a new advanced QoS implementation to be used in conjunction with CTF. Historically this has not been the case requiring users to compromise on QoS or NAT acceleration. Now users can benefit from both.
Conditional implementation details for NAT acceleration are noted below.
Enabling of Adaptive QoS will disable FA.
Enabling of traditional QoS will disable both FA+CTF.
This advanced hardware design along with ASUS RF tuning and optimized topology and specialization design implementation help to ensure outstanding simultaneous connection performance. Of course this need to be validated. Below is some detailing on the testing process.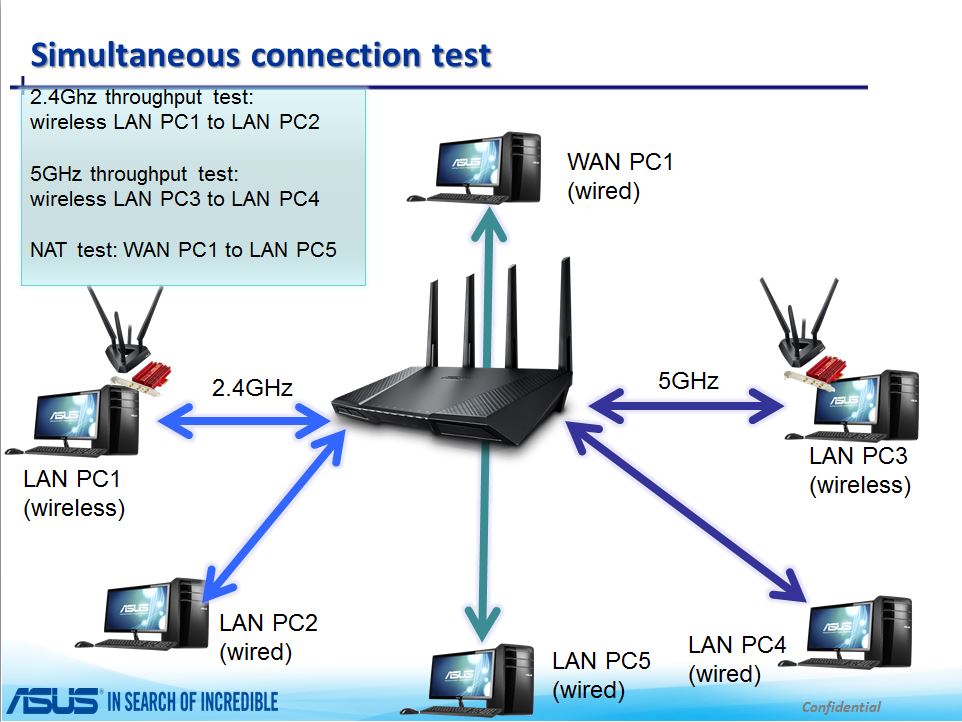 Advanced USB power design offers superior compatibility and functionality :
Many users may think that all specification implementations ensure a consistent experience but this is definitely not the case. Specification implementation like USB can be affected by topology and layout both negatively as well as positively. ASUS took considerable time in the specification implementation of USB to ensure optimal performance as well as usability in addition took care in routing to minimize RF interference. Moving beyond that how can a spec vary between devices featuring the same specification?  Some USB devices require more power than standard design implementations allow for. These devices may require a Y-cable to connect to two USB ports at the same time. For the best USB HDD compatibility, the RT-AC87U USB ports were designed to provide more power than the USB standard. This helps to ensure that both USB ports can be used as you would expect compared to some competitors solutions where both ports need to be utilized to power a single USB storage device or may not even correctly initialize the devices regardless as not all devices support Y-cables. Below you can see ASUS incorporates considerbly higher power output ratings to help ensure the best device initialization and overall compatibility.

Superior range, throughput and storage performance with a power efficient design :
The 87U from its design onset was purpose built for performance normally the highest performing devices tend to consume the most power. This is not the case with the 87U. Through extensive design effort class leading performance was able to be achieved while also maintaining class leading power efficiency.
If you currently evaluate other high end 802.11AC routers you will see their power consumption and power adapters are larger and higher than the 87U.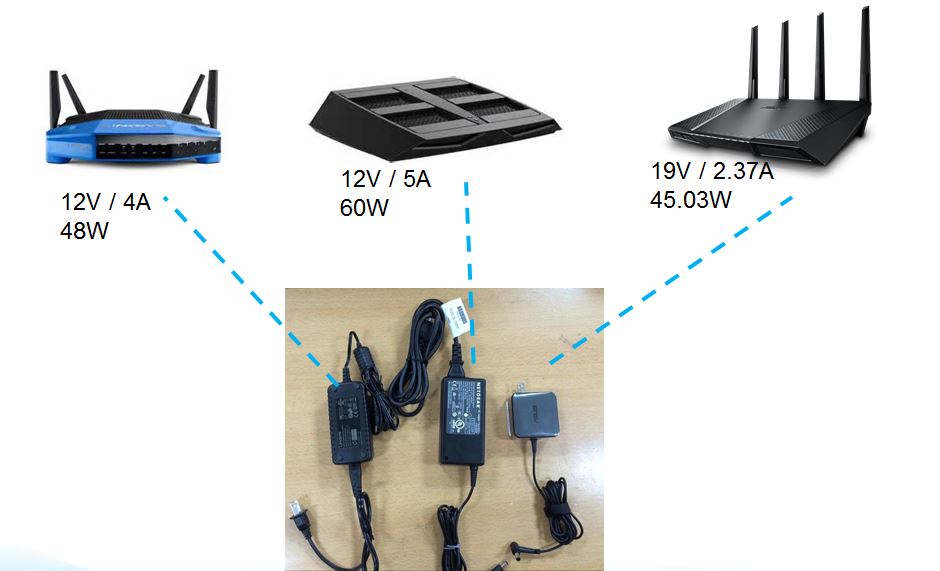 Thermal design considerations and ensuring reliable operation :
One critical part of the design of wireless routers is their thermal performance and reliability. A wireless router is a fixture in your home. It is always on and expected to enable the connectivity for so many devices that enable the experiences you have each and every day. Whether it be streaming music or movies, playing games or downloading all of this and more is enabled by your router working day in and day out. ASUS takes this very seriously and in the course of the 87U design and development the design team went through extensive steps to ensure solid thermal performance through careful design implementation as well as extensive validation. Why is this important? Because with ever increasing complexity and speed of the internal components in a router thermals can not only lead to instability but lead to failure. Analysis is done with a focus on real world connections and utilization. Four computers are connected to the router, two are connected by LAN and the others are connected by Wi-Fi one for 2.4GHz and the other for 5GHz. Only if the unit passes operation under this load is it cleared. During this we also carefully evaluate thermal performance of the router. This is to ensure the thermal solution put in place works as intended.
The 87U actually features three independent heatsinks for core processing portions of the 87U. These heatsinks help to ensure stability under heavy load.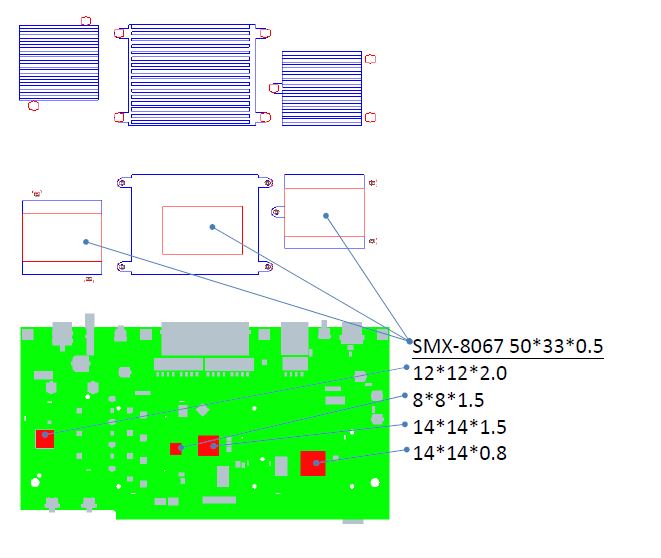 Over 14 points are measured and tracked via thermosistors and thermographic imagery. This also with careful evaluation of different thermal dissipation implementations are measured and compared to find solutions that meet the demands of consistent long term usage and ensure effective thermal dissipation. This is done at multiple stages through multiple design revisions to the housing and layout topology. Once the units meets final design implementations and features final topology, component utilization and final ID ( the housing ) the unit is further re evaluated to ensure its thermal operating performance and reliability.
Interoperability and compatibility does it work with my device or adapter?
This is a big part of the time that goes into validation of a routers functionality and performance. It is also an aspect that does not generally get discussed as many reviewers based on expediency and bandwidth have limited opportunity to test different client adapters and devices. Of course in the real world we expect if a device is equipped with Wi-Fi then it should work with the router. In theory this is should be the outcome but in reality there are a number of factors that cause this to not be the reality of what occurs between Wi-Fi enabled devices and the routers they connect to. In this respect interoperability and compatibility has to be treated as an ongoing process that continually improves and considers the wide range of devices that are are utilized or can be utilized. Of course it is extremely important for a device to have launch ready compatibility and interoprability to ensure a wide range of users will have a positive experience in regards to connectivity and its associated performance. With that noted new devices along with current devices as well as the sheer number of different devices along with different wireless controllers / chispets makes this a difficult task to manage. With the introduction of a entirely new chipset it is even more challenging as it may not have the experience and fine tuning present that an older or revised wireless chipset has. In this respect ASUS worked extensively with Quantenna on what is refereed to as IOT connectivity and compatibility to ensure a wide range of devices had been checked to ensure great performance and overall a great connected experience. At the same time the ASUS team was able to leverage its FT tuning experience and optimizations for 2.4GHz from its implementation in previous routers like our 68U which utilizes the same chipset. Bring this all together and you can begin to see the level of work put into this aspect of design and development and validation.
In total over 20 different types of client devices and adapters were tested ranging from solutions based on 802.11AC chipsets from Broadcom, Realtek, Mediatek, Intel, Qualcomm and others. For users that also are looking for a great out of box experience consider ASUS's own line of wireless adapters both USB based and PCIe based. These include the USB-Ac51, USB-AC53, USB-AC56, PCE-AC56 and PCE-AC68. All have been tested with the 87U and offer great range, throughput and performance. I was most impressed by entry solutions like USB-AC51 and 2×2 based solutions like the BCM internal Wi-Fi in many notebooks as well as our own USB-AC56 and the Intel 7260. Even at moderate distance and in noisy environments throughput and was very good and clearly improved compared to the 68U.
The heart of a router's features, functionality and overall usability is firmware, ASUS WRT :
Many enthusiasts looking at a router can get stuck on some of the specifications of a wireless router whether it be the proposed wireless speed or  if it has USB 3.0 or whether it has external and replaceable antennas. All of these are important but are ultimately only part of the equation needed to produce a great connected experience. In addition the functionality associated with those specifications or connections are determined by not just the hardware but softwore or more specifically firmware. In this respect and much more firmware is the crux of a wireless router overall feature set, functionality , compatibility and performance and more. ASUS has for multiple generations now been continually refining and improving its firmware with the end goal of  meeting the minimum requirement of a useble and functional product that offers great interoperability and performance but also meets the needs and wants of progressing networking enthusiasts. Going back to the RT-N16 ASUS has been continually evaluating the features and functions users once previously adopted open sourced firmware which had robust features and functions but had no validation or specific tuning to the router it was installed on. With this in mind ASUS set out to incorporate the feedback of the users and the community and produce a firmware with close to equal advanced functionality and some ways superior functionality while offering superior ease of use and of course maintaining validation and per model optimizations. Flash forward to today and the N16 has actually still received firmware updates since its release in 2009 and many features and functions have come with those updates. 
We are not here to read about the N16 so enough about it, we are here to discuss the 87U. The 87U brings with it a slew of new ASUS WRT features many of which were specifically incorporated based community feedback. It woud be hard to cover the sheer range of functions offered in the firmware so we are going to mostly cover key features as well as popular features or functions that are present and have been improved upon or are wholly new.
CD free & software free wired or wireless setup
ASUS's award winning QIS ( quick internet setup ) is maintained from previous versions allowing you to get up in running in as little as 30 seconds. New additions include password strength analysis and verification. These help to ensure you optimally secure your router. As always whether you are on a smartphone, tablet, notebook or desktop or any web enabled device all you need is a browser and physical wired connection to the router or connection to the wireless setup signal to get up and running.
New network map, networking homepage
The primary homepage for the router has been updated with more information to allow for quicker access and detailing to information information about your network and connected devices. Additionally aspects of customization have also been included.
Some of the new aspects are CPU utilization display and monitoring, RAM utilization display and monitoring as well as labeling for USB 3.0 and USB 2.0 ports. Per connected client connection details including signal strength for wireless devices. For each device you can even defines its display icon and name making it easier for you to know what devices are connected. All devices are easily broken up as well under a general online status as well as more specific wired and wireless connections.
Dynamic network traffic monitoring, management and quality of service ( QoS )
Entirely new QoS ( quality of service ) implementation that still allows for NAT acceleration.  This new QoS is based on deep packet inspection and allows for easy prioritization of networking based on content type whether it be multimedia streaming ( music and movies ), web browsing, gaming, file sharing and more. Traditional QoS with advanced manual configuration is still offered allowing users of all types options best suited to their usage models and environments.
Rich network traffic analysis with integrated traffic monitoring for wired and wireless connections. For more advanced monitoring enabling of adaptive QoS enables application analysis offers per client monitoring of bandwidth and per client application bandwidth utilization. For administrators or parents looking for all the details on how the internet is being used set of tools.
Per client web history monitoring helping you to what sites are being visited on the network
Advanced router security with AiProtection featuring Trend Micro for network security and assessment and exploit resolution
Router exploit analysis, with the click of a button check for common exploits and vulnerabilities  as well as low strength parameters and resolve them or make recommendations
Integrated white list and black list malicious web site blocking, helps to easily ensure security and minimize infection or intrusion by blocking sites that can compromise your system. These includes sites know to have spyware, ransom ware, phishing, and spam content. These sites are updated automatically based on Trend Micro's ongoing web site security analysis.
Infected device prevention with blocking support of controlling services that can remotely control your system, infected and access information. Infected device protection and blocking will automatically check connected devices destination URL or IP address and compare it to Trend Micros know C&C malicious server database.
End user email notification. You are notified if a suspicious, malicious or known C&C attack attempts to make connect to its corresponding server.
Rich parental controls offering content, keyword and site filtering and blocking. Limit time or device connectivity as well
Parents or administrators can access easy to control content filtering on the router. The integrated easy to enable content filtering groups make it much easier to control web browsing compared to specific site restriction. Content categories include, Adult, IM and communication, P2P and file transfer as well as streaming and entertainment. Categories are are based on Trend Micro's website reputation system ( WRS ) cloud database and application signature database.
For parents or administrators looking to limit the time or system that can connect to the internet ASUS WRT firmware offers the ability to limit connectivity based on the client as well as based on time. Time parameters can be based on 12 or 24 hour intervals as well as day of the week granularity.
Advanced LAN and WAN reassigment with support for dual WAN and 5th LAN port
Users can easily configure their router based on their needs and environment. Should you need fail over support or load balancing you can enable a secondary WAN port by reassignment any of the 4 LAN ports to WAN functionality. The secondary WAN be be setup for DHCP, PPPoE, Static IP, PPTP, L2TP or 3G/4G USB enabled device.
For users who utilize the router in an access point fashion they can easily reconfigure the WAN port and reassign its function as a LAN port instead.
Users looking to maximize media bridge mode performance can enable teaming functionality allowing for greater than gigabit throughput.
iOS and OSX support with support for Facetime and Time Machine
iOS users and OSX users can equally benefit form portions of the ASUS WRT firmware by easily enabling Time Machine support.
Rich VPN functionality with VPN server and client support
ASUS continues its support of rich VPN functionality by expanding its VPN support to include PPTP VPN servers as well as Open VPN server as well as PPTP, L2TP and Open VPN clients. For security enthusiasts, media streaming tweakers and tuners as well as global travelers and road warriors this level of flexibility when it comes to VPN is appreciated.
AiCloud 2.0 for easy streaming, syncing and sharing of connected devices and locally connected PCs
Advanced integrated media and file sharing functionality is built into the router allowing users with web enabled devices and devices supporting the AiCloud app to stream, sync and sharing files from USB attached storage.
With AiCloud users can even access files from locally connected PCs on your local area network. Advanced control even allows you to wake systems from sleep or hibernation. No need to be dependent on syncing your files to cloud based services.
For users with two ASUS routers one in your home and another a friends or business location you can enable router to router file syncing.
Newly designed AiCloud app allows for easy visual navigation and access as well as playback of your digital files they be music or movies, videos or general files.
PC free file downloading with download master
Users can easily download files without the need to leave their systems on whether it be HTTP or FTP or P2P easily set your router to download your files to USB attached storage and then access the content on any connected PC or client.
Guest wireless network ( Guest SSID )
Households and business needing the flexibility to have multiple SSIDs ( wireless networks ) can easily enable up to three guest SSIDs per band.
Overall you can begin to see the level of rich features and functionality offered in the ASUS WRT firmware. More is planned and is being worked on for future implementation via easy to apply firmware updates which can be automatically checked within the routers firmware update portion. No other consumer router offers the wide range of usability and functionality offers by the 87U and its firmware which as noted will continue to be improved upon.
Multiple operating modes
ASUS WRT firmware allows user to easily enable three different operating modes, these includes wireless router, media bridge and access point.
A quick look at performance and conclusion :
So we have talked a lot about design, features, functionality as well as general performance and much more so what about numbers? We will be working on a separate article that goes a bit more into performance but to provide some visibility on the performance you can expect we have included some impressive results from 3×3, 2×2 and 1×1 based adapters offering you a perspective of performance across a range of 802.11AC enabled devices and respect speed class. Overall you can see the 87U steps up to offers some impressive numbers. Keep in mind these numbers are in a real world environment at the distance of approx 20 feet and with over 25+ wireless access points as well as an complex office environment with many RF transmitting based devices.
So wrapping things up is the 87U worth it? That is an easy yes if you are looking for a router that creates a truly expansive and wide level of coverage, offers considerably faster than 10/100 Ethernet speeds and gives you the most robust storage functionality. If you are pretty much looking for a wireless router with the best range, throughput and simultaneous storage performance and much more this is the unit for you. What about users that are already on the 802.11AC bandwagon? Users that already have great range and great throughput? This is a great question, if you have made the investment in a high performance router like the AC66U or AC68U or mid range wireless router like the AC56U. The biggest areas of improvement will be in storage performance and throughput. For users who are currently challenged by range especially with units like the 66U or 68U while improvements can be had you may want to look more closely at optimizing your environment and considering fine tuning parameters whether they be channel optimization, placement or incorporating repeaters or even replacing antennas or possibly a combination of all of these. Wi-Fi is a complex technology that has many affectors to its range and throughput but for many this router will offer the best experience of any wireless router when it comes to network connectivity, functionality and performance not to mention the experiences possible enabled  by the WRT firmware. This is especially true if you are coming from a non ASUS router.
Lastly for those of you wondering about how it fairs in the landscape of tri band enabled routers ASUS's focus is currently to produce the widest range of wireless routers for the wide range of needs and environments that require a wireless router. This aligns with the truth that no one router works or will benefit every environment as such different devices are needed for different usage models and environments. Products like the upcoming AC3200 may potentially be a better fit for heavy mixed mode environments but will not offer superior throughput or storage performance or the same maximum range compared to that of the 87U. The unit of course though is still under design and development and as we get closer to the formal release more information will be provided. As always stay tuned for more information soon and feel free to leave questions, comments or concerns. We will updating the article over the next few weeks as few we have some time to include some additional points and respond to any questions. Additionally we will expand and detail common FAQs as well as always in the FAQ portion of the overview.
FAQ for RT-87U and 87R
1. When will it be available?
Availability for the 87R is currently active. You can purchase directly from BestBuy in store or online.
http://www.bestbuy.com/site/asus-extreme-wireless-ac2400-dual-band-gigabit-router/7230042.p?id=1219258061855&skuId=7230042
2. Is there a difference between the 87U and the 87R?
Both units are hardware identical and feature the same specifications, features and functionality the only difference is product availability based on retailer which is defined by the name of the router. The 87R is exclusive to BestBuy.
3. Is the 87U faster and better than the 68U?
The RT-AC68U is a extremely high performance 802.11AC 3 stream router. While it offers impressive range, throughput and storage performance overall the 87U offers considerable improvements compared to the 68U in all aspects. The only exception is 2.4GHz throughput which is roughly the same. Due to a more advanced hardware design under concurrent loads the 87U can offer improved performance even under 2.4GHz connectivity. Users that are looking for a considerable range improvement should additionally consider other options outside of replacement of the 68U with the 87U. Depending on client device and environment it may be better to consider the use of a repeater to maximize range, signal stability and overall connected throughput. Additionally as next generation client controllers come to market supporting MU-MIMO firmware you will see further performance benefits when comparing the 87U to the AC66U or AC68U.
4. What about the AC3200 is it better and faster than the 87U?
The AC3200 is still under design and development. As such immediate comparisons cannot be immediately provided. With this noted the overall design and differences in chipset specifications will not allow the AC3200 to offer superior throughput or storage performance. Additionally overall range should be superior on the 87U as well. As a whole the benefit first and foremost for the AC3200 will be heavy mixed mode Wi-Fi environments that also have varying standards ( both 802.11N and 802.11AC.
5. What about MU-MIMO? Is it enabled?
At this time MU-MIMO is hardware ready but has not yet been enabled via the firmware. It is still under firmware and chipset interoperability, compatibility and performance validation. Once this is complete the firmware will be released via ASUS support site ( support.asus.com ) as well as via the auto update mechanism in the ASUS WRT firmware. The firmware release should also align with initial MU-MIMO ready devices.
6. Is the firmware ready?
Yes the firmware is ready and usable and offers out of the box great performance and compatibility. Core features and functionality are working. With this noted the 87U features many entirely new features which are under continue refinement and revision for not only better performance but better usability. Primary areas still being improved focus on noisy environment optimization as well as QoS functionality and GUI elements. Lastly we are working on further enhancing USB performance even further by incorporating Broadcoms updated SDK. This along with additional features and functionality improvements will continue to be incorporated as new firmware is released. Overall users are advised to ensure they use the auto updating portion of the router during quick internet setup or download the latest firmware from the ASUS support site.
support.asus.com
7. What about USB performance has it been fixed?
As has designed the 87U for outstanding USB 3.0 performance. It designs as detailed in the overview allows for the best simultaneous WiFi and USB performance. It is important to understand ASUS currently is the only vendor who has enable advanced options within the WRT firmware to prioritize 2.4GHz range and throughput as opposed to USB 3.0 performance. This is down via an option within the ASUS WRT firmware. By default as most users prefer to have superior range and throughput for connected devices and 2.4GHz is a commonly used Wi-Fi standard USB 3.0 performance is not optimized. For users who prioritize USB 3.0 performance or are generally only using 5GHz enabled devices you can change this setting with little to no impact to your usage. If this setting is left in default position USB 3.0 performance is considerably reduced as noted to maximize 2.4Hz range and throughput. Due to this design implementation and firmware setting some users have incorrectly assumed or stated the USB 3.0 specification on USB 3.0 enabled routers has an issue.
For more information reference the whitepaper linked below.
http://www.intel.com/content/www/us/en/io/universal-serial-bus/usb3-frequency-interference-paper.html
8. I have more 802.11N based devices? Should I still get this router?
Depending on your current router you may still see considerably improved range, throughput and overall performance with N devices compared to your current router. With that noted overall the best improvements will come from 802.11AC connected clients ( whether they be 1×1, 2×2 or 3×3 ). Additionally 802.11AC routers are first and foremost tuned for optimal performance, compatibility with AC based clients as such a dedicated 802.11N router may potentially yield equal or superior client compatibility. ASUS is working extensively to ensure very strong 802.11N compatibility and interoperability.
9. What adapters do you recommend be paired with 87U?
In our testing entry level clients adapters such as the USB-AC51 have shown impressive range and throughput for an entry solution. For users focusing on best range, throughput and performance recommendations are Intel 7260 mini PCIe as well as the USB-AC56 which supports TurboQAM and beamforming. In addition for desktop users the USB-AC56, Intel 7260 desktop adapter as well as the ASUS PCE-AC56 and AC68 have shown to have exceptional range and throughput while also supporting beam forming and TurboQAM.