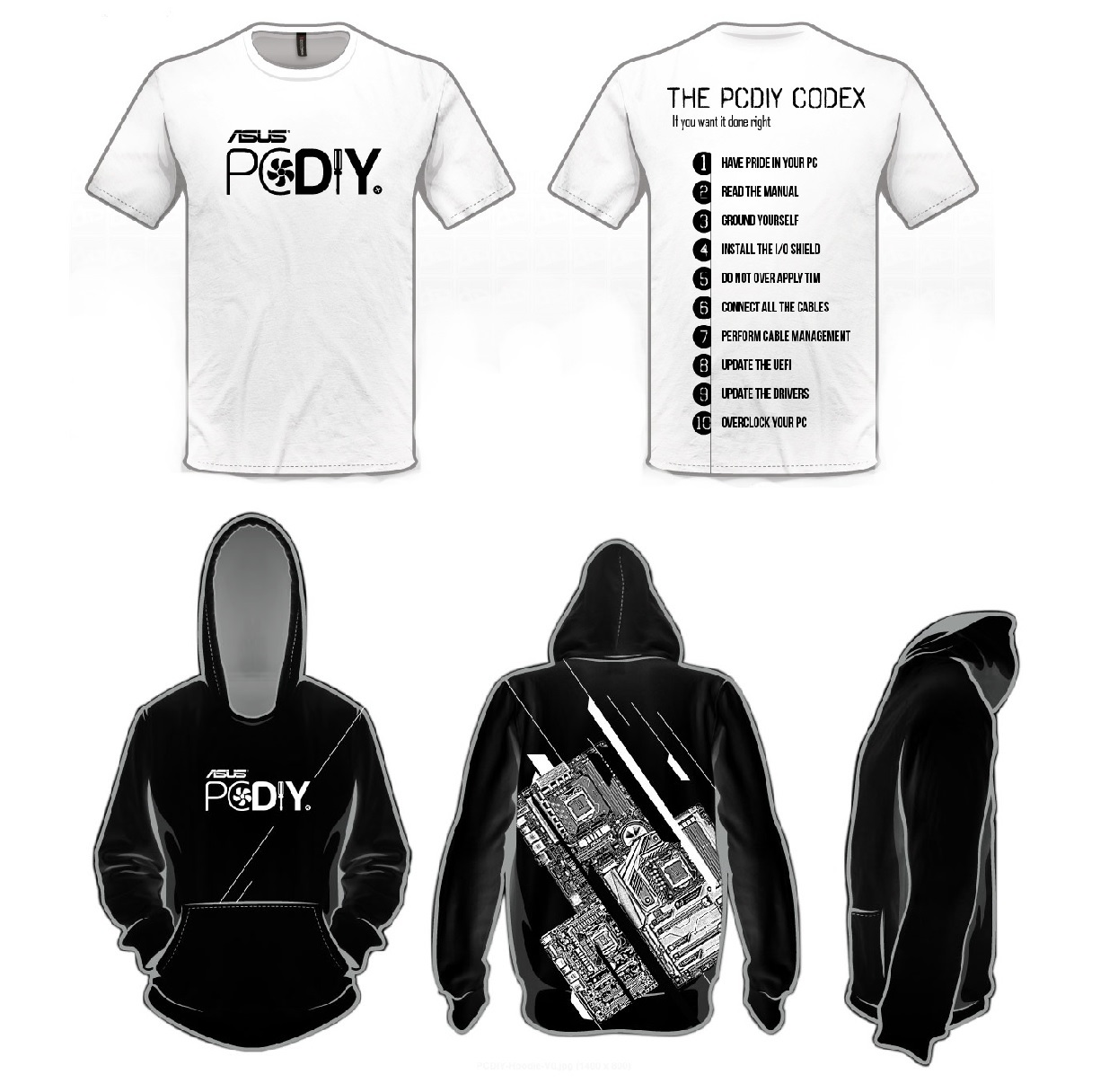 Hello everyone I am very excited to announce something I been working on for sometime. I have been a PCDIY enthusiast before I ever really knew what that meant. Since the chance to first get my hands on a P2B motherboard or 3DFX graphics card the "build bug" bite me and infected me with an interest and passion in the PC and the ability to put these components together and have something working from the combination of those components. More importantly and the factor that gave it such excitement and interest is that this combination was a PC! As I have grown older my passion and interest has not waned. Quite the opposite it has increased and led me down a path that has brought me to ASUS, the number one component manufacturer in the world.  Since coming into ASUS I have long had a dream of developing a line of clothing / apparel tailored for the PCDIY enthusiast. You might ask don't we already have T-shirts? My awnser would be yes and no.While there are a number of T-shirts they are generally just a vendor T-shirt many times with big logos and a product image or specific to an event. Now do not get me wrong I have been lucky enough to get alot of these T-shirts and been happy as well as excited and even to a degree satisfied with them but I always felt they could be cooler and be more an extension of the passion and interest and interesting landscape that is PCDIY. I will also note our design team has done some nice minimalist designs that have been pretty cool. With that in mind I am passionate about music, movies, comics and many others hobbies or interests and they other clothing and apparel that has more visual creativity and distinction and at times is seen as an extension of individuals style and choices. While this may be a little far reaching this is my long term goal with the PCDIY apparel concept. To have T-shirts and sweatshirts that are an expression of our passion, hobby and interest in all things PCDIY.
This brings us to about two years ago where I really began taking time to flesh out ideas and discuss with our management team the possibility of developing specialized apparel in limited production with high quality materials and great designs. I am lucky enough to say that our management understood my idea and supported it. What you will see today is hopefully the beginning of something special and I hope it to be the beginning of an engaged community based development for cool and dynamic iconography and designs. There are a lot of exciting details and plans I have should things take off  but I will release these as we get the ball moving and hopefully have good feedback and engagement.
Moving things along lets me detail some of the important tenets for PCDIY T-shirts. I have outlined some of the initial aspects regarding how you will be able get your hands on some of this awesome apparel.
Apparel will not be given away at events or via other ASUS platforms. This apparel will be exclusive to the PCDIY community of engagement including the website, YouTube channel and select engagement as defined by myself. Due to the limited nature and wanting to foster and support creativity, engagement and passion in PCDIY apparel it will be carefully gifted to individuals who show passion, engagement, support of PCDIY, the community as well as ASUS.
T-shirts and apparel will be limited in production. This was done to  so that each batch in production quantity and availability will be limited. This will also allow for more apparel to be released throughout the year in intervals.
At this time apparel will not be sold through our newly launched estore but I am considering creating a couple of designs for users who want to be able to get something. If sold on the estore I would like to try and setup the structure so that the revenue goes to supporting creation and development of more apparel or special engagement or prizing opportunists. In this way the community is supporting itself.
 I have hopes to engage with the community on graphics, designs, iconography and much more to go into various types of apparel. If there is any feedback feel free to send it my way for review and consideration at PCDIY@ASUS.COM
So enough with detailing lets take a look at some of the concepts.
First we have the PCDIY Codex. This T-shirt I feel is very special. Beyond being the first it helps to lay a ground work for the type of iconography and design you may see. It also imparts some great golden rules you should follow. While these are not absolutes they make up a great base to build by. If you have any comments please leave them!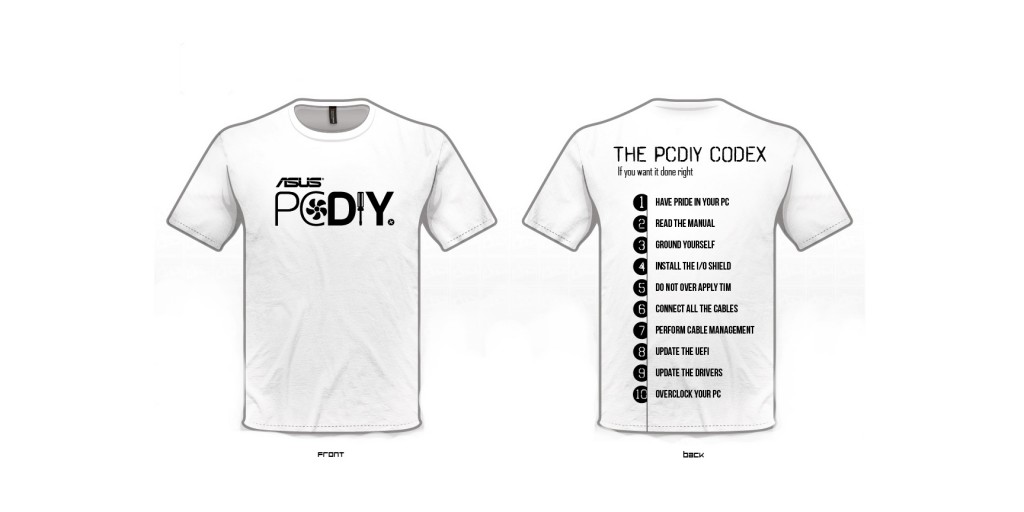 Some other lines I had considered are noted below
Take your time
Finger tight is just right
Do not put the side panel on too early
Use the right screws
Check everything is seated / Make sure everything is seated
Consider airflow
Do not touch the "Golden Fingers"
Use a quality screwdriver
Below is poll. By default we are looking to first produce a white version but are also considering black. Additionally as it is our first shirt I am thinking about taking it up a notch and doing it black with gold foil. Personally I think this would look awesome. What about you guys? Guess what you can help to decide click on the poll link below.
http://strawpoll.me/3250184
An example of a Gold Foil T-shirt is shown below. ( example pull from forward apparel website ).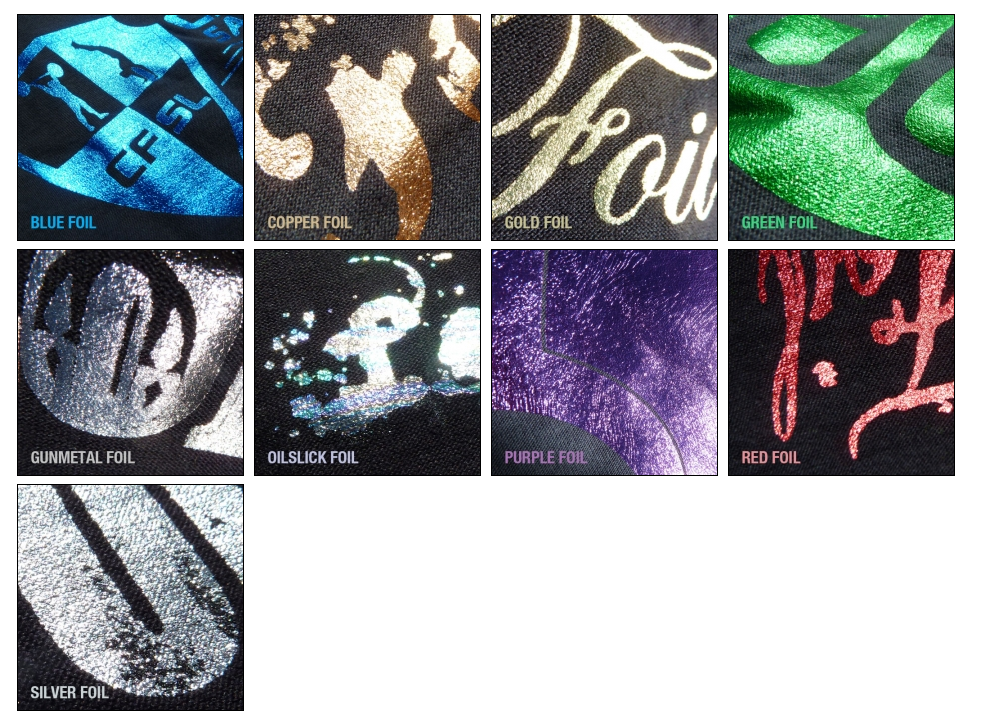 Beyond the T-shirts we have also been busy developing concepts for our first sweatshirt. If you are like myself you find yourself wearing them a lot. I have always wanted one that expressed the interest and passion that is PCDIY and kudos to our designer Deborah who has worked with me to come up with some great designs. Keep in mind while these are fairly complete we are still open to any and all feedback including colors or composition.
Please select which is your favorite along with a second via the poll below.
http://strawpoll.me/3250310
Hopefully you guys are excited about this as I am very excited about formally kicking this. I look forward to your feedback and overall thoughts!