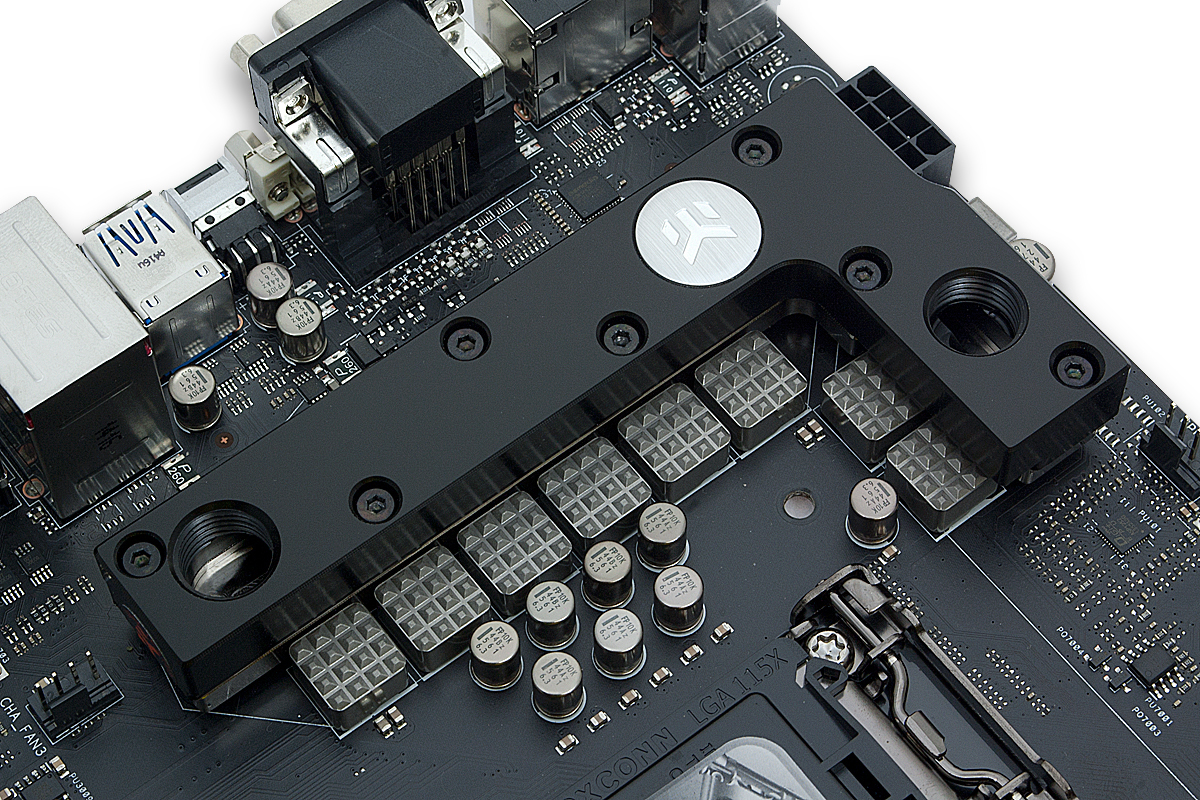 Water cooling is a truly one of the enthusiast aspects of PCDIY and for those users who embrace it they swear by the benefits in the performance improvements it offers. Here in the PCDIY labs we definitely align and agree with this mindset as we have three water cooling setups used for overclocking and testing. The benefits in regards to thermal dissipation and overall reduction of temperatures is addictive and impressive. EK a industry leader and veteran in watercooling has long had a close relationship with ASUS helping to develop water blocks for a wide range of motherboards and graphics cards. This tradition continues with the release of water blocks for the VRM assembly ( specifically the power stages ) for the Z97 series of ROG motherboard under the MAXIMUS VII line of gaming & overclocking motherboards. Lets find out a bit more on these new water blocks for the HERO, GENE and RANGER.
For many enthusiasts they know one of the hottest parts of a motherboard is the VRM. ASUS has focused on this through the implementation of advanced VRM designs featuring high performance components with superior efficiency and high temperature tolerances. In addition the incorporation of high performance heatpipe based heat sinks aid in providing effective and efficient thermal dissipation. With PCDIY enthusiasts one mindset is one of always improving performance especially when it comes to temperatures. While the performance of the heatsinks on the MAXIMUS VII series is very good and handles overclocking without issues water cooling is just better. In this respect water is the unchallenged king of cooling. For the latest generation of Z97 motherboards EK has released a trio of water blocks for the VRM of the MAXIMUS series including the HERO, GENE and RANGER. These high performance water blocks will help to ensure the most efficient and cool operation of the VRM aiding enthusiasts in having the absolute best stability under very aggressive overclocks as well as users who have high hot ambient environments and users who continually have their system under consistent load.
The base of these water blocks are made of nickel plated electrolytic copper while the top is made of quality acrylic glass material or POM acetal. As an additional safety measure these water blocks feature are pre-installed nickel-plated brass standoffs which prevent incorrect installation and utilizes the ASUS factory provided back plates to maximize cooling performance. Additionally these water blocks feature a high flow design allowing the water block to be easily used with systems using weaker water pumps.
Outside of temperatures the aesthetics of water cooling can add an unquestionably cool look and feel to a system and with transparent blocks the ability to control aspects of the color aesthetic is great for users look to further personal the look of their systems. Below are some photos of the upcoming water blocks.
| | |
| --- | --- |
| SKU | MSRP (incl. VAT) |
| EK-MOSFET ASUS M7G – Nickel | 44,95€ |
| EK-MOSFET ASUS M7G – Acetal+Nickel | 44,95€ |
| EK-MOSFET ASUS M7G – Nickel (Original CSQ) | 44,95€ |
EK-MOSFET ASUS M7G comes in three different variants and is currently available for pre-order through EK Webshopand Partner Reseller Network. Shipping starts September 19th 2014.