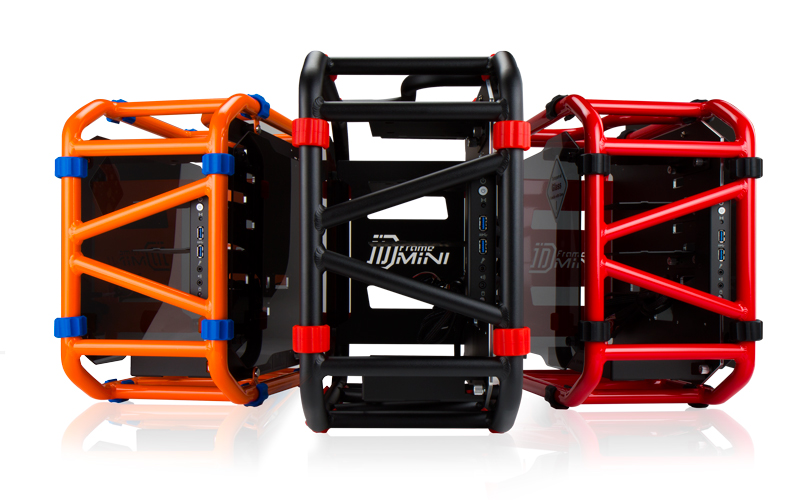 Some of you may not be familiar with In Win they are a vendor who have actually been around for a long time putting out quality designs directly for end users as well as being a ODM for many companies producing solid products ranging from chassis to power supplies. Over the last couple of years In Win has had a truly innovate perspective on producing chassis designs that are extremely different than the what has been seen in the industry. Their goal to offer something truly special in regards to design, features and overall visual perspective of what a PC can look like. One recent design was the D-Frame which was and still is one of my favorite chassis I have ever used here in the PCDIY labs. You can imagine then my excitement then to introduce and detail some information on the D-Frame mini. For users looking for a unique look and feel top notch quality and fit and finish and plenty of flexibility this looks to be an amazing Mini-ITX chassis.
So the new mini takes on the design cues of the larger D-Frame but in the dimension supportive of a Mini-ITX motherboard.
Below you can see some pictures of the trio of colors In Win will be releasing the D-Frame mini in.
Truly beautiful chassis that continues the "D-shaped" design which is comprised of solid aluminium pipe framework.
Some of the features of the chassis are noted below
Solid aluminium pipe framework for superior build quality, rigidity and premium feel. Featuring high quality welded conconstruction.
Three rich colors – Black, Red and Orange
Support for large graphics card up to 340mm
Support for large PSU up to 220mm
Support for large CPU heatsinks up to 165mm
Varied aesthetic positions horizontal and vertical. Allows for 6 different positions. Included rubber grommets as as protection and absorption of vibration.
Portable with durable imprinted easy grip handle
Excellent thermal performance due to open frame design allowing for excellent intake and exhaust airflow
Support for water cooling configurations including radiators up to 240mm
Tempered glass side panel
High quality aluminum front USB 3.0 and front HD audio
Support for up to 5 2.5″ HDs or SSDs or 3 3.5″ & 2 2.5″ HD or SSDs
Specifications
Material
Aluminum welded pipe construction
Aluminum Metal Plate
Tempered Glass
Internal Drive Bay
3.5" or 2.5" x 3
2.5" x 2
M/B Form Factor
Mini-ITX
Power Supply
ATX12V, PSII and EPS (Up to 220mm)
I/O Port
USB 3.0 x 2, HD Audio
I/O Expansion Slots
PCI-E Slot x 2
Supports High-end Graphic Card
(Length: up to 340mm,Height: up to 150mm)
Thermal Solution
Supports
– 120mm Bottom Fan x 2
– 240mm Liquid Cooling Radiator
– CPU Heatsink up to 165mm
Dimension (HxWxD)
405 x 230 x 501mm
(16" x 9" x 19.7")
Net Weight
5.25 kg
Gross Weight
7.22 kg
Overall I am just blown away by this chassis and hope we will be able to get one here in the PCDIY labs for some mini ITX building. I can tell you from previous hands on experience with the D-Frame the quality and fit and finish of these chassis is amazing. They truly feel premium and bring a extremely high level of precision that you have to experience to truly appreciate. Especially with the pending release of the MAXIMUS VII IMPACT I think this would be a match made in PCDIY heaven. Until then here are few more pictures of a mod featued by In Win at Quakecon featuring none other than the MAXIMUS IMPACT.
For those of you interested in the official PR look below.
In Win Launches D-Frame Mini, Mini-ITX PC Chassis
[Taoyuan, Taiwan, September 2014] In Win Development Inc., a leading innovator in PC design and winner of internationally renowned design awards, has today announced availability of its new D-Frame mini, premium mini-ITX PC chassis.
Continuing an Iconic Design for Mini-ITX
The D-Frame mini is built using the same hand-crafted, welded 4mm aluminum construction technique, with 3mm tinted tempered glass side panels, like the original ATX
D-Frame, however the smaller chassis has been redesigned specifically for mini-ITX motherboards. Its 16 shock-proof rubber stands and glass panels mounting inside the frame mean it can be sat on any side.
It is ideal for those seeking a unique, stand-out case that's easy to carry thanks to its integrated carry handle and ultra-rigid construction; making it great for LAN party goers and those special PC builds.
Packing Big Power in Small Size
Its small size still grants powerful hardware, with support for up to 340mm dual-slot graphics cards, 220mm PSUs, a 240mm water cooling radiator and a CPU heatsink up to 165mm overhead height with 2x120mm fans providing chassis cross-flow.  Storage potential is also greater than other mini-ITX chassis, offering up to five 2.5 inch bays or three 3.5 inch plus two 2.5 inch bays.  Front IO includes two USB 3.0 ports and 3.5mm audio stereo and microphone jacks.
D-Frame mini will be available in three colors with matt black version released to the market firstly.
For more information about the new D-Frame Mini, please visit In Win at: http://www.inwin-style.com