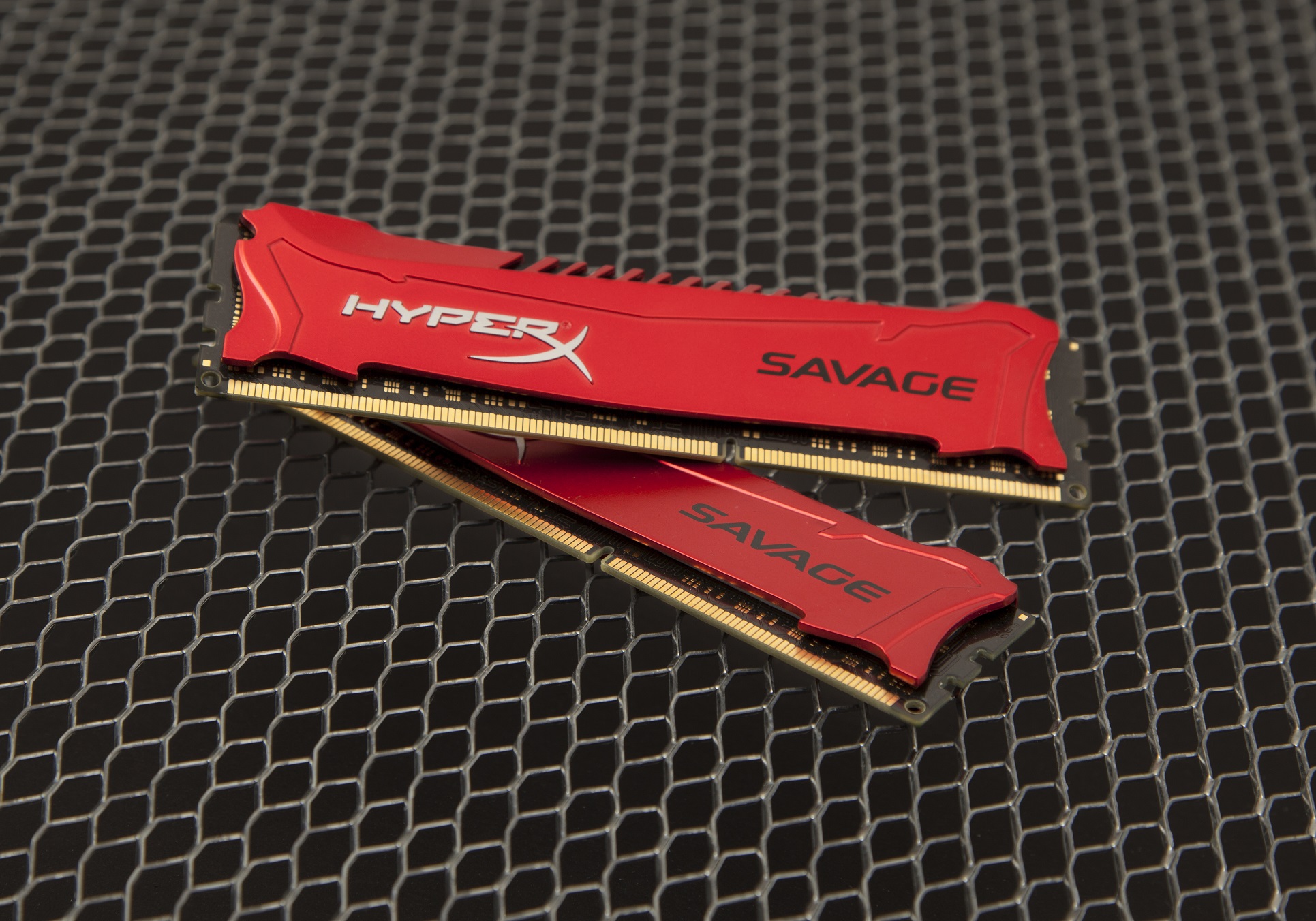 Our friends over at Kingston have been busy. With the recent launches of both Z97 and X99 chipset and corresponding motherboards there has been a lot of design and development on new memory modules. Kingston is now announcing a new line DDR3 memory which look to match up perfectly with our range of DDR3 enabled motherboards. This new line will be replacing the Genesis line of memory which offered great performance, quality and stability along with aluminum heat spreaders and clean aesthetics. This new line keeps a couple of the keys items I really liked about the Genesis memory while adding a few items these include a low profile heatsink, a clean aesthetic as well as aluminum heat spreader. In addition these DIMMS feature a nice aesthetic touch in moving over to a black PCB which is subtle but offers up a very clean look to the memory and creates greater contrast against the primary heatsink which is a clean bright red. These DIMMS as you can imagine will look great on an ROG board. For gamers and enthusiasts of course you have XMP profiling to make things easy. Jump into the UEFI or use our EZ  XMP switch or option on our range of compatible motherboards and your frequencies, timings and voltages will be taken care automatically.
Check out the official PR below.
HyperX®, a division of Kingston Technology Company, Inc., the independent world leader in memory products, today announced HyperX Savage high-performance memory. HyperX Savage replacesHyperX Genesis and offers experienced enthusiasts, gamers and content creators a cutting edge look. It features a black PCB encompassed by an eye-catching Savage red, asymmetrical heatspreader made of aluminum with a diamond-cut finish. The low profile makes it a perfect for oversized CPU coolers.
Shipping now, HyperX Savage is available in high-speed frequencies from 1600MHz to 2400MHz, and in capacities of 4GB and 8GB single modules and 8GB to 32GB dual-channel or quad-channel kits. The high speeds help increase system performance and ultra-responsive multitasking. HyperX Savage is also Intel® XMP-ready which enables end users to easily overclock their system by simply selecting a memory profile with no need for manual adjustments in the BIOS.
For more information visit the HyperX home page.
HyperX Savage Features and Specifications:
Fast: sorted and tested ICs at rated frequencies ensure fast and stable operation
Unique: red, asymmetrical aluminum heat spreader with black PCB
Quality: aluminum die-cast heat spreader with a diamond cut finish, high quality PCB and high quality screened and test memory
Design: low profile allowing for flexiblity in a wide range of motherboard and varying cooling configurations
Reliable: 100-percent factory tested
Guaranteed: lifetime warranty, free technical support
Capacity: 4GB–8GB (single), 8GB–32GB (kits)
Frequency: 1600MHz, 1866MHz, 2133MHz and 2400MHz
CAS Latency: CL9-CL11
Voltage: 1.5V, 1.65V
HyperX Savage
Part Number
Description
HX316C9SR/4
4GB 1600 DDR3 CL9 DIMM XMP HyperX Savage
HX316C9SR/8
8GB 1600 DDR3 CL9 DIMM XMP HyperX Savage
HX316C9SRK2/16
16GB 1600 DDR3 CL9 DIMM (Kit of 2) XMP HyperX Savage
HX316C9SRK2/8
8GB 1600 DDR3 CL9 DIMM (Kit of 2) XMP HyperX Savage
HX316C9SRK4/32
32GB 1600 DDR3 CL9 DIMM (Kit of 4) XMP HyperX Savage
HX318C9SR/4
4GB 1866 DDR3 CL9 DIMM XMP HyperX Savage
HX318C9SR/8
8GB 1866 DDR3 CL9 DIMM XMP HyperX Savage
HX318C9SRK2/16
16GB 1866 DDR3 CL9 DIMM (Kit of 2) XMP HyperX Savage
HX318C9SRK2/8
8GB 1866 DDR3 CL9 DIMM (Kit of 2) XMP HyperX Savage
HX318C9SRK4/32
32GB 1866 DDR3 CL9 DIMM (Kit of 4) XMP HyperX Savage
HX321C11SR/4
4GB 2133 DDR3 CL11 DIMM XMP HyperX Savage
HX321C11SR/8
8GB 2133 DDR3 CL11 DIMM XMP HyperX Savage
HX321C11SRK2/16
16GB 2133 DDR3 CL11 DIMM (Kit of 2) XMP HyperX Savage
HX321C11SRK2/8
8GB 2133 DDR3 CL11 DIMM (Kit of 2) XMP HyperX Savage
HX321C11SRK4/32
32GB 2133 DDR3 CL11 DIMM (Kit of 4) XMP HyperX Savage
HX324C11SR/4
4GB 2400 DDR3 CL11 DIMM XMP HyperX Savage
HX324C11SR/8
8GB 2400 DDR3 CL11 DIMM XMP HyperX Savage
HX324C11SRK2/16
16GB 2400 DDR3 CL11 DIMM (Kit of 2) XMP HyperX Savage
HX324C11SRK2/8
8GB 2400 DDR3 CL11 DIMM (Kit of 2) XMP HyperX Savage
HX324C11SRK4/32
32GB 2400 DDR3 CL11 DIMM (Kit of 4) XMP HyperX Savage
HyperX Savage Part Number Decoder: HX3xx= HyperX DDR3 + Frequency; Cxx= CAS Latency; S= Savage; R= Red; x or K2/x= Module Capacity or Kit of 2/capacity