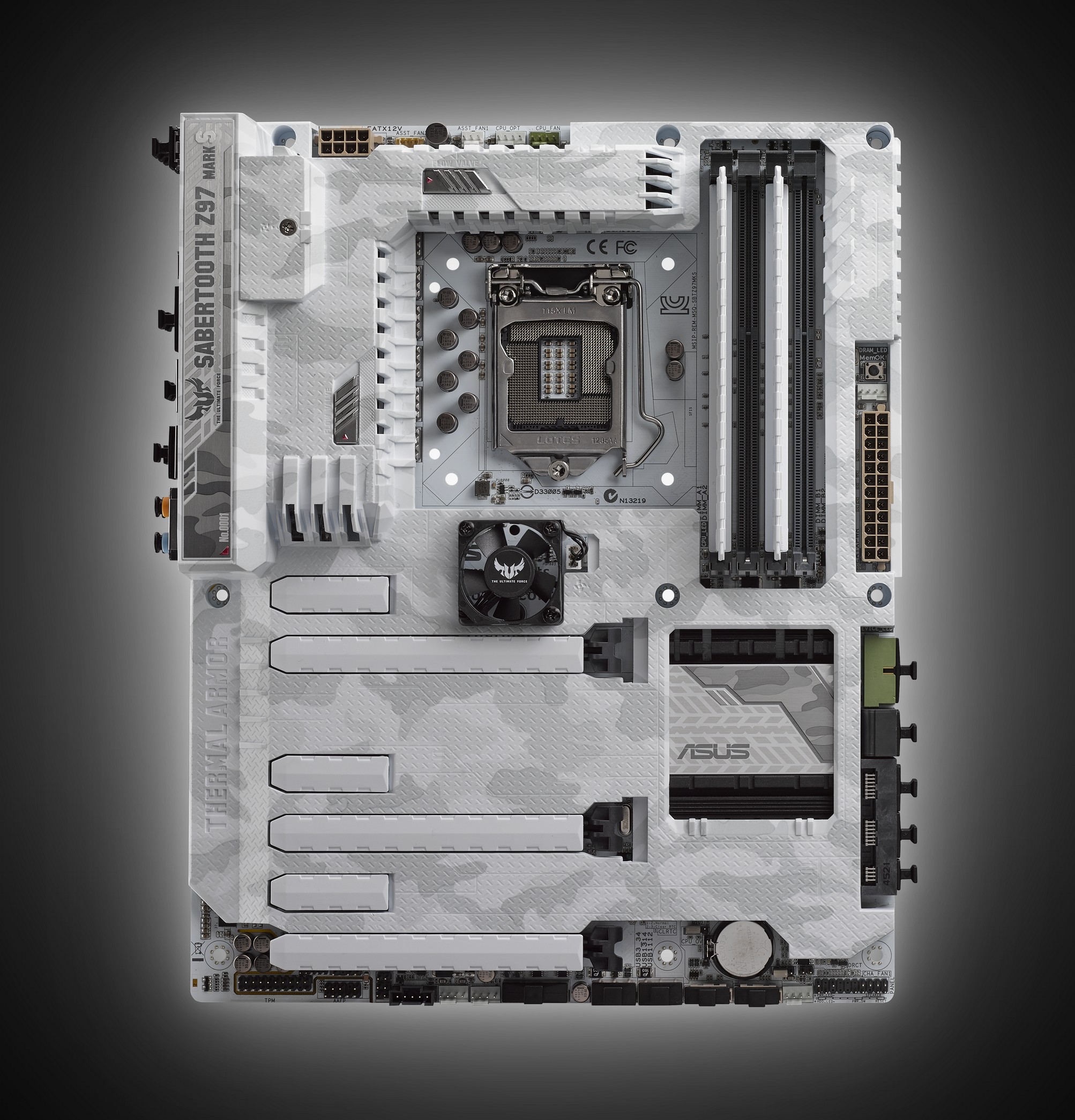 One of the most consistent feedback points I get from the PCDIY community is the want to see more colors among components. This has been strongest in regards to motherboards. Recently ASUS launched its X99 series of motherboards which feature an entirely new aesthetic that was fresh and modern and distinctive. It took users and the industry by surprise.  Continuing in this trend I am excited to announced that the Sabranco a previously shown "concept" motherboard at Computex is coming to the market.
The Sabranco or formally the SABERTOOTH Z97 MARK S is a very distinctive looking board incorporating a strong white aesthetic while maintaining a military fatigue / camouflage that pays homage to its previous design aesthetic while introducing something entirely distinctive While on face value this color change would seem easy it was actually difficult Trying to find and perfect a printing process that would ensure the white tone and hue without discoloration was not easy. Ultimately the time and effort have paid off and the proof is in the pictures. The Mark S has to be one of the most visually striking motherboards I have seen. I feel that statement is pretty special considering I have seen my fair share of motherboards. Adding to its allure is a limited edition production. The Mark S will be produce in a limited quantity with each motherboard be individually numbered commemorating its production number and limited status.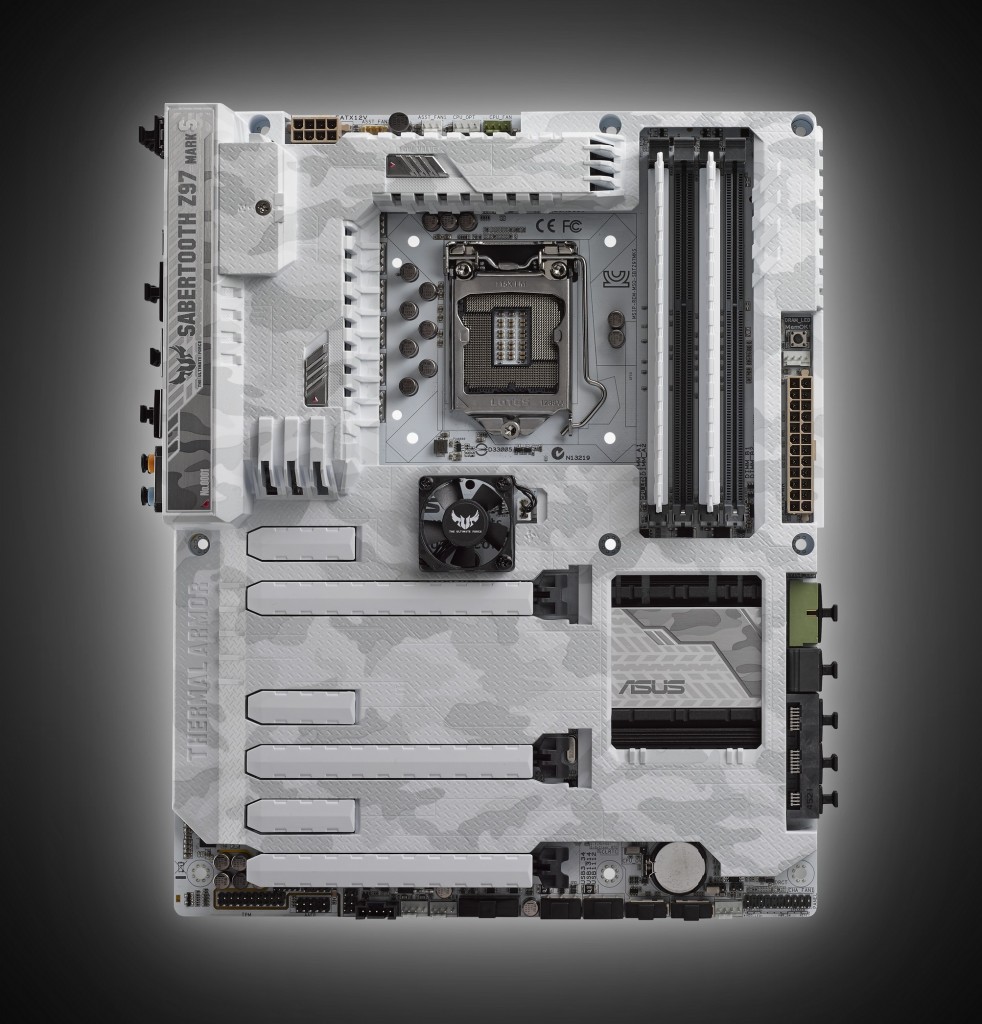 Specifications
In regards to features, functionality and overall specifications the Mark S is exactly the same as the currently SABERTOOTH Z97 MARK I. This board is feature packed incorporating all the hallmarks of a TUF series boards. For those interested in more information check out the link below.
Initial details
If you are PCDIY enthusiast you are aware of the TUF series of motherboards. The TUF series since their inception have become a staple of the enthusiast community, purpose built for reliable and stable operation with a focus on advanced thermal monitoring and extensive fan control as well TUF component quality and a 5 year warranty. Since the first TUF motherboard the SABERTOOTH series of motherboards have gone through extensive refinement and improvement incorporating feedback from users across all PCDIY segments whether it be gamers, overclockers, content creators or users looking for a "daily driver" desktop. The TUF series have found a home with enthusiasts who appreciate the stylized aesthetic,  focus on quality, validation as well as the extensive set of TUF exclusive monitor and cooling control. While not a focus of the segment even overclockers have embraced TUF for its reliability and validation.
For Z97 the SABERTOOTH Z97 got a huge range of improvements offering a truly impressive set of features and functions. These are all present on the MARK S. Some of these include
TUF Validation – TUF Series motherboards go through an extensive array of testing, qualification and validation. This wide array of testing is based of ASUS industry leading general motherboard validation while leveraging many of advanced server grade testing used on our WS and Server products. This ensures stable and reliable operation while also allowing for a 5 year warranty to be offered on TUF series boards
TUF Components – TUF series motherboards take ASUS quality design and high quality components further but utilizing components that offer superior lifespan, performance and thresholds. Some of these include
TUF 10K rated capacitors – These capacitors offered 5x the normal lifespan of traditional capacitors while offering lower and higher temperature thresholds
TUF Chokes ( inductors ) – These inductors offer outstanding power output ( amperage ratings ) while offering improved thermal dissipation characteristics and improved overall efficiency
TUF Mosfets – TUF motherboard feature high quality mosfet and driver power stages ensuring quality power delivery across all types of loads as well as ensuring efficient operation under idle and moderate loads.
Thermal Armor with Flow Value & Assist Fan – This specialized motherboard add on provides directed airflow paths with the flexibility to control airflow for the VRM through the use of two integrated flow values. Users looking to further improve thermal performance can incorporate two assist fans helping to maximize VRM and motherboard PCB airflow. In addition the SABERTOOTH features TUF PCB which has special convention holes allowing for reduction in PCB temperature and superior airflow and cooling for the motherboard.
TUF Fortifer – A high quality metal backplate that adds rigidity and minimizes torsion of the motherboard. In addition makes handling and installation easer as bare hands do not touch the motherboard or onboard components. Lastly it serves as a partial heatsink for the VRM as it makes direct contact with the mosfet & driver section of the VRM.
Thermal Radar II – The motherboard features an array of on board sensors providing real time temperature monitoring. The allows cooling enthusiasts to easily monitor there board as well as their system for hot spots. Thermal Radar additionally supports thermosistors ( probes ) which can be mounted or attached inside the chassis or on a component further adding value to its real time monitoring abilities
Fan Xpert III – Full per header fan control with support for output control signaling in DC or PWM. Furthermore users can control the input sources per each header allowing cooling enthusiasts the most flexibility in what system fans respond to. Additionally each fan support full automatic fan profiling and calibration. Helping to power the advanced fan control is the TUF ICE IC. The TUF ICE IC is an advanced micro controller than helps to allow for more extensive, granular fan control and response. In addition it allows for weighting of different input sources to creates temperature zones allowing for more balanced response to reported temperature zones.
Dust Defenders – An included set of protective inserts for open slots and interconnects. This helps to ensure interconnects and slots are free of dust, debris and dander.
Advanced ESD and Surge protection ICs – This board features additional as well as higher rated ESD and surge ICs spread throughout the motherboard. These ICs help to reduce or stop damage from the most common types of discharges. TUF ESD Guards are tested and rated for discharge protection up to 2X higher than industry standards, ensuring electrostatic discharges are properly grounded.
Keyboards and mouse connectors – Additional circuits on ESD TVS diodes
USB 3.0 /2.0 connectors – On-circuit transient-voltage-suppression (TVS) diodes and capacitor protection for surface-mount and dual-inline packages
Audio outputs –  Capacitor protection on both front and back audio-output circuits
LAN Port -ESD TVS diodes protection on the LAN circuit bolstered by an anti-surge LAN connector that increase protection against extreme events, such as lighting strikes
TUF Audio – A fully isolated sound design implementation. This design implements an audio moat helping to maximize codec performance quality. Moreover, together with the Audio Noise Guard Design and the Left
& Right Track Separation layout techniques, analog/digital noises will be isolated to reduce the coupling effects and EMI noise interference between left & right channels. Additionally an integrated OPAMP helps to provide superior driving stregth for headphones. Lastly a advanced software suite allows for DTS Connect digital audio output as well as specialized audio profiles co developed with the DTS group specific to over the ear headphones, IEM headphones as well as desktop speakers.
Other features includes
USB Charger +
Turbo Lan ( Packet priority application )
MemOK!
USB BIOS FLASHBACK
ASUS Q-Shield
ASUS Q-DIMM
ASUS Q-LED
Photos
Stay tuned to PCDIY for an overview and "tested" review of the SABERTOOTH Z97 Mark 1 as well as the Mark S. As always if there are questions or comments feel free to ask or email at PCDIY@ASUS.COM
FAQ
1. What type of connections does the SABERTOOTH Z97 Mark S offer?
SPECIFICATIONS
TUF Sabertooth Z97 Mark S
Processor/CPU socket
LGA 1150 socket for the 4th-, new 4th- and 5th-generation Intel® Core™ i3, i5, i7, Pentium®, and Celeron® processors
Chipset
Intel Z97
Memory
4 x DIMMs, up to a maximum of 32GB, DDR3 1866MHzIntel Extreme Memory Profile (XMP) supported
Expansion slots
2 x PCI Express 3.0/2.0 x16 slots (single at x16, dual at x8/x8)1 x PCI Express 2.0 x16 slot (maximum x4 mode, compatible with PCIe x1 and x4 devices)

3 x PCI Express 2.0 x1 slots

Multi-GPU support
Quad-GPU NVIDIA® SLI™ and AMD® CrossFireX™
Storage
1 x SATA Express (10Gbit/s) port (compatible with 2 x SATA 6.0 Gbit/s ports)6 x SATA (6Gbit/s) ports
Networking/LAN
Intel I218-V Gigabit LAN controllerRealtek 8111GR Gigabit LAN controller
USB
8 x USB 3.0/2.0 ports (4 on back panel, 4 mid-board)8 x USB 2.0/1.1 ports (4 on back panel, 4 mid-board)
Key features
TUF camouflage-white Thermal Armor with Flow ValveTUF camouflage-white Thermal Radar 2 with Thermistors

TUF ICe

TUF Fortifier

TUF ESD Guards

TUF Components

TUF Dust Defenders

Fan Xpert III

Dimensions / form factor
ATX, 12-inch x 9.6-inch (30.5cm x 24.4cm)