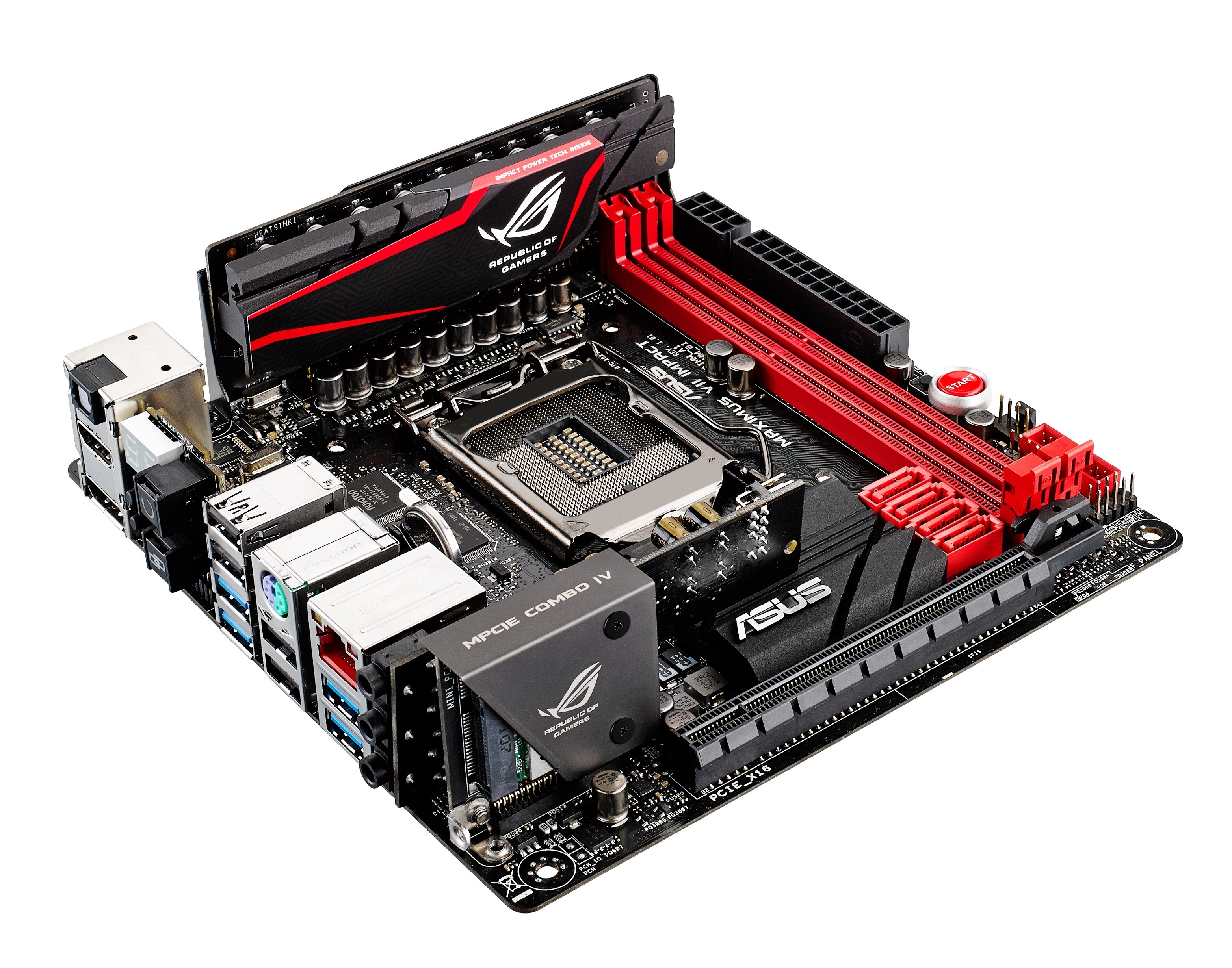 ASUS has had a long history of innovation and performance oriented design in motherboards. This has has been very apparent in the boards designed and developed under the ROG line. Pushing design and innovation to its limits in motherboard design has been the design and development of our enthusiast grade mini ITX motherboard. With an ethos of truly high end performance, features and functionality it has been an incredible design challenge to work within such a small space and effectively have little to no compromise on the board minus its expansion compared to traditional ATX or mATX motherboards. The new MAXIMUS VII IMPACT carries in the tradition of the previous IMPACT to truly lead the industry in features, functionality and performance through innovative design. We are excited to announce the upcoming release of the best gaming and enthusiast mini ITX motherboard in the MAXIMUS VII IMPACT.
Quick details and usage environments
The MAXIMUS VII IMPACT has been designed for demanding PC gamers and enthusiasts who are looking for a uncompromising small form motherboard to build truly impressive and capable mini ITX or SFF systems. Whether it be a system designed quickly and easly being move form your home to the the latest lan party the IMPACT makes a perfect foundation. Equally at home the IMPACT can power your Steam Machine in your living room taking advantage of the large HTDV screens in those environments. Lastly it can find it way in a streamlined but powerful SFF system for users looking to have small but truly high performance systems not compromising on connectivity, overclocking or features and functionality overall.
The Maximus VII Impact is the most advanced  Z97-based mini-ITX gaming motherboard, with a layout that delivers maximum compatibility with CPU coolers and expansion cards. It includes Impact Power II, a specially-engineered full-scale power delivery ( VRM ) on a vertical daugther board. This design allows for ATX class power delivery and ensures great overclocking capability and stability. In addition to feature class leading power delivery the IMPACT features the best audio design of any mini ITX motherboard. The SupremeFX Impact II dedicated audio card brings you discrete class performance with a shielded HD audio codec, OP-AMP integration and premium audio capacitors. That along with the entire range of SUPREME FX 2014 improvements including SONIC SENSE AMP, SONIC STUDIO and SONIC SOUNDSTAGE. Ensuring that gamers and enthusiasts have rich connectivity and storage  flexibility the IMPACT comes with the mPCIe Combo IV card featuring 802.11ac/ Bluetooth 4.0 module along with M.2 SSD support which features PCIe x4 bandwidth. It also benefits from Impact CoolHub, an optional card with two additional 4-pin fan headers along with an LN2 header for ultra-low-temperature overclocking adventures. Not to be outdone the IMAPCT integrates the latest generation of ASUS fan controls in Fan Xpert III offering per header control along with control of the output signal allowing for the flexibility to independently control DC or PWM fans. For mini ITX enthusiast the implementation of PWM output control per header allows for more flexibility in defining complex fan configurations for maximum airflow and cooling performance all why maintaining control via the motherboard due to the ability to split the on board headers via  PWM fan splitter. Rounding just some of the specifications the IMPACT continues in the tradition of ROG motherboard in offering the best network controller in the form of Intel I218v gigabit ethernet controller featuring our new internal revised LAN guard design offering superior throughput and protection from surges and spikes as well as ESD discharge for the network connection. Last but not least is the introduction of advanced keyboard control and custom macro and keyboard adjustment through Keybot. Of course no ROG board would be complete without support for the best enthusiast accessories in the form of the OC PANEL and the FRONT BASE.
Initial specifications
Platform:          Z97 + Intel LGA1150
VRM/PWM:       Impact Power II
Chokes:            60 Amp Chokes
Memory:           2x DDR3 3,300MHz+ (OC)
Display Output: HDMI/DP
PCIe 3.0 x16:    1
SATA 6Gbps:    4
USB 3.0 (F/R):   2/4
USB 2.0 (F/R):   2/4
PS2:                 Yes
M.2:                  Yes (PCIe x4)
mPCIe:             Yes (x1)
Wireless:           802.11ac/Bluetooth 4.0
LAN:                 Intel GigE I218v, GameFirst 3, LANGuard
Audio:              SupremeFX Impact 2014, Sonic SenseAmp, Sonic SoundStage, Sonic Studio, Sonic Radar II
Onboard Butt:   Start, Reset, SoundStage, KeyBot
Front Base:       Supported with ROG_Ext Header
Fan Headers:    4x 4-pin (2 onboard, 2 via CoolHub fan card)
FAQ
When will this board be released?
Q3 is the currently projected time frame with a estimated release sometime in August.