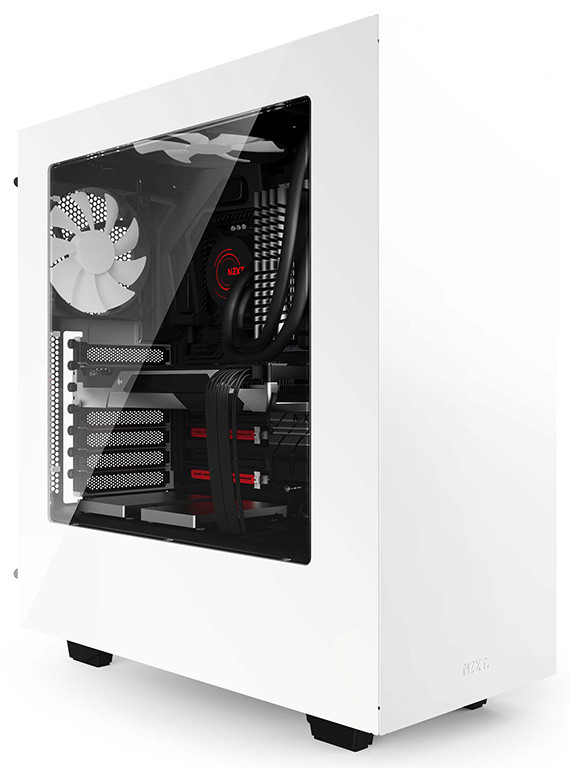 NZXT today announced an update to its source line of chassis. For those of you not familiar with the Source lineup it is a fantastic price to performance to feature set series of chassis. This new addition looks to really be a fantastic option for enthusiasts on a lower budget as well as even higher budgets where enthusiasts are looking for a quality chassis with clean lines and metal assembly and a lot of functionality, flexibility and premium features.
Aesthetic looks great with clean non nonsense angled lines. I also love the fact it comes in white which of course goes fantastic with our latest range of X99 motherboards featuring white accents. Add to that the fit and finish that steel construction offers and count me in for one of these chassis. For you guys looking to overclock and keep your CPU nice and cool NZXT have also ensured you have great airflow. Removal of the frotn ODD means you can install a high performance Kraken X61 280mm closed loop water solution without any problems. A nice benefit of this design is you can also still have a top mounted fan up to 140mm be set up as an intake to provide cool airflow across the VRM which is a critical area in cooling especially when heavily overclocking. For users really care about airflow it is nice to see a balance in the design and while the front does not have direct venting or a mesh intake to other portions of the chassis have been designed to help in regards to airflow such as the back PCIe slots all being vented and directly next to them additional horizontal venting. This is great for drawn in airflow ( positive pressure ) to be exhausted effectively. You also have a isolated PSU section which not only helps thermals but helps to offer up a very clean interior.
For those of you looking to ensure you have a clean look while the chassis offers a very aggressive price point of 70.00 dollars I am impressive in that you get a lot of premium additions. You keep NZXT two lower SSD / HD 2.5 inch drive mounts to easily install your storage but also have it look extremely clean. You have 20 cable tie or Velcro wrap points spread throughout the chassis for easy and effective cable management. Continuing on the topic of cable management the S430 introduces a very interesting and clean approach to cable routing as a whole. It implements a grommet-less steel cable management bar splitting the front intake from the rest of the case while keeping your cables organized and hidden. You tie in the PSU isolation cover which holds the two SSD trays and you can see how this chasiss has been designed to offer extremely clean routing and placement as well as  a clean and minimalist aesthetic.
Overall I am impressed in what they have put into this chassis for the price point. A premium color aesthetic, steel construction, two front USB 3.0 ports, advanced cable routing and cable management and advanced SSD placement options and cooling layout and flexibility.
Photos of the White version
Photos of the black version
Key Specifications are listed below.
For more information check out NZXT
http://www.nzxt.com/product/detail/151-s340-mid-tower-atx-case.html
Model Number
CA-S340W-W1 (White)
CA-S340W-B1 (Black)
Drive Bays
External 5.25″: 0
Internal 3.5″: 2+1
Internal 2.5″: 2
Cooling System
Front: 2x 140/2x120mm
Top: 1x 140/120mm (1 x 120mm FN V2 Fans Included)
Rear: 1x 120mm (1 x 120mm FN V2 Fan Included)
Filters
Front (Included)
Bottom Rear(Included)
Radiator Support
Front 2 x 140 or 2 x 120mm
Rear 1 x 120mm
Clearance
GPU Clearance With Radiator: 334mm
GPU Clearance Without Radiator: 364mm
CPU Cooler: 161mm
Cable Management: Lowest Point – 17mm; Highest Point 168mm
Dimensions
200mm x 445mm x 432mm
Material
SECC Steel, ABS Plastic
Motherboard Support
Mini-ITX, MicroATX, ATX
Expansion Slots
7
External Electronics
1 x Audio/Mic
2x USB 3.0
Product Weight
7.05 kg
UPC
15671012111 (White)
15671012128 (Black)
USB 3.0 Ports
2
Warranty
2 Years