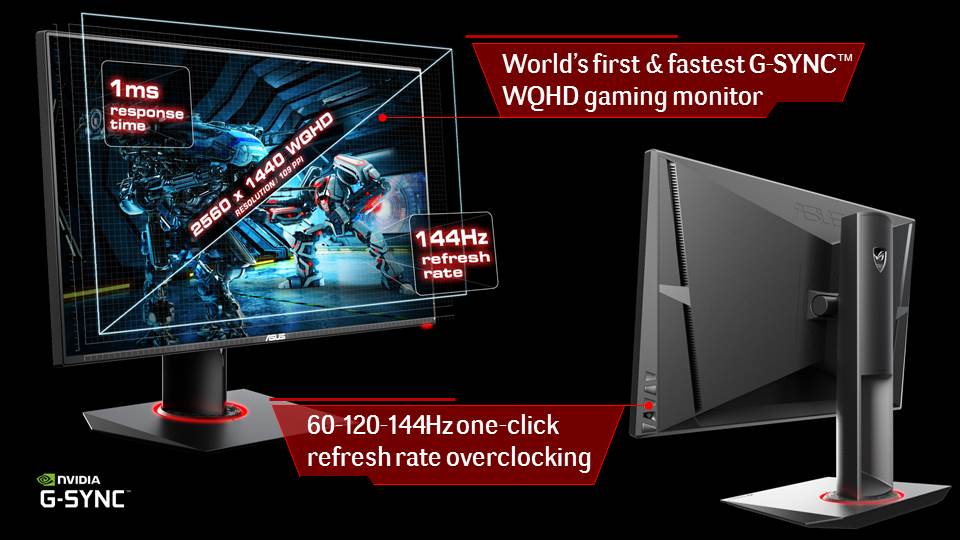 One of the most consistent questions I get asked is whether someone should pick a high refresh rate, low response monitor or a higher WQHD resolution monitor. This is a difficult question to answer as it depends on the individual and the experience they are looking to have. Unquestionably the increased image fidelity and overall detail in WQHD monitor is a game changing experience. It brings an even more immersive and rich experience to PC gaming and really helps to show why PC gaming leads all others when it comes to visual fidelity. Add on to that the increased desktop real estate and it is easy to see the benefits of a WQHD monitor. On the other hand the swift response and reduced lag you have from a high refresh, low response, low input lag monitor is something you have to experience to truly appreciate. Once you do, it is easy to understand how addictive the response and overall fluidity can be. Not to mention for die-hard gamers it can truly be a competitive edge during game-play. So which is a PC gamer to chose, which is the better PC monitor for gaming?
ASUS and its display division have been hard at work for last year and half designing and developing the most advanced gaming monitor we have ever designed and developed. The fruits of this time and effort are being unveiled at CES 2104.  The name of this new uber  end all be all monitor? The ASUS ROG SWIFT or PG278Q for those that like model numbers. To top it all off it carries the distinction of being the first ROG branded monitor. For those of you not aware ROG is ASUS' gaming division focused on bringing the most innovative and performance oriented PC gaming products to the market. The new ROG SWIFT monitor lives up to ROG branding and heritage by offering a slew of cutting edge specs that are expertly implemented. This ensures superior levels of performance, fidelity and styling. Let's look at some of the unique aspects of the ROG SWIFT Monitor and see why the ROG SWIFT monitor meets the criteria of being the best PC gaming monitor.
 It is the world first WQHD monitor ( 1440P – 2560×1440 ) with a 1ms response time. In addition it offers a 120+Hz refresh rate.
That is a whole lot to process but once processed you begin to realize these are some really impressive specifications. To achieve this ASUS had to specially develop the panel used in the design and development of the SWIFT monitor. Why? Because there was no panel on the market that met this criteria. This commitment to offering something unique and innovative shows the commitment ASUS and ROG bring to the passionate community of PC gamers who have been asking for such a display. As always though with this being an ASUS product and ROG branded the envelope had to be pushed further.
So how could this monitor get any better? NVIDIA G-SYNC that's how!
For those of you who are not aware G-SYNC is a brand new cutting edge graphics and display link technology developed by NVIDIA. G-SYNC offers the most advanced and optimal method of communicating information from the GPU and its frame buffer to the monitor to ensure the best level of fluidity, response and overall synchronization.You can find more information on NVIDIA's G-SYNC page. It is a game changer in how you will play and experience PC games.  For PC gamers utilizing NVIDIA's GTX series graphics card they will truly have a next gen experience not only improving the fluidity of the game but ensuring a smoother and tear free game experience. There are even improvements to the clarity of imagery in game due to elimination of stutter and superior fluid drawing/rendering of the image. Combine this with the previously noted specifications and you can easily see how the SWIFT will be the PC gaming monitor to rule them all. As icing on the specification cake, the ROG SWIFT also fully supports 3D VISION for gamers looking to take advantage of NVIDIA's impressive 3D implementation offering gamers another way to experience PC games as well as multimedia content whether it be Blu-Ray, photographs or online video.
In addition to offering NVIDIA 3D VISION support, the monitor will feature a new ULMB feature offering the same benefits of LIGHTBOOST only better!
Rounding out the SWIFT monitor are ROG aesthetics which are equally important. A clean and aggressive styling which takes ques from a wide range of stealth inspired ROG products like ROG G series laptops. The SWIFT features a super narrow 6mm bezel and a features a specially styled base the features trademark ROG red in the form of a red ring. The SWIFT also features design touches that further the experience  beyond that of pure specifications such as smart cable management, a 5 way easy adjust joystick to navigate the OSD and make monitor adjustments. Last but not least the SWIFT features an integrated USB 3.0 hub offering easy to access high speed connectivity.
Check out some of the pictures below and stay tuned to PCDIY for more information on the soon to come ROG SWIFT monitor.
FAQ
How much will it cost?
MSRP is not finalized stay tuned. Currently projected $799.
Release date or time frame?
Estimated release date will be mid to late Q2/Q3 2014. Stay tuned for more information.
*Update as of 8/1/2014
ASUS North America is projecting availability in US channels  at the end of the month of August ( the week of the 25th )
Does it support VESA wall mounting?
Yes the PG278Q ROG SWIFT  fully supports VESA wall mount capability.
Does it offer any type of physical adjustment functionality?
The SWIFT is truly flexible offering full tilt, swivel, pivot and height adjustment.
How thin is the bezel?
The SWIFT features a 6mm ultra narrow size bezels.  This makes it an excellent choice for users considering multi monitor setups.
I have an AMD graphics card can I still benefit from upgrading to the SWIFT?
While AMD graphics do not currently support G-SYNC technology and as such can not leverage this exciting cutting edge feature AMD RADEON graphics cards readily support high refresh rates and high resolutions. AMD PC gamers can still experience an outstanding high fidelity, low latency and swift response from the PG278Q.
I am concerned about PWM flicker, does the SWIFT use PWM to control the backlight?
The SWIFT has a specialized implementation offering great flicker free performance under normal operation mode. It utilizes DC – Direct Control for backlight control to achieve this. Under ULMB operation it utilizes a  a form PWM operation to offer backlight strobing for gamers wanting this type of functionality
What type of panel does the ROG SWIFT use?
The SWIFT features a newly developed high quality and ultra high performance native 8bit TN panel. This considerably improves on the overall quality of the panel especially when compared to majority of TN monitors based on 6 bit or 8 bit panles featuring frc & dithering.
Does the SWIFT support NVIDIA 3D VISION?
Yes 3D VISION is fully supported and can operate up to its native 2560×1440 resolution at 120Hz. A separate emitter and glasses are required as they do not come with the montior.
Detailed Specifications and Gallery
ROG SWIFT PG278Q
•       Display: 27-inch WQHD 2560 × 1440 (16:9)
•       Narrow 6mm bezel designed for multi-monitor setups
•       Pixel Pitch: 0.233mm
•       Brightness: 350cd/m²
•       Display Colors: 16.7M
•       Refresh Rate: Over 120 Hz
•       Response Time: 1ms (GTG)
•       Connectivity: 1 x DisplayPort 1.2, 2 x USB 3.0 ports
•       Stand Adjustments: tilt (+20° ~ -5°), swivel (+60° ~ -60°), pivot (90° clockwise), height adjustment (0 ~ 120mm)
•       VESA-wall mountable (100 × 100mm)
•       Special ASUS Features: GamePlus and 5-way joystick OSD navigation