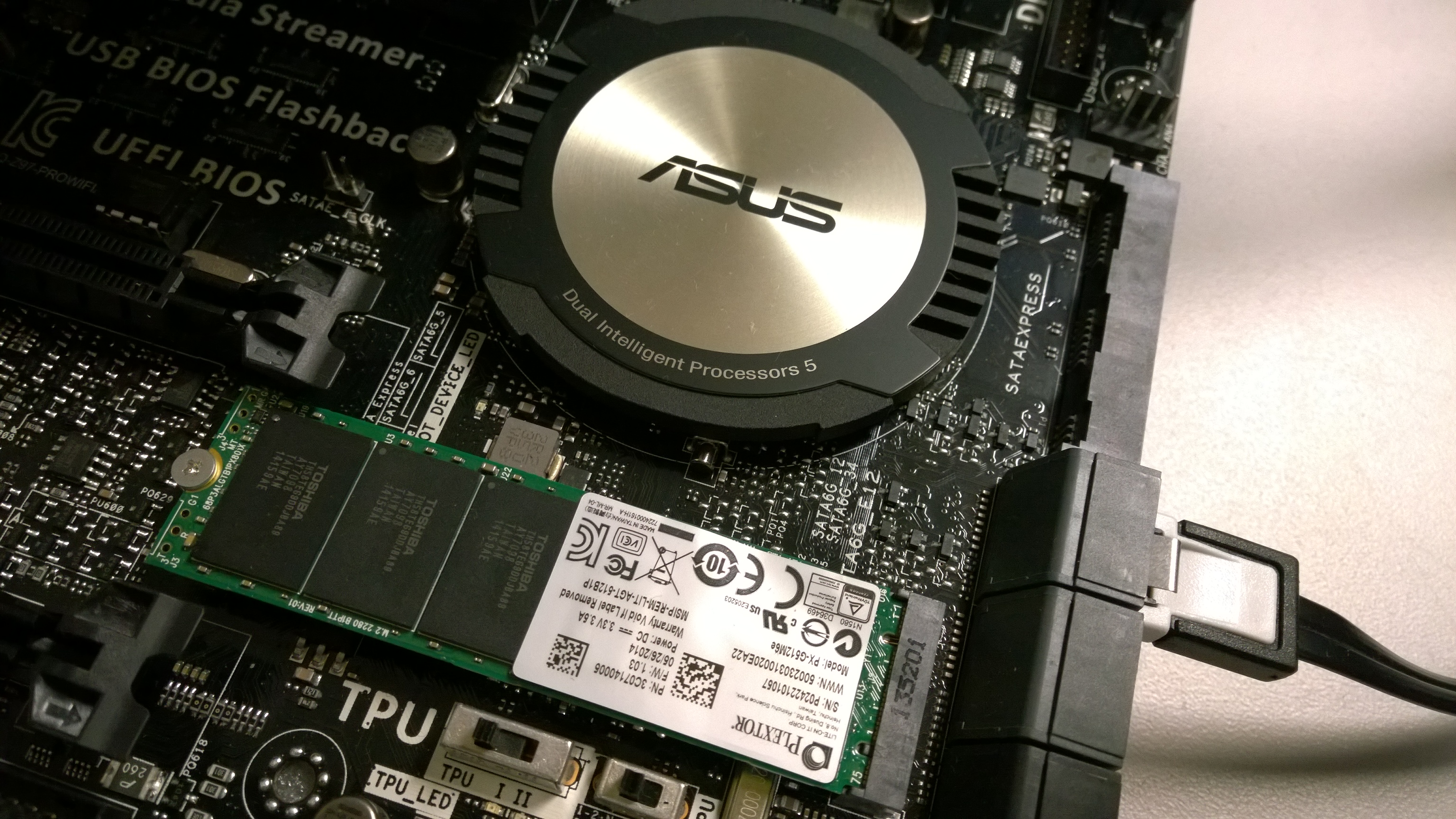 As some of you may be aware one of the biggest specification upgrades for the Z97 chipset compared to the  Z87 chipset was the inclusion of M.2 support. ASUS actually was the first motherboard manfacturer to integrate M.2 onto motherboards prior to Z97 with our Z87 series of motherboards, specifically the ROG Z87 MAXIMUS VI series. Those first generation implementations while functional and beneficial especially for users looking for a compact high performance storage option were limited in their throughput as well as flexibility in that they would only support SATA based M.2 based SSDs as opposed to PCIe based SSDs. Flash forward to today and ASUS has rolled out a wide range of Z97 motherboards offering M.2 as well as offering boards that not only support SATA but also support PCIe based SSDs. With the support for PCIe based SSDs higher performance can be achieved due to the increased throughput offered by a x2 PCIe link. This allows SSDs with this specification support to offer much faster performance than current SATA III / 6G  SSDs can offer. We reached out to Plextor a leading storage vendor to see if we could get a sample of their new PCIe based SSD specifically the M6e. The goal in mind, to test it and ensure that users looking for a plug and play solution that offers truly impressive performance could count on the M6e working without issue on ASUS Z97 series motherboards.
A closer look at Plextor's M.2 M6e SSD & ASUS's Z97 M.2 motherboards
First up we have the ultra fast  M.2 based SSD, the Plextor M6e.
Plextor's M6e M.2 PCIe Gen2 x2 is an ultra-fast SSD, which uses the latest generation of SSD components and features a native PCIe interface for extremely high performance. It is suitable for motherboards supporting 2280 sized (80.0mm × 22.0mm), PCIe M.2 SSDs.
By bypassing the 6Gbps limit of the SATA Rev 3.0 interface, Plextor's M6e M.2 is able to reach maximum sequential read speeds up to  725+MB/sec and sequential write speeds up to 680+MB/sec. It is considerably faster than the fastest SATA based SSDs.
The combination of a multi-core Marvell PCIe 9183 controller, high quality Toshiba Toggle NAND flash memory, a fast onboard DDR3 DRAM Cache, and Plextor's own in-house produced custom firmware translates into a truly high-performance SSD. It truly complements Z97 based builds targeted toward PC enthusiasts, PC gamers and content creation professionals and of course advanced productivity users. This type of storage solution really is an outstanding foundation to an impressive level of performance and truly responsive desktop experience. Whether it be installation of applications, loading of games levels, applications or media libraries expect top level performance.
The M6e is available in 128GB, 256GB, and 512GB capacities. In addition its controller offers up full AHCI support meaning it is a plug and play solution not requiring drivers.
Next up we have the motherboards needed to support this new ultra fast SSD. ASUS has stepped up to support cutting edge I/O specifications including support for M.2 SSDs.
We are covering only a small amount of the boards offering M.2 PCIe support but enough to provide a sense of the range across different segments ASUS offers. This includes PC enthusiasts, PC gamers, content creation professionals and productivity enthusiasts. ASUS's range of Z97 series motherboards offers class leading features and functionality and an uncompromising attention to detail in the design and development of these motherboards, Ensuring all aspects are considered including component quality, layout optimization, performance tuning and of course key aspects such as stability, reliability, overclocking and compatibility / interoprability. Whether it be ATX, mATX or mini ITX ASUS has a board for you.
Compact and streamline installation with an eye for aesthetics.
One benefit of M.2 that has nothing to do with performance but everything to do with aesthetics, flexibility and ease of installation is its compact footprint. Compared to a traditional SSD  a M.2 SSD is smaller, thinner and does not require any cables; both data and power are provided directly by the M.2 interface. This is great as not only do you get superior performance but minimize another set of cables to consider when cable routing. In addition the low profile nature a M.2 SSD  does not impact or intrude upon the utilization of any PCIe slots. This is great as you maintain the flexibility of adding whatever PCIe based cards you want to utilize whether it be a  graphics card, sound card, raid controller or any number of other PCIe based cards. These improvements compared to a traditional 2.5 inch is especially nice when building a small form factor PC based on a mATX or mini ITX motherboard. Below we have  photos of M.2 locations on different boards and how the board looks with the M6e M.2 SSD installed. Additionally there is a comparison between a traditional 2.5 inch SSD to a M.2 based SSD.
2.5 inch SATA 6G M6S SSD compared to 2280 PCIe M6e M.2 SSD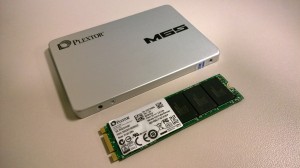 MAXIMUS VII HERO M.2              Z97I-PLUS M.2
 Z97-PRO M.2                                        Z97-WS M.2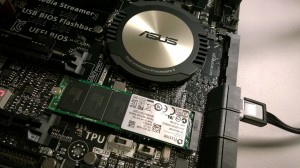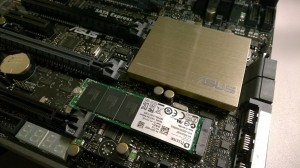 More than just spec. Interoprability, compatibility and performance.
So before we jump into some compatibility, functionality and performance testing I feel it is important to communicate that especially with PCIe based storage solutions there is a lot more to it than just physically installing it. As is the case with all PC components like  RAM / memory, graphics cards, SSDs, raid controllers etc these devices generally have their own firmware. Some even have their own complex option roms which are required for advanced management and have specialized initialization routines and UEFI resource requirements. ASUS has worked extensively to validate these devices with our motherboards and their UEFI ( operating firmware ). This ensures a truly plug and play experience while ensuring optimal interoprability, compatibility and of course performance. For the latest generation of storage devices these steps are even more critical as they may contain firmware that offer UEFI support meaning it will allow the storage device and motherboard to use an optimal post and boot routine enabling a faster and quicker post and boot and ultimately improving your usage experience. The are a number of other benefits to a complete PC ecosystem supporting UEFI and for those of you interested you should check out our upcoming post on this topic.
Below you will see a visual helping you to see the difference between a legacy storage device as opposed to Plextor's UEFI supported SSD the M6e. When combined with a motherboard like our ASUS Z97 series, which all support UEFI posting / booting you have a considerably improved experience. Users can expect to have a extremely quick post and boot. In our testing we actually have ever faster performance than Plextor had in testing see boot times in 4 to 5 seconds! Total post and boot times were in the range of 8 to 10 seconds!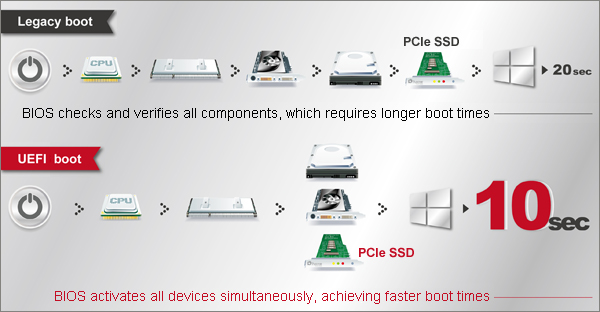 This is an area Plextor has worked hard at as well spending time to test and validate the M6e to ensure reliability and enthusiast class performance. Validation is something that does not get discussed to a great deals among users when considering an HD but it  defines a large part of the experience a user will have. Having knowledge of the steps taken to ensure functionality, reliability and performance all ultimately help to ensure you have a positive plug and play experience.
Below is some of what Plextor completes in house in ensuring a quality and performance oriented storage device.

48hr Sustained Read and Write Test
Two days continuous 4K file read / write test, zero error pass requirement.
4000 Times Idle Test–Sleep and Hibernation Test
After 24 hrs read & write SSD enters sleep (S3) mode and is woken after 5 minutes, repeated for hibernation (S4) mode, zero error pass requirement.
250 Times Power Cycle–Cold and Warm Boot Tests
Continuous cold boot and warm boot cycles 250 times, zero error pass requirement.
UEFI settings for fastest POST and boot.
If you are interested in setting up your ASUS UEFI for the optimal post and boot speed follow the screenshots. These will guide you through the steps need to navigate the UEFI and enable the optimal settings. These values are not enabled by default due to needing to ensure extensive compatibility for a wide range of devices such as optical drives, graphics cards, storage devices and expansion cards and more. To ensure you can fully support a native UEFI, GPT and GOP enabled POST and boot you need components that have firmware support enabling this. The M6e M.2 SSD support UEFI and ASUS component range of products fully support UEFI including
Motherboards, Graphics Card and Optical Drive.
Step 1: Ensure you have Fast Boot Enabled under Fast Boot
Step 2: Ensure you have "Boot Drive Only" enabled under SATA support
Step 3: Ensure you have disabled selected under USB support – This will not impact your ability to use USB devices it will just minzie them being polled or able to be engaged during the post routine. For users looking to access the UEFI it can be done easily through installing our "Boot Setting" application it will allow you to reboot directly to the UEFI by simply clicking an icon when in Windows.
Step 4: Ensure you have "Fast Boot" enabled under Next Boot after AC Power Loss
Step 5: Modify POST Delay Time to "0 seconds"
Step 6: Selected "disabled" under Option ROM Messages
Next you need to move to CSM Compatibility Support Module portion of the UEFI
Step 7: Either selected "disabled" for Launch CSM or following the steps below which will only be present under the selection of "enabled". Enabled is advised as it can help to ensure superior interoprability / compatibility with non UEFI enabled devices. If you have one of these devices be aware you will need to have "legacy" enabled.
Step 8: Set Boot Device Control to "UEFI only"
Step 9: Select "ignore" for Boot from Network Devices
Step 10: Select "UEFI driver first" for Boot from Storage Devices
Step 11: Select "UEFI driver first" for Boot from PCI-E/PCI Expansion Devices
Faster than SATA6G, checking the numbers.
So installation is as you would expect extremely simple. It is very similar to the installation process of a memory module but with a smaller interconnect and the requirement removing a screw and installing the M.2 SSD and then affixing the SSD in place by putting back the removed screw. No adjustment was required within the UEFI with the expectation of the MAXIMUS VII HERO which does require you enter into the UEFI and enable M.2 operation. Without this being executed the M6e M.2 SSD will not be recognized.
Below are the steps to enabling M.2 on the MAXIMUS VII series of motherboards within the UEFI.
One you have entered into the UEFI you will navigate to the advanced section. Within the advanced section you will navigate to on board devices configuration. Once you have entered into this sub section you need to highlight PCI Express x4_3 Slot ( Black ) Bandwidth. Once highlighted and selected you will need to select M.2 mode / operation. Once complete you hit F10 to save and exit and the board will no acknowledge and internalize the Plextor m.2 PCIe SSD.
Now that we have covered how to ensure it is correctly detected lets move along to performance. Our goal here is to verify the functionality and performance of the Plextor M6e M.2 based SSD on ASUS Z97 Motherboards.
Checked Z97- PRO – No Issues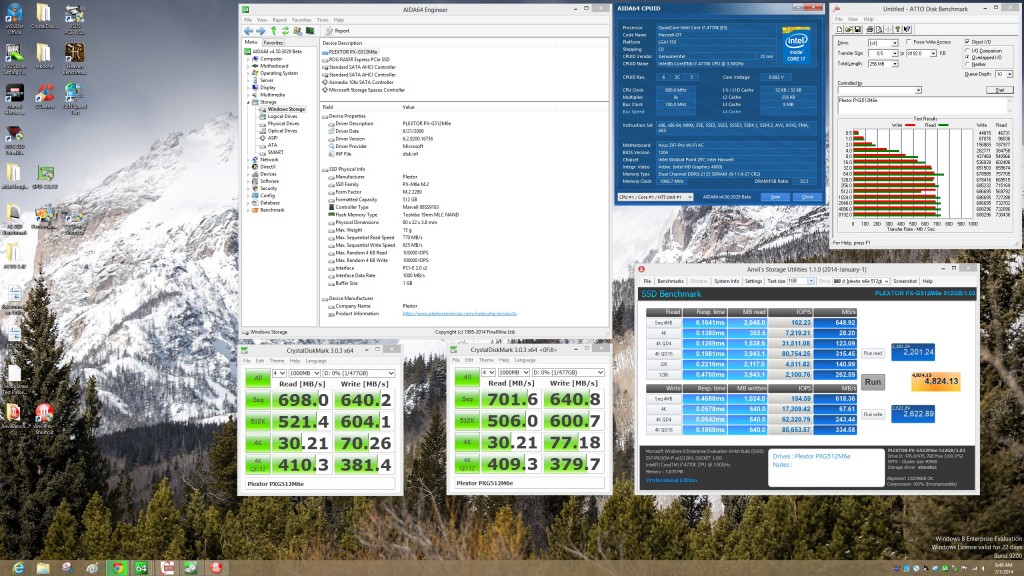 Checked MAXIMUS VII Hero – No Issues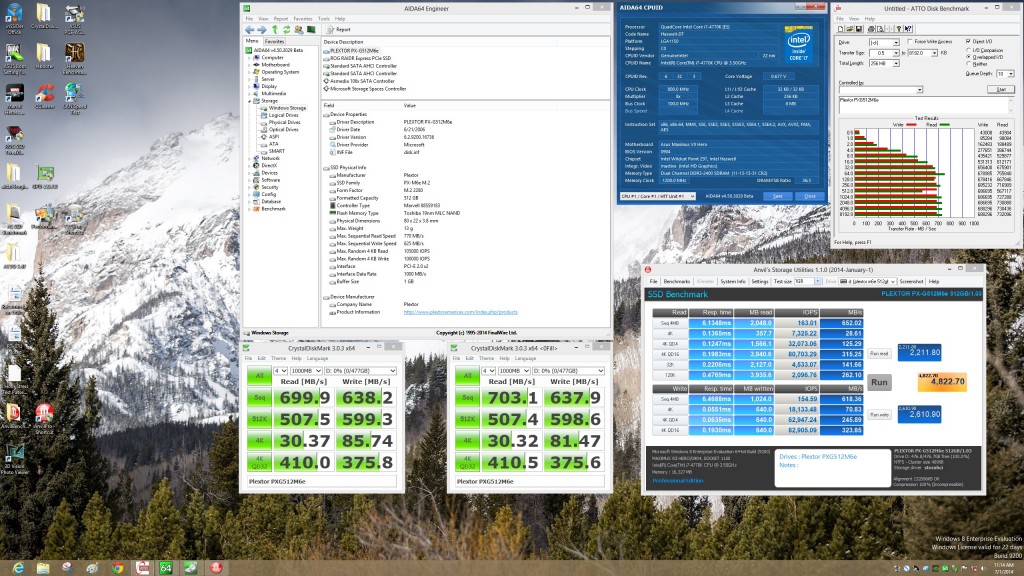 Checked Z97-WS – No Issues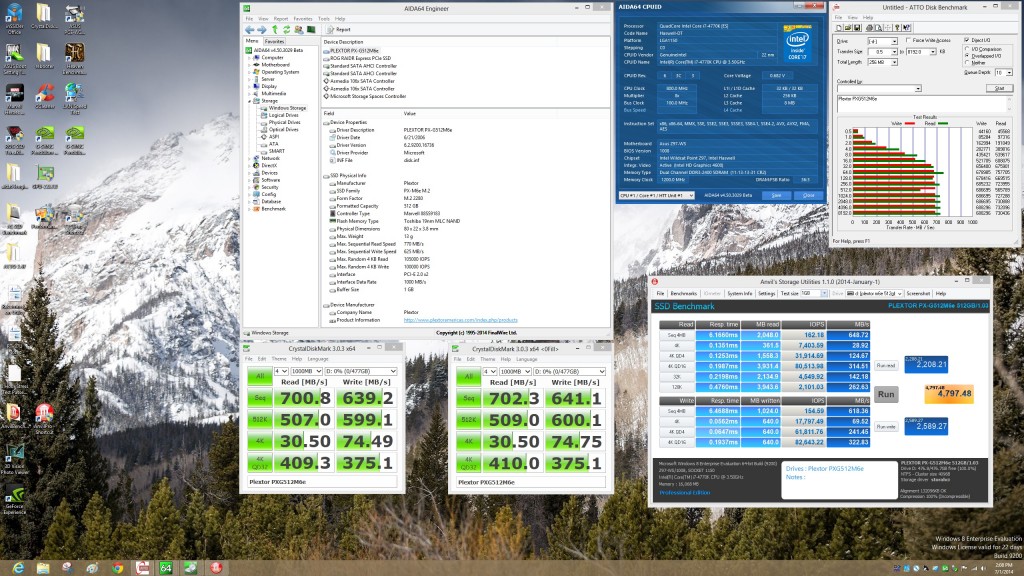 Checked Z97-I Plus – No Issues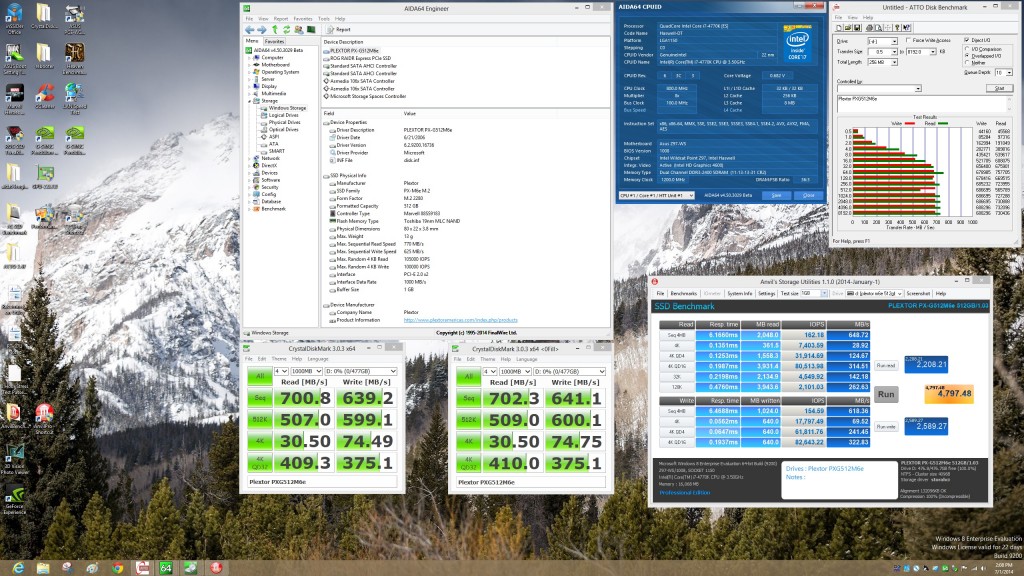 Fast Post and Fast Boot, How fast is it really? Really fast!
One of the key advantages to the latest generation of UEFI enabled ASUS motherboards is their support for native UEFI booting. When paired with UEFI compliant hardware and a UEFI aware OS environment like Windows 8.1 you can have some seriously impressive performance. So we set about setting up a Z97 system and went about do a fully clean installation of Windows 8 to see what type of speeds we would get with this M.2 based SSD.
Test System
Motherboard – ASUS Z97-I PLUS
Processor / CPU – Intel Core i7 4770K
Memory / RAM – GSKILL SNIPER DDR3 2400MHz , 16GB ( 2 x 8GB ) F3-2400C11D-16GSR
SSD – Plextor M6e 512GB
Graphics Card / GPU – ASUS GTX 760 DirectCU II OC
Optical Drive / ODD – Bw-16D1HT
Keyboard – MIONIX ZIBAL 60
Mouse – MIONIX NAOS 8200
Check out the video below showing a quick recording of a full post and boot to a Windows 8.1 desktop.
Good tools help! A quick look at Plextools.
So before wrapping things up I think it is important to touch on the software Plextor offers up to use with the M6e, Plextools. Many users may not think about the software or if any software comes with an SSD but it is important point to consider. Software can offer ease of use relative to firmware updating, performance analysis, secure erase and more. The utility offers drive status information helping you to confirm smart values are at nominal levels along with verification of TRIM working correctly and drive temperature.  You also can run a performance assessment and diagnostic scan to make sure you M6e is working correctly and optimally. I always advise you run a general benchmark once you have installed your OS and core drivers to have a baseline of measurement to compare the drive performance overtime.
Wrap up and conclusion, experience detailing and is it worth it?
So in the end what was the experience like using an M.2 SSD, was it everything I hoped it would be? In all the ways that count yes it was a great drive to work with. It offers truly impressive post and boot times, a robust controller and impressive performance across all kinds of workloads. Add to that the simplicity of installation and the clean aesthetic and a M.2 SSD like the M6e should be on your shortlist for enthusiast components to consider in your next build. I take storage devices very seriously as it is the critical component that must offer reliability, stability, great performance and ideally great compatibility and interopraiblity. The M6e offered all these benefits while also being blistering fast and entirely free of bugs. This is impressive considering it is a very new product for a new specification. Ideally as PCDIY enthusiasts these are the type of hardware devices we look for. Devices we can purchase drop in and have a great experience without having to wait for firmware to fix a problem or watching for something to be patched. The effort ASUS has put into UEFI support and validation and ensured performance and functionality aligns with the attention to detail Plextor has brought to the M6e. Last but not least is a 5 year warranty which is a big plus. Knowing that the drive is covered in the even it fails to operate or perform correctly is great especially for such a long period of time. All the way around an M.2 SSD like the Plextor M6e and a great ASUS Z97 motherboard are truly better together!
As always if you questions, comments or inquiries send them my way via the comments section or at PCDIY@ASUS.COM