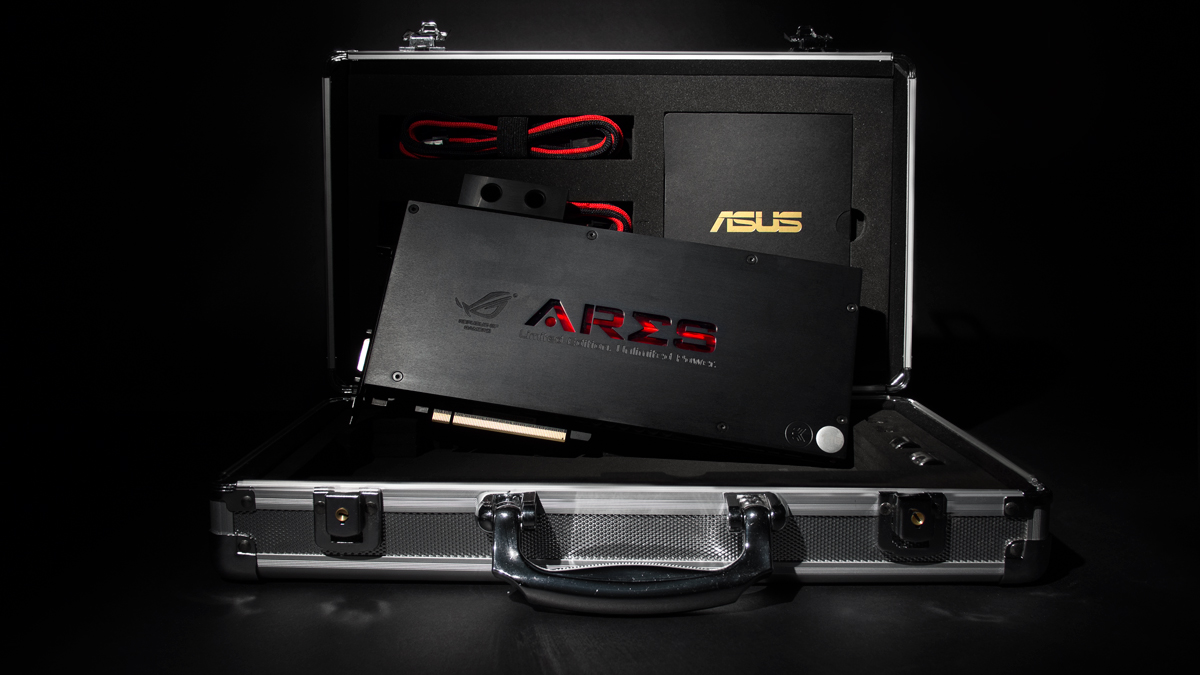 Here in the PCDIY labs we have the opportunity everyday to get hands on time with some of the absolute best hardware that exists. Every so often though you get to have hands on time with some truly special, something beyond the norm when it comes to a premium product with great features, functions and specifications. We recently had one of these special moments and spent some hands on time with a truly special product that is not only premium but limited edition and offers a design and feature set that puts it in rarefied territory. Specifically we had the chance to test the ARES III. A ultra high end  water cooled single slot dual GPU purpose built for an amazing level of performance and extremely cool operation. So enough with introductions lets find out what makes this card so special outside of the fact is limited to only 500 in the entire world!
ASUS has a long track record of  limited edition graphics card designs. ASUS graphics team has been at the forefront of pushing the design envelope and offering  graphics cards that truly offer innovative design , awesome specifications and amazing attention to detail in maximizing performance. Many of these designs have at later stages been similarly introduced in reference design further showing the innovative perspective and ahead of the curve thinking the ASUS graphics team is known for. You can look back as recently as the ARES II a ultra high performance dual GPU featuring fully operating 7970GHz edition GPUs. The card of course featured a fully custom PCB and VRM featuring premium power components offering up impressive power delivery capability. Cooling those GPUs down the ARES II featured the same designed used know to cool the reference R9 295X2 a closed loop water cooling solution. When introduced this design choice really was the best choice in offering a turn key solution that would offer solid thermal dissipation and quiet operation. When the design team was tasked to follow up the ARES III with a dual Hawaii based GPU configuration the product management team and design team had to a tough act to follow as well as hard decisions to make.
Some considerations where effectively cooling the ultra high performing high TDP 290X GPUs. Not only would this be a challenge but having them operate at full clock speed with no throttle was not only ideal but a requirement. As more discussions occurred the idea began to slowly form a high performing solution would be required to yield the required balance of thermal dissipation, overclocking capability and premium design required for the ARES III. In the end the decision to produce the first full coverage water cooled graphics card came from consensus, necessity and desire to produce the best design possible.
A closer look at the ARES III & key specifications
In regards to specifications the ARES III is a fully non reference version of the AMD RADEON R9 295 X2. The R9 295 X2 is AMD highest performing gaming focused graphics card. It features two overclocked 290X GPUs on a single PCB. Where the ARES III differs is it's design is full non reference. What does non reference entail? Full non reference design means the entirety of the card is designed by ASUS from the PCB to VRM which powers the GPUs to the cooling solution and the general design aesthetic. In doing this ASUS brings its considerable experience and insight in designing non reference solutions that offer superior performance and reliability. Traditionally this has also included improvements to temperatures and acoustics. With the ARES III this continues to be the case but is different in that the card features a full coverage water block. A water block allows the card to be cooled by water and actually cools not only both GPUs but the memory and VRM and depending on the performance and configuration of the water cooling setup your temperatures and acoustics can vary. Regardless of configuration the ARES III will offer considerably improved temperatures under gaming load when compared to the reference R9 295X.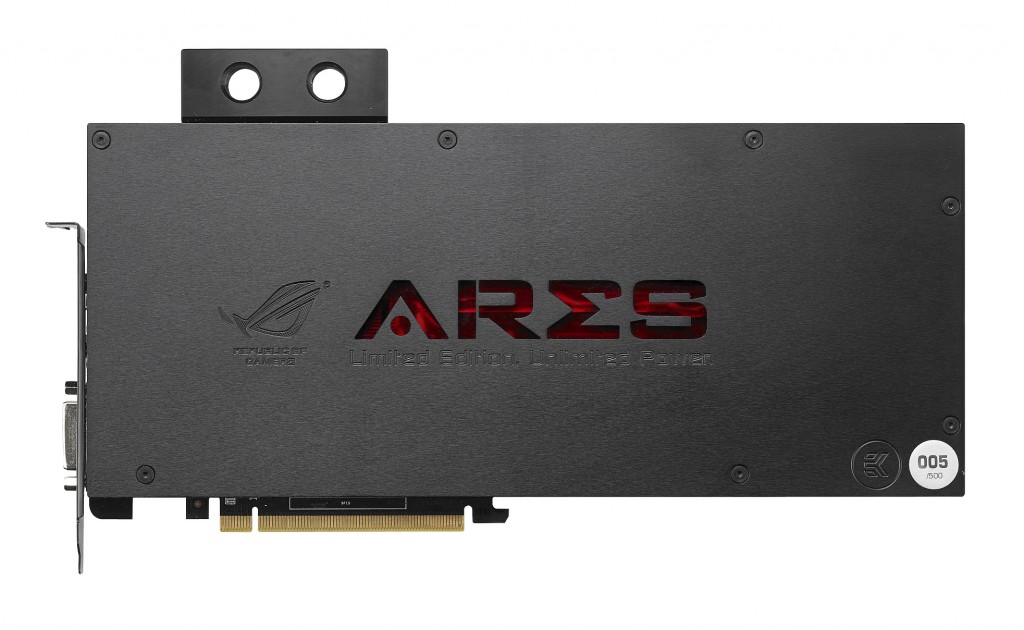 As you can see the ARES III features a beautiful flat black full coverage water block which  features an engraved ROG logo and ARES name cutout. All this is precisely machine on a brushed aluminum cover plate that evaluates the the look and feel of the ARES III. The fact that the ARES III is part of the Republic of Gamers graphics line of graphics cards also reinforces its focus on performance, innovation and quality. ROG is a sub brand of ASUS that focuses on designing the highest performing and most innovative and high quality gaming products on the market. Rounding out the initial impressions on the aesthetic you can get a slightly aggressive feel from the clear plexi glass underneath the aluminum plates and are reminded of the limited edition nature by the individually number serial plate. Next to that we have an engraved EK logo acknowledging the design and development of the water block by leading water cooling manufacturer EK. Lying beneath the full coverage block we have an impressive set of specifications that any hardware PC gaming enthusiast would LOVE!
Model name and number – ARESIII-8GD5

GPU – AMD RADEON R9 290X X2 – Based on HAWAII XT core and GCN architecture

GPU clock – 1030 Mhz

Memory clock – 5000 Mhz

Memory interface – 512-bit x2

VRAM RAM ( Video Memory ) – 8GB GDDR5 ( 4GB on each card )
Beyond the core specifications as this is a non reference design there are a number of specialized aspects of the design of the ARES III. These specialized design implementation are part of the full non reference design allowing the ARES III to move beyond the reference R9 295 X2. These design implementation have been put in place to ensure superior performance, reliability and stability.
A 14 Layer PCB featuring expertly laid out topology for optimal power delivery.
Sorted "binned" R9 290X Hawaii XT GPUs. Carefully screened to ensure consistent leakage IDs for optimal thermal consistency and stability. Additionally each GPU is overclocked beyond the reference 1GHz core clock speed.
A custom power delivery implementation that includes an advanced digital PWM and SAP ( Super Alloy Power ) power components. These combine together to offer the Digi+VRM which includes 10K Japanese capacitors which offer superior capacitance ( power output ), significantly higher and lower thermal tolerances as well as five times ( 5X ) the lifespan of traditional solid capacitors. In addition ultra high performance fully molded alloy inductors offer improved efficiency, power output and thermal dissipation. Their fully  molded design also helps to reduce or eliminate coil whine. Lastly you have ultra high performance fully integrated power stages, these power stages offer 95% efficiency, superior thermal dissipation and higher thresholds including voltage. The fully integrated mosfet and driver design also offer integrated current sense amplifier which achieves superior current sense accuracy and signal to noise ratio.
3 PCIe power layout confirmation, this configuration allows for more balanced power delivery improving stability and long term usage and reliability. Additionally it can help to reduce contact temperature.
A brushed aluminum exterior offering a clean and stylized aesthetic as well as precision engraved  logo and lettering. Beneath the brushed aluminum cover plate you have a full red plexi that offers a soft transparent red accent.
A high performance full copper water block offering full coverage for both GPUs the VRM assembly and graphics memory ( VRAM ). This allows for significantly cooler operation under load while improving performance by eliminating any GPU clock throttle as well as improving overclocking due to cooler and more efficient operation of the GPU and power components.
Integrated G 1/4 thread connections allowing for easy connection to a wide range of fittings. Two premium EK fittings are included with the ARES III.
Design Story
So when looking at a card like this you begin to realize the complexity and number of design considerations that have gone into it. Just recounting some key specifics such as the 14 layer PCB or a design and development period exceeding 6 months or 10 revisions to the water block design.  All this and more shows the commitment to refining the overall design and offering a a truly impressive graphics card.
Below you will see some of renders for previous designs as well as renders of the design as it progressed and move towards the final design we see today.
Coming to the final design you have a beautifully crafted card that has an extremely clean design aesthetic. Below you can see not only the final design in its finished form but how it looks inside a system.
Underneath the waterblock – Attention to detail and premium VRM components
While the exterior to the ARES III is extremely impressive the internals hide a extremely impressive PCB. It is one of the most impressive PCBs I have seen. The quality of the layout and components utilized are top notch and truly show the attention to detail brought to this graphics card. Before taking a looking at the internals including the full coverage copper water block we can see the ARES III without its brushed aluminum exterior plating. The red plexi offers a aggressive and transparent perspective to the full coverage block and impressive PCB and VRM components beneath it. Personally I love the look of the card in this way and torn between the card with and without the brushed aluminum cover plate.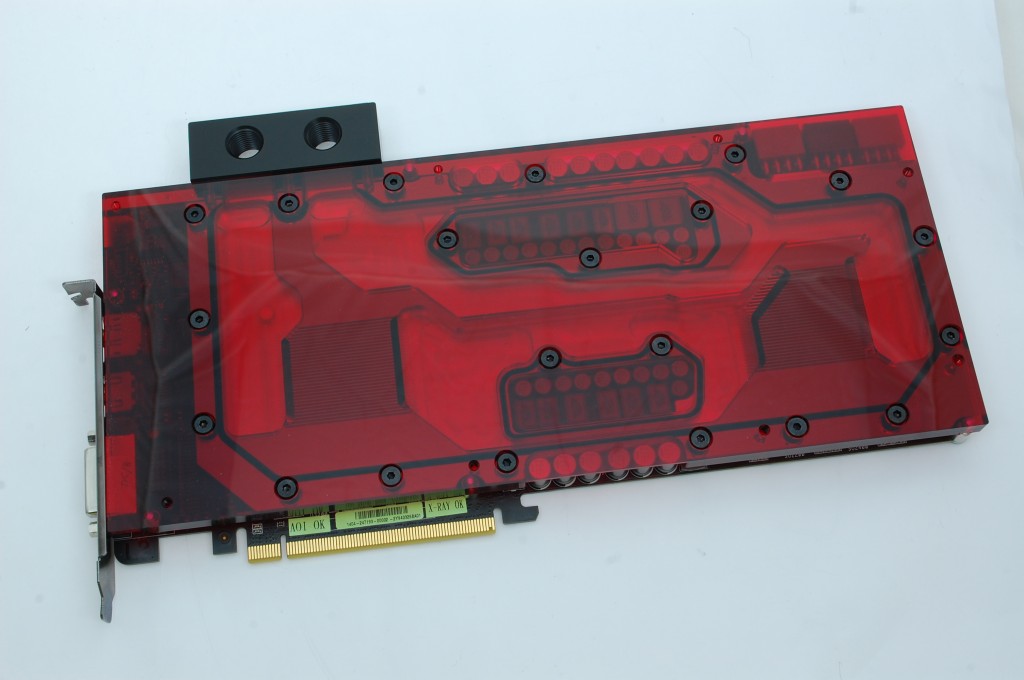 Flipping over the plexi plate and water block we can see the sheer mass of the full coverage copper block. You can also see the precision machined layout offering complete coverage to the GPUs, VRAM ( memory ) and VRM. All this helps to ensure outstanding thermal dissipation and superior stability.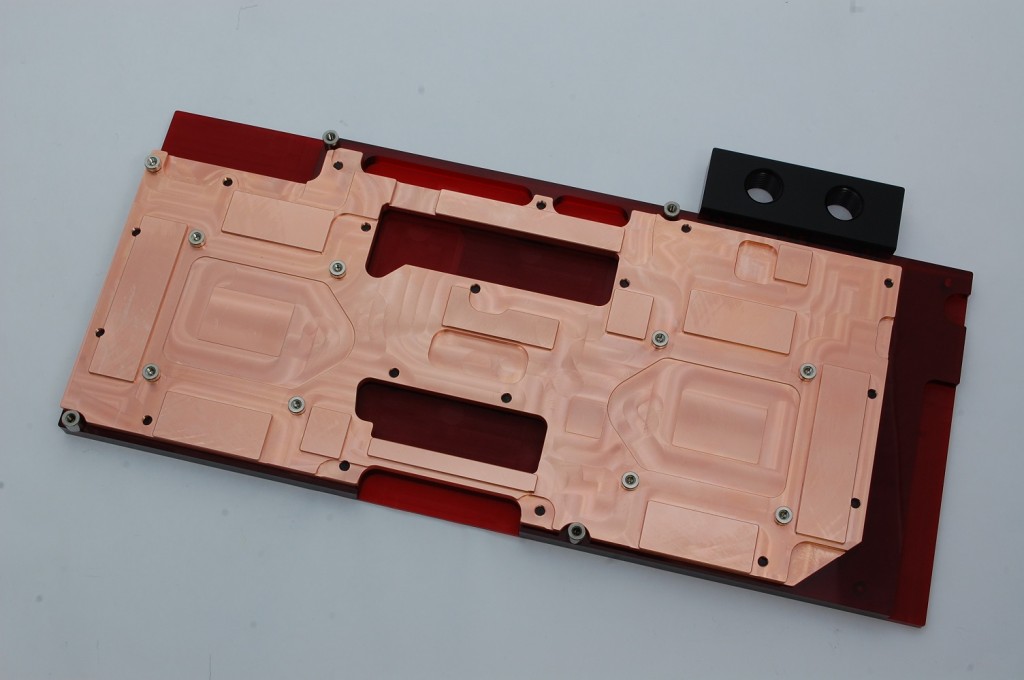 Looking to the PCB directly you can see the density of all the components onboard. To the right and left of the card you see the R9 290X GPUs and in the center you see the ultra high performance VRM assembly. You additionally you have dual digital PWMs to offer superior power delivery and control and of course helping to ensure outstanding reliability and stability whether stock or overclocked is the compliment of 10K Japanese Black Metallic Capacitors, Fully molded Alloy Chokes and Advanced IR PowIRStages. This is all highlight by clean matte black PCB. You can also more clearly see the 3 sets of PCIe power connections which is one more than reference design.
So all of these aspects are impressive but when it comes down to it what matters is the performance. Next up we jump into temperatures and overclocking results to see how the sum of these parts come together.
Temperature Performance – How cool is it?
So when evaluating temperatures on a water cooled graphics card there a number of factors to keep in mind. First and foremost the water cooling configuration you have will directly impact the thermal performance overall and affect overall thermal dissipation. With this in mind  this is a great benefit as it means you can improve your temperature performance by improving your water cooling configuration. An example is going from  2 stage radiator to a 3 stage radiator or even a 4 stage radiator. All of them will offer different load temperatures as more heat can be displaced and dissipated. For our testing we used two configurations. one 2 stage radiator and one 3 stage radiator. We went this route to show not only the improvements you can have by moving to a higher performing water cooling configuration but because these type of configurations are the most common among water cooling configurations.
First up we have a 2 stage unit specifically we used the Koolance EX2-755 EXOS-2 V2
At stock we had very solid temperatures along with no throttle for the GPU frequency. This not only shows the effective thermal dissipation ability of water cooling but also directly helps to improved frame rate latency and overall performance due to consistent clock speeds under load.
ARES III Load temperatures under gaming load – 2 Stage dedicated water cooling configuration ( Koolance EXOS-2 V2 EX2-755 )
Peak GPU temperature was 70c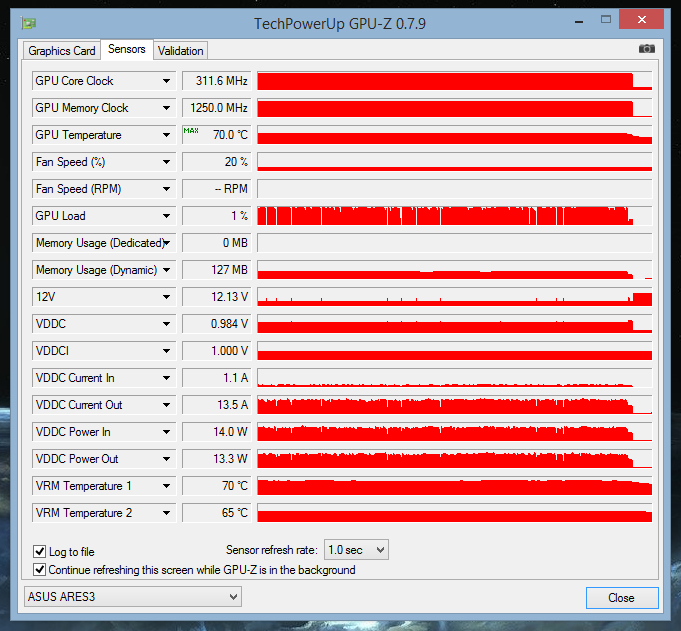 ARES III Load temperatures under gaming load – 3 stage dedicated water cooling configuration ( Koolance EXOS-2 V2 EX2-1055 )
Peak GPU Temperature was 62c
Compared again to the reference card this is significantly cooler. With that noted even when comparing to the 2 stage configuration we have a solid drop of 8c under load. Moving to an even higher performing radiator or 4 stage would yield again further reductions in temperature. In our quick test moving to another 3 stage radiator but offering "double thick" design we saw a drop to 55c under load!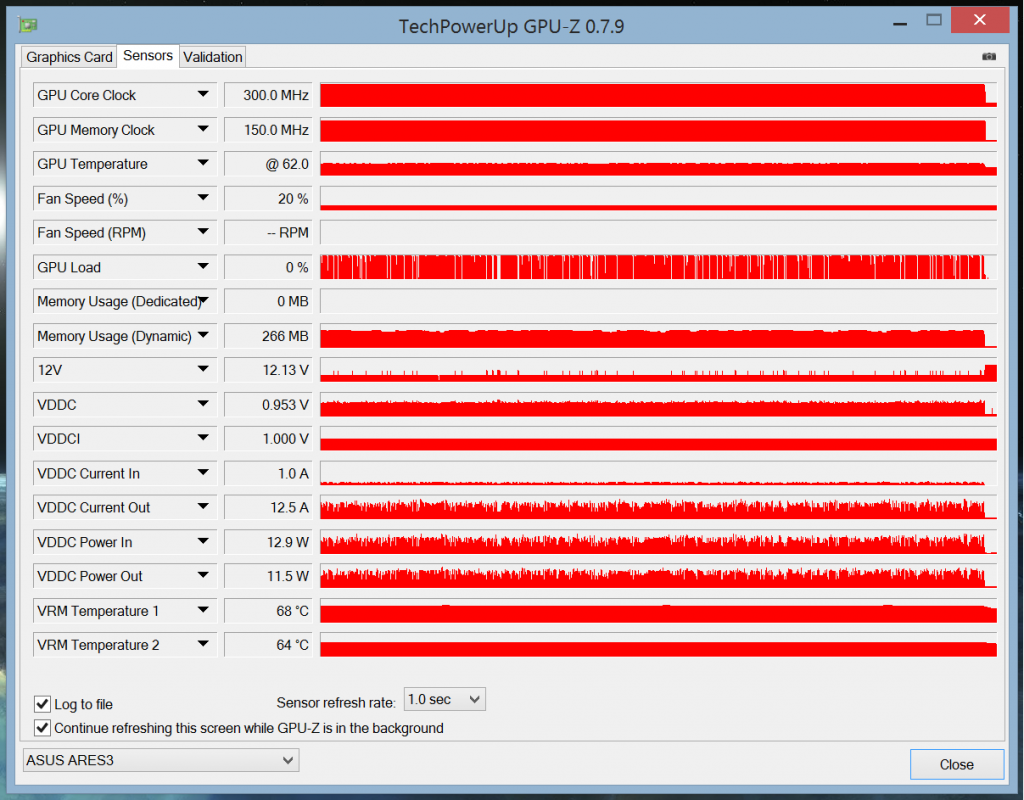 Overall we can see the full coverage water block not only yields outstanding GPU temperatures but also ensures cooler operation of the VRM assembly which is critical in ensuring the best stability and performance when overclocking.
If we run a quick comparison and put things into context it is pretty impressive whether it be the R9 290X reference or even the R9 295 X2.
The reference R9 290X generally operated at load temperatures between 92-95c with throttling. The ARES III cools two overclocked 290X GPUs in a single slot at significantly lower temperature. In addition when using a high quality radiator with quality low RPM static fans you can have an extremely quiet operating experience whether it be a dedicated loop cooling only the GPU or in more complex configurations that include cooling the CPU. Taking this all in you can begin to really appreciate the full coverage water block and the outstanding thermal dissipation it helps to enable. It short it is extremely cool and you can feel confident in the block offer great performance. For the R9 295 X2 another benefit for the ARES III is it superior flexibility at not having a lower temperature throttle point. This plays an important point in overclocking. The R9 295 X2 has a throttle point of 75c compared to the default of approx 90c on a single R9 290X. The ARES III features a throttle point of 85c. So even compared to the 295 X2 offers additional headroom for ensure GPU clock consistency which is great also for pushing frequencies and voltages when overclocking.
GPU Throttle Temperature
Reference R9 295X2 – Throttle temperature 75c
ASUS ROG ARES III – Throttle temperature 85c
Acoustic Operation – How quiet is it?
This is a tricky aspect to measure or report  as the card technically is inaudible and all audible noise will come from fans in the chassis, CPU cooling solutions or the pump, as well as the fans on the radiator. Assuming you have a high performance radiator and some relatively decent fans that operate at low RPMs you will generally find the acoustics to be comparable to that of a quiet air cooled PC in some situation you find it to be even quieter and offer better tonality as the fans can be a fixed low RPM with no change in tone due to not needing to ramp.
More MHz – What about Overclocking?
So with temperature testing out of the way and with a eagerness to forward driven due the outstanding temperatures as well as the high quality PCB and VRM overclocking was at the forefront of something I wanted to evaluate. I am excited to report I did not come away disappointed. The based GPU clock of the ARES III is 1030 MHz. All that was needed was to load up the GPU TWEAK graphics card utility. This allows for adjustment to all the core aspects of the card including clock speeds, voltages and power target. A small bump to the GPU voltage was needed ( 1.300 ). With that minimal increase I was able to reach 1,125 MHz on the GPU. Memory which can at times be limited on Hawaii XT based graphics cards due to its 512-bit memory interface still allowed for solid increase topping out at 5,500 MHz.
Recapping we had no issues reaching a fully game and benchmark stable overclock of 1,125 MHz for the GPU and 5,500 MHz for the Memory.
GPU clock – 1,125 MHz
GPU vid – 1.300
Memory clock – 5,500 MHz
Power Target – 100%
This allows an extremely fast card to be just that much faster. At ultra high resolutions with high IQ settings and varying levels of AA every additional frame helps in improving the game play experience and overall frame latency.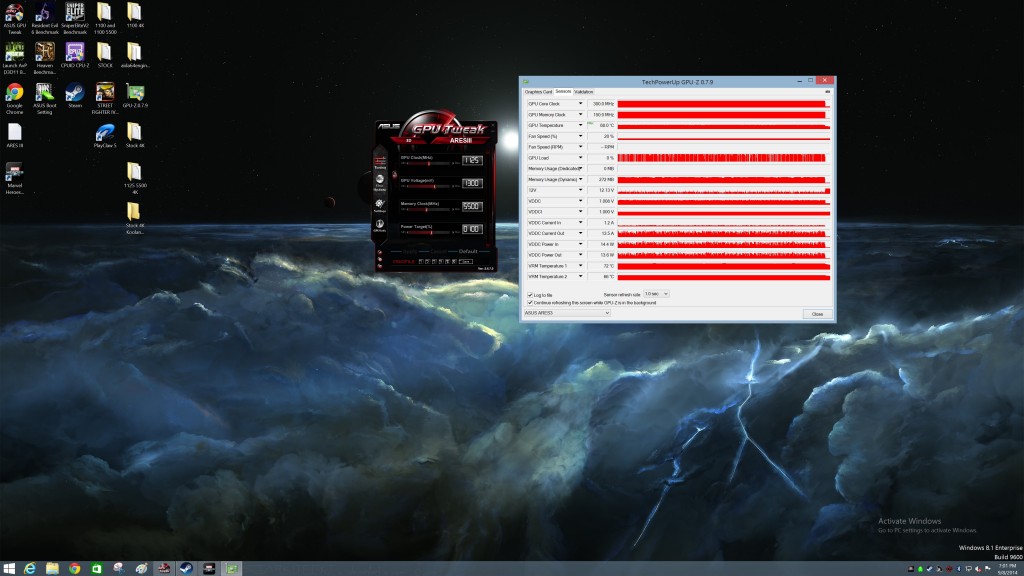 Equally impressive was even with this fairly solid overclock we were still able to stay under 70c when gaming. I feel confident with more time and of course some luck we could even push frequencies further due to the outstanding thermals, non reference PCB and VRM and less restrictive VBIOS .
Conclusion –
Bringing it all together we can see that the ARES III continues in the tradition of truly performance oriented innovative graphics cards. While this card is not for the majority of enthusiasts and even less so for the masses it is for those select few who appreciate a truly premium product offering an extremely high quality design, outstanding performance and limited edition production. This card is best suited for those looking for a truly high resolution gaming experience in a single slot form factor but does not have that limits normally present on a single slot graphics card  whether it be its thermals or performance. This opens up this card to a range of PCDIY water cooling enthusiasts and allows them to build on the ARES III acrosss all form factors. Whether it be mini ITX, mATX or ATX. For those users look at driving a 1080 resolution at ultra high frame rates with maximum IQ settings the ARES is a perfect choice. For those looking at 2560 or 3840 resolutions, the ARES III equally fits that usage scenario while also supporting Eyefinity for multi monitor enthusiasts who enjoy surround gaming. While value is always in the eye of the beholder there is no denying the overall quality, attention to detail and performance ( in more ways than one ) that the ARES III brings to the table. For those lucky enough to get one of the 500 produced welcome to a exclusive club.
FAQ –
For more details please consider visiting the ASUS product page.
http://www.asus.com/Graphics_Cards/ROG_ARESIII8GD5/
1. Where can I purchase the ARES III?
The ARES III will be limited to two etailers linked are noted below. Inventory should be avaiblie beging on October 3 ( 10/3/2014 )
2. What CROSSFIRE configurations does the ARES III support? The ARES III fully support 4 way CROSSFIRE ( CROSSFIRE X ) as each ARES III features two ( 2 ) GPUs pairing two together would yield a 4 way GPU configuration.