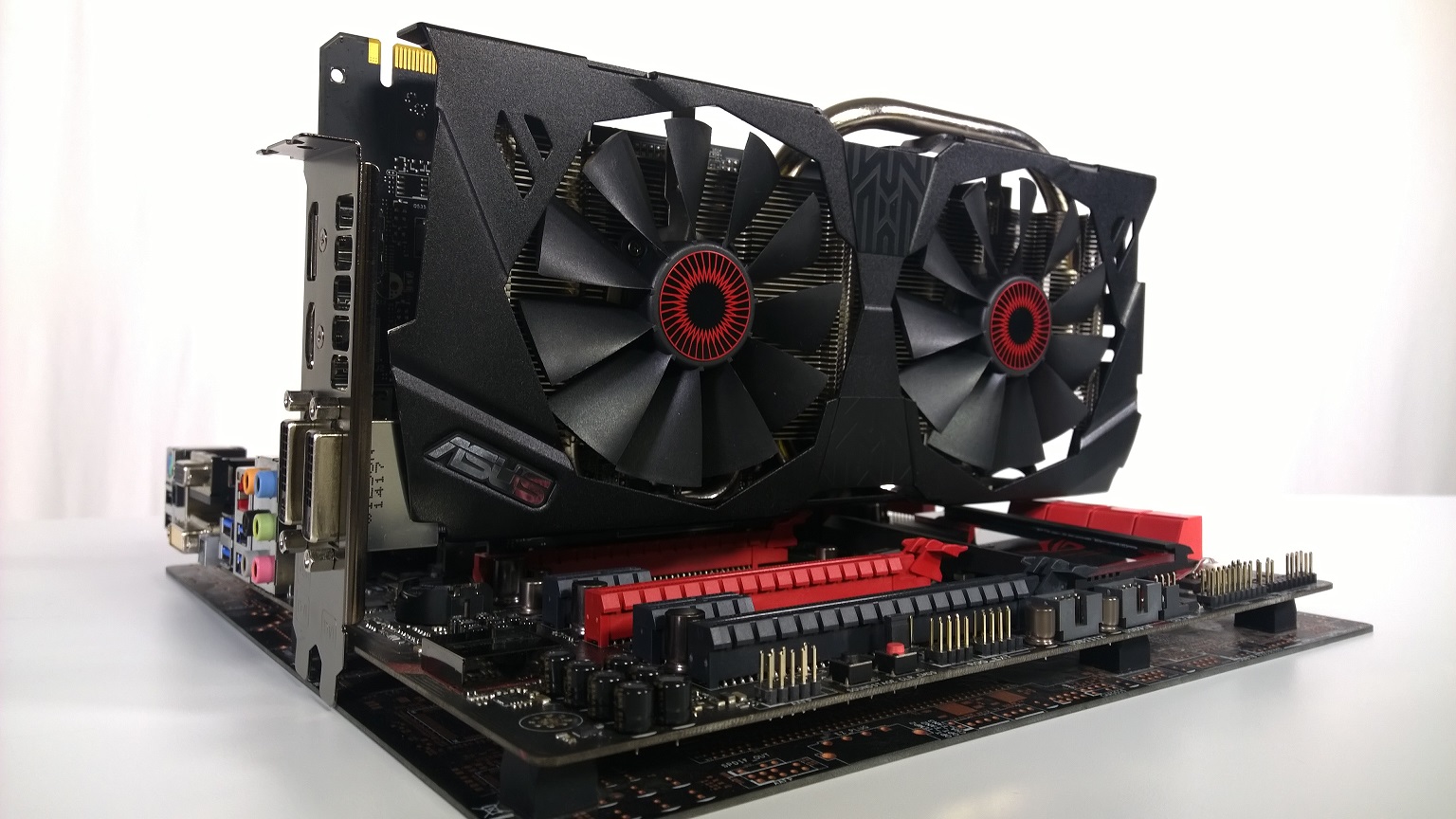 It has been a busy time here in the PCDIY labs with a number of products coming in. Like most enthusiasts though I get especially excited about new GPU's especially when they offer new architecture which enables cooler & quieter operation as well as improved performance. Even more exciting is when a new architecture with new features and functionality is introduced. A few days ago we got our hands on the latest NVIDIA Maxwell GPU in the form of the ASUS GTX 970 STRIX DirectCU II. This card is an absolute beast and offers some seriously impressive performance while offering the classic hallmarks of ASUS DirectCU II cards such as a non reference design for improved quality and reliability along with better than reference performance relative to temperatures and acoustics.
ASUS and NVIDIA have been busy behind the scenes recently working on two new high performance GPUs specifically the GTX 980 and the GTX 970. We will be looking at both but first up we are going to be taking a look at the GTX 970. This card is based on the previously introduced Maxell architecture featured in the midrange GTX 750 series of GPUs. That part offered up some seriously impressive efficiency and performance per WATT along with very cool temperature performance and some solid gaming performance. We have been waiting to see what this type of architecture with further improvements and additions would bring to the table with higher end GPUs. As of now the wait is over. Today is the launch of the new GTX 900 series of GPUs. Specifically we have the GTX 970. For those of you hoping to have a card that does a lot without comprising on just about anything this will be the card for you. It checks off about every box a PC gamer could ask for and then some. All while doing it with an for the future with some advanced features and while offering up some of the most price to performance ratios and power efficiency seen in a "high end" GPU.
For this generation there will be no initial reference GTX 970. Instead right at launch board partners like ASUS have the ability to bring their design expertise and experience to table at launch with full non reference designs. For those of you who are not aware of the meaning of "non reference: it is means board partners bring their own designs around the GPU including the PCB, VRM, heatsink and fan assembly and even display I/O. In some situations it can be inferior to the reference design but in the case of ASUS and the STRIX GTX 970 you get a considerable range of improvements and enhancements to the GPU and its overall experience. So what does a non reference get you?
A fully customized PCB and power delivery implementation with a digital PWM – Offering improved on board power delivery components ( such as SAP 5K capacitors, SAP mosfets and high performance drivers, SAP fully molded alloy chokes ) with superior ratings, efficiency and thermal performance. The fully molded inductors "chokes" also help to reduce or eliminate coil whine which along with the heatsink and fan assembly help to provide an extremely quiet level of operation under load.
Customized heatsink and fan assembly for superior cooling performance and quieter operation – This card will actually offer up to 30% cooler operation and 3x quieter acoustic operation. Beyond that the customized fans offer 0dB fan operation under light gaming loads allowing for a an even quieter experience when the card is under light loads or light gaming. The heatsink features 3 nickel plated direct contact continuous copper heatpipes including a primary ultra large 10mm heatpipe for extremely effective thermal dissipation. Additionally a VRM heatsink is utilized to further ensure cool and stable operation whether stock or overclocked.
Clean aggressive aesthetic that compliments a wide range of systems builds and includes a back plate to assist in card rigidity and stability and provide a total cleaner aesthetic. This is also part of overall cleaner design that features a single 8 pin PCIe power connection for less cable connections and simpler and cleaner cable routing.
Specifically designed fans that feature a dust proof fan design which double seals the hub assembly for superior reliability and ensured performance. In addition a carefully tuned fan curve enabling great CFM but quiet rotation. The VBIOS also has been implemented to support a specialized 0dB operating mode allowing the card under light gaming loads to have the fans cease operation and allow for the quietest fan operation possible.
Factory overclocked – Offering faster Base Clock, GPU BOOST clock and memory speeds compared to the reference design. In addition due to the advanced thermal performance of the DirectCU II heatsink and fan assembly along with non reference PCB and VRM assembly the card further boosts beyond the defined OC values offering faster performance that the reference design.
For those looking for a video overview make sure to check out our PCDIY STRIX GTX 970 Overview.
So with some of these key features noted lets take a closer look at the GTX 970 STRIX featuring DirectCU II.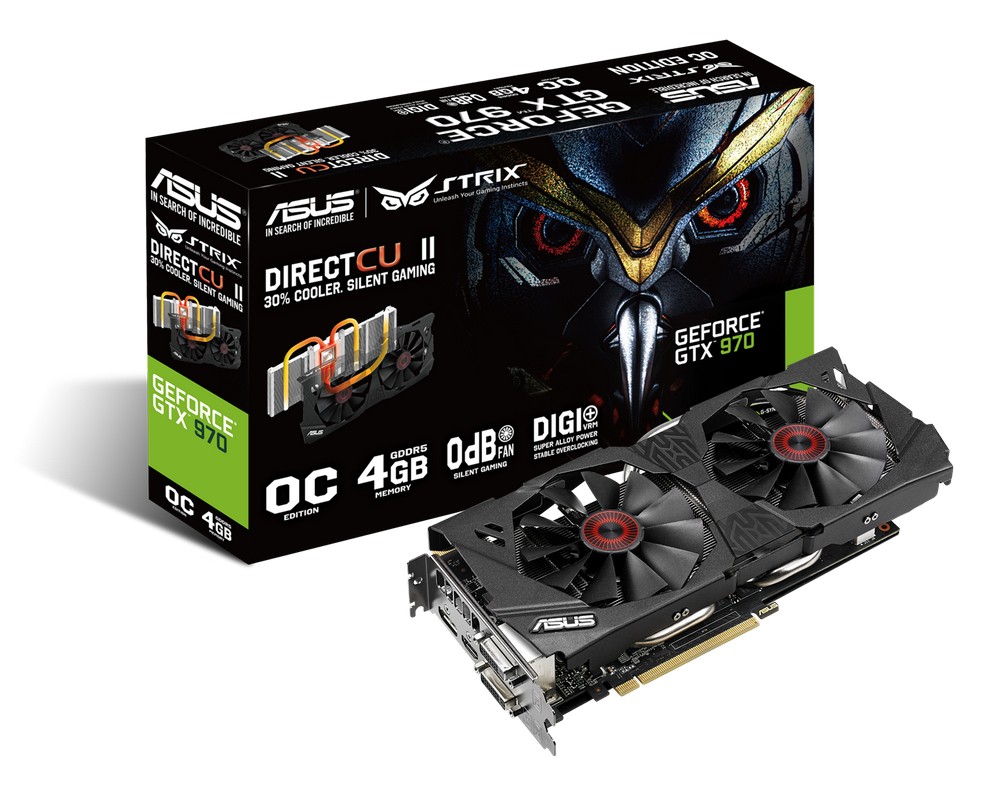 Below we have some additional photos that allow you to get a sense of the new aesthetic which is part of the STRIX redesign and branding. The shroud which covers the heatsink assembly is made of metal adding a premium look and feel to the card. The clean black aesthetic compliments just about any type of system while maintaining a unique and aggressive styling. You can also see the high performance nickel plated heatpipes including the ultra large 10mm direct contact copper heatpipe coming from the center. Moving from the front to back you can see the backplate which is also made of metal and features printing in the optimal orientation to allow users to see it and read it when visible through a chassis which features a clear side panel.
Before we jump into the the rest of the specifications and features and overall design there are a number of exclsuive NVIDIA features present on this GPU / graphics card as well as new features and functionality introduced specifically for the GTX 970.
GeForce Technologies featured on the GTX 970
Features
NVIDIA Maxwell™
This is NVIDIA's most advanced architecture ever, delivering incredible performance and unmatched power efficiency. Plus, it offers cutting-edge features like advanced sampling and Dynamic Super Resolution technology that delivers 4K-quality gaming—even on 1080p displays.
Multi-Frame sampled Anti-Aliasing (MFAA)
MFAA delivers a 30% performance boost while maintaining smooth, high-quality edges by alternating sample calculations across each frame and each pixel.
Learn more
Dynamic Super Resolution (DSR)
This innovative feature can delivers 4K fidelity to 1080p displays for exceptional detail and image quality.
Learn more
Voxel Global Illumination (VXGI)
Part of the NVIDIA GameWorks™ library for developers, VXGI accelerates dynamic lighting effects for a truly immersive, cinematic experience.
Learn more
GeForce Experience™
The easiest way to optimize your games and keep your drivers up to date, the GeForce Experience application automatically notifies you of new driver releases from NVIDIA. With a single click, you'll be able to update the driver directly, without leaving your desktop. You can also capture and share 4K gameplay with NVIDIA ShadowPlay™.
NVIDIA GameStream™
Stream extreme GeForce GTX PC gaming experiences to portable devices like NVIDIA SHIELD™ with super-smooth, low-latency performance.
NVIDIA G-SYNC™
This groundbreaking new display technology delivers the smoothest and fastest gaming experience ever. G-SYNC's revolutionary performance is achieved by synchronizing display refresh rates to the GPU in your GeForce® GTX™-powered PC, eliminating screen tearing and minimizing display stutter and input lag. Scenes appear instantly, objects look sharper, and gameplay is super smooth, giving you a stunning visual experience and a serious competitive edge.
NVIDIA GPU Boost™ 2.0
This innovative technology allows gamers to push PC performance to the maximum with precise controls. It intelligently monitors work with advanced controls like GPU temperature target, overclocking, and overvoltage to ensure that the GPU works at peak performance.
Learn more
NVIDIA Adaptive Vertical Sync
Nothing is more distracting than frame rate stuttering and screen tearing. The first tends to occur when frame rates are low, the second when frame rates are high. Adaptive VSync is a smarter way to render frames. At high framerates, VSync is enabled to eliminate tearing. At low frame rates, it's disabled to minimize stuttering.
NVIDIA Surround™ with up to Four Monitors
Now, you can play your favorite games across four monitors. At 5760 x 1080, the expanded field of view fully engages peripheral vision and provides for the most immersive experience in racing and flight simulators.
NVIDIA SLI® Technology
Used by the most demanding gamers worldwide, SLI technology lets you link up to four NVIDIA SLI®-Ready cards together for astounding performance.
A closer look at the design of the STRIX 970 feautring DirectCU II with Dust Proof 0dB Fans, Digi+VRM with SAP Power Components
When looking at a graphics card there are always additional items that you may not be aware of. Many time this is due to the fact unlike a motherboard you cannot see the bare card or the PCB or the layers that have gone into the design and development. Here at PCDIY though we want to be able to provide this type of insight so lets take a look at the composition of the STRIX 970.
In the above photos you can see the layers of how the STRIX  GTX 980 is composed. It offers a visual breakdown of the multiple heat pipes and their continuous direct contact design. You can also see the large mass of the heatsink assembly which is 220% larger than that of the reference design. This combined with the dual fans is what helps efficiently & effectively  dissipate heat. Another benefit of the total thermal design is overall card and PCB temperature reduction. The reference card not only operates hotter in regards to core GPU temperature but whole the whole of card is hotter including the PCB temperature and its radative heat property.
Temperature Performance – How cool is it?
So speaking of temperatures, how are they? In one word IMPRESSIVE! This is an extremely cool running card. Considering that the card is factory overclocked beyond the clock speeds of the reference card and boosts beyond the 1253MHz GPU BOOST frequency it is even more impressive that card operates significantly cooler than the reference card which operates at a consistent 80c under load.
The reference card has operating temperatures under gaming load of approx 80c. The STRIX GTX 970 featuring DirectCU II has operating temperatures under gaming load in the range of 65 to 68c! In addition it is not only cooler but quieter.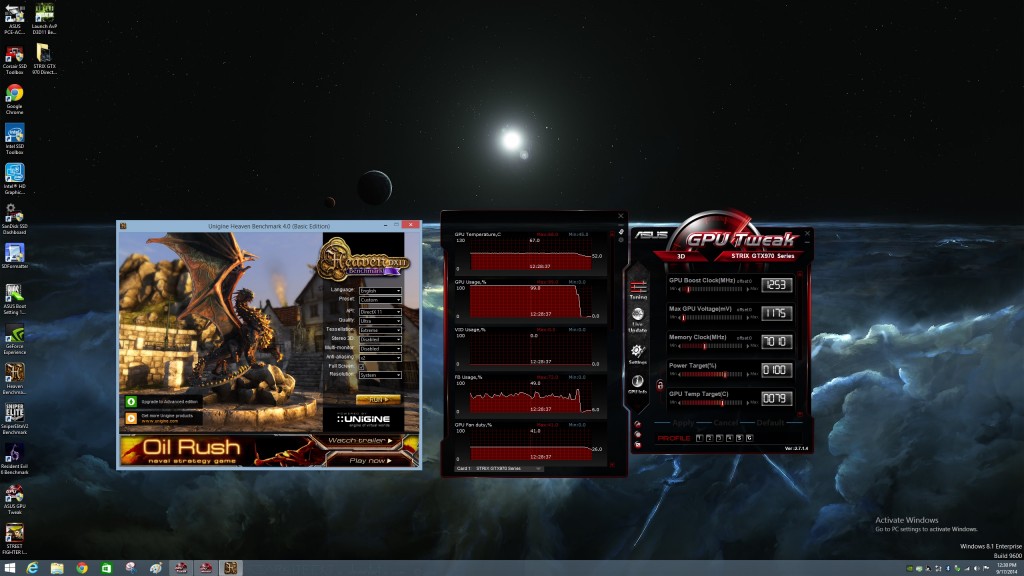 Acoustic Operation – How quiet is it?
Thanks to the large heatsink assembly and high performance continuous direct contact copper heatpipe design along with dual fan implementation the card does not have to aggressively ramp its fans. This helps to have the card operate at near silent levels under gaming load. I was truly impressed with how card this card was immediately audible unless I literally moved my ear up to the card. The card is deceptively quiet especially for its size. More impressive is the fact that this near silent operation is under demanding gaming loads as everything from checking your email to reading a website to watching videos or movies as well as light 3D game engines will not cause the STRIX to ramp it fans. In those idle or light loading situations the fans will operate at 0 RPM netting you a 0dB fan profile. To be clear the fans will not spin at all!
Check out the video below to see an example of 0dB in action ( so to speak ).
Under gaming load we saw the fans ramp up to 41% in regards to their fan duty, this equates to approximately a little over 1000 RPM.
In our testing the STRIX dual fans operate around 1020 – 1035RPM this is extremely low, so not only is the fan not aggressive but the tone of the fan is also extremely good. All the way around the STRIX offers an extremely quiet to silent gaming experience few cards if any outside of the STRIX can offer. This acoustic experience is truly impressive especially for a card offering such a high level of graphics performance. Do not forget as well that the card is overclocked so it is operating at a consistently faster GPU BOOST clock than the reference card.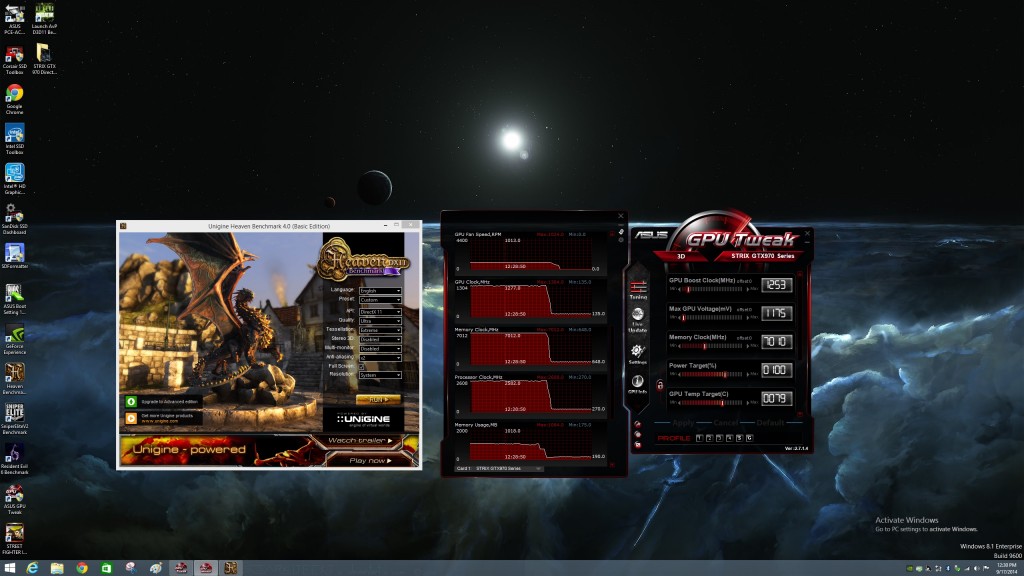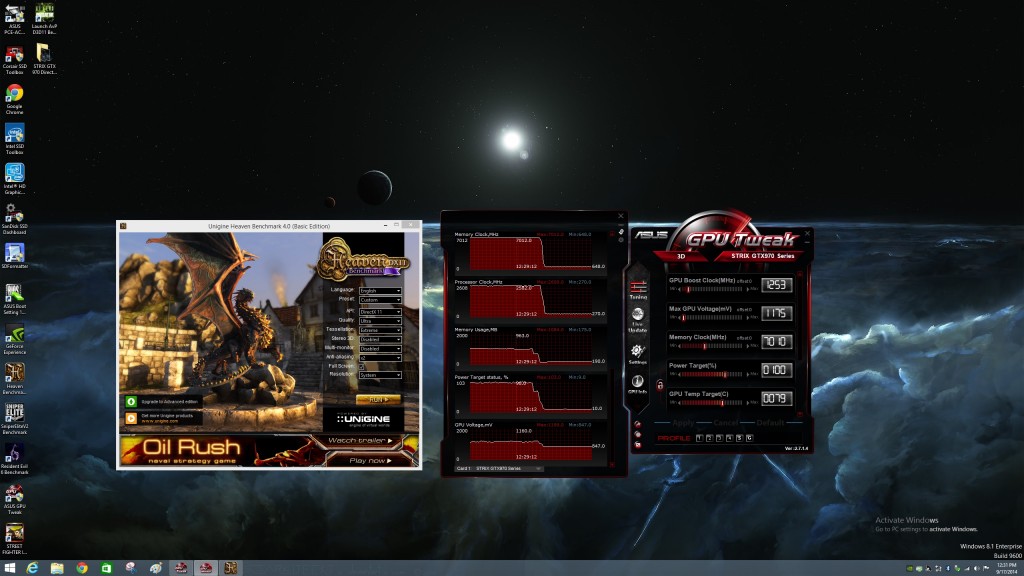 Moving beyond temperatures, acoustics and fan speeds I am sure there are those of you interested in finding out about the performance of the GTX 970. In most situations this is offering performance in the class of a GTX 780 and even a 780Ti, which when you consider it does it at lower temperatures, quieter operation and much lower power consumption is a testament to the efficiency of the Maxwell architecture. Additionally do not forget Maxwell has some considerable changes under the hood allowing for overall more efficient and superior performing overall engine operation such as additional ROPs for improved AA and high resolution performance, more L2 cache and new compression engine for memory. As we noted earlier the GPU BOOST clock for the STRIX is set to a higher level than that of the reference  GTX 970 further improving the performance overall of this GPU.
Clock speeds and specifications
Reference GTX 970
Base Clock – 1050
Boost Clock – 1178
STRIX GTX 970
Base Clock – 1114
Boost Clock – 1253
In addition to not only featuring a faster base and GPU BOOST clock the STRIX also boosts beyond the programmed GPU BOOST clock due to the thermal headroom afforded by the DirectCU II heatsink and fan assembly.
In our testing we found the GPU BOOST clock to be in the range of 1266 MHz – 1304 MHz! Overall this further pushes the performance of this card netting your improved frame rate and superior gaming experience.
More MHz – What about Overclocking?
As a self respecting enthusiast I of course wanted to see what performance I could further get of the STRIX. To do that I loaded up GPU TWEAK and began my overclocking journey. Keep in mind I had limited hands on time and while what I reached was impressive additional testing has already shown there is a lot more left in the tank. I was reward fairly quickly and easily. While all GPUs are different I would expect to see the majority of STRIX GTX 970 cards offer strong overclocking potential. I decided to focus on only increasing the GPU BOOST clock, memory frequency and the power target if required. I wanted to see what I could get without increasing any voltage. This also helps to minimize needing higher power targets and maximizing the overall overclocking scaling as well as minimizing temperature increases.
In the end I end up with a solid increase reaching the results below
GPU BOOST clock – 1300MHz
Memory clock – 7600MHz
Power Target – 110%
This was a fully stable overclock tested across 4 hours of active game play and additional 2 hours of benchmarking. Even under this fairly aggressive overclock the STRIX GTX 970 continued to operate with impressive temperature results never exceeding 70C! As well as remaining essentially inaudible with little impact to the fan duty% and the corresponding fan RPM. Overall this overclock peaked at GPU BOOST frequency of 1350MHz!  For those wondering what overclocking looks like on Maxwell and the GTX 970 I do not think many will be disappointted. I was further impressive by the scaling of the architecture and benefits I saw in gameplay as these overclocks translated into some very healthy gains in frame rate.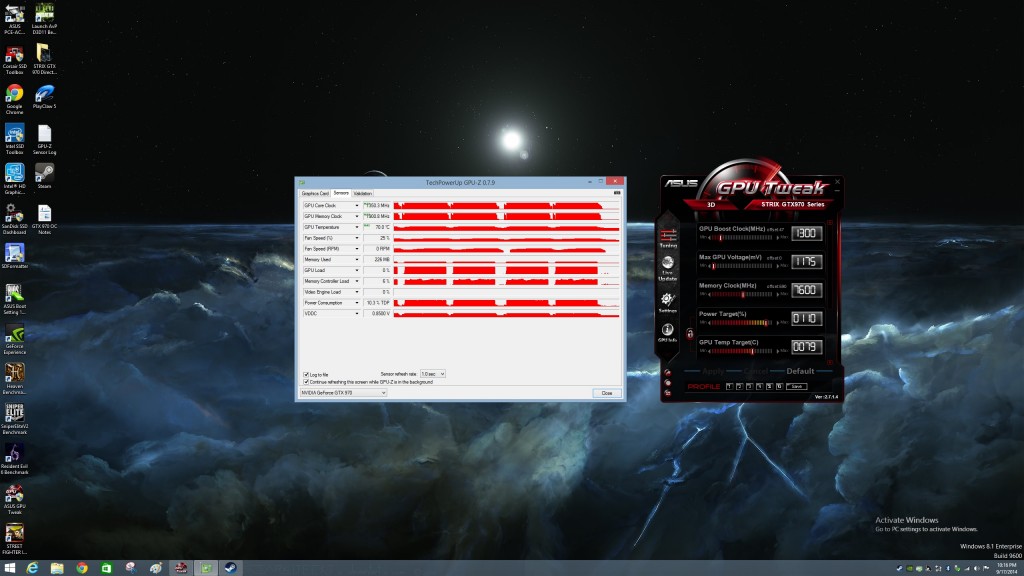 Conclusion – Is it worth it?
So after spending some quality time with the STRIX what is the verdict? In one word, OUTSTANDING! This is a beast of card that has outstanding out of the box performance and is extremely cool and quiet and still has room left int he tank for those that want to overclock. You add to that the superior aspects of the non reference design that improve reliability and evaluate the overall quality of the card and this is a GPU that is going to make a lot of gamers happy. Considering its aggressive price point and that it rivals the GTX 780 and even the GTX 780Ti and I am even more impressed. For gamers looking to crank up the IQ settings and drive 1080, 2560 or even 4K resolutions in SLI this is a great card. Having the ability to be able to use AA an still have great performance whether it be TXAA, FXAA, MSAA or SSAA is also very impressive add to that the new DSR resolution mode and this card can really benefit gamers across all resolutions and offer an improved IQ experience. Games looking for the best performance even at 1080P will love the ultra high frame rates that align with 120 and 144Hz monitors offering up the smoothest gameplay experience. Rounding it all our or further adding to an already impressive level of performance you have the NVIDIA exclusives some general and some specific to the 900 series like DX12 support, MFAA ( new AA implementation that is not game specific, Dynamic Super Resolution ( an advanced form super sampling ), Improvements in lighting with Global Illumination, VR optimization, CUDA hardware acceleration and much more including all the NVIDIA specific technologies like 3D Vision, G-SYNC, GeForce Experience and PhysX and there is little to nothing left to wish this card  hard. GeForce Experience gets an extra nod in really begin to be a big value add in offers easy driver update, single click game optimization that is really usable and customizable as well as offer hardware based HVEC video encoding up 4K and 60GPS! Heck you even get game streaming to a shield or tablet!
I can see this becoming a new GPU in the PCDIY labs as well as in my own home in at least two of my systems. One being the  HTPC / Steam Big Picture PC I have in my living room. An the other being my SFF mini ITX gaming PC. Then again whether it be mini, micro or ATX this GPU would find a home in any of these systems due to its performance and efficiency and cool and quiet operation. For even the most demanding users looking to step up to G-SYNC, Surround, 3D Vision or 4K pair two of these and SLI and you have the performance needed to offer some next Next Gen PC experiences. So definitely gets my seal of approval and recommendation and is seriously worth its relatively modest price tag.
Stay tuned for more content soon on the GTX 970 as well as our upcoming review on the STRIX GTX 980.
FAQ –