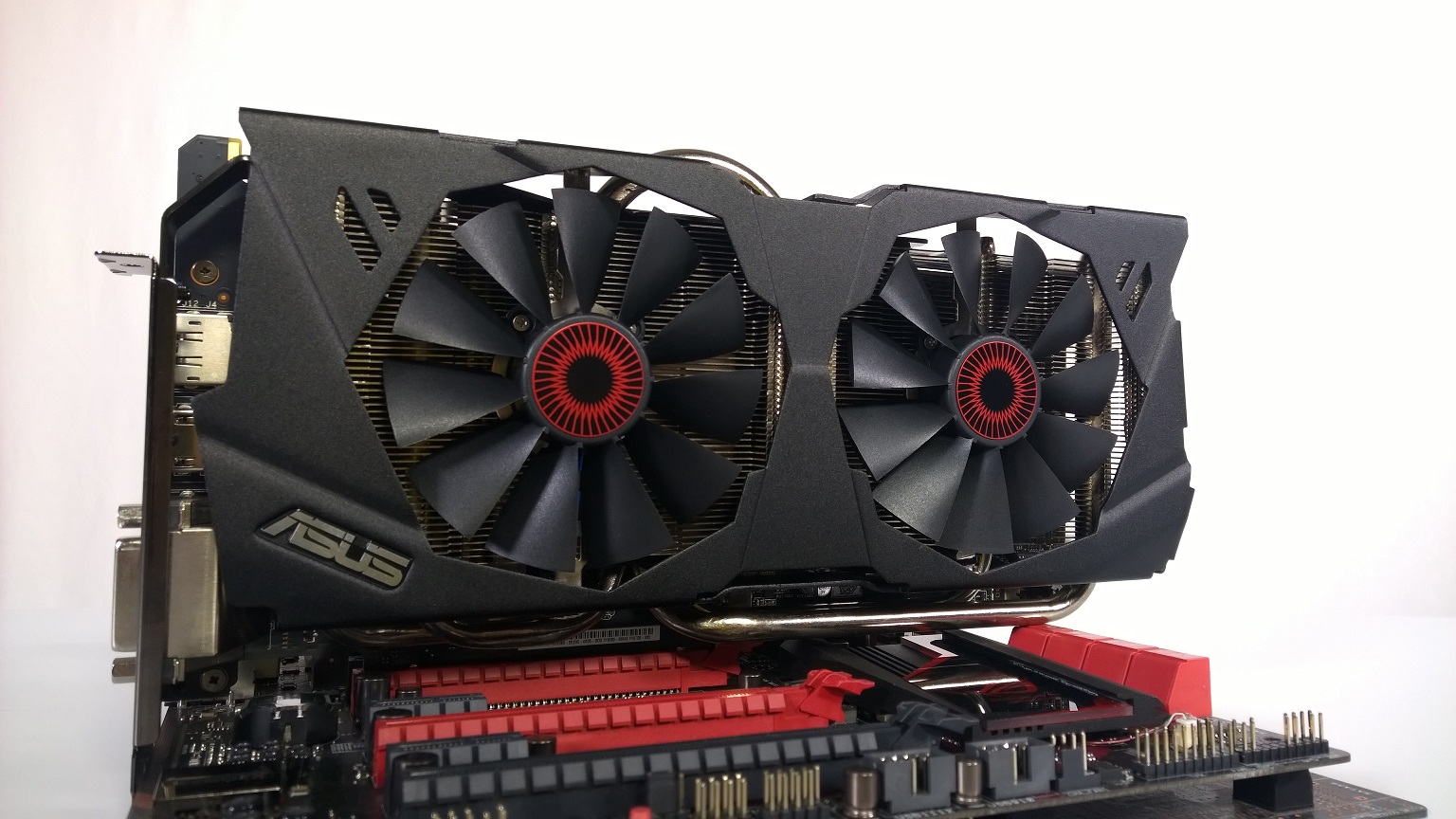 Do you ever get that feeling? That feeling of a undeniable grin coming across your face with the want, the need to smile and laugh, specifically a evil maniacal laugh? If you have recently it might be due to the recent NVIDIA launch of  new 900 series of GPUs; specifically the new single GPU flagship, the GTX 980. You are likely to have these symptoms even more so if you actually have one and you will absolutely have these symptoms if you have two. PCDIY was lucky enough to not only have hands on time with the latest flagship GPU based on the Maxwell architecture but better yet a full non reference GTX 980. Specifically the ASUS STRIX GTX 980, this card is purpose built to offer cooler, quieter and faster operation and a overall improved gaming experience compared to the already impressive metrics of the reference GTX 980. So lets kick of this review and find out why this GPU is so special and how it differs and excels compared to the reference design.
ASUS and NVIDIA have been busy behind the scenes recently working on two new high performance GPUs specifically the GTX 980 and the GTX 970. We recently took at look at the "little brother" to the GTX 980 in the extremely efficient but extremely fast GTX 970. This card set a amazing new benchmark in efficiency and performance per WATT. It also set a high bar in what the expectations would be for the GTX 980 as it is based on the same Maxwell architecture. I am excited to report after spending some quality time with the STRIX GTX 980 it did not disappoint whether it be the temperatures, acoustics or performance and especially the overclocking. This card is based on the previously introduced Maxell architecture featured in the midrange GTX 750 series of GPUs. We have been waiting to see what this type of architecture with further improvements and additions would bring to the table with higher end GPUs. The wait is now over. Earlier this month the GTX 900 series of GPUs launched including the new single GPU flagship outside of the GTX TITAN which has some slight benefits including larger VRAM compared to the GTX 980 but in all the ways that count the TITAN loses out to the GTX 980. While the GTX 980 does not displace the TITAN it does a a very close job of it at almost half the price. This GPU is truly a "crank it up" class of GPU. Whether it be image quality settings or resolution this card is purpose built to crank up those dials up and  enable gaming at the highest levels of performance, IQ ( image quality ) and immersion that the PC allows for. It checks off about every box a enthusiast PC gamer could ask for in a graphics cards while bringing a number of improvements and additions that are welcomed surprises.
For this generation there will be no initial reference GTX 980 from ASUS. Instead almost right at launch ASUS will be able to bring its design expertise and experience to table with a full non reference design. The card will be available very close to the launch time frame. This is welcomed news as normally it can be months before a non reference version of the high end GPUs is released. Luckily here in the PCDIY labs we were able to get our hands on a few for testing before official availability. For those of you who are not aware of the meaning of "non reference", it means board partners like ASUS develop their own designs around the GPU including the PCB, VRM, heatsink and fan assembly and even display I/O. In some situations it can be inferior to the reference design when vendors are looking to only cut costs but in the case of ASUS and the STRIX GTX 980 you get a considerable range of improvements that enhance the card in a number of ways. These elevate the graphics card as a whole and produce a improved experience whether it be performance, temperatures or acoustics as well as reliability. So what does the ASUS STRIX non reference get you?
A fully customized PCB and power delivery implementation with a digital PWM – Offering improved on board power delivery components ( such as SAP 5K capacitors, SAP mosfets and high performance drivers, SAP fully molded alloy chokes ) with superior ratings, efficiency and thermal performance these VRM components enhance the power delivery thresholds and capabilities of the card. The fully molded inductors "chokes" also help to reduce or eliminate coil whine which along with the heatsink and fan assembly help to provide an extremely quiet level of operation under load.
Customized heatsink and fan assembly for superior cooling performance and quieter operation – This card will actually operates up to 30% cooler  and up to 3x quieter than the reference design. Additionally the STRIX features a special 0dB fan operating mode where under light gaming loads the card offers an even quieter gaming experience as the fans will not spin. The heatsink assembly is over 200% larger and features 5 nickel plated direct contact continuous copper heatpipes including a primary ultra large 10mm heatpipe for extremely effective thermal dissipation. Additionally a VRM heatsink is utilized to further ensure cool and stable operation whether stock or overclocked.
Clean aggressive aesthetic styling that compliments a wide range of systems builds and includes a back plate to assist in card rigidity, stability & minimizes torsion as well as provide a cleaner aesthetic. Additionally users can customize the look of the card with two included metal accent stripes in red or black..
Specifically designed fans that feature a dust proof fan design which double seals the hub assembly for superior reliability and ensured performance. In addition a carefully tuned fan curve provides great CFM but minimizes on using an aggressive fan duty cycle which causes higher RPMs and more noticeable fan hum. The VBIOS also has been implemented to support a specialized 0dB operating mode allowing the card under light gaming loads to have the fans cease operation and allow for the quietest fan operation possible.
Factory overclocked – Offering a faster base clock, GPU BOOST clock and memory clock compared to the reference design. In addition due to the advanced thermal performance of the DirectCU II heatsink and fan assembly along with non reference PCB and VRM assembly the card further boosts beyond the defined OC values offering faster performance that the reference design.
For those looking for a video overview make sure to check out our PCDIY STRIX GTX 980 Overview. It goes into extensive detail regarding the architecture, specifications, features & functionality as well as performance and overclocking.
So with some of these key features noted lets take a closer look at the GTX 980 STRIX featuring DirectCU II. Right away you can see a considerable difference between the STRIX GTX 980 compared to the reference design. The STRIX offers an entirely different aesthetic that is more aggressive and distinctive. The heat sink and fan assembly looks considerably more robust due to its dual fan design which focuses on improved cooling performance and acoustics leveraging a dual fan design along with a much larger heat sink assembly which incorporates high performance nickel plated copper heat pipes. Compared to the smaller heat sink and fan blower design of the reference GTX 980.
Below we have some additional photos that allow you to get a sense of the new aesthetic which is part of the STRIX redesign and branding. The shroud which covers the heatsink assembly is made of metal adding a premium look and feel to the card. The clean black aesthetic compliments just about any type of system while maintaining a unique and aggressive styling that is distinctive. You can also see the high performance nickel plated heatpipes including the ultra large 10mm direct contact copper heatpipe coming from the center of the heat sink assembly. Moving from the front to the back you can see the back plate which is also made of metal and features printing in the optimal orientation to allow users to see it and read it when visible through a chassis which features a clear side panel.
Before we jump into the the rest of the specifications, features and overall design there are a number of exclusive NVIDIA features present on this GPU / graphics card as well as new features and functionality introduced specifically for the GTX 980.
GeForce Technologies featured on the GTX 980
Features
NVIDIA Maxwell™
This is NVIDIA's most advanced architecture ever, delivering incredible performance and unmatched power efficiency. Plus, it offers cutting-edge features like advanced sampling and Dynamic Super Resolution technology that delivers 4K-quality gaming—even on 1080p displays.
Multi-Frame sampled Anti-Aliasing (MFAA)
MFAA delivers a 30% performance boost while maintaining smooth, high-quality edges by alternating sample calculations across each frame and each pixel.
Learn more
Dynamic Super Resolution (DSR)
This innovative feature can delivers 4K fidelity to 1080p displays for exceptional detail and image quality.
Learn more
Voxel Global Illumination (VXGI)
Part of the NVIDIA GameWorks™ library for developers, VXGI accelerates dynamic lighting effects for a truly immersive, cinematic experience.
Learn more
GeForce Experience™
The easiest way to optimize your games and keep your drivers up to date, the GeForce Experience application automatically notifies you of new driver releases from NVIDIA. With a single click, you'll be able to update the driver directly, without leaving your desktop. You can also capture and share 4K gameplay with NVIDIA ShadowPlay™.
NVIDIA GameStream™
Stream extreme GeForce GTX PC gaming experiences to portable devices like NVIDIA SHIELD™ with super-smooth, low-latency performance.
NVIDIA G-SYNC™
This groundbreaking new display technology delivers the smoothest and fastest gaming experience ever. G-SYNC's revolutionary performance is achieved by synchronizing display refresh rates to the GPU in your GeForce® GTX™-powered PC, eliminating screen tearing and minimizing display stutter and input lag. Scenes appear instantly, objects look sharper, and gameplay is super smooth, giving you a stunning visual experience and a serious competitive edge.
NVIDIA GPU Boost™ 2.0
This innovative technology allows gamers to push PC performance to the maximum with precise controls. It intelligently monitors work with advanced controls like GPU temperature target, overclocking, and overvoltage to ensure that the GPU works at peak performance.
Learn more
NVIDIA Adaptive Vertical Sync
Nothing is more distracting than frame rate stuttering and screen tearing. The first tends to occur when frame rates are low, the second when frame rates are high. Adaptive VSync is a smarter way to render frames. At high framerates, VSync is enabled to eliminate tearing. At low frame rates, it's disabled to minimize stuttering.
NVIDIA Surround™ with up to Four Monitors
Now, you can play your favorite games across four monitors. At 5760 x 1080, the expanded field of view fully engages peripheral vision and provides for the most immersive experience in racing and flight simulators.
NVIDIA SLI® Technology
Used by the most demanding gamers worldwide, SLI technology lets you link up to four NVIDIA SLI®-Ready cards together for astounding performance.
A closer look at the design of the STRIX 980 featuring DirectCU II with Dust Proof 0dB Fans, Digi+VRM with SAP Power Components
When looking at a graphics card there are always additional items that you may not be aware of especially when it comes to a non reference card. Many times this is due to the fact unlike a motherboard you cannot see the bare card or the PCB or the layers that have gone into the design and development.These layers tend to be hidden under the heat sink and fan assembly. Here at PCDIY our goal is to provide insight and understanding so we want to look at all aspects of the non reference design including what each of those previous layers are and what they bring to the table.
In the above photos you can see the "layers" of how the STRIX  GTX 980. It offers a visual breakdown of the multiple copper heat pipes and their continuous direct contact design. You can also see the large mass of the heatsink assembly which is 220% larger than that of the reference design. This combined with the dual fans is what helps efficiently & effectively dissipate heat from the GPU. Another benefit of the total thermal design is overall card and PCB temperature reduction. The reference card not only operates hotter in regards to core GPU temperature but whole the whole of card is hotter including the PCB temperature. Both of these influence the overall radiative heat output of the graphics card as well.
Of course to take a much closer look we need to disassemble the card. The great thing about a STRIX graphics card compared to the reference card and other vendors is the simplicity in how you dissemble it. It only takes four screws. This simple design is effective and very easy for enthusiasts to execute and allows for enthusiasts to easily separate the PCB from the heat sink and fan assembly. This is great for cleaning of the heat sink assembly, fans or re application of thermal compound. When put in perspective compared to the complexity and time needed to dissemble the reference card these ( 4 ) small screws are a big plus especially considering the reference design generally consists of up 15 to 20 screws in vary locations and varying threads.
So first up we can see the full metal back plate of STRIX GTX 980. Not only does it look great but it helps to add rigidity and stability and minimize torsion of the card. Additionally it helps to mitigate card sag. On top of all that it looks great.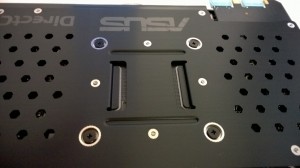 Here we can begin to see up close the impressive continuous direct contact copper heat pipe implementation ( all 5 of them including an ultra large 10mm heatpipe ). You can also get  a closer look at all the high performance heat pipes which are nickel plated for resistance against oxidation. As a whole you can see the impressive massive finned heatsink assembly which is 220% larger than the reference heatsink assembly. Looking at the heatsink assembly in this way really helps you to see the dissipation ability of the heatsink assembly.
Moving on from the heat sink assembly to the PCB you can see attention to detail and clean layout highlight by the use of a high quality matte black PCB. Looking across the PCB you easily see the clean component layout which includes premium VRM components which include 5K SAP capacitors ( which offer twice the lifespan of normal capacitors ), SAP fully molded inductors ( chokes ) as well as a VRM heat sink. The phase array is twice that of the reference design while not only offering higher amperage out ( power output capabilities which is great for overclocking ) the inductors are fully molded which aides in the reduction or elimination of coil whine as well. Additionally these advanced inductors "chokes"  offer superior performance across a number of metrics.Below the VRM heat sink  and directly next to the capacitors and chokes we have the SAP mosfets and high performance drivers. These offer great voltage thresholds and great efficiency and thermal performance. All these combined with the Digital PWM on the board create the non reference power delivery offering superior phase loading and high voltage thresholds along with higher power output capability and superior thermal performance.
980 power phase design comparison
Reference design : 4+1phase  35A
STRIX GTX 980 : 8+2 phase  43A
In addition the STRIX GTX 980 features a premium digital PWM offering advanced performance, superior transient response and more. Rounding out other elements are advanced fuse protection circuits and power LEDs to help confirm power delivery to the GPU. As part of the total heat sink and fan assembly and the back plate you also have a brace which aides in providing stability, rigidity and reduction of torsion.
Temperature Performance – How cool is it?
So speaking of temperatures, how are they? In one word IMPRESSIVE! This is an extremely cool running card. Considering that the card is factory overclocked beyond the clock speeds of the reference card and boosts beyond the 1279 MHz GPU BOOST frequency it is even more impressive that card operates significantly cooler than the reference card which operates at a consistent 80c under load.
The reference card has operating temperatures under gaming load of approx 80c. The STRIX GTX 980 featuring DirectCU II has operating temperatures under gaming load in the range of 65 to 68c! In addition it is not only cooler but quieter.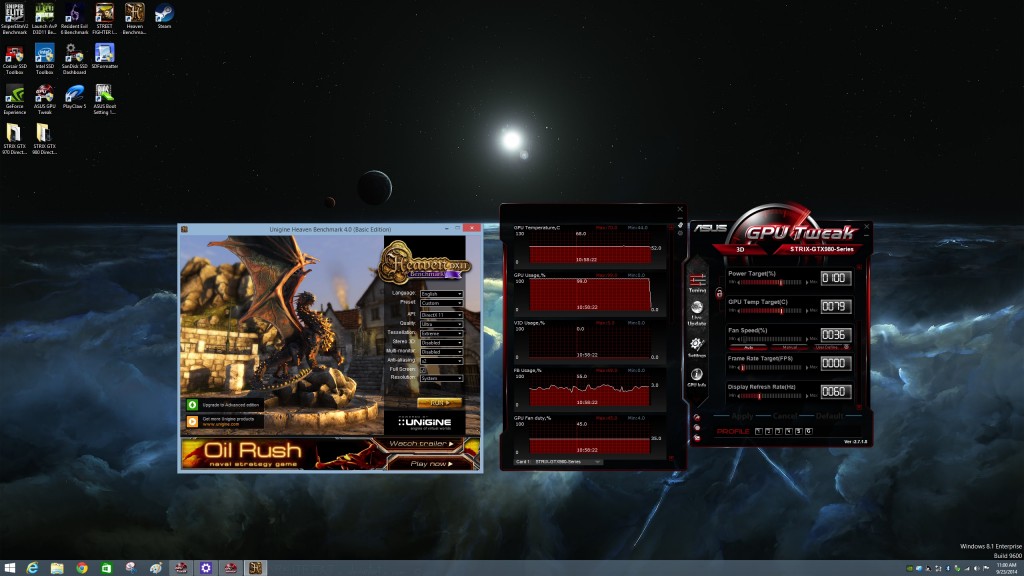 Acoustic Performance – How quiet is it?
Thanks to the large heatsink assembly and high performance continuous direct contact copper heatpipe design along with dual fan implementation the card does not have to aggressively ramp its fans. This helps to have the card operate at extremely quiet levels under gaming load. I was truly impressed with how card this card was close to inaudible unless I literally moved my ear up to the card. The card is deceptively quiet especially for its size. More impressive is the fact that this near silent operation is under demanding gaming loads as everything from checking your email to reading a website to watching videos or movies as well as light 3D game engines will not cause the STRIX to ramp it fans. In those idle or light loading situations the fans will operate at 0 RPM netting you a 0dB fan profile. To be clear the fans will not spin at all!
Check out the video below to see an example of 0dB in action ( so to speak ).
Under gaming load we saw the fans ramp up to 45% in regards to their fan duty, this equates to approximately 1260 RPM.
In our testing the STRIX dual fans operate around 1250 – 1260 RPM this is very low, so not only is the fan not aggressive but the tone of the fan is also extremely good. As an equailent the majority of "quiet fans" on the market are targeted at 1200 RPM so this gives you an idea of the target profile of the fans operating metrics. All the way around the STRIX offers an very quiet to silent gaming experience few cards if any outside of the STRIX can offer. This acoustic experience is truly impressive especially for a card offering such a high level of graphics performance. Do not forget as well that the card is overclocked so it is operating at a consistently faster GPU BOOST clock than the reference card.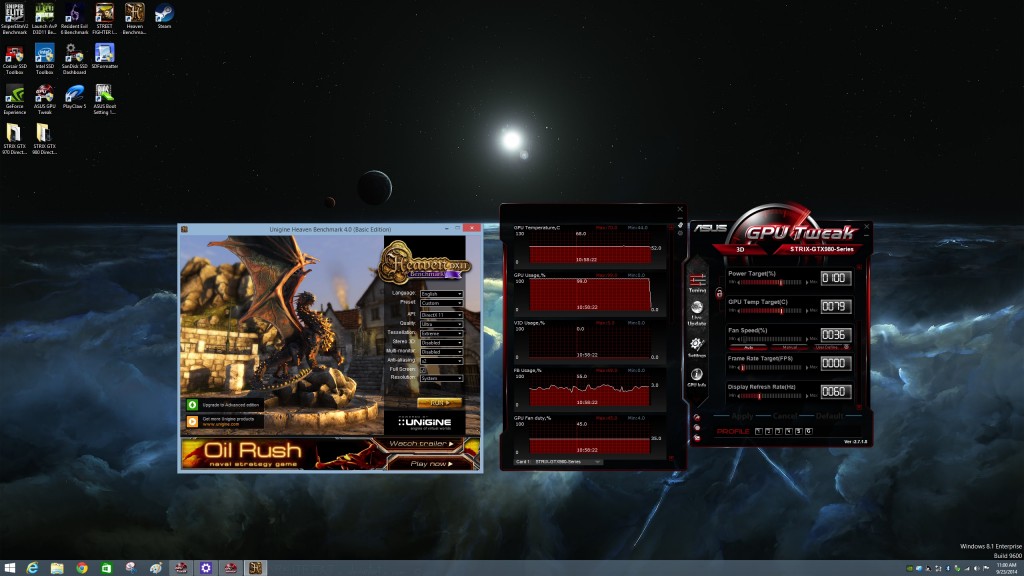 Moving beyond temperatures, acoustics and fan speeds I am sure there are those of you interested in finding out about the performance of the GTX 980. In most situations the GTX 980 offers faster performance than the GTX 780 and even the GTX 780Ti, which when you consider it does it at lower temperatures, quieter operation and much lower power consumption the performance it offers is a testament to the efficiency of the Maxwell architecture and the improvements in design of the GPU. Additionally do not forget Maxwell has some specific improvements that improve performance for latest generation of game engines and resolution. Some of these include additional ROPs for improved AA and high resolution performance, more L2 cache and new compression engine for memory. Additionally as we noted earlier the GPU BOOST clock for the STRIX is set to a higher level than that of the reference  GTX 980 further improving the performance overall of this GPU.
Clock speeds and specifications
Reference GTX 980
Base Clock – 1126
Boost Clock – 1216
STRIX GTX 980
Base Clock – 1178
Boost Clock – 1279
In addition to not only featuring a faster base and GPU BOOST clock the STRIX also boosts beyond the programmed GPU BOOST clock due to the thermal headroom afforded by the DirectCU II heatsink and fan assembly.
In our testing we found the GPU BOOST clock to be in the range of 1303 MHz – 1316 MHz! Overall this further pushes the performance of this card netting your improved frame rate and superior gaming experience.
More MHz – What about Overclocking?
As a self respecting enthusiast I of course wanted to see what performance I could further get of the STRIX. To do that I loaded up GPU TWEAK and began my overclocking journey. Keep in mind I had limited hands on time and while what I reached was impressive additional testing has already shown there is a more left in the tank. I was rewarded fairly quickly and easily. While all GPUs are different I would expect to see the majority of STRIX GTX 980 cards offer strong overclocking potential. I decided to focus on only increasing the GPU BOOST clock, memory frequency and the power target if required. I wanted to see what I could get without increasing any voltage. This also helps to minimize needing higher power targets and maximizing the overall overclocking scaling as well as minimizing temperature increases.
In the end I end up with a solid increase reaching the results below
GPU BOOST clock – 1375MHz
Memory clock – 7600MHz
Power Target – 110%
This was a fully stable overclock tested across 4 hours of active game play and additional 2 hours of benchmarking. Even under this fairly aggressive overclock the STRIX GTX 980 continued to operate with impressive temperature results never exceeding 71C! As well as remaining essentially inaudible with little impact to the fan duty% and the corresponding fan RPM. Overall this overclock peaked at GPU BOOST frequency of 1413 MHz!  For those wondering what overclocking looks like on Maxwell and the GTX 980 I do not think many will be disappointed. I was further impressed by the scaling of the architecture and benefits I saw in game play as these overclocks translated into some very healthy gains in frame rate.
Pushing it even further – More MHz!
We had originally planned to stop overclocking once we reach around 1.4 GHz and 7.6 GHz on the memory. During the course of overclocking though we found the overclocking to be so solid and smooth we kept pushing the card further and further seeing where the limits of the card would be. We additionally tested a few other samples to see their respective OC ranges. During the coures of this testing we found GPU BOOST frequency to be able to consistently be set to 1300 – 1350 without any issues and easily exceed that. Memory on the other hand had a lot of room but we saw some cards not exceed 7.6 GHz but some reach 7.8 GHz and even 8.0 GHz. Tie this together with our peak stable overclocks of 1.425 or 1.450 and you can begin to understand the ear to ear grin we had with the results of this card. Based on some additional test beyond that there is still some additional MHz left in the tank for those looking for every single last drop of frequency. Keep in mind that at these frequencies when accounting for GPU BOOST under load you are looking at frequency just shy of 1.5 GHz!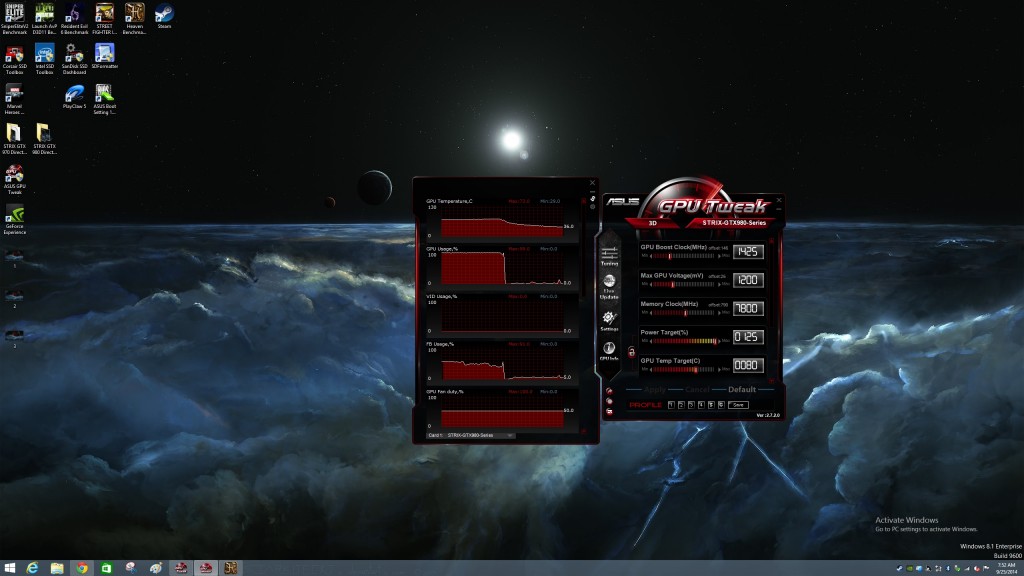 Conclusion – Is it worth it?
So after spending some quality time with the STRIX what is the verdict? In one word, OUTSTANDING! This is a beast of card that has outstanding out of the box performance and is extremely cool and quiet and still has room left int he tank for those that want to overclock. In fact this may have been the best overclocking experience I have had on a GPU in some time. Working with a wide range of high performance non reference cards the experience I had is even more telling. You add to that the superior aspects of the non reference design that improve reliability and evaluate the overall quality of the card and this is a GPU that is going to make a lot of gamers happy. Considering that its price point comes under that of the GTX 780Ti and offers performance faster than a Ti and with improved features and functionality the value proposition is very solid. While this is not a card for the every man this is a card that definitely has a place for image quality enthusiasts and gamers looking to push into ultra high resolutions.For gamers looking to crank up the IQ settings and drive 1080, 2560 or even 4K resolutions in SLI this is a great card. Having the ability to be able to use AA an still have great performance whether it be TXAA, FXAA,the new MFAA or gold standard AA types like MSAA or SSAA is also very impressive. Add to that the new DSR resolution mode and this card can really benefit gamers across all resolutions while offering the best IQ experience possible. Games looking for the best performance even at 1080P will love the ultra high frame rates that align with 120 and 144Hz monitors offering up the smoothest gameplay experience.
Moving aspects of image quality and frame rate you new features and functions as well as NVIDIA exclusives some general and some specific to the 900 series like DX12 support, MFAA ( new AA implementation that is not game specific, Dynamic Super Resolution ( an advanced form super sampling ), Improvements in lighting with Global Illumination, VR optimization, CUDA hardware acceleration and much more including all the NVIDIA specific technologies like 3D Vision, G-SYNC, GeForce Experience and PhysX. When you stop to evaluate everything the card is offering it is hard to not appreciate the total value. Even display enthusiasts can rejoice in the support for 5K resolution output support or 3 DP ports than enable G-SYNC surround or 4K surround. Icing on the cake comes in the form of the continually improving GeForce Experience software which offers easy drivers update, single click game optimization that also offers the ability to be customized with a slider focusing on image quality or frame rate / performance. Add to that hardware based HVEC H.265 video encoding up 4K and 60GPS and what more could you really want out of a graphics card upgrade. Oh and did I mention you have GameStream allowing you to streaming out PC titles to NVIDIA shield devices.
For gamers who last upgrade in the 500 series or 600 series this is a no brainer upgrade offering significantly improved performance, massive feature and functionality upgrades all while offer impressive temperatures, acoustics and outstanding power consumption. For gamers building new system with a focus on the highest frame rate or image quality or the best playable combination of both this is the GPU for you.
FAQ –