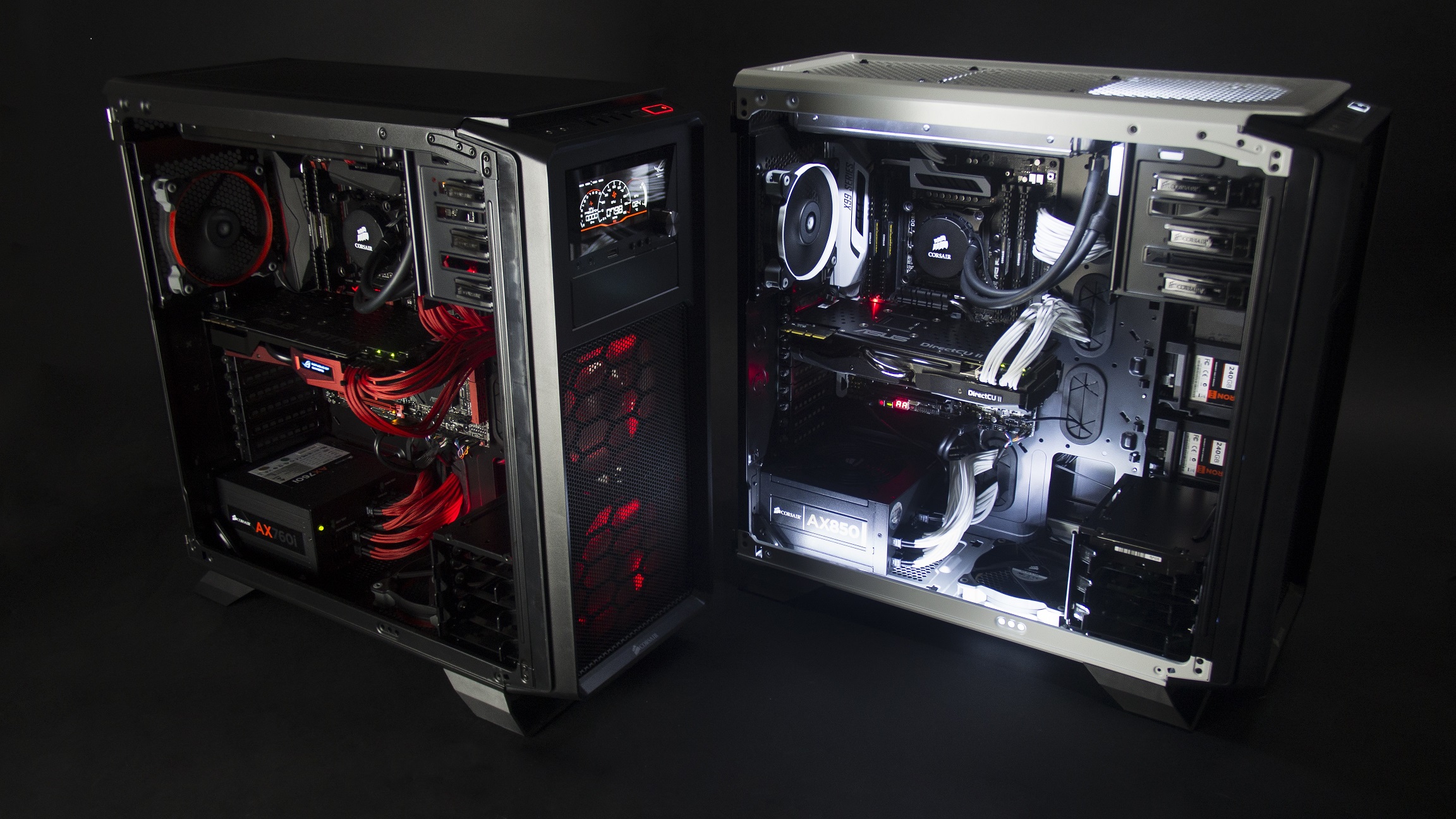 Today is the launch of a brand new ultra high end enthusiast platform. Specifically the X99 chipset and latest generation Haswell-E based CPUs. For users looking for the most cores, cache, PCIe lanes, DDR4 and overclocking look no further. This platform is tailor made for users looking for the most complete list of features, functionality and core specifications. Whether it be gaming, content creation or general productivity this platform offers truly impressive performance.
I have spent some time to outline a build recommendation for users looking to kick off building a X99 based system featuring the latet Haswell-E CPU. To make the process easier I have detailed a PC Part Picker link below to make it easy to reference what components are being utilized. I will be updating it with the X99 DELUXE motherboard once PC PartPicker updates their database.
PCPartPicker part list: http://pcpartpicker.com/p/2MwLdC
CPU: Intel Core i7-5960X 3.0GHz 8-Core Processor ($1049.99 @ Newegg)
CPU Cooler: Corsair H105 73.0 CFM Liquid CPU Cooler ($114.99 @ Newegg)
Memory: Corsair Vengeance LPX 16GB (4 x 4GB) DDR4-2666 Memory ($324.99 @ Newegg)
Storage: Corsair Force LX Series 512GB 2.5″ Solid State Drive ($239.99 @ Newegg)
Video Card: Asus GeForce GTX 780 3GB DirectCU II Video Card ($456.00 @ Newegg)
Case: Corsair 500R White ATX Mid Tower Case ($129.99 @ Newegg)
Power Supply: Corsair CX 750W 80+ Bronze Certified Semi-Modular ATX Power Supply ($79.99 @ Newegg)
Optical Drive: Asus DRW-24F1ST DVD/CD Writer ($14.99 @ Newegg)
Operating System: Microsoft Windows 8.1 (OEM) (64-bit) ($99.99 @ Newegg)
Total: $2510.92
Prices include shipping, taxes, and discounts when available
Generated by PCPartPicker 2014-08-29 16:55 EDT-0400
CPU: Intel Core i7-5960x Processor Extreme Edition
This is pretty much the biggest and baddest CPU you can get currently for a mainstream enthusiast chipset. I use the word mainstream loosely as there is nothing mainstream about this CPU. It is the first 8 core 16 thread desktop class CPU part produced by Intel and features an updated Haswell based micro architecture which has impressive efficiency and amazing performance and a whole slew of the most advanced instructions set currently available. Being Haswell based also introduces Intel's FIVR which helps to ensure outstanding voltage regulation consistency. Additionally the update to the architecture of the CPU helps to improve its overall IPC performance compared to previous Sandy Bridge-E and Ivy Bridge-E based CPUs. Add to this its massive 20MB of L3 cache, 40 Gen 3.0 PCIe express lanes and you have a CPU that is designed to chew threw any game or workload and is purpose built for multi GPU configurations whether it be SLI or CROSSFIRE. In addition the 5960x  features an updated package design, improved TIM implementation and unlocked cores. All this and more help to ensure a great overclocking experience and easily enable you to crank up the CPUs performance into warp speed. Be prepared for some seriously impressive performance once you begin to break the 4.0GHz barrier the faster you can run this chip the more it will impressive you. Outside of the CPU and its architecture and its overclocking ccapabilitieswe have another very important feature. The Haswell-E IMC ( integrated memory controller ) supports DDR4. DDR4 ushers in an era of massive bandwidth and ultra high DRAM frequencies and soon to come much larger densities. This is going to be a CPU you grow into and a platform you also grow into. For users looking to ensure they have the best performance for "ultra or maximum" image quality settings, massive real time environments and complex AI this CPU will ensure the best performance possible. Anything short of ultra high resolution or ulta high bitrate content creation and they wont be anything out there that cannot be run on this system.
We have also found while many games generally are optimized for 1 to 4 cores and benefit equally from architecture cores and frequency extensive multicore CPUs like the 5960X help to ensure outstanding frame latency. Especially at ultra high resolutions such as 2560×1440, 3840×2160 or even much higher resolution in WQHD or 4K surround. Throw in multiple GPUs to which are easily handled by the extensive PCIe lanes afforded by the CPU and you can begin to see how it perfectly compliments an ultra high end gaming PC.
Secondary recommendations – i7-5930K and i7-5820K.
Both of these are outstanding choices and offer up 15MB of cache. The main reduction is in the number of cores and threads with both of these CPUs offering 6 core 12 threads. There is a slight difference in max turbo with the 5820K reaching 3.6GHz and the 5930K reaching 3.7GHz. This is fairly minimal and even less so when you consider you can overclock the SKUs easily to 4.0+Ghz. With that noted they will still offer outstanding performance and superior performance in multi threaded games and workloads compared to Devil's Canyon based CPUs.
Motherboard: ASUS X99 DELUXE
A truly "DELUXE" enthusiast class motherboard. This board offers up some truly advanced features and functions along with outstanding quality design ensuring superior stability, reliability and of course overclocking. This board has every key feature and function a PCDIY enthusiast could ask for. Ultra high quality VRM design for high quality and stable power delivery along with extremely efficient and cool operation, check. Helping to ensure extremely cool operation even under heavy overclocking and heavy load the DELUXE features an advanced VRM heatsink designed to ensure cool and stable operation it actually extends to a secondary heatsink that is layered into the back I/O helping to directly exhaust heat outside  of your chasiss. Moving to storage and general connectivity as well as PCIe expansion this board has you covered. For storage enthusiasts there 12 SATA ports including support for SATA EXPRESS. M.2 enthuiasts rejoice as support is present for up to x4 Gen 3.0 based SSDs. Rounding out general connectivity it has 14 USB 3.0 ports ( including two ( 2 ) front USB 3.0 headers ), 6 USB 2.0 ports ( including two ( 2 ) front USB 2.0 headers ). The DELUXE further up the ante on the connectivity front by offering support for Thunderbolt II via a expansion card. You add on to that dual Intel gigabit ethernet ports and 802.11AC ( 3×3 ) wireless with Bluetooth 4.0 and you have just about everything enthusiast level of connectivity  you could ask for.
Rounding out the on board design you have the absolute best fan controls available on a motherboard with 6 onboard headers that all support control in the UEFI BIOS or within the OS. Each header can be controlled in regards to its output signal. This means whether it be a DC 3 pin fan or a PWM 4 pin fan it can be controlled. Further refining and extending the fan controls, each header offers input mapping for temperature sources whether it be the CPU, VRM or MB or the PCH. Users can even use there own included thermosistor and create their own temperature input source whether it be the GPU, HD or SSD or even ambient temperature inside the chassis. Not enough for you every header supports full fan calibration allowing the fan curve to be automatically found so each fan can be optimally manged and tuned for the best performance and balance of acustics. Once calibrated users can name the fan headers making it easier to monitor as well as map the location of each fan. For the most demanding scenarios the DELUXE takes it to another level including a fan hub extension module that connects to the board allowing for a additional 3 fan headers for a total of 9. In addition 3 additional temperature input sources. The fan headers on the module have the same exact class of control and functionality as the onboard headers and are all controable via the UEFI or the OS. Making it even more useful users can map the input sources from module to the chassis fan headers on the motherboard. All the way around it does not get better than this when it comes to fan control flexibility , functionality and control.
Lastly for users looking for more the board offers a isolated sound design in Crystal Sound 2.0 featuring a fully isolated audio sub section with a Nichicon audio capacitors as well as a shielded audio codec and a Op Amp for improved dynamic range and SNR and dB level along with improved ability to drive headphones more efficiently and effectively. In addition there are specific profiles for IEM headphones, over the ear headphones or desktop speakers. For further audio customization and tuning these specifically created profiles your have newly developed presets created by the DTS sound group for music, moves or games. For users looking for any outstanding audio implementation already integrated on the motherboard Crystal Sound 2.0 has you taken care of.
There is a lot more including dynamic real time auto overclocking which is included as part of  AiSuite III motherboard utility. 5 Way Optimization  which features Auto Tuning and Fan Xpert III are are advanced system tuning utilities that are based in hardware, firmware and software. Auto Tuning is a truly impressive auto overclocking implementation that is specific to your CPUs margin, your cooling, your memory and even your PSU. No other auto overclocking implementation offers the consistency, stability and advanced control offered in Auto Tuning. For users looking to easily take advantaged of their K or X CPU this feature alone could be worth the board.
ASUS 5X Protection :
– ASUS DIGI+ VRM – 3 Phase digital power design
– ASUS Enhanced DRAM Overcurrent Protection – Short circuit damage prevention
– ASUS ESD Guards – Enhanced ESD protection
– ASUS High-Quality 5K-Hour Solid Capacitors – 2.5x long lifespan with excellent durability
– ASUS Stainless Steel Back I/O – 3x more durable corrosion-resistant coating
Memory: CORSAIR VENGEANCE LPX DDR4 Memory
For memory we have selected CORSAIR a grade A memory vendor offering up enthusiast class memory modules tailored made for superior stability, performance and overclocking. CORSAIR VENGEANCE LPX have been validated on ASUS X99 series motherboard for optimal compatibility stability and overclocking. Vengeance LPX memory is a new Corsair memory line designed for high-performance overclocking with a low-profile heatspreader made of pure aluminum for faster heat dissipation and the eight-layer PCB helps manage heat and provides superior overclocking headroom.  We have selected the 16GB 2666MHz kit this is a high performance kit that will offer up huge bandwidth enabling the best performance for bandwidth heavy applications and also help us get every last ounce of performance out of the platfrom. The density is a great choice as well. Most users traditionally use only between 4 to 8GB with the additional memory we can easily enable a RAM cache or RAM disk to further improve system performance. For our build we are going with white but CORSAIR offers these kits in a wide range of colors
Storage: CORSAIR FORCE LX SSD
With this being a high performance system we are focusing on solid state storage. We want to ensure a quick post and boot up time. At the same time we want to have enough room to be able to install not only the OS but core applications and a games. With the recent trend of many game titles installations being between 20 to 50GB+ we want to ensure we have sufficient room for multiple game installations. Additionally we want to have enough room that should be over provision the drive to offer superior read and write consistency overall the long term we can do so. The new FORCE LX is a great choice for price to performance. It offers a solid controller which while not as fast for all workloads as the NEUTRON GTX it offers very solid performance and is considerably faster than a mechanical HD.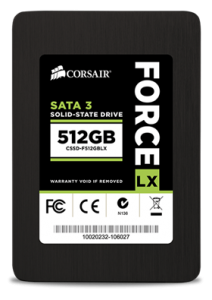 Video Card – Graphics Card: ASUS NVIDIA GeForce GTX 780Ti DirectCU II
As we are building a high performance gaming system that focuses on fluid performance and high image quality and at high resolution we have a select number of GPUs. Namely the GTX 780, GTX 780Ti or GTX TITAN BLACK. All are great options and it really comes down to the resolution you are looking at to play at. SLI is of course an option and can be a very good choice especially if the games you play offer SLI scaling. As we are trying to have this system be fast in whatever game we jump into the GTX 780Ti comes out in front the massive amount of CUDA cores ( 2880 ) along with the 1GHz plus GPU frequency and 7GHz GDDR5 frequency means this GPU is purpose built for outstanding fluidity and frame latency and a great game play experience. It also has no issues even at WQHD resolutions so if you want to consider a G-SYNC enabled monitor like our ROG SWIFT ( PG278Q ) you are ensured a great experience. Of course we are not going to pick any GTX 780Ti we are going with the GTX 780Ti DirectCU II. This is an absolute beast of a graphics card custom built from the ground up. A true non reference design meaning each part of the card has been improved upon to offer superior performance, cooler operation and quieter acustics. In addition the Digi+ VRM along with the massive DirectCU II heatsink and fan assembly help to further push performance by allowing for easy overclocking to be achieved.
Another benefit of this card is its clean black aesthetic. While the card does come with metal accent strips in red and gold we would leave the card bare and have it be pure black as a nice accent to the white and black elements through out the build. For enthuiasts who really want to push the envelope in multi GPU configuration you could also consider our GTX 780 STRIX. This card sould really only be used in SLI configurations. The 780  while an extremely powerful GPU can not generally handle 4K games with high image quality and AA level where 6GB of VRAM would be useful. As such to ensure superior performance two of these cards in SLI would be a good option and also offer up additional VRAM from for 4K gaming or multi monitor ( surround ) gaming. As for the card design the card has the same non reference design elements as the DirectCU II.
Case – Chassis: CORSAIR GRAPHITE 760T
A chassis is a critical part of your build. It defines the airflow and flexibility afforded when customizing the layout to meet your needs in addition it defines how much expansion  you have in relation to storage as well what what types of graphics card are supported. Additionally a quality chassis can make the install process easier with a good layout and consideration of builders varying configurations. Subtle touches can also affect the build process such as rubber grommets, tool less trays, cpu cut outs for easier mounting of cooling solutions. The GRAPHITE 760T offers us all this and more. The general aesthetics of the 760T perfectly compliment our white accents on the X99 DELUXE. For users looking at a lower cost you could consider the outstanding 730T almost exactly the same just in black with no frosted semi clear side panels. The 760T offers clean lines with inspired design and ingenious, full windowed hinged side panel with flush-mount latches. These side panels can be fully removed allowing for easier installation of hardware. The front panel has two  140mm intake fans which featuring white LED lighting, and there's a dual-speed fan selector for performance or silence ( although this of little use to us due to advanced fan control offered on the motherboard ). The front fans have a honey comb design allowing for a large amount of airflow to be drawn inside and across the chassis. Inside, there's ample cooling potential, with eight fan mounting locations and room for multiple radiators for self-contained liquid CPU coolers, or even custom liquid cooling. And, clever touches like modular drive cages and laterally mounted SSD bays maximize interior volume. The four SSD bays are mounted laterally to make the most efficient use of the interior space. The combo 3.5" / 2.5" drive bays employ a modular bay system, so you can remove the bays you don't need. The end result is an open interior optimized for extra-long GPUs and free airflow.
Power Supply: CORSAIR CX750
A power supply is a key component especially in a high end build as it helps to ensure all components are optimally powered. It can impact stability if it does not feature a quality design and solid topology. Additionally a high efficiency PSU can help long term in power consumption as well as be more efficient which when paired with a quality fan and well implemented fan curve can operate at silent levels or be nearly inaudible. We have selected the Cx750. This unit is 80 plus certified ( 80+ Bronze ) and features a modular cable design which benefits us in cable routing as well as allows us to leverage CORSAIR custom color sleeved cables. The default cables offer great length and are pure black which is a nice plus if you do not op for white cables. For our system configuration this PSU is a perfect balance of offering headroom for overclocking and plenty of storage devices and has no issues powering our GPU even when overclocked. IT features a single rail high amperage design which is great for this platfrom where the CPU can pull upwards of 25a itself. It also features a 3 year warranty which also happens to be the same as our motherboard and graphics card. If you looking to push the CPU to maximum of air cooling and looking for a secondary GPU I would consider upgrading to a higher performing PSU. Whether it be in the HX or AX line of PSUs. These also offer modular design and can utilize the same custom color sleeving while improving efficiency and offering more advanced and robust designs. These units will also offer long warranties.
Optical Drive: ASUS DRW-24B1ST
A part I often overlooked is the optical drive. I always recommend one due to its low cost as well as ease of use. It is the easiest way to get up a running as the OS comes on a DVD disc and your drivers are also on DVD disc. Additionally it offers up the ability to read CDs and DVDs as well as burn CDs and DVDs. For enthusiasts out there it will also provide a way to archive content whether it be ripping CDs or DVDs. Rounding out plus points the drive offers excellent firmware for media compatibility and a specialized design for quiet operation. Lastly the firmware of the drive support UEFI installation allowing you to ensure you can install your OS in native UEFI installation ensuring the quickest post and boot speeds. For users who may had large digital libraries whether it be music, movies, games or images you may want to consider moving up to a Blu-ray which allows between 25GB to 100GB discs which are great options for archives or backups of important files.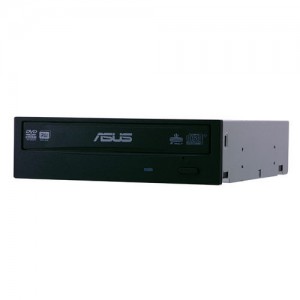 Operating System: Microsoft Windows 8.1 64Bit