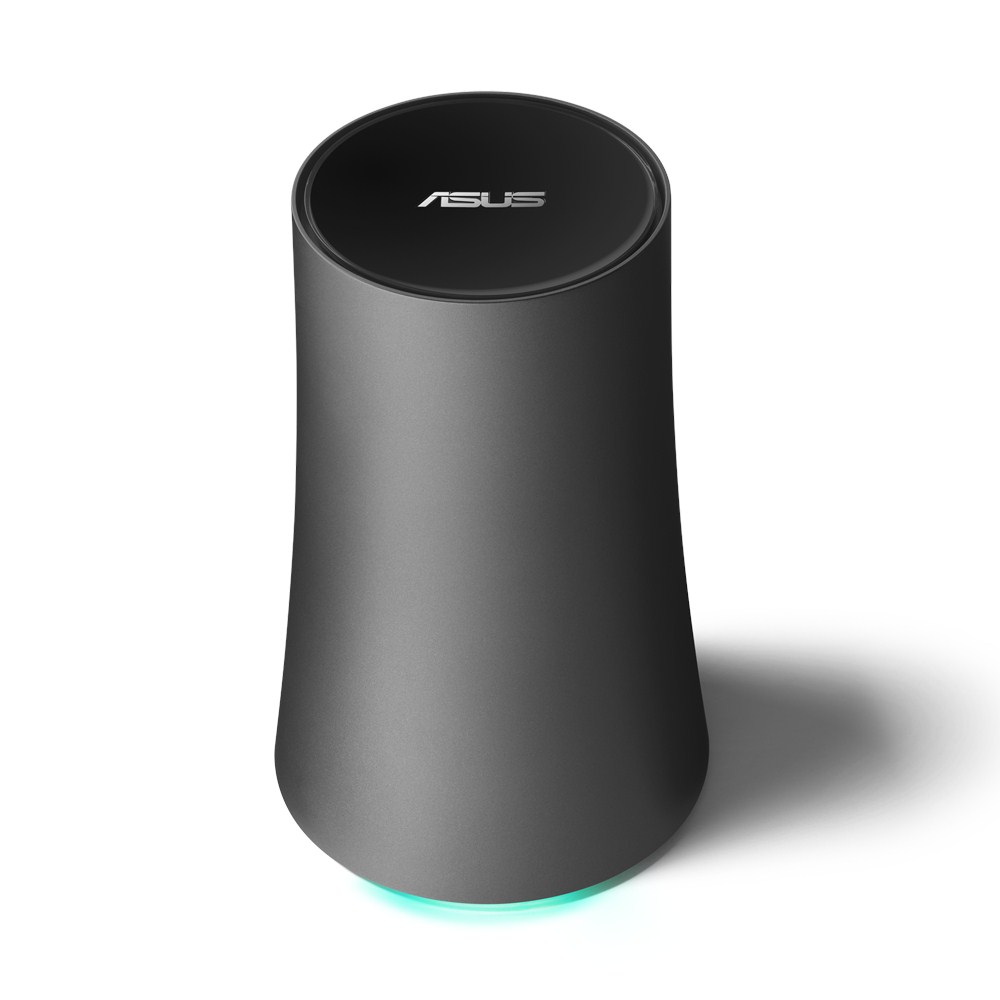 Fremont, California (October 27, 2015) — Today ASUS adds a new face to its award-winning family of networking products with the ASUS OnHub. We're proud to collaborate with Google to rethink routers and make them easier to use. The ASUS OnHub is a seamless, natural extension of your home or office that anyone can set up, share, and maintain.
With the Google On app, setting up the ASUS OnHub is simple and intuitive. The Google On app steps through the process, taking you out of the box and onto the Internet in minutes. The app also displays network traffic, tests your Internet connection speed, and helps with troubleshooting. It can even grant remote management control to a friend or family member if there is someone you rely on for help.
The ASUS OnHub's subdued design blends into your environment, so it naturally fits out in the open where it can provide the best wireless performance. Onboard intelligence automatically seeks out the least-crowded Wi-Fi channel to help keep bandwidth high and latency low. Seven antennas radiate 802.11ac Wi-Fi up to 1900 Mbps, so modern devices can connect at top speed.Unique to the ASUS OnHub, Wave Control adds a new dimension to the OnHub formula. Simply wave your hand over the router to put your smartphone, notebook, or other device in the fast lane, ensuring smooth movie streaming, uninterrupted video calls, or lag-free gaming regardless of other network traffic.
Automatic updates make the ASUS OnHub self-sufficient and forward-looking. Critical security patches are applied automatically to protect your network from threats, and new features are added over time along with support for future smart devices. Updates are installed in the background, at moments when network utilization is low to minimize any interruptions to your connection.
The ASUS OnHub is available for pre-order today for $219.99. It will be in stores in the coming week. You can learn more in this post on the Official Google Blog.
This is a pretty exciting release as the SRT-AC1900 will offer up some great features and functionality.
A dedicated antenna for channel monitoring – A dedicated antenna and radio scan the environment every five minutes, and OnHub switches to a less crowded channel if it will improve your Wi-Fi performance. OnHub makes the switch when you're not using the Internet so it doesn't interrupt what you're doing.
Advanced Qualcomm internet processor – The IPQ8064 offers up an array of impressive features, functions, and performance that aligns with needs of the digital home.
Support for Bluetooth Smart -Supporting the next generation of connected wearables and mobiles devices and bridging your connected home with you all helping to enable your own internet of things.
Connected home protocol support – Integrated support for advanced connected home functionality via support for Nest Weave & 802.15.4 Ready.
Audio pairing – Integrated speaker allows for easy connection to mobile devices.
Wave Control prioritization – Use Wave Control to turn on features and preferences by waving your hand over the OnHub router. Through the Google On app, you can prioritize your most important device, so your bandwidth goes to where you need it. Whether you are streaming the latest movies or TV series, downloading or uploading a file, or gaming use Wave Control to prioritize that device for the fastest Wi-Fi speed when it matters most.
Lighting control – Allows you to keep your private & quiet areas just that with dimmable lighting.
Adaptive learning and prioritization – Helps to learn how you use your network for smooth and reliable connectivity.
Monitoring – Easily see which devices are connected as well as how much of the internet they are utilizing.
Continual security  and support – Consistent updates supplying patches to security and improvements to features, functionality, performance & reliability.
Contextual detailing – Have scenarios reported clearly helping you to understand how much internet you have relative to specific usage experiences. Such as you can stream Ultra HD quality. No need to worry about correlating Mbps to different usage scenarios.