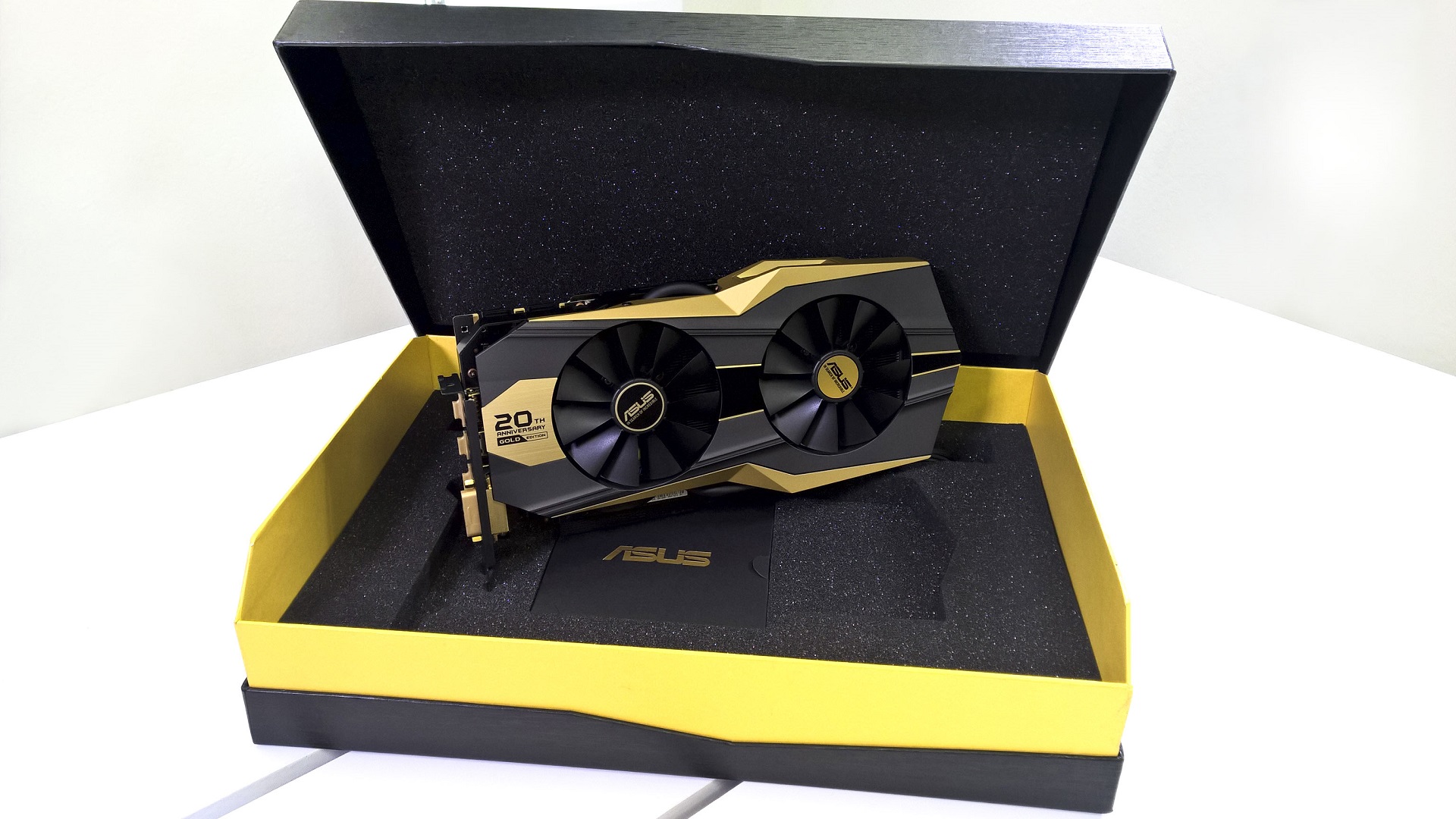 ASUS is celebrating some big milestones right now, these include reaching 500 million motherboards as well as 125 million graphics cards. In addition ASUS is celebrating some important anniversaries last year we celebrated 25 years as a company including 25 years of producing the world's best motherboards and this year we are celebrating our 20th anniversary in producing the world's best graphics cards. To celebrate these important achievements with those that matter most our PCDIY users and community we have been doing some pretty amazing giveaways. We have another giveaway to announce this time for the world's fastest GTX 980 our "golden" 20th anniversary GTX 980. This card is the fastest out of box GTX 980 on the market. With a binned GPU offering up the fastest out of block clock speeds of any GTX 980. The card is based on our industry leading and award-winning GTX 980 MATRIX from the ROG line of graphics card. This card is purpose built for performance offering extremely cool operation, quiet acoustics and an extremely high non reference design that includes everything from the PCB and the VRM assembly to the high performance heat sink and fan assembly. Add to that extensive monitoring and control and this card is built for PC gaming enthusiasts. Topping it all off this card is limited to 200 pcs in North America but we were lucky enough to get one to give away to PCDIY followers.
So what do you need to do to win? It is pretty easy just check out the link below which will take you through the steps needed to enter.
Requirements for entry
18 and older
North America only
Requires you subscribe to the PCDIY website
Requires you to subscribe to the PCDIY YouTube channel
Requires you to fill out the ASUS graphics card poll
ASUS GTX 980 20th Anniversary Gold Edition Giveaway
For those filling out the graphics card poll there is some additional information for those looking for more details aspects of design or specific features
Dust Proof Fan Design
This design implementation is throughout the majority of ASUS performance oriented graphics cards. It essentially is design that seals the internal hub assembly of the fan bearing housing. This is important as this block dust, debris, dander and other items for settling internally and affecting the performance or functionality of the hub assembly. In worst case scenarios this can cause the fan to stop spinning or have rotation issue or produce unwanted pitch or tone noises as well as reduce performance diminishing your cooling performance
0dB fan Design
This is seen on a wide range of our STRIX series graphics cards. This intelligent design leverages the high performance heat sink and fan assembly already present on ASUS cards to eliminate noise during idle or moderate tasks including light gaming. When the card is in 2D mode or in 3D mode and under 65c the fans will not spin. This keeps the STRIX cards which are already extremely quiet under load to become essentially inaudible under idle or lighting loads.
Quiet Fan Operation
ASUS carefully analyzes thermal load performance for its heat sink and fan assembly carefully monitoring important metrics to ensure sufficient thermal dissipation performance but while ensuring quiet operation even under full 3D load. ASUS high performance graphics cards have become known for extremely good acoustics offering quiet to near silent operation even for high performance graphics cards. In fact most ASUS cards with their DirectCU heatpipe design and dual fan implementation rarely breach 1500 RPM for fan speed rotation. In fact ASUS non reference designs always offer superior performance compared to reference designs.
Cooler Temperature Performance
ASUS non reference deigns are always built to offer cooler temperature performance compared to reference solutions. This comes through advanced varied heat sink and fan assembly leveraging DirectCU heatsink and heatpipes along with customized heat sink assembly paired with optimally tuned dual fans. In addition temperature is evaluated across not just the GPU but other portions like the VRM are cooled as well with a VRM heat sink. Even the components themselves can offer lower temperature performance when compared to reference components. Even when compared to blower designs we find the entire card will generally run cooler as well having less hot spotting.
DirectCU ( Direct contact copper heatpipe heat sink )
The DirectCU design has gone through multiple phases but has maintained its focus on offering efficient high performance thermal dissipation performance. It is a key part to the thermal solution that is the heat sink and fan assembly.
Dual Fan
ASUS carefully selects fans that optimally offer great CFM, tonality and reliability. The size of two fans optimally allows not only for improved thermal dissipation performance, quieter operation but also ensure a balance in the length dimensions of the card
VRM Heatsink
ASUS implements a quality VRM heat sink over the second hottest running portion of a the graphics card ( the VRM which includes the mosfets / drivers )
Non reference design overall
This a cumulative design implementation covering everything from the PCB, to the VRM and its components including ( improved capacitors, mosfet/driver or power stages, inductors ( chokes ) and  even the PWM ). ASUS non reference designs focus on improved reliability, performance, stability as well as functionality. On a high level the ASUS non reference design ensures maybe of the key value points users appreciate. The ASUS non reference design is the combination of all aspects of designs of an ASUS graphics card providing you cooler and quieter operation improved performance and superior reliability and for some cards even enabled more functionality.
Design Aesthetic
ASUS graphic cards feature stylized designs align with their non reference designs. Creatively there are a team of designers that evaluate the look and feel in the same way engineers evaluate performance. They look to offer distinctive angles and designs that compliment the modern PC builds users want. Subtle improvements show the attention to detail such as black-coated heat sink assemblies or having power LEDs that are white that fit with varied PC build color aesthetics or offering metal adhesive strips to offer complimenting accent colors to your build.
Backplate
While the back plate is part of the design aesthetic of ASUS cards as well as a whole part of the ASUS reference designs the back plate throughout the industry is not. For many companies it is an optional accessory you may have to purchase if even available. For ASUS they have put it as a default on all their performance oriented graphics card as well as have optimally placed the writing on the card oriented for correct visibility. It offers up an improved premium look and feel that more closely  ties in the entire aesthetic of  PC build.
Gallery of ASUS GTX 980 20th Anniversary Edition