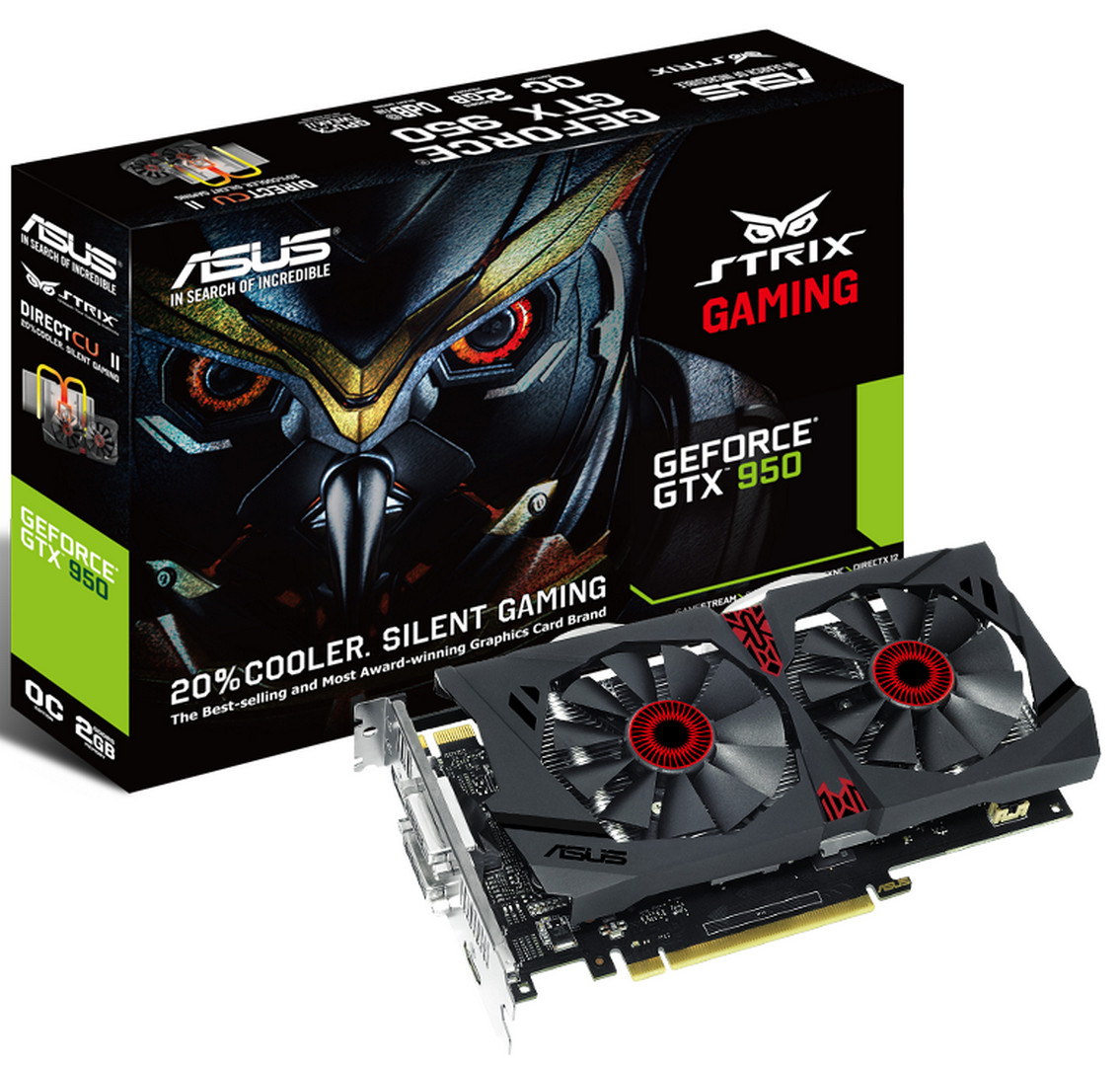 With the recent launch of Intel's Z170 chipset there are many users looking to build a new system. Equally there are always users looking to upgrade a pre-existing system. One of the most common upgrades that directly affects the experience of PC gamers is the graphics card. Today users looking to build a new system or upgrade an existing one will be interested in the new ASUS NVIDIA GeForce GTX 950 STRIX Gaming graphics card. This new card is perfect for users on a more aggressive budget but still looking for a solid gameplay experience across a wide range of titles and HD resolutions including 1080. The STRIX GTX 950 continues in the tradition of ASUS graphics cards offering up superior design that improves reliability, and overall performance all while operating cooler and quieter than the reference design. Lets take a closer look at this card.
The card has a styling that is immediately reminiscent of STRIX series card featuring the black shroud for the heatsink and fan assembly.Complimenting the black shroud you have two fans that feature a specialized dust proof fan design for superior reliability due to being double sealed. This design implementation helps at stopping dust, debris and dander from settling insider the hub assembly and causing the fan to have rotation issues or failing overtime. Additionally these fans are optimized for downward firing airflow as well as creating static pressure providing great airflow to the high fin count direct contact heatpipe heatsink assembly. While the card offers up considerably cooler temperatures that also aid in producing superior GPU BOOST clocks for improved performance it does not come at the expense of silence or quiet operation. The STRIX GTX 950 allows gamers to game in silence as a well as near silent operation. For idle and light loads the fan will operate in 0dB mode meaning they will not spin. Once a heavy load is put onto the card or the temperature limit is reached the cards fans will begin to automatically spin up and rotate while still offering extremely quiet operation due to a carefully tuned fan curve.
Further underneath the hood the card features an entirely custom PCB and VRM design offering up superior performance and reliability. The card features 5K SAP capacitors which are twice the industry standard in rated lifespan. The card also features high quality full molded inductors ( chokes ) offering up great power for the card when overclocked but also carrying the benefit of  significantly reducing or eliminating the coil whine. Rounding out other improvements the STRIX also features ASUS industry card production / fabrication process with Auto Extreme which implements full SMT production for graphics cards.
A Closer look at the heatsink and fan assembly – Cooling the ASUS STRIX GTX 950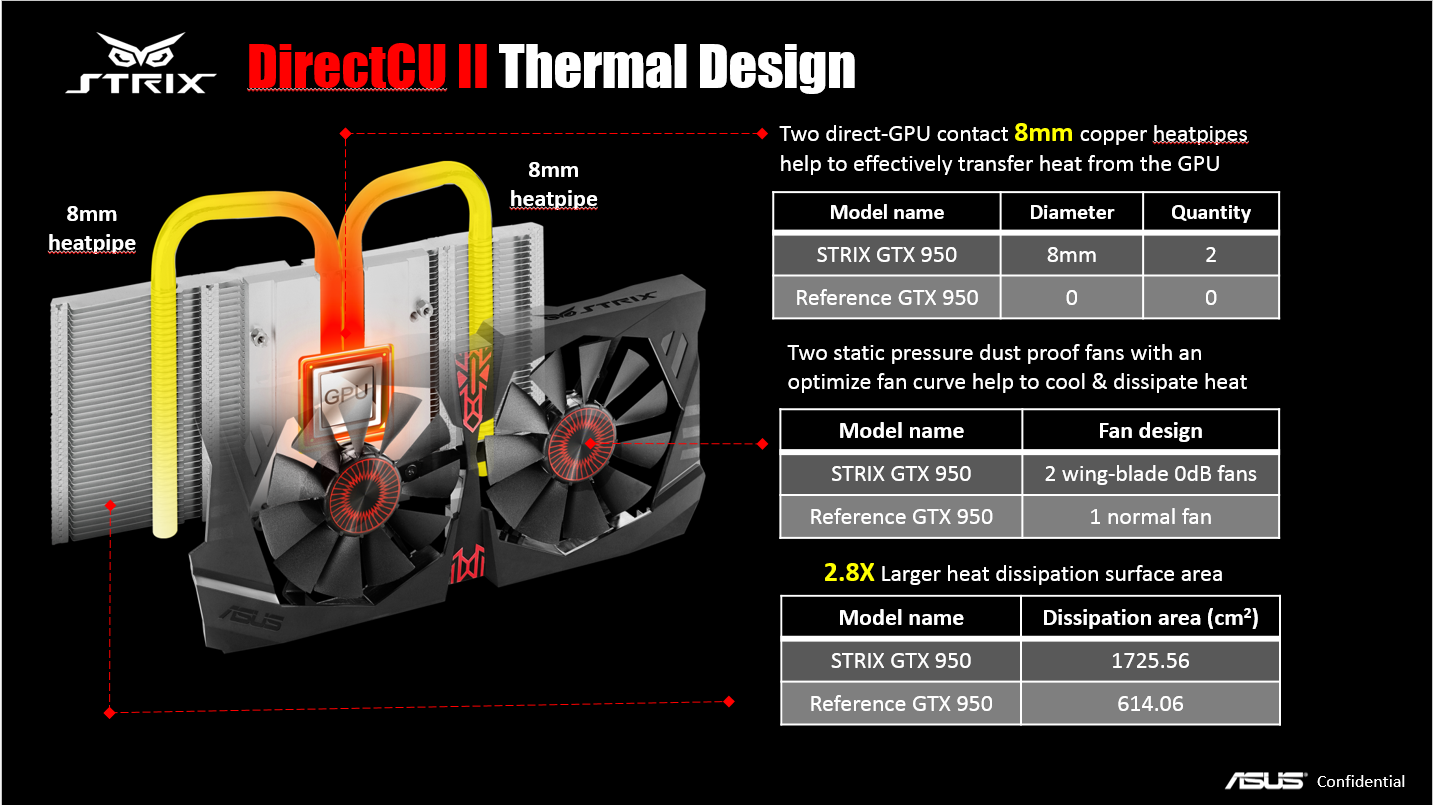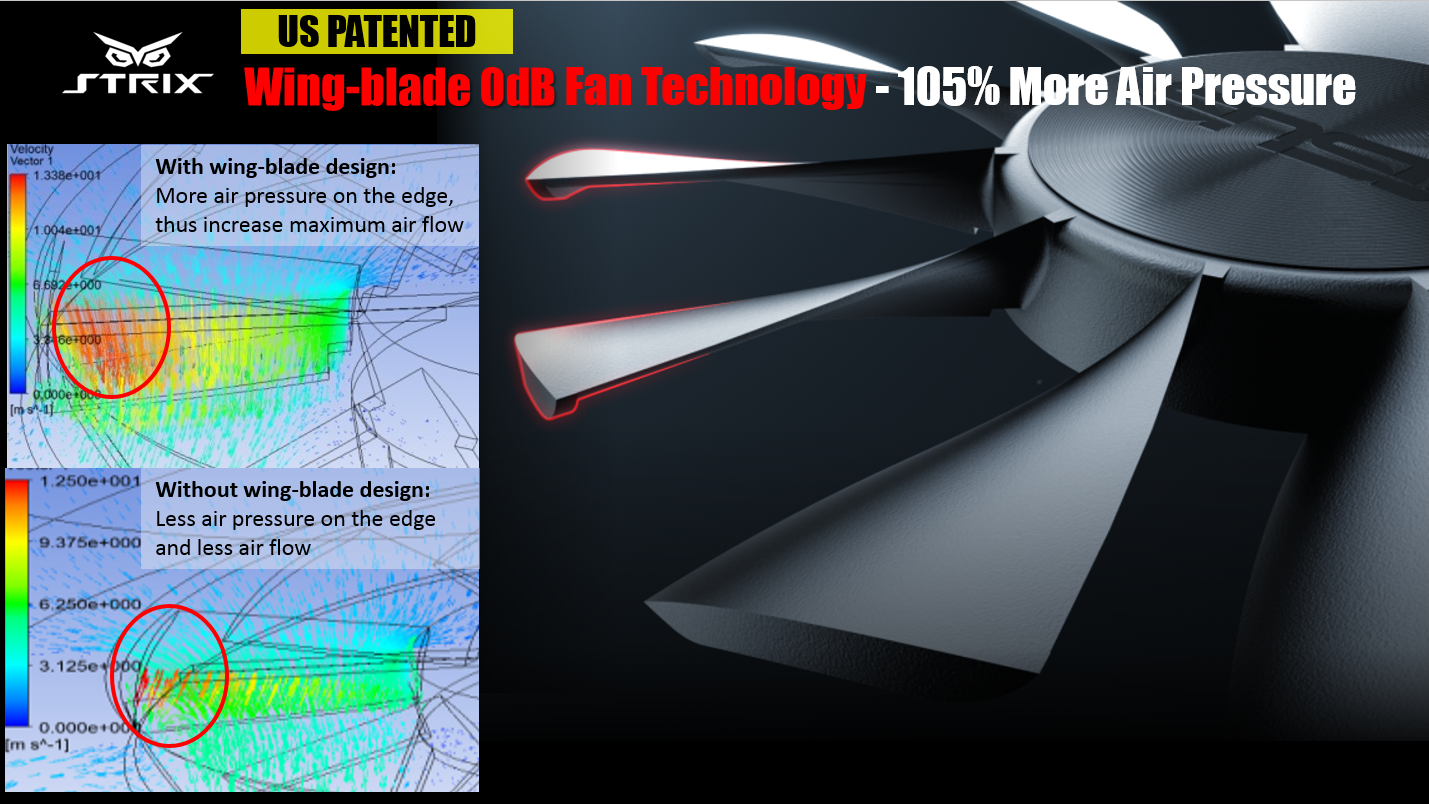 A closer look at the PCB & VRM design, superior reliability and durability along with increased performance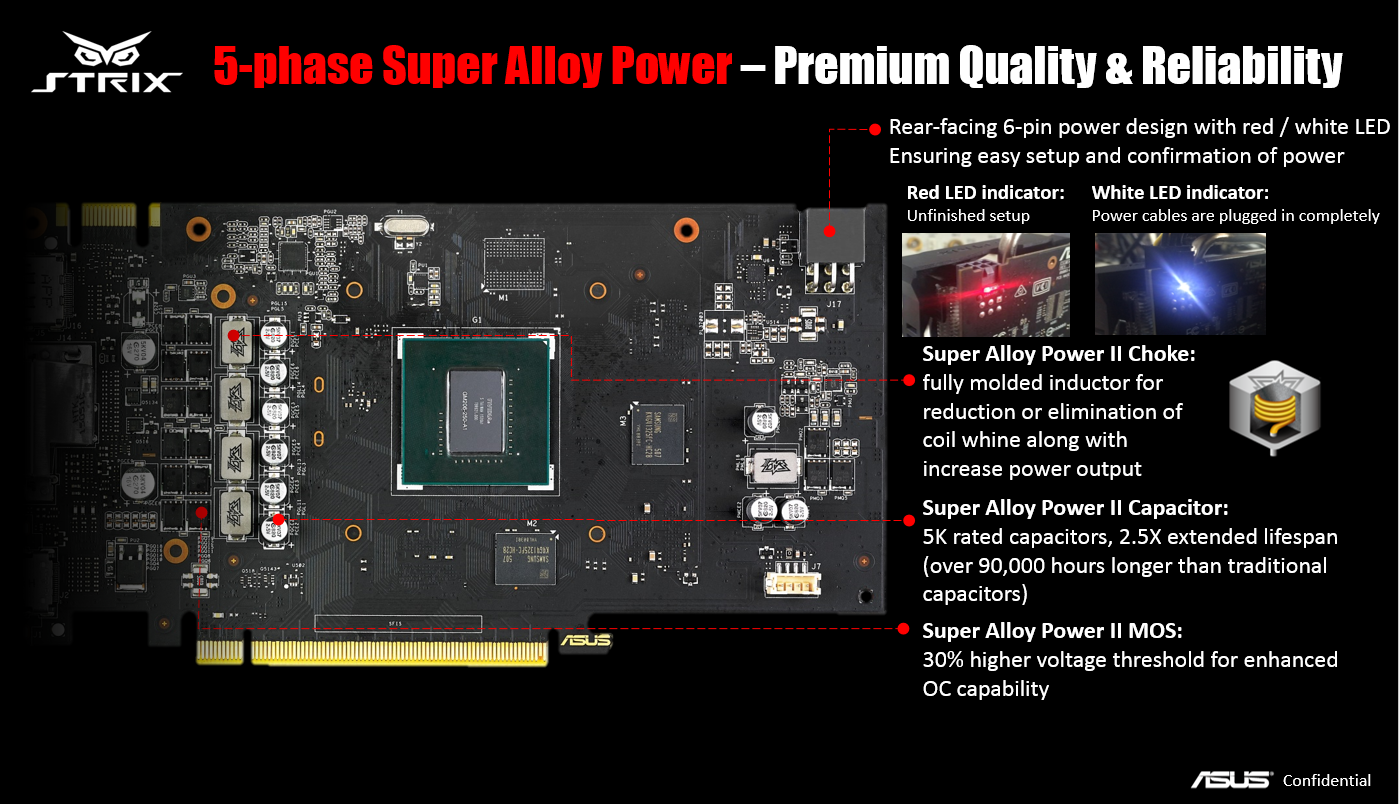 The card will be available in two versions both featuring identical full non reference designs. The difference being in the out of the box programmed clock speeds.
| | |
| --- | --- |
| SPECIFICATIONS |  SPECIFICATIONS |
| STRIX-GTX950-DC2OC-2GD5-GAMING | STRIX-GTX950-DC2-2GD5-GAMING |
| ·   1329 MHz boost clock in gaming mode·   1355 MHz boost clock in OC mode·   2GB GDDR5 memory | ·   1190 MHz boost clock in gaming mode·   1228 MHz boost clock in OC mode·   2GB GDDR5 memory |
We will be taking a closer look at the card soon including a full video overview and a PC build featuring this card. Make sure to subscribe to find out as soon as this content is available.