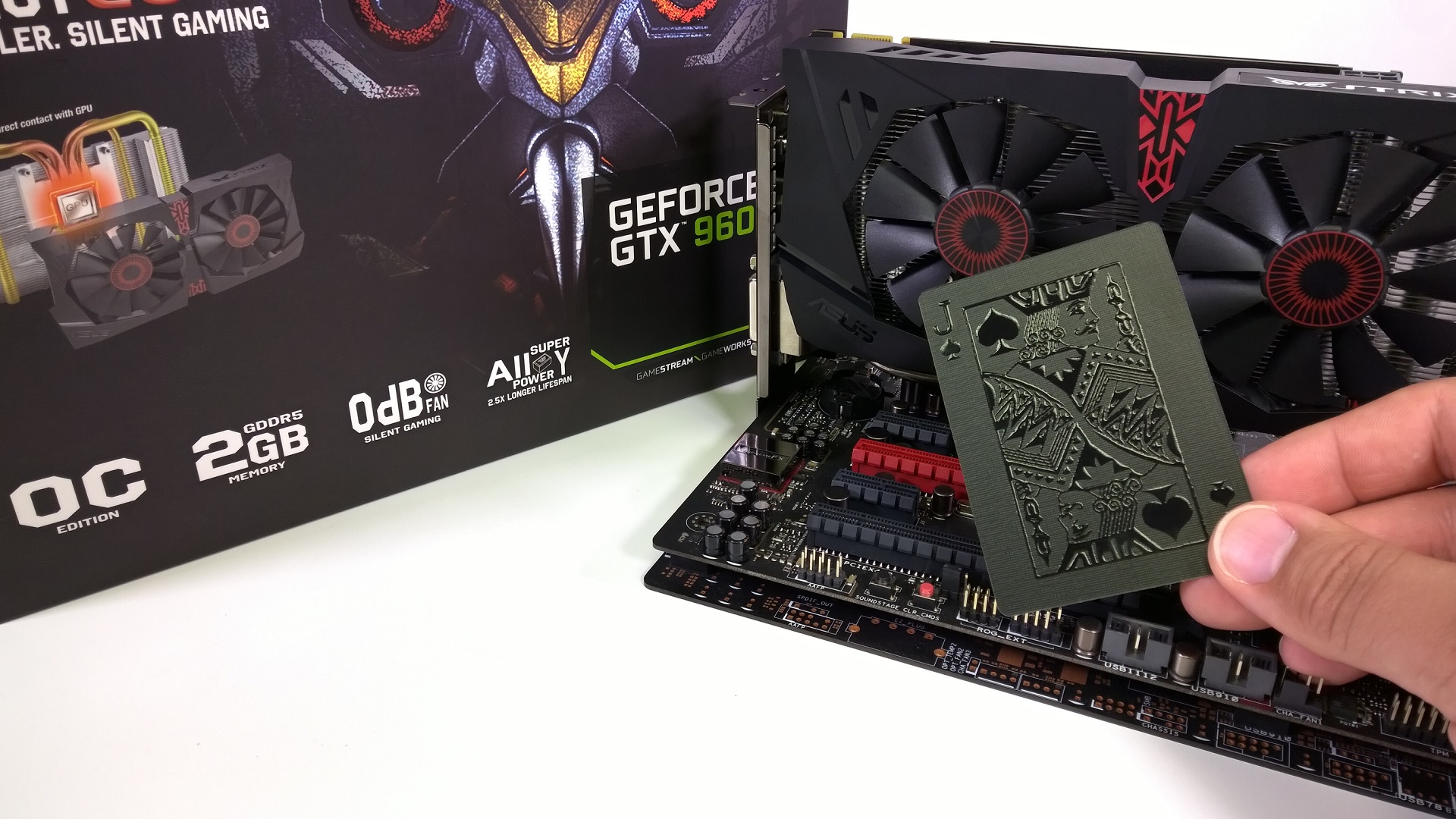 Today we are taking a look at the latest graphics card from NVIDIA. This new card is targeted at the masses priced at $210.00, this is a sweet spot of graphics cards and PC gaming. Specifically we are going to be taking a look at the ASUS STRIX GTX 960. This card has been designed from the ground up for cool and quiet operation and comes overclocked out of the box. Add to that the superior full non reference design which improves VRM component quality which enhances and extends reliability as well as stability and you have an awesome card which will surely be a sweet spot for many PC gamers. The cards performance, price, efficiency and flexibility as well as functionality also slot it in as a jack of all trades for PC builder whether they focused on PC gaming, HTPC & multimedia or content creation.
Not that long ago we took a look at the GTX 980 and its little brother the GTX 970. Both graphics cards feature GPUs based on NVIDIA new Maxwell architecture. This new architecture not only brought solid performance gains but brought about some seriously impressive performance WATT numbers. Maxwell really brought impressive efficiency to high end graphics cards ushering in an era of impressive power consumption, lower temperatures and quieter operation all at the same time. The GTX 960 looks to brings this to mainstream along with some updates for the HTPC & content creation community. The GTX 960 looks to squarely offer up a very high quality 1080P gaming experience while supporting the latest generation of image quality settings and allowing them to be enabled. This in turn creates a richer, more detailed gaming experience. For many this will create more engagement and immersion when playing PC gamers and allowing that game play to be seen and experienced the way developers and studios intended.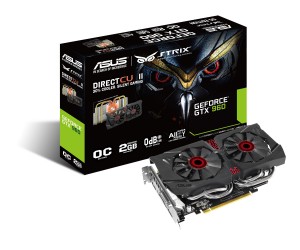 For this generation there will be no initial reference GTX 960 from ASUS. Instead almost right at launch ASUS will be able to bring its design expertise and experience to table with a full non reference design. Luckily here in the PCDIY labs we were able to get our hands on a few for testing before official availability. For those of you who are not aware of the meaning of "non reference", it means board partners like ASUS develop their own designs around the GPU including the PCB, VRM, heatsink and fan assembly and even display I/O. In some situations it can be inferior to the reference design when vendors are looking to only cut costs but in the case of ASUS and the STRIX GTX 960 you get a considerable range of improvements that enhance and improve the card in a number of ways. These elevate the graphics card as a whole and yield an improved experience whether it be performance, temperatures or acoustics as well as reliability. So what does the ASUS STRIX non reference get you?
A fully customized PCB and power delivery implementation – Offering improved on board power delivery components ( such as SAP 5K capacitors, SAP mosfets and high performance drivers, SAP fully molded alloy chokes ) with superior ratings, efficiency and thermal performance these VRM components enhance the power delivery thresholds and capabilities of the card. The fully molded inductors "chokes" also help to reduce or eliminate coil whine which along with the heat sink and fan assembly help to provide an extremely quiet level of operation under load.
Customized heat sink and fan assembly for superior cooling performance and quieter operation – This card will actually operates up to 30% cooler and up to 3x quieter than the reference design. Additionally the STRIX features a special 0dB fan operating mode where under light gaming loads the card offers an even quieter gaming experience as the fans will not spin. The heatsink assembly is over 220% larger and features 4 nickel plated direct contact continuous copper heatpipes for extremely effective thermal dissipation. Additionally a VRM heatsink is utilized to further ensure cool and stable operation whether stock or overclocked.
A clean and aggressive aesthetic styling that compliments a wide range of systems builds and includes a back plate to assist in card rigidity, stability & minimize torsion as well as provide a clean looking for systems with a clear side panel.
Specially designed fans that feature a dust proof fan design which double seals the hub assembly for superior reliability and ensured performance. In addition a carefully tuned fan curve provides great CFM but minimizes on using an aggressive fan duty cycle which causes higher RPMs and more noticeable fan hum. The VBIOS also has been implemented to support a specialized 0dB operating mode allowing the card under light gaming loads to have the fans cease operation and allow for the quietest fan operation possible.
Factory overclocked – Offering a faster base clock, GPU BOOST clock and memory clock compared to the reference design. In addition due to the advanced thermal performance of the DirectCU II heatsink and fan assembly along with non reference PCB and VRM assembly the card further boosts beyond the defined OC values offering faster performance that the reference design.
For those looking for a video overview make sure to check out our PCDIY STRIX GTX 960 Overview. It goes into extensive detail regarding the architecture, specifications, features & functionality as well as performance and overclocking.
Clock speeds and specifications
Reference GTX 960
Base Clock – 1126
Boost Clock – 1178
Memory Clock – 7010
STRIX GTX 960
Base Clock – 1228
Boost Clock – 1291
OC Mode Clock – 1317
Memory Clock – 7200
In addition to not only featuring a faster base and GPU BOOST clock the STRIX also boosts beyond the programmed GPU BOOST clock due to the thermal headroom afforded by the DirectCU II heatsink and fan assembly. So whether at stock overclocked out of the box or leveraging the single touch OC mode the STRIX takes GTX 960 performance to the next level offering even more FPS performance than the reference design.
Moving beyond the general specifications lets take a closer look at the GTX 960 STRIX featuring DirectCU II & SAP power design. Right away you can see a considerable difference between the STRIX GTX 960 compared to the reference design. The STRIX offers an entirely different aesthetic that is more aggressive and distinctive. The heat sink and fan assembly looks considerably more robust due to its dual fan design which focuses on improved cooling performance and acoustics leveraging a dual fan design along with a much larger heat sink assembly which incorporates high performance nickel plated copper heat pipes. Compared to the smaller heat sink and fan blower design of the reference GTX 960. As a +1 the STRIX GTX 960 offers a metal back plate with optimal ASUS lettering and positioning, this is great for users who appreciate the additional rigidity and minimizes torsion along with a clean aesthetic that comes from this premium touch. The lettering is further plus one as it allows users with a clear side panel the ability to view the back plate optimally in the correct way.
A closer look at the design of the STRIX 960 featuring DirectCU II with Dust Proof 0dB Fans, and SAP Power Components
When looking at a graphics card there are always additional items that you may not be aware of especially when it comes to a non reference card. Many times this is due to the fact unlike a motherboard you cannot see the bare card or the PCB or the layers that have gone into the design and development.These layers tend to be hidden under the heat sink and fan assembly. The heatsink and fan assembly also have their own story to tell. Here at PCDIY our goal is to provide insight and understanding so we want to look at all aspects of the non reference design including what each of those previous layers are and what they bring to the table.
Of course to take a much closer look we need to disassemble the card. The great thing about a STRIX graphics card compared to the reference card and other vendors is the simplicity in how you dissemble it. It only takes four screws. This simple design is effective and very easy for enthusiasts to execute and allows for enthusiasts to easily separate the PCB from the heat sink and fan assembly. This is great for cleaning of the heat sink assembly, fans or re application of thermal compound. When put in perspective compared to the complexity and time needed to dissemble the reference card these ( 4 ) small screws are a big plus especially considering the reference design generally consists of up 15 to 20 screws in vary locations and varying threads.
So first up we can see the full metal back plate of STRIX GTX 960. Not only does it look great but it helps to add rigidity and stability and minimize torsion of the card. Additionally it helps to mitigate card sag. On top of all that it looks great.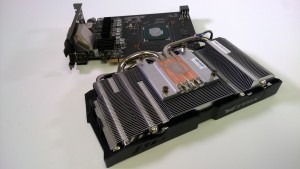 Moving in closer and to the underside of the heat sink assembly you can easily see the impressive continuous direct contact copper heat pipe implementation ( 4 in total ). You can see the start points of the heat pipes are bare direct contact copper which are optimal for heat conduction. As the heat pipe extends outsides it changes to being plated in nickel plated for resistance against oxidation. The heat pipes extend and integrate into the impressive massive finned heat sink assembly which is 220% larger than the reference heat sink assembly. Looking at the heat sink assembly in this way really helps you to see the dissipation ability of the heat sink assembly. This cooling solution comes together to offer outstanding thermal dissipation performance.
Beyond the heat sink assembly you of course have the fan assembly. The STRIX GTX 960 features a dual fan design. The new fans offer improved tonal characteristics. Additionally they feature both 0dB fan operation. This means that under idle and light loading the fans will not spin at all. Helping to ensure long term reliability these fans continue to support dust proof fan design. This means that each hub assembly is double sealed. This designs helps to block build up of dust, debris & dander from affecting the hub assembly and bearing which would affect the ability of the fan to rotate and perform optimally and consistently. In internal testing this design has shown to considerably improved operating lifespan.
Moving on from the heat sink  & fan assembly to the PCB you can see attention to detail put into the card. The clean layout pops along with the matte black PCB and the overall look and feel is furthered by the utilization of a high quality components throughout. Looking across the PCB you easily see the clean component layout which includes premium VRM components which include 5K SAP capacitors ( which offer twice the lifespan of normal capacitors ), SAP fully molded inductors ( chokes ) as well as a VRM heat sink. The phase array offers up great total power output compared to that of the reference design. In addition the inductors are fully molded which aides in the reduction or elimination of coil whine as well. Below the VRM heat sink and directly next to the capacitors and chokes we have the SAP mosfets and high performance drivers. These offer great voltage thresholds and great efficiency and thermal performance. All of these components when combined with a outstanding cooling solution and the efficiency and oc ranges enabled by the Maxwell architecture offer up a card that has great overclocking potential.
960 power phase design comparison
Reference design : 3+1 phase  150A
STRIX GTX 960 : 4+1 phase  160A
Temperature Performance – How cool is it?
With this being a Maxwell based card we know it is going to be extremely efficient and their cool and quiet. So how much cooler is it with the DirectCU II heatsink and fan assembly you ask? It is considerably cooler. Keep in mind the STRIX comes out of the box with a factory overclock on the GPU and offers a single touch OC option and of course can be further overclocked manually. In all of these configurations the STRIX GTX 960 runs cooler than the reference at it stock clocks! In one word, IMPRESSIVE! We found in our testing overall the card was consistently in a range between 56 to 60c under gaming load. 60c was only reached after extending continued testing with a persistent benchmark and the most aggressive overclock.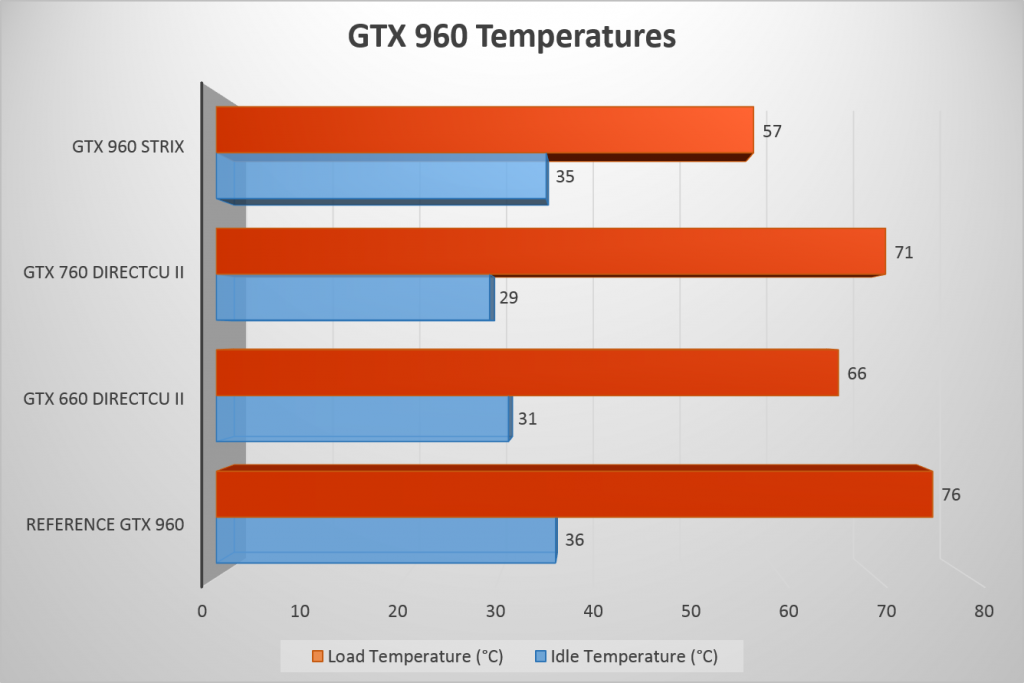 Overall AVG temperature under load of 57c!
Acoustic Performance – How quiet is it?
Thanks to the large heatsink assembly and high performance continuous direct contact copper heatpipe design along with dual fan implementation the card does not have to aggressively ramp its fans. This helps to have the card operate at extremely quiet levels under gaming load. I was truly impressed with how card this card was close to inaudible unless I literally moved my ear up to the card. The card is deceptively quiet especially for its size. More impressive is the fact that this near silent operation is under demanding gaming loads as everything from checking your email to reading a website to watching videos or movies as well as light 3D game engines will not cause the STRIX to ramp it fans. In those idle or light loading situations the fans will operate at 0 RPM netting you a 0dB fan profile. To be clear the fans will not spin at all!
Check out the video below to see an example of 0dB in action ( so to speak ).
Overall this was essentially silent or whisper quiet!
Under gaming load we saw the fans ramp up to 43/44% in regards to their fan duty, this equates to approximately 1297 – 1356 RPM.
In our testing the STRIX dual fans operate around 1297 – 1356 RPM this is very low, so not only is the fan not aggressive but the tone of the fan is also extremely good. As an equivalent the majority of "quiet fans" on the market are targeted at 1200 – 1400 RPM so this gives you an idea of the target profile of the fans operating metrics. All the way around the STRIX offers a whisper quiet to silent gaming experience few cards if any outside of the STRIX can offer. This acoustic experience is truly impressive especially for a card offering such a high level of graphics performance. Do not forget as well that the card is overclocked so it is operating at a consistently faster GPU BOOST clock than the reference card.
GPU BOOST 2.0 Performance – How much does it boost?
GPU BOOST 2.0 is a NVIDIA technology built into the architecture of the GPU as well as the VBIOS it analyzes temperature target performance and power target utilization. Based on these values the card can dynamically overclock its self further increasing performance by producing higher frame rate. Compared to the reference design the cooler operation of the GPU allows GPU BOOST 2.0 to be more aggressive and offer additional MHz.
In our testing we found the effective GPU BOOST clock to be consistently at 1405 MHz! or essentially 1.4 GHz. This should the friendly high GPU Clock frequency of the Maxwell architecture. More impressive was that the temperatures and power target utilization we both extremely low. Temperatures we at approx 57 – 58c and power target utilization fluctuated between 68 – 80%. What this means is the card maintains outstanding thermal and acoustic performance while be primed for further clock increases via overclocking.
Using the OC preset the effective GPU BOOST clock was 1405 MHz!
More MHz – What about Overclocking?
As a self respecting PC enthusiast I of course wanted to see what performance I could further get of the STRIX. To do that I loaded up GPU TWEAK and began my overclocking journey. Keep in mind I had limited hands on time and while what I reached was impressive additional testing has already shown there is a more left in the tank. I was rewarded fairly quickly and easily. While all GPUs are different I would expect to see the majority of STRIX GTX 960 cards offering strong overclocking potential. I decided to focus on only increasing the GPU BOOST clock, memory frequency and the power target if required. I wanted to see what I could get without increasing any voltage. This also helps to minimize needing higher power targets and maximizing the overall overclocking scaling as well as minimizing temperature increases.
In the end I end up with a solid increase reaching the results below
GPU BOOST clock – 1400 MHz
Effective GPU BOOST clock – 1488 MHz!
Memory clock – 7600MHz
Power Target – 100%
This was a fully stable overclock tested across 8 hours of active game play and additional 2 hours of bench marking. Even under this fairly aggressive overclock the STRIX GTX 960 continued to operate with impressive temperature results never exceeding 60C! Acoustics also were outstanding with the STRIX remaining essentially inaudible with little impact to the fan duty% and the corresponding fan RPM. Overall this overclock peaked at GPU BOOST frequency of 1488 MHz!  For those wondering what overclocking looks like on Maxwell and the GTX 960 I do not think many will be disappointed. I was further impressed by the scaling of the architecture and benefits I saw in game play as these overclocks translated into some very healthy gains in frame rate.
For those looking for a one touch option the STRIX GTX 960 comes with a OC mode ( overclock profile ) that can easily be enabled at the touch of a button in GPU TWEAK. This one touch overclock furthers the out of the box OC little further netting a small increase in frequency but an increase none the less and without any worry of tweaking, tuning and and testing.
Pushing it even further – More MHz!
We had originally planned to stop overclocking once we reach around 1.4 GHz and 7.6 GHz on the memory. During the course of overclocking though we found the overclocking to be so solid and smooth we kept pushing the card further and further seeing where the limits of the card would be. We additionally tested a few other samples to see their respective OC ranges. During the course of this testing we found GPU BOOST frequency to be able to consistently be set to 1400 without any issues and easily exceed that. Memory on the other hand had a lot of room but we saw some cards not exceed 7.6 GHz but some reach 7.8 GHz and even 8.0 GHz. Tie this together with our peak stable overclocks of 1425 or 1450 and you can begin to understand the ear to ear grin we had with the results of this card. Based on some additional testing beyond that there is still some additional MHz left in the tank for those looking for every single last drop of frequency. Keep in mind that at these frequencies when accounting for GPU BOOST under load you are looking at frequencies 1500 MHz!
GTX 960 Overclocking Expectations
Overall the GTX 960 continues the trend of outstanding overclocking for Maxwell based GPUs. NVIDIA really hit it out of the park when it came to leaving alot in the tank while still offering impressive performance and efficiency. The GTX 960 will offer mid range gamers very healthy overclocking potential allowing then to net some FPS gains especially for the most demanding PC titles and for users looking for playable performance at 2560 x 1440 or 3D Vision at 1920 x 1080.
Based on our internal sampling margins look like
The majority of GPUs will have generally no problems reaching 1400 MHz defined GPU BOOST clock.
You will see better GPUs be able to hold and sustain defined GPU BOOST clocks of 1425 MHz.
The best GPUs will be able to hold and sustain defined GPU BOOST clocks of 1450+ MHz.
Keep in mind overclocking is always variable and never guarantee and from one card to the next you can have varying results. These values are based on adjustment solely of the GPU BOOST clock with no voltage as voltage while can help stabilize frequencies can increase power target utilization and temperature off seating the effective GPU BOOST clock.
For memory based on our internal sampling margins look like
The majority of GPUs will have generally no problems reaching 7400 – 7600 MHz.
You will see better GPUs be able to hold and sustain defined memory clocks of 7600 – 7800 MHz.
The best GPUs will be able to hold and sustain defined memory clocks of 7800 – 8000+ MHz.
Keep in mind that memory overclocking always stresses the memory controller and a graphics card with highly overclocked memory and GPU is more likely to be not stable. Ideally overclocking should first be approached by asynchronously increasing the GPU BOOST clock and then the memory clock. Once respective limits have been reached you can attempt to see what synchronous GPU BOOST clock and memory clock the graphics card can run at.
Conclusion – Is it worth it?
With a projected MSRP of 210.00 dollars this card will be 10 dollars more than the reference design. Offering cooler, quieter and faster performance along with supeior components for improved reliability and stability and as a plus looking cooler and coming with a back plate it is a no brainer. The X60 series of GPUs has long been the gamers sweet spot offering solid performance for the largest swath of PC gamers. Considering this card offers 2x+ performance of a GTX 660 while operating cooler and quieter and still allowing for a large degree of overclocking and more features and functionality through GeForce Experience and this is a great choice for PC gamers looking for a quality upgrade or a foundation to a very capable new build.
More importantly this card has the performance chops to offers very good 1080 gaming performance with advanced IQ settings and AA enabled. Taking it further you can even utilize DSR for 4K super sampling for moderate game engines. Furthering its value is the rich connectivity with support for DP, DVI, the latest HDMI and HDPC and even H.265 encoding and decoding and this card finds a homes in advanced HTPCs and content creation builds. While the PC industry makes it difficult to ensure "future proofing" this card pretty much has it all giving you a truly extensive level of flexibility at how you define your gaming experience and what you can do while gaming. Add to all of that just how cool and quiet it is and I see this card find a home across all types of gamers.
That brings me to another point the compact footprint of the card is great as it can find its way into compact mini ITX chassis as well as mATX and of course full size ATX all while minimizing impact your requirements for additional airflow or PSU upgrade requirements.
About the only negative I can really see is the lack of a 4GB frame buffer which with the improvements to compression made on Maxwell is not as critical. Additionally higher memory requirements are best utilized at higher resolutions of 2560 x 1400 or 3840 x 2160 which the GPU does not offer the performance. As such that is where the GTX 970 or 980 step in. With that noted ASUS will be coming to market with a 4GB SKU for those looking for a bang for the buck SLI setup. Lastly while the overall efficiency is outstanding and power consumption is low with being a new GPU that has half the CUDA cores, TMUs, and ROPs it would have been to see even further reduction in power consumption although that may be nit picking.  Last but not least Maxwell brings some reserves in performance to the table with its readiness for DX12. Microsoft has already shown Windows 10 DX 12 demos with the same hardware offering up improvements of up to 50% with the same hardware. This bodes will for future games offering great performance in the same way current games are performing now on the GTX 960.
Wrapping it all up with a bow the GTX 960 STRIX is going to make a great gift to yourself if you are looking for a bang for the buck GPU that offers outstanding 1080 gaming performance with eye candy turned on. Equally as important the card easily accomplishes this while offering whisper quiet acoustics and extremely cool operating temps.
FAQ and Where to Buy
When is the STRIX GTX 960 available and where? The STRI GTX 960 is a hard launch and will be available begining 1/22/2015 at a wide range of etailers. See links below.
United States
Newegg: http://bit.ly/1y02OKM
Amazon: http://amzn.to/1JiFwXc
MicroCenter: http://bit.ly/1yIrD34
Canada
NCIX: http://bit.ly/1yOOKdV
Canada Computers: http://bit.ly/1E3XrCD
Memory Express: http://bit.ly/1zxKhMu