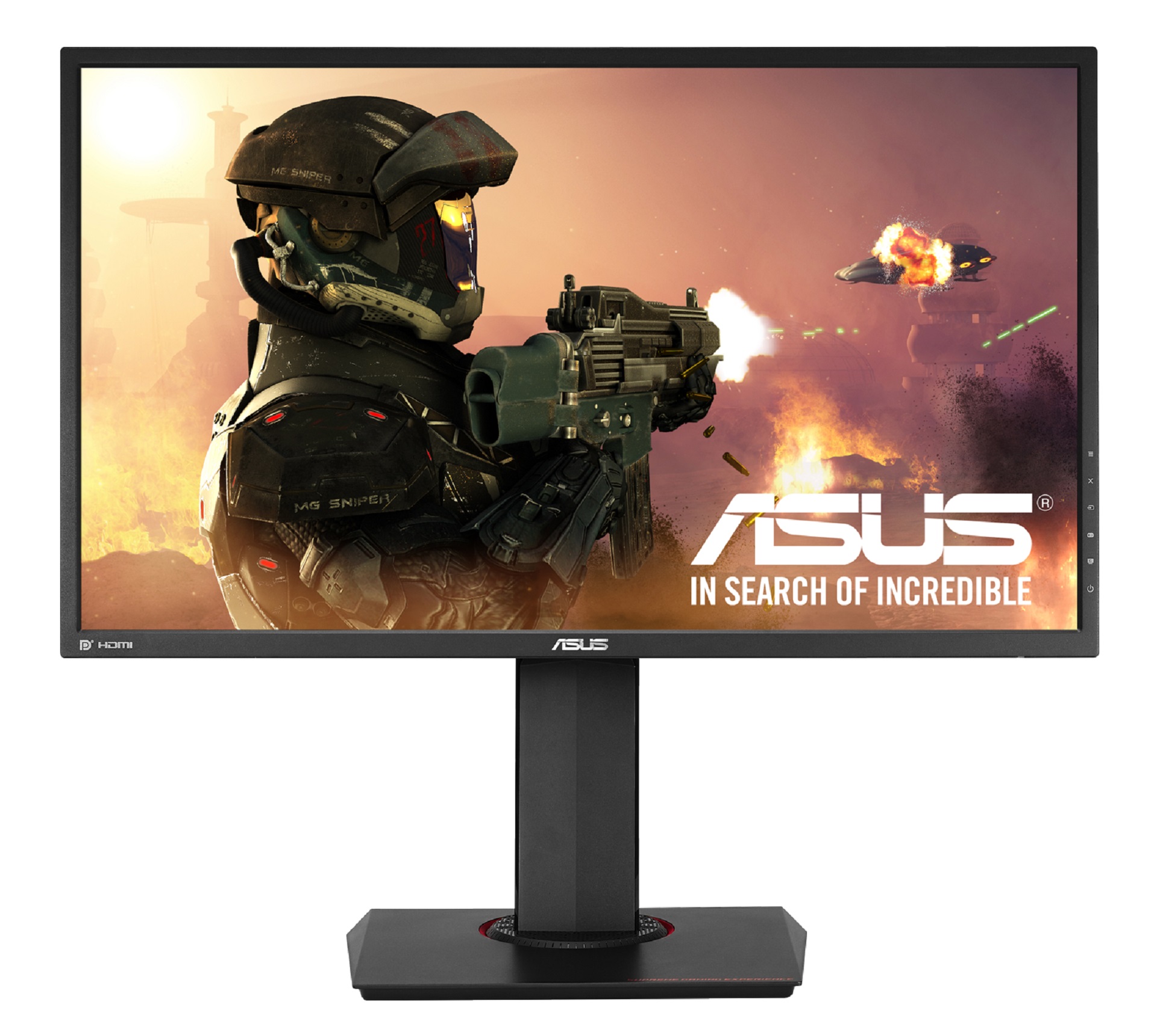 The ASUS display team has been busy designing and developing even more MG series monitors. The MG279Q was recently released to a huge degree of interest and positive response from gamers, display enthusiasts and technical media. The latest MG series monitor offers up a similar set of features and functionality along with superior response time due to the inclusion of a high quality, ultra fast TN panel. Gamers looking for outstanding response time along with a tear free gaming experience can also take advantage of the monitor's ability to support high quality & high refresh rate NVIDIA adaptive V-SYNC as well as AMD frame syncing technology, AMD FreeSync. Beyond that if you have been looking to move from 1080P gaming to 2560 gaming to increase the detail, immersion and overall screen real estate  for additional desktop flexibility and productivity you will definitely want to take a look at the MG278Q whose additional features provide rich display customization, specialized gaming functions,great ergonomics extensive connectivity and much more.
Key features, functions and specifications
27 inches
Premium 8 bit TN panel
WQHD resolution ( 2560×1440 )
Response time: 1ms ( gray to gray )
Refresh rate: up to 144Hz ( Freesync operating range 40 – 144Hz )
AMD FreeSync for smooth, responsive tear from gaming
Flicker free design for less eye fatigue
Ergonomic and adjustable design ( supporting full tilt, swivel, pivot and height adjustment )
Ultra low contrable low blue light filter ( 5 levels of adjustment )
ASUS exclusive GamePlus OSD for ingame enhancements and GameVisual technology with six display presets optimized for different game environments ( GamePlus offers crosshair overlay, timer function and FPS counter
ASUS 5 way OSD joystick for easy on screen display adjustment
ASUS Splendid exclusive display enhancement options including ( Trace Free, VividPixel )
Quick release design & VESA mount supported ( for optimal flexibility in enabling Eyefinity surround configurations )
Display connections – Dual link DVI, two ( 2 ) HDMI ports, one ( 1 ) Displayport
Integrated USB 3.0 hub supporting fast charging of mobile devices
Integrated cable management
Integrated stereo 2w speakers
Integrated headphone jack
Details on GamePlus OSD and GameVisual technology
ASUS MG278Q features the ASUS-exclusive GamePlus hotkey for crosshair overlay, timer functions and frames per second (FPS) counter. The crosshair overlay with four different crosshair options lets users choose the one that best suits the game and their playstyle. There's also an onscreen timer users can position on the left of the display to keep track of time; while the FPS (frames per second) counter lets users know how smoothly the game is running.
ASUS-exclusive GameVisual technology provides up to six preset display modes (Scenery, Racing, Cinema, RTS/RPG, FPS, and sRGB) to suit different game genres. This unique feature can be easily accessed through a hotkey or the OSD settings menu.
Rich display connectivity and smart cable management
ASUS MG278Q has rich connectivity options that compliment modern graphics cards and the needs of gamers and display enthusiasts. These connections include one dual-link DVI, two HDMI ports and one DisplayPort 1.2. The DisplayPort 1.2 and HDMI-1 outputs provide native WQHD output. Two fast-charging USB 3.0 ports charge mobile devices quickly and can be used as an alternative connection for a secondary display.
A cable-management design feature found on the back of the display helps organize and hide cables to keep the gaming area clean of cables.
Photos
FAQ
1. How does the MG278Q compare to the MG279Q
The main difference is in the type of panel that the monitor incorporates. For gamers seeking the absolute lowest response time they will want to consider the MG278Q as it uses a high quality, high performance TN panel that offers 1ms response time compared to the 4ms response time of the MG279Q. THe MG279Q features superior color reproduction due to the use of a in plane switching panel. The MG278Q features a new operating mode for GamePlus with the inclusion of an FPS counter. In regards to display connectivity the Mg279Q features MHL integration while the Mg278Q does not. Lastly both the MG monitors featuring integrated cable management functionality but the MG278Q features a newly designed cable management system that is more robust for larger cord bundles and is thicker.
2. What type of panel does it use?
As noted in the specifications it features a Premium TN panel ( 8 bit ). This panel offers considerably better color reproduction and viewing angles than lower quality 6 bit TN panels. For many users they will find that the experience is extremely solid and if coming from previous generation TN panels will find it offers a solid imporvment in all metrics.
3. When will be available?
The MG278Q will be available shortly at leading etailers. Look for availability within the next two weeks.
4. What will it cost?
MSRP will be set shortly and updated
Expanded Photo Gallery
Front angles
Back angles
Ergonomic Adjustment Angles
Quick Release Assembly
Display Connectivity