ROG has a rich history of real innovation
The Republic of Gamers is more than just a color scheme and branding exercise; it's an entirely separate group within ASUS that's been producing premium PC products for nearly a decade. This dedicated team has a mandate to push the design and engineering envelope while actively engaging with the community to ensure that its goals align with what gamers and enthusiasts really want. Striving for perfection requires patience—ROG gear can take twice as long to develop as other ASUS products—but the results speak or themselves.
ASUS is ready for virtual reality
Virtual reality presents unique challenges that ASUS is well-positioned to overcome. Upcoming headsets require high frame rates and low latency to maintain immersion and avoid motion sickness, making performance critically important. That emphasis matches the ROG ethos, which is predicated on delivering the highest performance possible. As part of the Oculus Ready program, ASUS will offer G20 and G11 desktops guaranteed to provide a good VR experience out of the box. And our components are up to speed, too, if you want to build your own VR-ready gaming rig.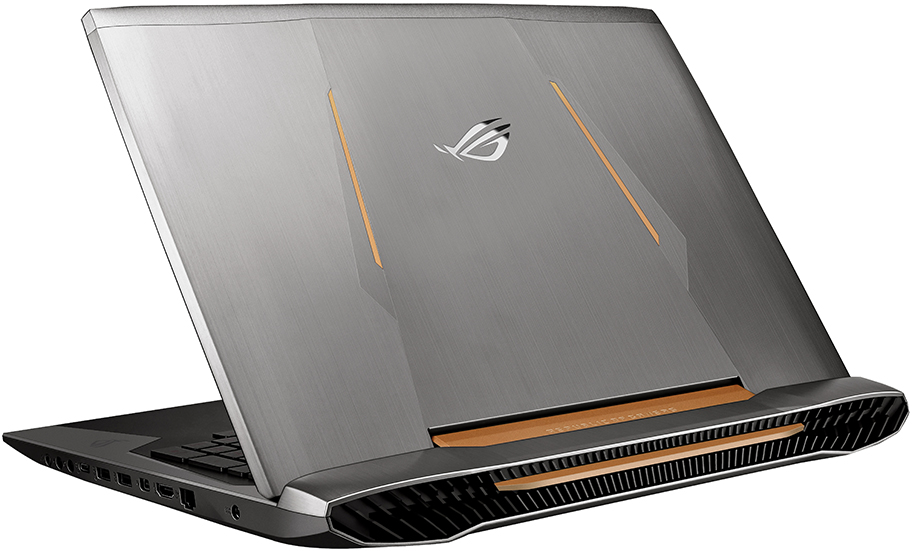 The ROG GX700 brings new meaning to mobile horsepower
Gaming notebooks abound, but the ROG GX700 is the only one with a liquid cooling dock that lowers operating temperatures to enable higher performance. The first of its kind, this custom solution uses automotive-grade cooling components to elevate mobile gaming to the next level. The cooler chills a 6th Generation Intel Core i7 processor that's fully unlocked for easy overclocking, plus desktop-class NVIDIA GeForce GTX 980 graphics that offer smooth gaming with not only the 4K G-Sync display, but also upcoming VR headsets. A truly extreme machine in every sense, the GX700 is a testament ROG's drive to push the limits of what can be done with modern hardware.
All ROG G752 notebooks offer the superior gaming smoothness of NVIDIA G-Sync technology
Synchronizing the delivery of frames between the graphics processor and display is key to achieving a smooth gaming experience free of the tearing, stuttering, and input lag that disrupt immersion with traditional displays. This functionality is a must-have for savvy gamers, and it's available across the entire ROG G752 notebook family thanks to NVIDIA's G-Sync technology. The G752 further sweetens the pot with n-key rollover to ensure you never miss a keystroke, and it's equipped with Thunderbolt 3 and USB Type-C connectivity to support next-gen devices. With Intel's latest 6th Generation Core processors and NVIDIA GeForce graphics under the hood, the ROG G752 has the right mix of features for future-proof gaming on the go. And, if you pre-order one before October 10 at 3:00pm PT, you'll get a free ROG Shuttle backpack worth $99.99.
The ROG Matrix is not your average 980 Ti
Despite using the same GeForce GTX 980 Ti GPU as other graphics cards, the ROG Matrix is an entirely different beast. ASUS tests each GPU to assess its overclocking potential and reserves only the very best for use in the ROG Matrix. Those chips are paired with a custom circuit board, power delivery, and cooling solution tuned to help you wring out every last drop of performance. The card is bursting useful extras, too, like RGB LEDs that change color based on the workload, a defroster that prevents condensation build-up with sub-zero overclocking, and a safe-mode button that can rescue you from overly ambitious overclocks. More than just another GeForce GTX 980 Ti, the ROG Matrix is in a class all its own.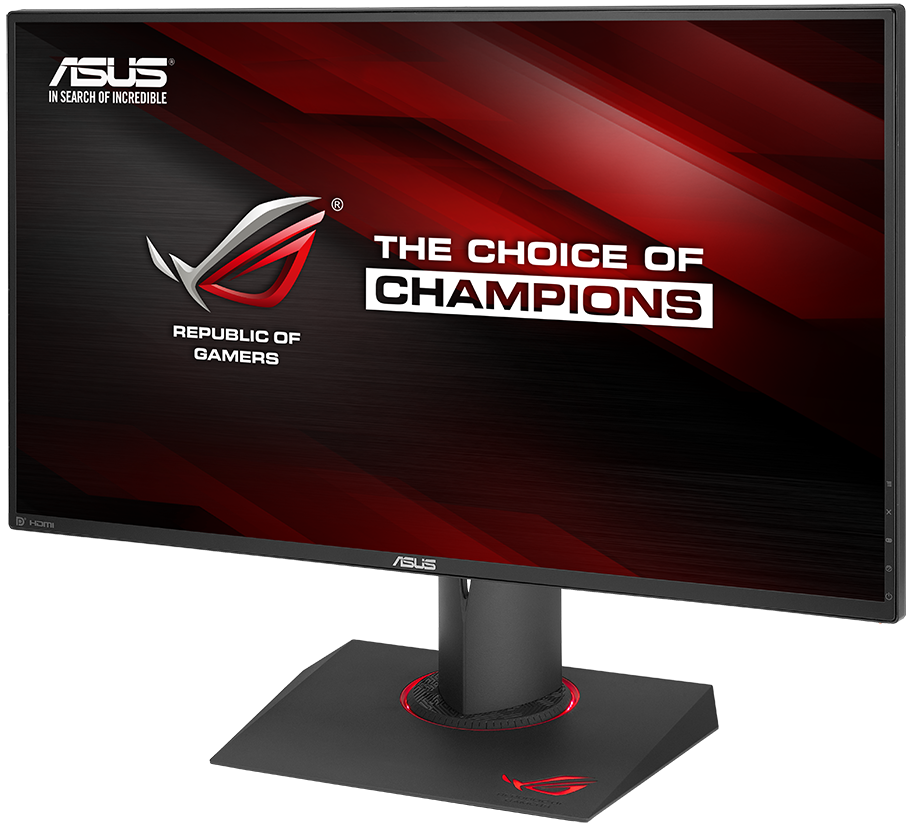 ROG offers a diverse range of G-Sync gaming monitors for different tastes
Gamers are just as diverse as the titles they play, and ROG has monitors to suite every style. To follow to the critically acclaimed ROG Swift PG278Q released last year, we're bringing G-Sync technology to a collection of new IPS displays with better color reproduction and wider viewing angles. The ROG Swift PG279Q maintains the 27" WQHD (2560 x 1440) format of the original but pushes the maximum refresh rate to an astounding 165Hz to achieve unmatched responsiveness for fast-paced gaming. For those who prefer higher pixel densities and smoother gradients, the ROG Swift PG27AQ squeezes a UHD/4K (3840 x 2160) resolution and 10-bit color into the same screen size. And soon, the ROG Swift PG348Q will join the ranks with an ultra-wide 34" panel that's curved for a more natural field of view. No matter how you want to play, ROG gaming monitors have you covered.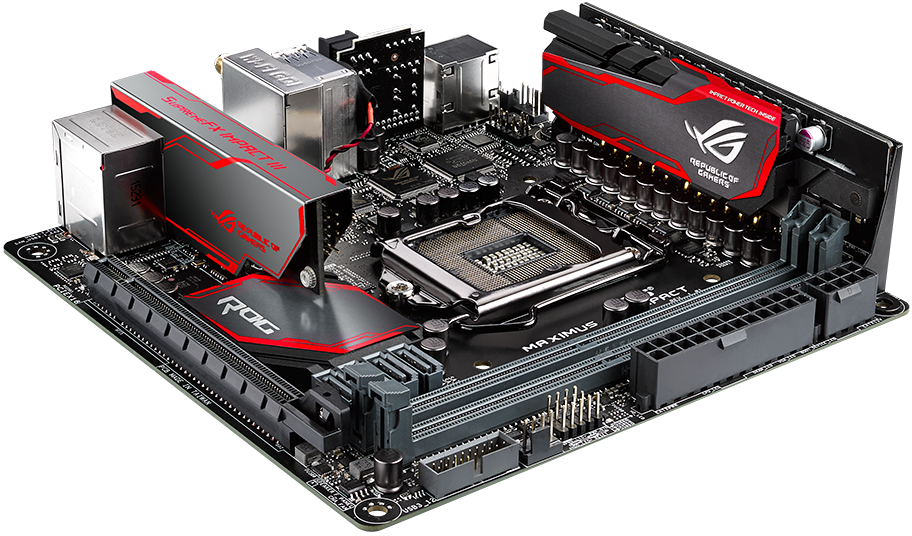 The Maximus VIII Impact is the ultimate pound for pound motherboard
The constraints imposed by the smaller Mini-ITX form factor usually call for compromises on features, performance, and fan controls—but ROG doesn't compromise. Instead, we created more board real estate by building vertically using daughter cards. One hosts an ATX-class 8-phase power solution that delivers stable, noise-free power for optimal overclocking, while a second elevates the premium audio DAC above board-level interference to produce exceptionally clear sound. A third lets ASUS' industry-leading fan controls govern up to five fans, enough to ensure the cooling for an entire Mini-ITX system is no louder than necessary. Then we added more extras, like the first U.2 storage implementation on Mini-ITX, USB Type-C connectivity for next-gen devices, and MU-MIMO functionality to improve Wi-Fi performance. All told, the Maximus VIII Impact has double the component density of typical ATX boards. It also supports DDR4 memory speeds up to an incredible 4133MHz, so we didn't take our foot off the gas, either. Any way you slice it, this is an undeniably impressive example of motherboard engineering.
The all-new RT-A88U router optimizes traffic inside and out of your home network
Networks are increasingly crowded both locally and online, resulting in slower, inconsistent performance that disrupts the fluidity of multiplayer gaming. To combat this problem, the RT-A88U uses local QoS to prevent Netflix streams, Torrent downloads, and other high-bandwidth activities from lagging your gaming sessions. It also optimizes packet routing on the Internet via WTFast, the Gamers Private Network, which reduces ping times, packet loss, and lag to provide the best possible online gaming experience. The RT-A88U is loaded with other features, too, like a USB 3.0 port for easy NAS storage, failover and load-balancing support for USB NICs, and Ai Protection to protect you from viruses, malware, and other attacks. And it's incredibly fast, with 5GHz Wi-Fi speeds up to 2.1Gbps and 2.4GHz speeds up to 1Gbps.
Orange is the new red… sometimes
ROG pioneered the red-and-black color scheme that's now used throughout the gaming hardware world. We're not abandoning that aesthetic, but we don't want to shackle our designers to a single theme. They need the same freedom to innovate and pursue inspiration as the rest of the ROG team. That's why some of the latest ROG designs have a more modern look that combines copper and titanium tones. This unique orange-and-grey colorway reflects the diversity within the Republic of Gamers—and our desire to continuously redefine premium PC hardware.