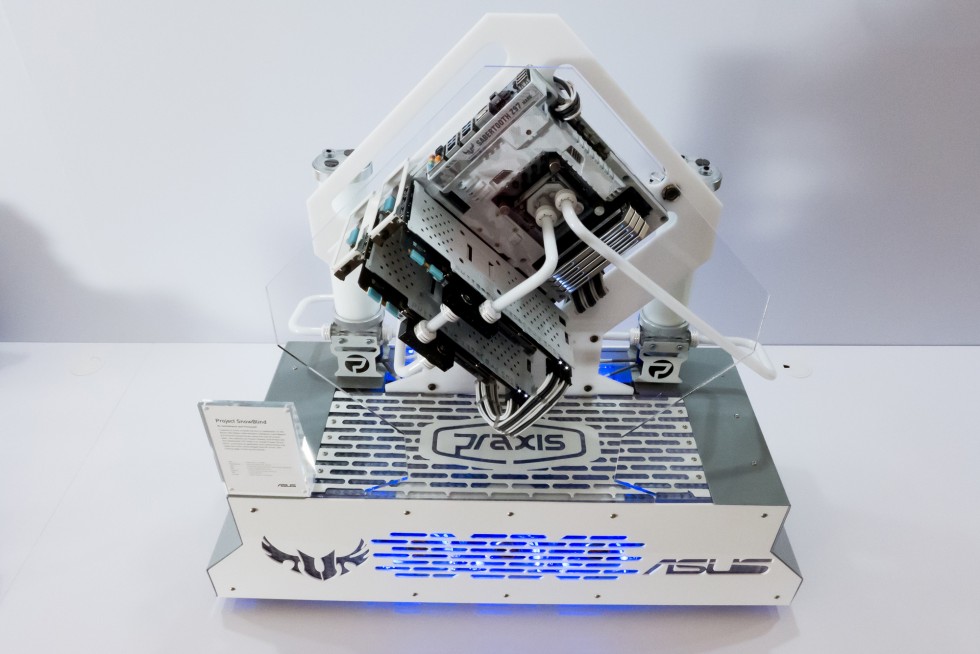 While at CES 2015 we had the time to sync up with one of our favorite PCDIY enthusiasts who also happens to be one of the best PCDIY modders out in the community. For those in the know I am speaking of the one and only Richard Surroz aka Darth Beavis. Richard was onsite with the ASUS team to bring to life a very distinctive free form hard line tubing ASUS centric mod to celebrate our 25th anniversary and 500,000,00 motherboard mark. Project Snowblind has some really great distinctive design elements and shows off some what a PCDIY enthusiast who has creativity, vision and passion can bring to life.
We spent a little time to ask Richard a few questions as well as get some feedback on his experience with getting Project Snowblind up and running in tight time frame and less than optimal environment.
Our modder Richard Surroz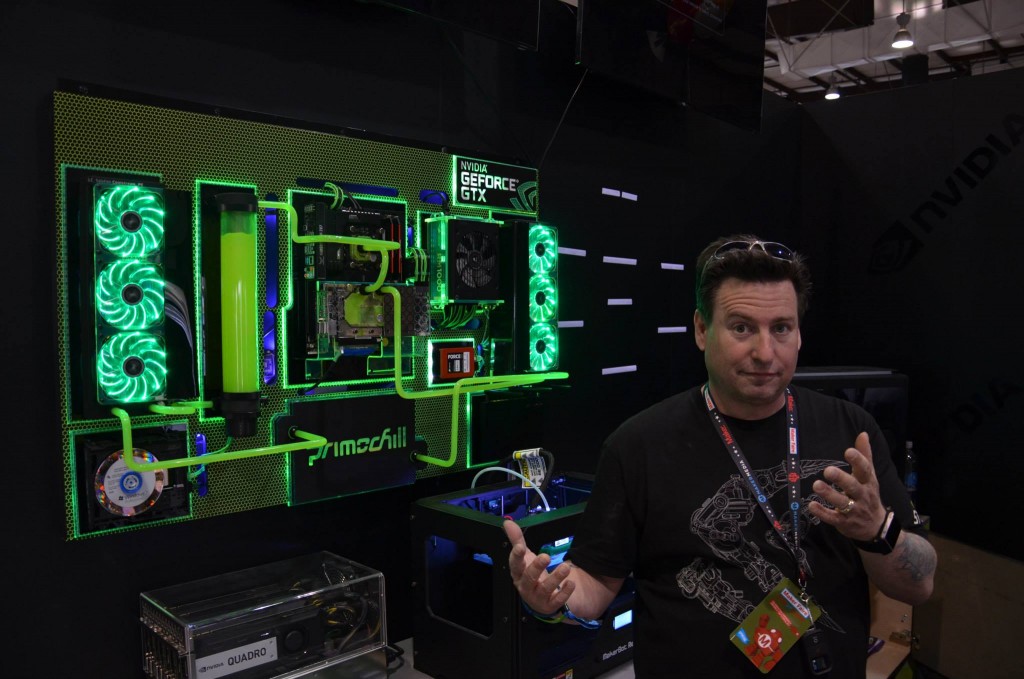 Behind the scenes with Primochill:
Owner of Primochill Brian Farrell
Before jumping into the the beginning of the build at CES we wanted to give you some insight into the extremely important behind the scenes of how Primochill help to bring the Praxis chassis from concept to realization. In following up with Richard we were able to touch base with Brian the owner of Primochill who helped further develop and produce the amazing Praxis chassis that was used for the Snowblind mod. As part of our Q&A with Brian we were lucky enough to get some amazing renders and photos of how the Praxis came from imagination to concept to a realized product. We also had the opportunity to get some insight into Primochill thoughts on modding the landscape of PCDIY as well as what Primochill is doing to support the PCDIY enthusiast community.
Q – PCDIY – Please provide some background information on yourself?
A – Brian @ Primochill –
Owner of Tyler Industries, LLC with brands that include
-PrimoChill
-mod/smart
-Praxis (Coming Soon)
I was pretty much a computer geek from birth. My father worked for IBM for 30+ years. During this time I was exposed to all the latest and greatest technology including receiving one of the first IBM PC Jr. computers fresh off the production line at age 12. My love of computers sprouted and grew from that moment forward.
More than anything I consider myself a Family man with an insanely hot wife and 2 wonderful kids.
I take pride in innovation and not simply reproduction.  I strive to be first to innovate and produce unique products and support the modding community to the best of my ability.
Q – PCDIY – How long has PrimoChill been in business?
A – Brian @ Primochill – PrimoChill has been around since 2003 (12th year this year)
Q – PCDIY – What is the current scope of product development for PrimoChill?
A – Brian @ Primochill – Constantly striving for improved methods to watercool  hot components in all industries  from gaming pcs to private aircraft with ground breaking technology.
Q – PCDIY – On the horizon?
A – Brian @ Primochill – PrimoChill's  very first water block.  3+ years in the making, a CPU waterblock with industry disrupting innovations.
Q – PCDIY – Watercooling and aesthetic modding have seen more visibility in the last 2 to 3 years. Engagement and interest is readily apparent. PCDIy enthusiasts have seen this by the types of product being released as well as how watercooling is being more readily supported by chassis manufacturers. How is Primochill responding to this?
A – Brian @ Primochill – We are leading the pack by providing the  PCDIY market with user  friendly products that not only make their systems more efficient but provide each user the ability to create their own piece of art.
Q – PCDIY – In developing the Praxis what were some of the initial aspects of feature or functionality you were hoping to have?
A – Brian @ Primochill – (Inspired by the ASUS build that Richard brought to us.) This sparked the idea that showcasing hardware and making it look like an achievement award was a whole new approach to the average computer case.
Keeping true to this inspiration, we insured that the motherboard was the main focus of the ASUS build.
Q – PCDIY – As development progressed what difficulties presented themselves? How were these difficulties overcome?
A – Brian @ Primochill – Time constraint was the biggest hurdle in this build.  From concept to design to fabrication, it took less than 3 weeks. Long hours and all hands on deck from the PrimoChill team helped us overcome the time limitation. It was a crazy few weeks but our incredible staff was able to create this build while still maintaining normal business operations.
Q – PCDIY – What type of tools were required for the fabrication?
A – Brian @ Primochill – Fabrication included the use of several of our in house machines including the CO2 Laser for all the acrylic, the Plasma cutting machine for all the sheet metal work, as well as a metal bending brake.  The final touches required powder coating and baking of metal parts.
Q – PCDIY – Overall the final result speaks for shows and the attention to detail you and the Primochill team brought to the table along with Richard is impressive and inspiring. Seeing it all come together are you happy with it? Are there any areas or aspect you would like to see improvement in?
A – Brian @ Primochill – We are extremely happy with the final product and have received much feedback from Richard that will definitely be implemented into future revisions of this type of build. There is always room for improvement, as that is what keeps us busy and keeps the fire for modding/design burning. Most may not have noticed, but the lower portion of the ASUS logo is missing. It is not an easy logo to cut and to stay intact. This is an improvement we will definitely incorporate into the next build.
Mod Showcase – Project Snowblind
Project Snowblind build in progress:
 Project Snowblind build completed:

 Video Q&A with Richard Surroz creator of Project Snowblind:
Q – PCDIY – What got you into modding?
A- Richard Surroz – Years ago in the days of the 286 I had to mod my case to improve the airflow. I also wanted to learn good cable management including folding flat IDE cables like Origami.
Q – PCDIY – How long have you been modding?
A- Richard Surroz – If you count those early days I guess that would be around 24 years.
Q – PCDIY – What three things in your opinion does a modder need to have?
A- Richard Surroz –
Imagination
Determination
Perspiration
Q – PCDIY – What is your opinion of modding now?
A- Richard Surroz – Modders today are fortunate to have a large variety of tools created to support our craft. I am amazed at the quality of their productions including n00bs. It takes people less time to climb to higher levels today.
Q – PCDIY – When modding first happen it was less of a creative expression and more a necessity the needs and wants in regards to functionality of many products were not being addressed by vendors. Over the last five years we have seen so many design implementations be incorporated by vendors to streamlined building a PC a provide flexibility to installation. In my perspective it has become much more an aesthetic pursuit than a functional pursuit?
A- Richard Surroz – If you look at performance measures (delta between stock and after-market cooling and the delta between different after-market cooling options with-in sub segments such as AIO/discrete premium cooling) you see the differences are relatively minor. When that happens, other considerations like aesthetics, price, and ease-of-use rise in priority of consumers.
Q – PCDIY – When you first go about designing our laying out a mod what comes first the overall concept or does it come together as you know what hardware you are working with. In this respect do parts and functionality dictate form or you go the other way and let your inspired form dictate everything else
A- Richard Surroz – It can go anyway. I teach my college students there is NO one correct method for all situations only the one that is correct for your current project and the constraints that come with it.
Q – PCDIY – What were three challenges in this mod / build?
A- Richard Surroz –
We had a short time frame to design.
We did not have the time to do test fittings with the actual hardware like radiators.
I had to build on site especially doing the rigid tubing bending.
Q – PCDIY – What three things were you most proud of in this mod / build?
A- Richard Surroz –
The clean aesthetics over all.
The design tied in perfectly to the theme (500 million ASUS motherboards sold so we made the build look like a motherboard trophy).
Being able to DIY in the ASUS suite while having a great time with my buddy JJ.
Q – PCDIY – What three things were you not as satisfied with or hope to improve?
A- Richard Surroz –
I would like to do the complete build out in my shop so install goes faster.
Bends are not my best work
Would like to have had time to over-clock and have the system running demos.
Q – PCDIY – I have always advocated that great tools help to make things easier along with the knowledge on how to use them? What types of tools did you use for this build?
A- Richard Surroz –
Heat gun
Power screw drive
Primochill Bender tool
Q – PCDIY – The PCDIY and modder / maker community have continued to grow in interesting and distinctive ways. Further integration of varied technologies are coming from a multitude of users and the environments they incorporate their builds and mods into. Where do you see modding going in the next couple of years? Anything you hope to see from vendors?
A- Richard Surroz – I think vendors are on point (you see more and more modders starting small businesses in addition to modders consulting with companies). Where are we going? To infinity and beyond.
Q – PCDIY – ASUS has prided itself on quality design, features and functionality and ensuring attention to detail in the production of its components. What has been your experience working with ASUS hardware?
A- Richard Surroz – ASUS hardware, especially motherboards, have always been my preferred brand as they are the most stable out of the box.
Q – PCDIY – Over the last 5 years ASUS has spent a huge amount of time and effort in the design, development and implementation of a wide range of features, functionality. Has there been any that you have really appreciated or were / are excited to see implemented?
A- Richard Surroz – As a modder I love the Thermal Armor. As a gamer and over-clocker, I love the complete set of tools to make improving performance uber easy including the suite of Windows applications.