PCDIY is excited to bring you another Q&A in our ongoing series of interviews with a wide range of PCDIY enthusiasts, HOF builders, modders, partner vendors and more. This time around I am chatting it up with the founder and owner also well as the man with the magic hands when it comes to custom cables, Mundi. For those of you not in the known Mundi / IceModz is a custom cable artisian and crafter of beautifully made custom PC cables. Whether you looking for a perfect match to your latest ROG themed build or something white with blue accents to compliment the latest mainstream series or even a gunmetal and brown to go with your TUF board IceModz can do it for in just about any length with different sleeving and different colors connectors. So with introductions out of the way lets find out more about IceModz and Mundi Valur.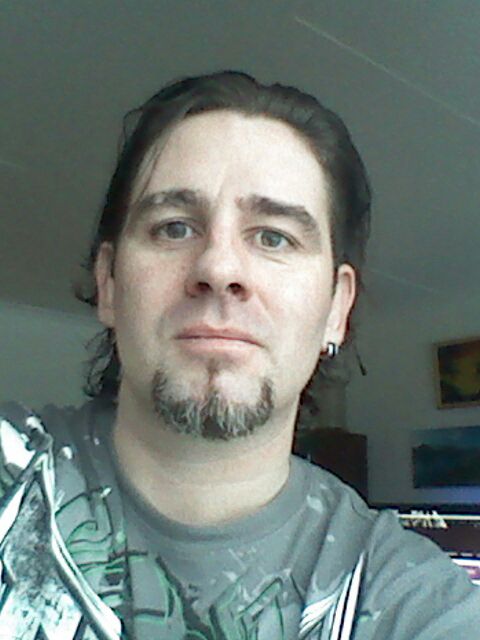 1.PCDIY Question – Please introduce yourself and tells us a little more about you how you got involved with PCDIY?
IceModz – My name is Gudmundur Rikhardsson, it can be a bit difficult for some to remember or pronounce if they are not Icelandic, so I go by my short name Mundi Valur.
I have been interested in modding for about a decade, but in early 2010 I got my first custom water-cooling loop and that's what bred my passion for perfection and PCDIY!
2. PCDIY Question – You are the founder and owner of Icemodz. Please tell us about the company; what do you do and how it relates to the PCDIY gamers and enthusiasts?
IceModz – Icemodz specialize in cables, we produce handmade custom cables for PC gamers and enthusiasts upon request – supporting a large range of power supplies manufactured by some of the leading brands in the PC industry.
Our clients have many different needs; some people are looking for very short cables, to fit a small case or extended lengths to fit a larger. We are working with PC enthusiasts all over the world. We have a wide range of colors, various types of sleeve, connectors etc.
3. PCDIY Question – How long has Icemodz been in business?
IceModz – I founded Icemodz around 2011. I took the step into establishing a business due to an increasing amount of requests for custom cables, submitted by local Icelandic PC gamers and enthusiasts. For a long time, before I even considered making a business out of it, I helped a good handful of local people get closer to their idea of what 'a perfect pc' should be like. I made some cables, sleeved some power supplies, cut a few case windows, out of personal interest. I was driven by my passion for perfection, the satisfaction I got when I saw the smile on peoples face when they saw their PC evolving into something they dreamed of, it was so uplifting, It so felt good to help someone get what they really wished for in their build! After some time doing different mods I realized that, making custom cables were something I had a good hang on – And so I began focusing primarily on that part of custom work!
In the beginning, my intentions were to supply the local Islandic gamers and modders with some decent cables for their projects, but someday I decided to share some of my cable work on some modding and water-cooling Facebook groups, the next day – requests for customized cables had reached me from all over the world!
Today 99% of our clients are International and only about 1% are local.
4. PCDIY Question – How many people are on the Icemodz team?  
IceModz – Three people are part of the Icemodz team.
I am one that carries out all the orders – but I do have two helpers who takes care of E-mails, Websites, Facebook and such stuff, they are not involved in the actual making of Icemodz products.
5. PCDIY Question – Over the last, few years we have seen a continued increase in the level of aesthetic refinement as well as product design users have wanted as well as needed with PCDIY component products. One area this is most visible in has and is custom PSU cabling / sleeving. With more and more modular PSU on the market as well as users who are modding or sleeving their PSU this has been an area enthusiasts have looked to bring together the look and feel of their system or create a build that goes to the next level in regards to its overall design aesthetic. How did you get into developing custom cables was it in response to this demand from the community? Was it because of personal interest a combination of the two or something different all together?
IceModz – As I talked about earlier, it was by demand from the community, but it has deeper roots than that. The first set of custom cables I bought myself, were some cheap single colored extensions and they were so awful in quality, that I ended up buying tools and material to make my own cables! After I gained some experience with it, I started offering others custom cables because I did not see that many offering that service unless for a very high price! I understand that price today (Mundi laughs). Right away, I did not like extensions, I had two GPU´s so all the extensions connectors made an even bigger mess in the back of the PC, so I started making new OEM PSU cables and it has taken me years to learn – and gather info about the PSU types I offer today at Icemodz. The full size PSU cables look just better for the total build in my opinion and they are easier to control then extensions – No one likes unruly cables and the feeling of not being able to put on the back panel due to unnecessary lengths of wire and unused connectors – right?
6. PCDIY Question – Looking at ICEMODZ.COM there is a very diverse level of colors and options especially with some beautiful and complimentary alternating color patterns. Can you tells us a bit more about the type of options available to users considering custom cables and custom sleeving?
IceModz – Black/Red themed cables is our bestselling color combination and that's mainly because of Asus ROG Black/Red theme (Mundi laughs) – but many of our customers are also reaching us through our inbox for special combinations, unique colors or different materials to suit their exact project, and we try to please everyone to a certain extend! We often stock new unique colors and material, as per request from our customers. Our customers can choose from all the colors I offer and mix them, as they want – the colors is often chosen to match or compliment the motherboard, Case, Water coolant color, Ram, Fans and GPU there is usually the three main colors of the build. Others ask me to decide what fits with their build then I make some samples and we decide together.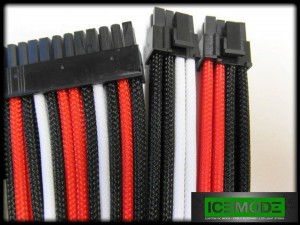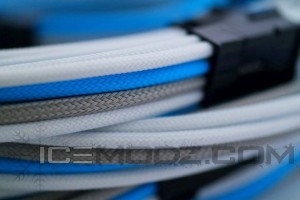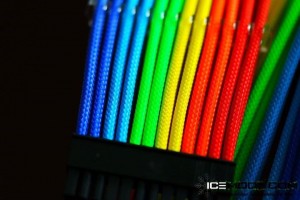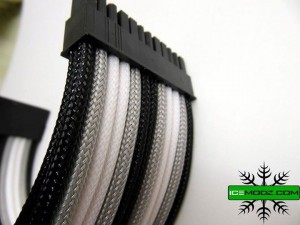 7. PCDIY Question – How many types of custom sleeving do you offer do you have different quality levels for users on different budgets?
IceModz – At the moment, I believe more than 60 different colors are stocked, and split into 4-5 different types of material – and of course we try to stock each color in every size needed to do a complete build. We occasionally stock other materials, colors and connectors when working with clients who has more 'special needs'.
About quality and budget, we recently introduced our VALUE Cables. Which are great to achieve that modified look, many entry-level modders are looking for at a low cost. The VALUE Cables are machine made – but the wires is a lower grade and we have limited the colors for these at the moment, so that only the most wanted combinations are available for these – We still put them together by hand, so you can have a nice curved 24pin or a straight one if you prefer.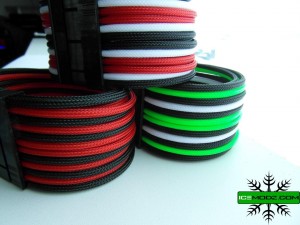 8. PCDIY Question – What separates ICEMODZ from pre produced extension cables?
IceModz – You are able to customize our extension and PSU cables, in numerous ways – choose length, colors, patterns, material, connector colors and more! So if you have the guts – we can make you a Brown/Blue/Gold-threaded cable with pink and green 'glow in the dark' connectors, You can even get heat shrink on the ends, if you'd like a bit of old-school with it Hehe – No one has yet requested such a combination, You can be the first! Get Unique!
Jokes aside, they are handmade, we crimp wires, fit thermal pins, cut sleeve – everything!
The wires used in our Icemodz Custom products are thicker, richer and more soft compared to the cheaper machine made cables, the handmade has a more premium feeling to them and are more flexible. All handmade cables has a 5 Year Warranty!
9. PCDIY Question – Can you tell us about some the materials you work with?
IceModz – The material we most often work with is a PET Plastic Sleeve, Its very common in the cable industry. We have our own range of colors, which we refer to as 'Ice Sleeve'. It has a high density, very flexible and wear-resistant sleeve. We combine the sleeve with high quality 18 AWG wires from Germany. That is what makes our handmade custom products!
However, we also work with other popular sleeves from the modding industry, MDPC-X, Paracord and more – We try to cover every clients needs.
10. PCDIY Question –  What type of tools do you use on a daily basis in the production of custom cabling?
A great crimping tool like the original Molex Crimper, a regular pin-removal tool, a premium wire cutter tool, wire stripper, soldering iron and an ordinary lighter! I also use some special stuff, a set of 'leather fingers' made from a glove I cut up, which keeps my fingers from getting burned when I do many sleeved cables in a row, and my own version of an anti-tangling tool that helps keep the speed of the work up!
11. PCDIY Question – Outside of PSU cables and PSU extension cables, does ICEMODZ produce other types of custom cables?
IceModz – Yep! – Most other types of cables you will relate to a PC, such as USB, Fan extensions and more.
Many of them are premade – but most of all the cables we offer can be customized if there is a need for it – We have done matching front panel connectors, I/O wiring, SATA-cables and so on..
Apart from cables, I also make custom LED light strips from 10cm to 500cm, in white, red, green, and blue, UV and RGB – With and without remote! Some of you might have seen it back in the days on LinusTechTips's YouTube? 
12. PCDIY Question – Describe IceModz in three words?
IceModz – Competitive, Reliable, Creative!
13. PCDIY Question – What are a few of the most difficult aspects of custom cable production?
IceModz – Time, time and more time – Being so specific on each solution we create for our customers, often requires many steps before the product can be made, packed, and send out, sometimes it can be down to just a few minutes before the order is confirmed by the customer – some people have tried it before or know exactly what they want. However, sometimes it can be days or even weeks just detailing the order with the customer.
Being a one-man business production wise, can easily get you a date with a tight schedule!
14. PCDIY Question – What has been your experience with ASUS products if any?
IceModz – ASUS for me has always been one of the best in the industry. All the ASUS hardware I have owned has been great and long lasting – the aesthetics of ASUS especially ROG-themed products has always been very appealing to me!
15. PCDIY Question – Being a PCDIY enthusiast what type of interesting innovations whether technically or aesthetic would like to see component vendors implement?
IceModz – I have been thinking for a while now, I cannot come up with anything specific, but I do not hope that we will see wireless PSU's in near future (Mundi laughs!)
16. PCDIY Question – Is there anyone you would like to thank?
IceModz – Yes of course! Big thanks to Ali at Shakmods was the first one to help me with material, Linus at LinusTechTips, I sent him some of my first LED products and he did a surprise review on YouTube, which made my business booming! My supportive family, all my friends, Kasper Kragh -for helping me with websites and various stuffs – and thanks to all the modders I have sponsored – and all of my amazing customers! Thank you!
17. PCDIY Question – Where can people go to order cables or ask questions about custom orders?
IceModz –People can email me straight at contact@icemodz.com or just go to the icemodz.com page and use the web shop to order products.