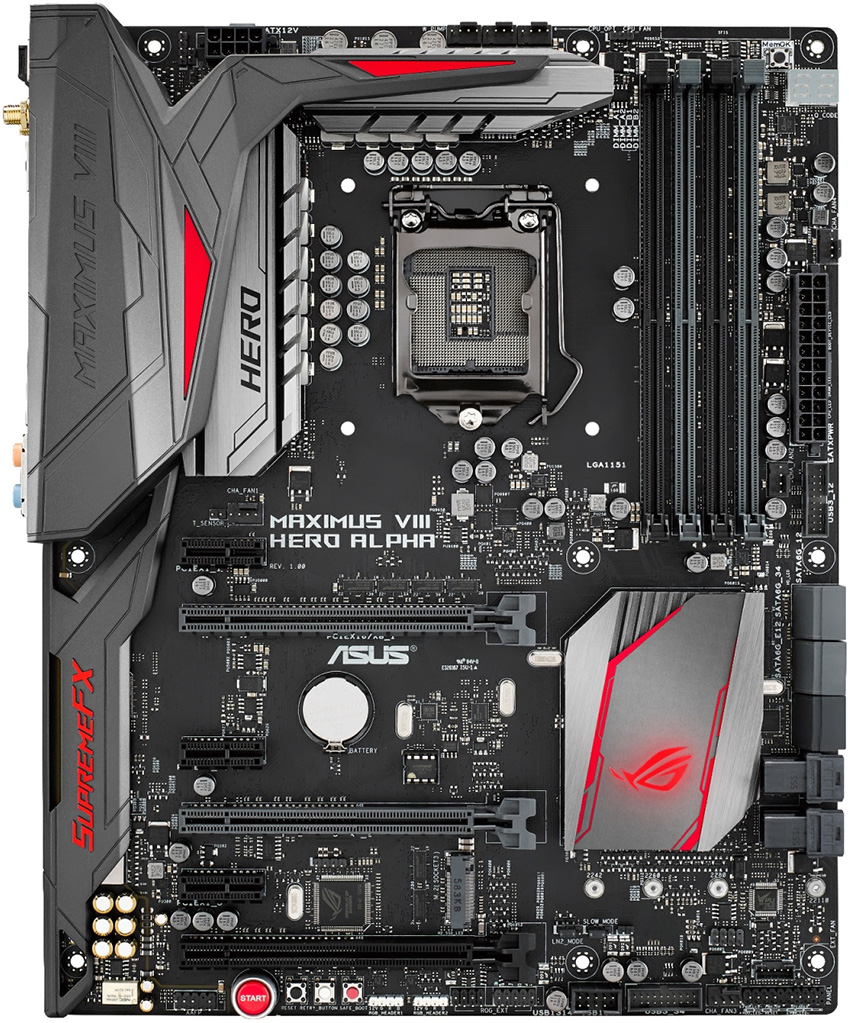 The ASUS Republic of Gamers has a storied history of ground-breaking products that push the boundaries of PC hardware. We're constantly exploring new features and technologies to elevate the overall experience for gamers, overclockers, modders, and PC enthusiasts who want the very best. The latest product of this pursuit is the Maximus VIII Hero Alpha, which adds headers for RGB lighting strips, support for dual U.2 SSDs, wireless connectivity, and an Intel USB 3.1 controller to the award-winning Hero formula.
PC builders thrive on customizing their machines, from the components on the inside to the appearance on the outside. RGB lighting has quickly become a prominent visual element, so we've upgraded the Hero Alpha to play an integral role. The board is the first with headers for off-the-shelf LED strips, letting you easily light up your PC with same AURA software that controls the illuminated ROG logo in the chipset heatsink.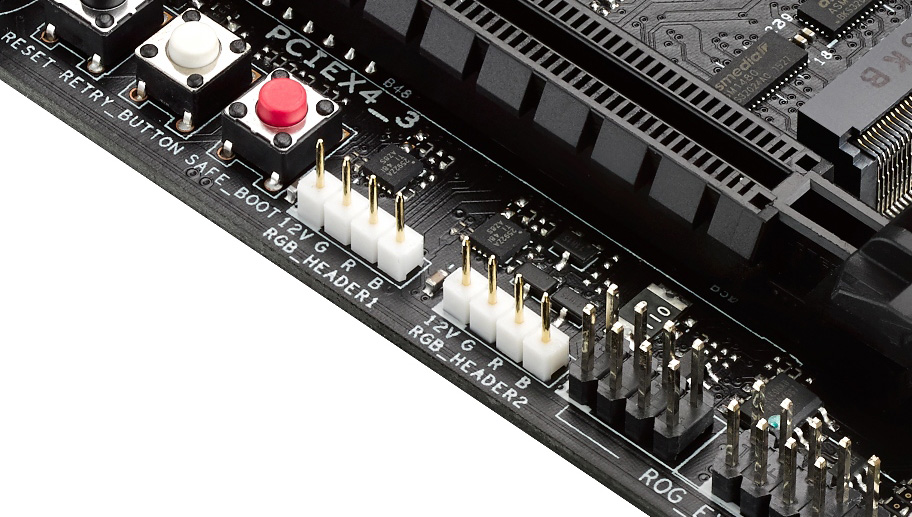 The Hero Alpha has dual four-pin headers for standard 5050 RGB LED strips. It supplies up to 2A at 12V, which offers ideal brightness for up to two meters of lighting—enough to bathe a complete system in a multicolored glow. We even include two extension cables in the box, so you can position the strips right where you want them.
Whether you're looking to subtly match colors or put on a rave in your chassis, our AURA software lets you customize the lighting to match your aesthetic. Pick any color off the spectrum or keep cycling through the entire rainbow. You can also select breathing and strobing effects, have the lighting pulse to the beat of your favorite music, and use it to reflect the CPU temperature. AURA controls each header and the ROG logo independently to provide maximum flexibility for achieving a specific look.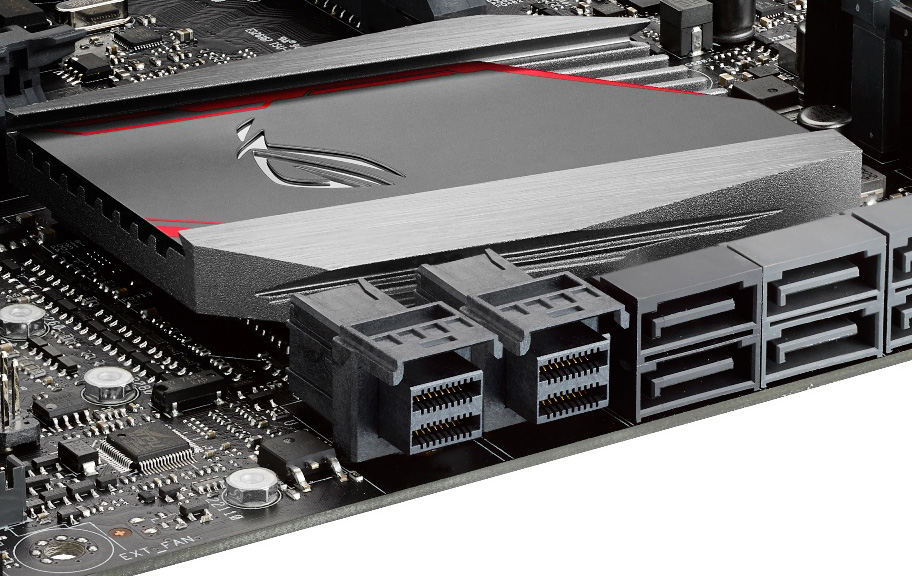 The Maximus VIII Hero Alpha includes expanded storage that lets you connect more ultra-fast NVMe SSDs without compromising the capacity for multiple graphics cards—or crowding their GPU coolers. It's the first board with dual U.2 ports, each of which offers 32Gbps of bandwidth via a quad-lane PCIe 3.0 interface. If you prefer your PCIe SSD on a gumstick form factor, there's also an M.2 slot with equivalent bandwidth and support for extra-long 22110 drives.
The M.2 slot faces the right edge, moving drives away from the potential hot spot around installed graphics cards. We did this because some M.2 SSDs have a tendency to overheat and throttle performance to compensate, a behavior that's been demonstrated by numerous independent websites. Thermal considerations informed our decision to give the Alpha dual U.2 ports, as well. U.2 relies on a cabled connection to a 2.5" drive that can be positioned in standard storage bays for improved airflow. On top of that, the form factor is large enough to incorporate a heatsink to aid cooling.
Extra space also helps U.2 SSDs offer much higher capacities than their M.2 counterparts. Intel's 750 Series currently crams 1.2TB into a single drive, letting the Hero Alpha tap into 2.4TB of insanely fast storage using U.2 alone. Multiple PCIe SSDs can even be combined in RAID to push performance right to the limits of the platform.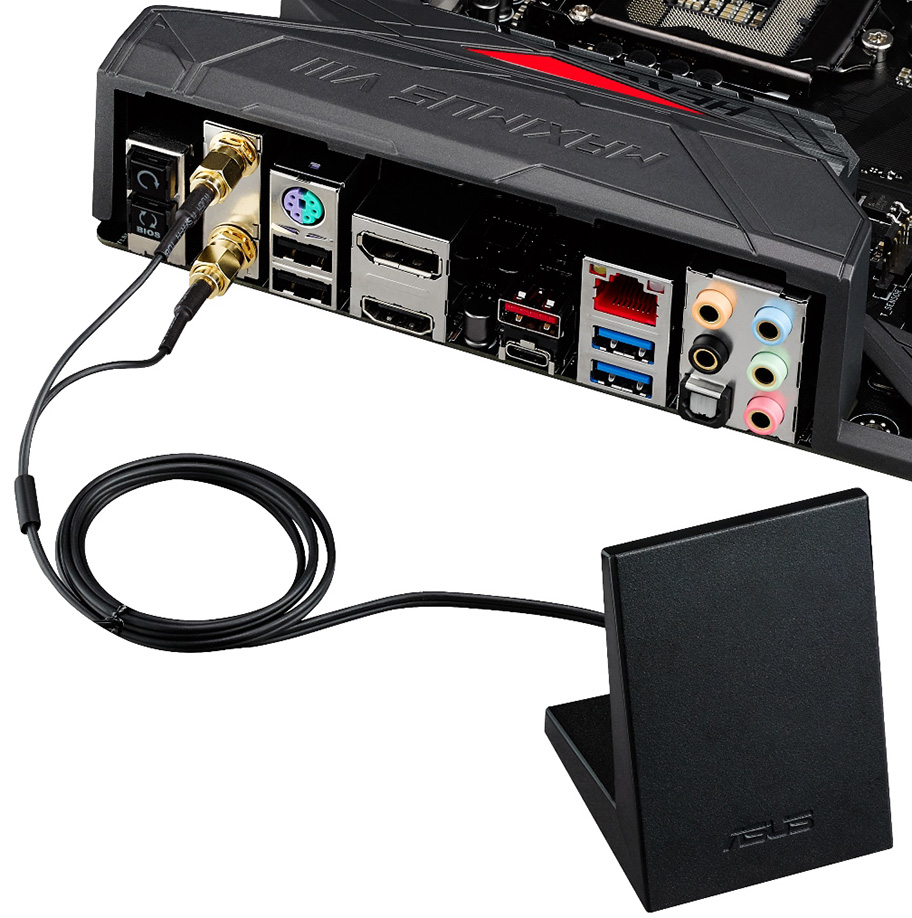 On the networking front, the Alpha complements the Hero's Intel Gigabit Ethernet controller with dual-band 802.11ac Wi-Fi. The onboard module and external 2×2 antenna push wireless speeds up to 867Mbps, nearly matching the performance of wired connections. And the module supports multi-user MIMO, which can improve speeds on busy networks. Wireless support also extends to peripherals via Bluetooth, so you can connect game controllers, headsets, and other devices without adding cable clutter.
The final tweak to the Maximus VIII Hero Alpha's blueprint affects USB 3.1. Intel's new Alpine Ridge controller drives the Type-A and Type-C ports, replacing the ASMedia chip in the standard Hero. These next-gen ports push speeds up to 10Gbps and can be accelerated by ASUS' USB Boost software. They're capable of supplying up to 36W of power to compatible devices, too.

Apart from those additions, the Alpha has all the goodness built into the Hero. It's based on Intel's Z170 chipset for 6th Generation Core processors, complete with extensive overclocking options for experts and an intelligent auto-tuner for beginners. The board's dual-digital PWM circuitry responds faster to transient loads, improving stability with overclocked CPUs, while its T-Topology trace layout balances signal timing, expanding frequency headroom for four-DIMM configurations. The Hero Alpha can push memory up to DDR4-3866 speeds with all its slots populated.
ROG's latest Supreme FX 2015 audio produces incredible sound using an ESS Sabre DAC, dedicated clock, de-pop relay, and other premium components. The amplifier can drive 2V RMS into conventional headphones with impedances from 32-600Ω, and it detects and sets the ideal gain automatically. Sonic Studio II software adds surround-sound emulation, while Casting Enhancer and Perfect Voice improve recording for streaming and in-game chat.
To minimize noise you don't want, the Maximus VIII Hero Alpha's integrated intelligence manages the fans for an entire system. Six onboard headers support both three- and four-pin fans, and one of them is configured specifically for liquid cooling pumps. Between graphical fan profiles, one-touch calibration, the flexibility to link different temperature sensors, and the ability to adjust spin-up and spin-down times, ASUS offers the most complete cooling controls around.
Like other ASUS ROG motherboards, the Maximus VIII Hero Alpha includes a host of other features for gamers and PC builders. There are too many to list here, but the product page has the full rundown. The Hero Alpha is available now at Newegg for $299.