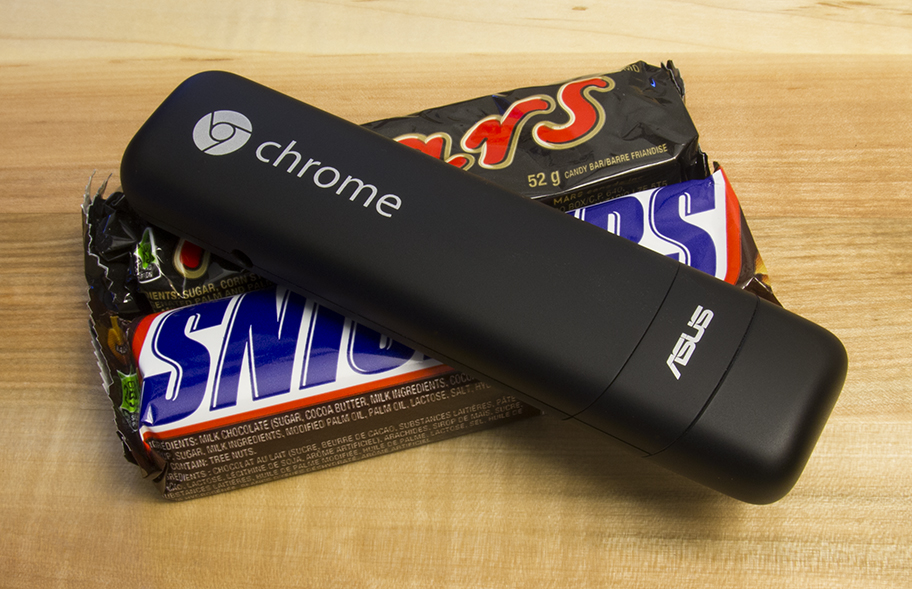 In some ways, the ASUS Chromebit CS10 is the antithesis of what we typically cover at PC DIY.  The case is completely closed, with no way to customize the internal components—or even peek inside.  And it runs Chrome OS, which favors hands-off remote management over hands-on local tweaking.  These attributes are ideal for the Chromebit's primary mission powering digital signage, kiosks, and low-cost computing, but they don't exactly top the wish list of typical PC enthusiasts.
The thing is, the Chromebit is the size of a candy bar, and it sells for only $85.  That's an undeniably intriguing combination for lots of applications, including plenty of DIY projects.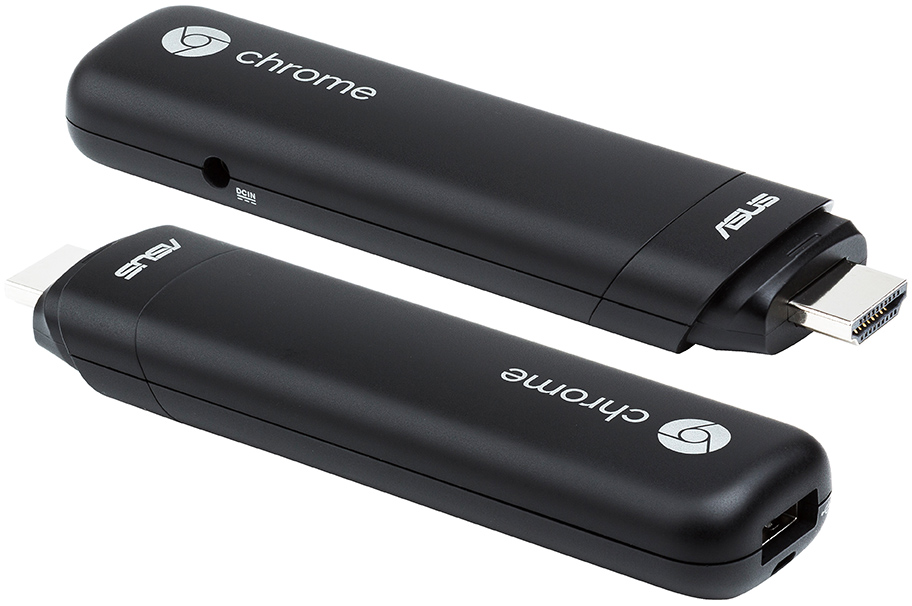 At just 123 x 31 x 17 mm and 75 grams, the Chromebit CS10 is small enough to plug directly into the HDMI port on a TV or monitor.  Don't let its diminutive dimensions fool you, though.  Inside sits a Rockchip RK3288-C, the same SoC as our Chromebook C201 and Chromebook Flip C100PA.  This system on a chip has quad ARM Cortex-A17 cores and Mali T764 graphics, and it's backed by 2GB of low-power DDR3 memory and 16GB of flash-based eMMC storage.
Unlike some devices with similar form factors, the Chromebit is completely fanless.  Its silent acoustic profile is even more unobtrusive than its tiny physical footprint.  You can put it almost anywhere as a result, though we recommend indoor environments with reasonable ambient airflow and temperatures under 35°C.  If things get too toasty, the Chromebit will shut down automatically to prevent overheating.
With dual-band 802.11ac Wi-Fi built in, you can connect to the fastest wireless networks at top speed.  Bluetooth 4.0 extends wireless to peripherals, letting you easily connect a keyboard and mouse.
There's also a USB port for wired peripherals.  This port supports touchscreens, external storage, and other devices that can subsist on up to 500 mA of current.  A powered USB hub can be connected to provide more ports, as well.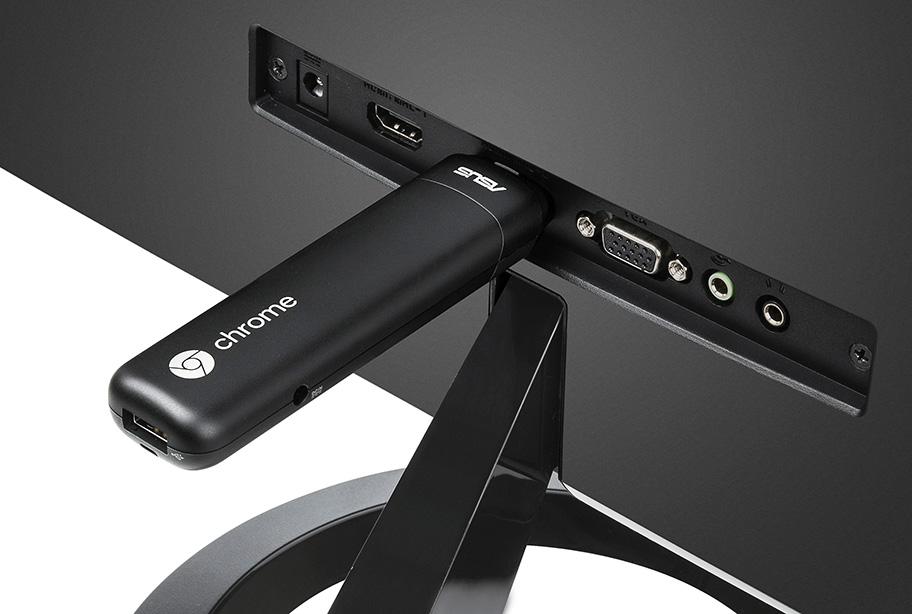 With a boot time of just a few seconds, the Chromebit won't keep you waiting.  It's powerful enough to play smooth slideshows and 1080p videos—key requirements for signage scenarios.  And it can handle light web surfing, Google Docs, and other Chrome OS apps.  Crysis is off the table, of course, but the Chromebit is still fast enough for the basic computing requirements of many businesses and classrooms.  Thanks to the Chrome App Builder, you can easily create custom apps without writing a line of code.
In the home, the Chromebit easily transforms your television into a Chrome OS computer that's perfect for web surfing from the couch.  You can tap its signage skills to create digital picture frames that show your favorite photos or use the Chromebit to power a recipe terminal for your kitchen, a web terminal for your workshop, or an entry-level computer for your garage.
Chrome OS is entirely self-sufficient, so you don't need to worry about the Chromebit once it's installed.  The operating system updates automatically to ensure it has the latest features and anti-virus measures.  Chrome Device Management adds remote administration capabilities for those who want to manage the Chromebit—or an entire fleet of them—from afar.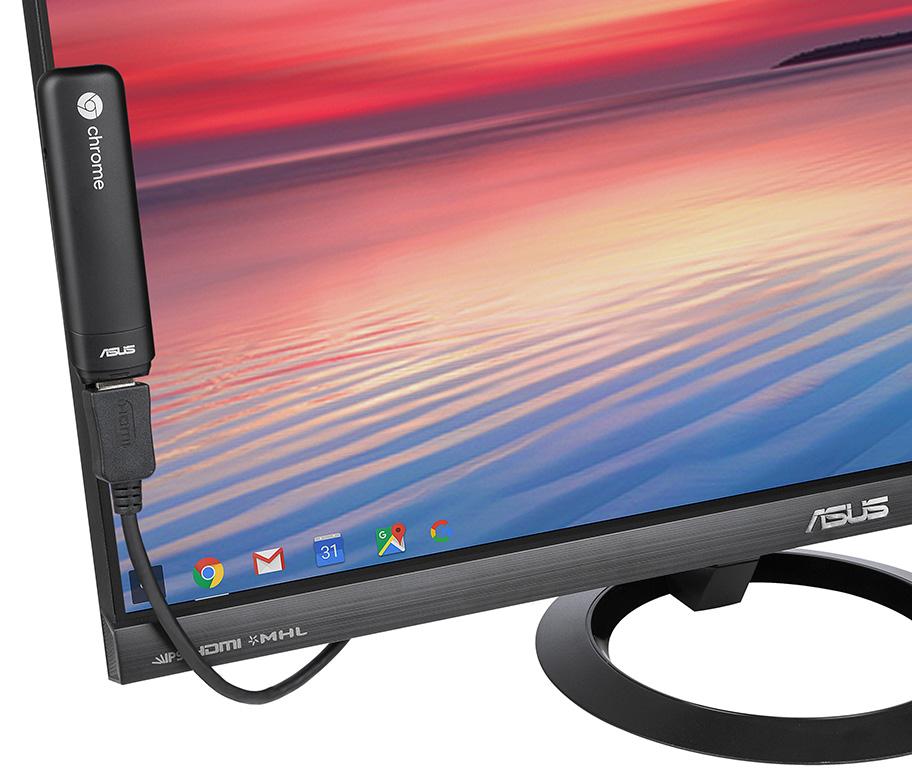 The Chromebit ships with an HDMI extension cable and hook-and-loop stickers that let you hide the device behind a display or position it out front for easier access to the USB port.  A separate adapter provides power.
Expect to see the Chromebit for sale at Amazon, Newegg, Fry's, Micro Center, B&H Photo, NCIX, Canada Computers, and Memory Express.  What would you do with one?