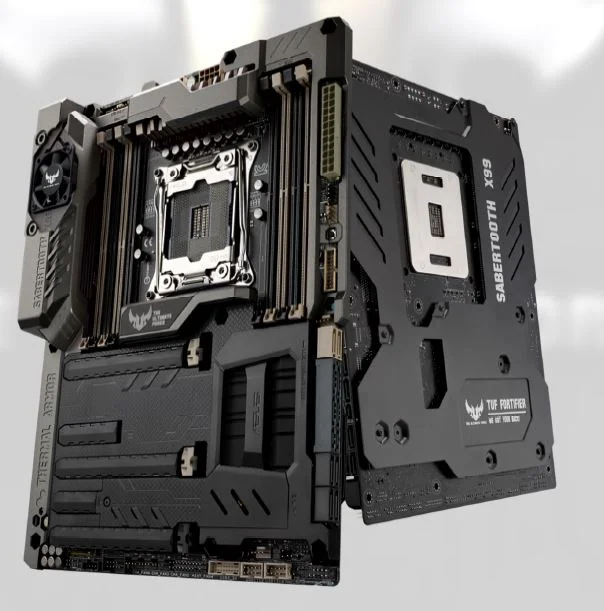 The ASUS motherboard design team has had a very busy time since the launch of the X99 platform. The platform took a considerable amount of time and effort in regards to resource commitment. Considering the complexity of the VRM design, board topology, DRAM layout and tuning and so much more this limited the amount of boards that could be launched when the platform was released. Many users were left wondering would there be a new X99 SABERTOOTH continuing in the vain of stability, advanced reliability and outstanding cooling and monitoring tech. I am excited to formally announce the release of the new X99 SABERTOOTH.
As always the ASUS motherboard design team and product management team behind the TUF series take each new board very seriously looking to evolve and refine the features and functionality as well as provide a fresh visual for the board. For this generation the X99 SABERTOOTH brings a lot to the table. At the same time it continues in its uncompromising focus of  offering a board built with focus towards, cooling, durability, reliability and monitoring. The TUF series and the SABERTOOTH line have now reach 13 production boards reaching back to the X58 platform to the new ultra enthusiast platform in X99. During this time we have seen competitors attempt to imitate the design and validation of the TUF series but never duplicate and much less surpass them. This is due in large part of the commitment put forth by the TUF design and development team in offering a solution designed and tailored to the needs of specifics set of users in the community and is inclusive of not only the hardware but the firmware and software functionality and even service and warranty.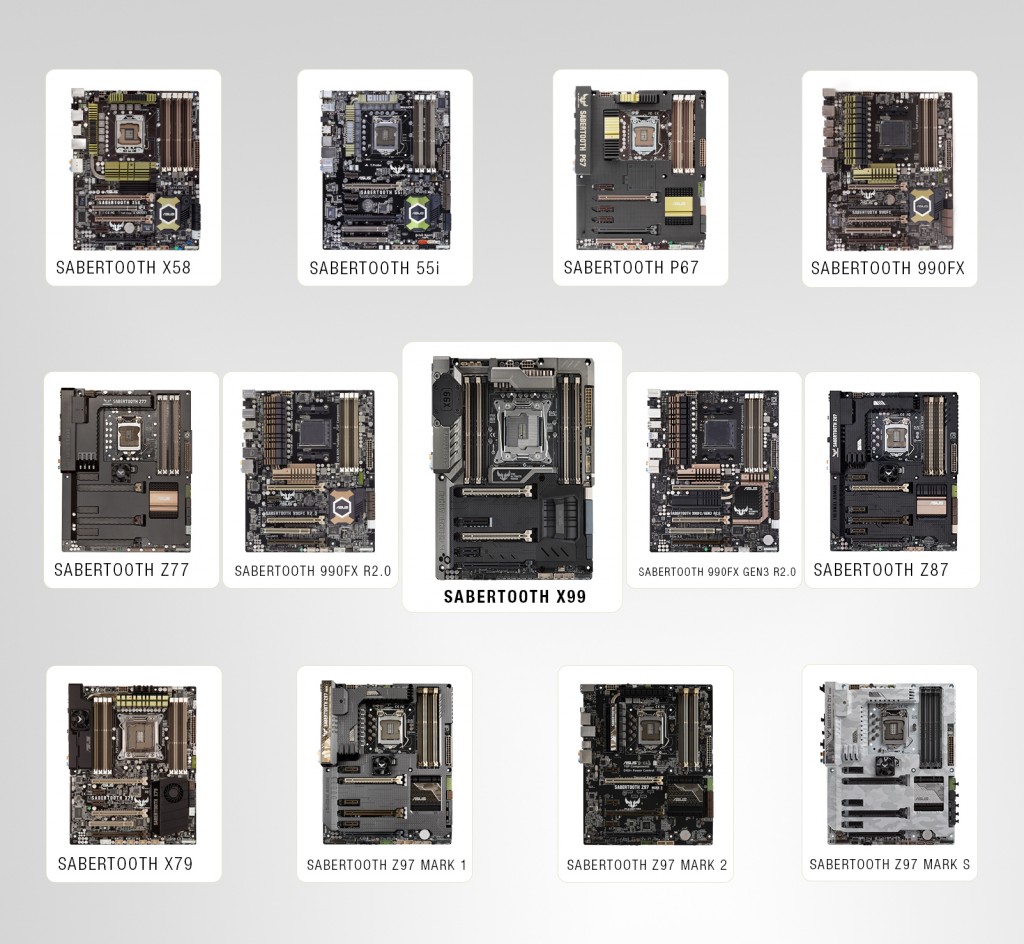 Some of the special aspects in regards to the testing and validation the SABERTOOH X99 is put through include
20% more critical on the temperature & humidity test
20% more critical on the burn in test
60% more critical on the aging test
60% more critical on the I/O insertion test
30% more critical on the ESD testament
Beyond that the SABERTOOTH X99 includes a wide-set of specialized features and functional and design implementations which have been purpose developed for a group of users looking for a tough and reliable board.
Cooling 
TUF Themeral Armor
TUF Fortifier
TUF Thermal Radar II
TUF ICE processor
TUF Pin Thermal Heatsink Assembly
TUF Chokes
TUF Motherboard Convection Holes
Reliability
TUF ESD Guards 2
TUF Surge Guards
TUF Components ( mosfets, capacitors, chokes )
Server Grade Testing
5 Year Warranty
Monitoring
TUF ICE processor
TUF Thermal Radar II
TUF Detective
A Closet look at the SABERTOOTH X99
TUF Design
A lot goes into the design and development of TUF series motherboards. The SABERTOOTH Series being the highest end series further the attention to detail and bringing forth the highest level of innovation. Often over looked ESD is one of the leading causes of issues and or failures in a DIY system. TUF has long factored in ESD as part of design consideration and implementations. Along with all ASUS motherboards specialize ICs, protection mechanisms and advanced topology have aided in providing superior ESD performance. For this generation TUF takes things further.
The SABERTOOHT X99 features TUF ESD guards II ( version 2 ). This new revision offer up superior protection 2x higher than industry standards as well as incorporates pin level testing. For this generation all back IO are protected considerably elevating the protection offered against ESD discharge and static events.
USB connectors On-circuit transient-voltage-suppression (TVS) diodes and capacitor protection
for surface-mount and dual-inline packages
Audio connectors Capacitor protection on both front and back audio-output circuits
LAN Port ESD TVS diodes protection on the LAN circuit bolstered by an anti-surge LAN
connector that increase protection against extreme events, such as lighting strikes

More information to come soon stay tuned.
More details on Thermal Radar II, new TUF detective functionality, storage flexibility, Thermal Armor performance and much more.
Performance & Stability Tests
One of things we love to do here in the PCDIY labs is put hardware through it paces. Checking features, functionality and performance. Looking at stability and reliability as well as usability elements whether it be software, hardware or firmware based. We have spent some time with the SABERTOOTH X99 over the last few days. In short we have been impressed.  It is offering up the consistent stability and consistency we expect from a ASUS board and more so a TUF board.
Some of the items we test are
Sleep and hibernation ( at stock ) as well as at overclocked settings ( XMP and general CPU and memory overclock )
XMP functionality ( ensuring the board applies and posts / boots with XMP profile enabled ) * this does require a CPU to also equally support the memory dividers defined in the XMP profile. We used a known CPU that has been tested at supporting 3000 MHz+. Each profile needs to pass at least 1 hour of ROG stress test and 1 hour Aida64 stability test.
CPU overclocking ( 4.0GHz, 4.2GHz and 4.4GHz ) if time is present we will target 4.6GHz. At least one CPU overclock along needs to hold 8 hours plus. If time is available we ideally target 24 hours. Beyond that all overclocks need to hold stability for at least 1 hour.
USB 3.0 / USB 3.1 Performance
SATA / SATA EXPRESS / M.2 Performance
Overclocking Stability
The SABERTOOTH X99 did not disappoint easily going through my DDR 4 XMP profile tests up the highest end kit of Corsair Vengeance DDR4 3000. For this test I put the "screws" to the board and it has to complete
2 Hours of ROG RealBench stress test
24 Hours of Aida64 Stability stress test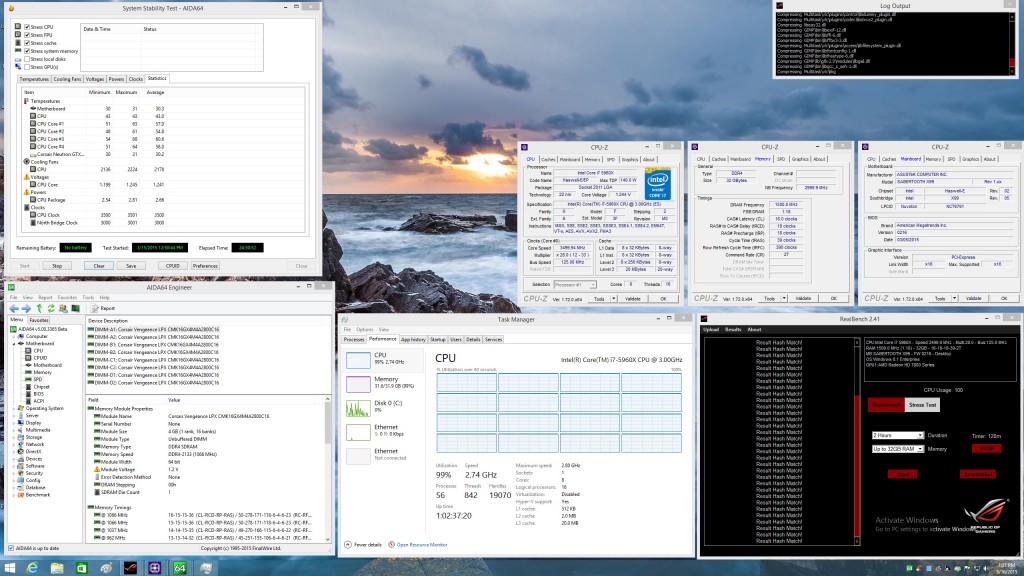 FAQ