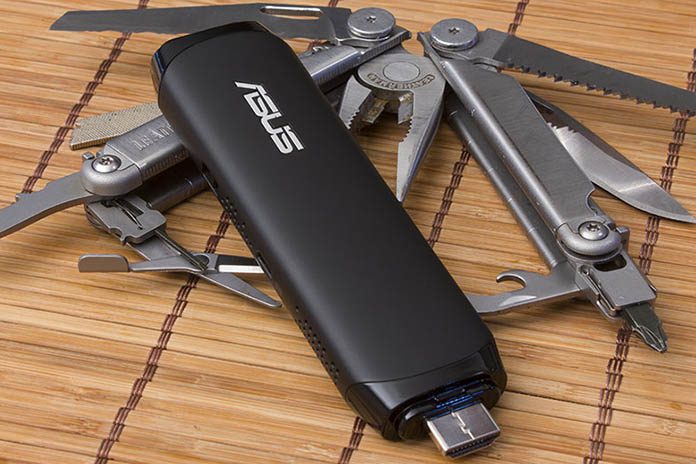 At just over five inches long and only 75 grams, the VivoStick TS10 is the smallest PC ASUS makes. But don't let its size fool you; the VivoStick is much more capable than its pocketable dimensions imply. Plug it into an HDMI port, and you can turn any screen into a fully functional Windows machine.
The slender body houses a quad-core Intel Atom processor that punches well above its weight. 802.11ac Wi-Fi provides connectivity for the fastest networks, while Bluetooth supports pairing with wireless peripherals. Wired devices can connect via USB 2.0 and 3.0 ports or the analog headset jack. All this combines with a Windows 10 operating system that's compatible with a wide range of applications, making the VivoStick an exceptionally versatile PC you can take almost anywhere.
Squeezing so much into such a small package is an incredible feat of engineering that's even more impressive considering the price. At $129, the VivoStick is practically an impulse purchase. So, what can you actually do with it?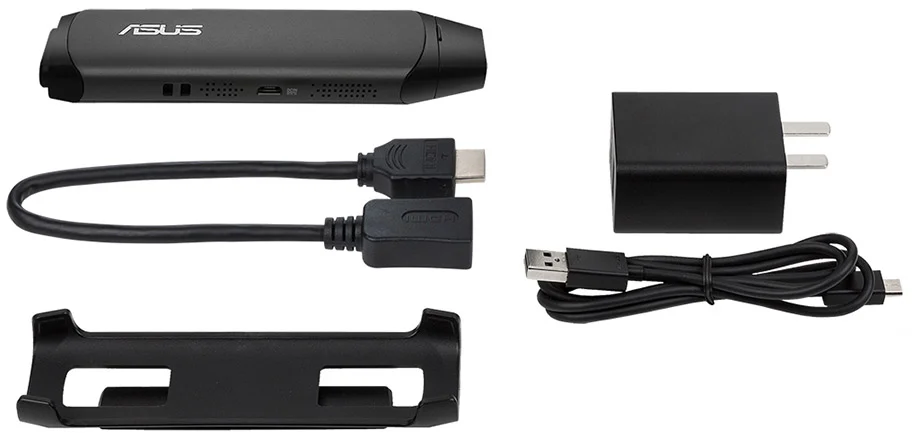 All the essentials
PCs spend much of their time engaged in relatively lightweight activities like surfing the web, cruising social networks, and working with basic productivity applications—a tendency that's true in homes and workplaces alike. The VivoStick's Atom x5-Z8350 processor easily tackles these simple tasks. Built with Intel's latest 14-nm "Cherry Trail" silicon, the chip clocks quad CPU cores up to 1.92GHz to deliver netbook-class performance in a device the size of a candy bar.
The VivoStick even runs more demanding apps like Photoshop. It's not designed for serious content creation, though, and its 2GB of RAM isn't appropriate for heavy multitasking. Performance slows if you're too ambitious, but the VivoStick won't quit. Integrated cooling keeps the processor from overheating even when it's at full utilization hours on end.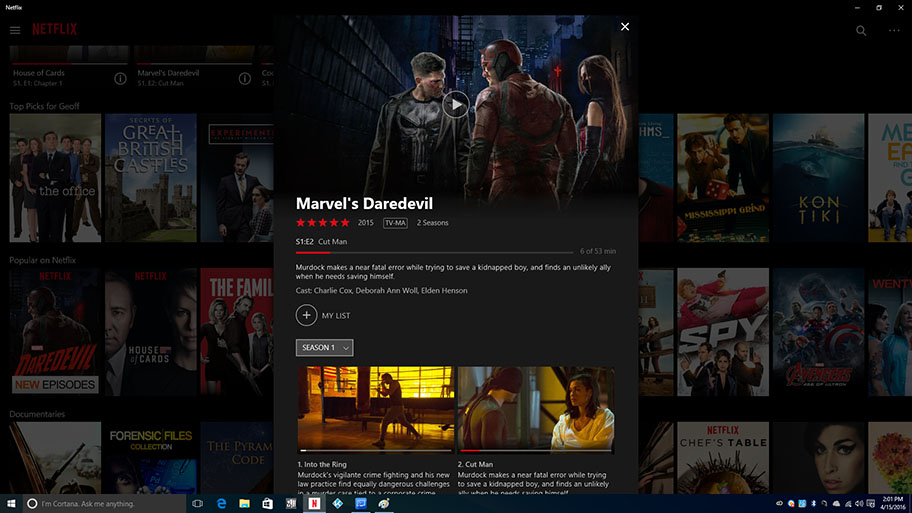 Watch your favorite videos
Digital files and streaming services dominate the entertainment world, and the VivoStick plays them all in Full HD. The video decode engine in the processor's integrated GPU accelerates HEVC, H.264, and VP8 content in hardware to ensure smooth 1080p playback regardless of the source. You can access your personal media library with applications like Kodi or VLC and stream content from the Internet through services like Netflix and YouTube. Add the TV-friendly form factor, and the VivoStick provides a great foundation for home-theater PCs.
Play lightweight games and emulated classics
Before you ask, no, the VivoStick can't play Crysis. But that doesn't mean you can't have a little fun. Casual titles like Candy Crush play effortlessly, and there are plenty of cool indie games that run well with the details and resolution turned down. Super Meat Boy, Hotline Miami, Battleblock Theater are all good examples just from my own Steam library. The PC's deep back catalog of older games is loaded with additional potential.
Want to relive classic games from other platforms? Emulators like MAME let the VivoStick masquerade as an entirely different machine. The hardware has enough oomph to emulate early arcade cabinets and consoles like the original Nintendo. If you don't have your own game cartridges to rip, plenty of homebrew ROMs are freely available online.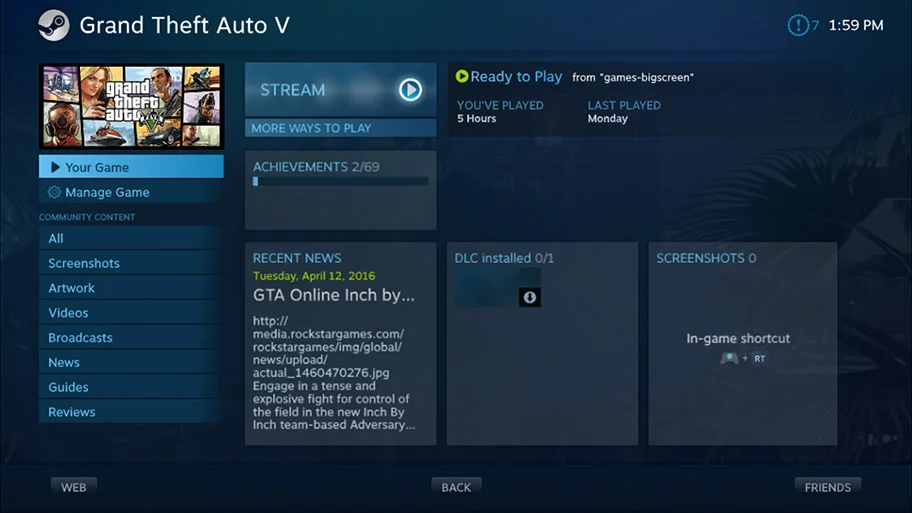 Stream the latest hardcore games
Although the VivoStick lacks the muscle to play the latest blockbusters natively, it can tap into more powerful gaming machines remotely via Steam's In-Home Streaming. This feature lets the VivoStick play games on an entirely separate machine connected to the same local network. You're limited only by the hardware in your gaming rig and the speed of your connection. The VivoStick's 802.11ac Wi-Fi is fast enough for a decent experience, and you can plug a Gigabit Ethernet adapter into one of the USB ports for even lower latency.
Game streaming doesn't look quite as good or feel quite as smooth as playing locally, but it's still a lot of fun. It's not limited to Steam, either. The VivoStick can also play games hosted on the Xbox One, bringing a collection of console exclusives to the party.
Control it remotely with a smartphone
Keyboards, mice, and other controllers quickly connect to the VivoStick with Bluetooth or USB. But you don't have to rely on separate peripherals, because the VivoRemote Android app enables navigation with a smartphone or tablet.
VivoRemote sends snippets of text written with the keyboard on your mobile device, making it easy to perform quick searches and enter specific URLs. A virtual touchpad provides cursor control, while scrolling is handled by a dedicated zone. Flipping to the other pane exposes dedicated playback, volume, and directional controls for media software. There are even added handy shortcuts for power, the Windows key, alt-tabbing between apps, and returning to the accompanying VivoRemote Center interface.
Remote control software wouldn't be complete without an accompanying 10-foot interface that's easy to use from the couch. VivoRemote Center obliges with a configurable launcher that can be filled with shortcuts to your favorite programs.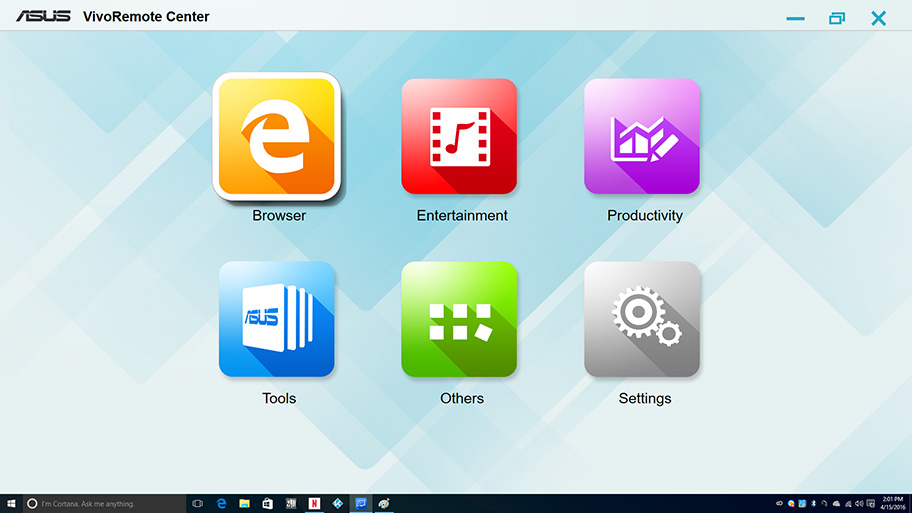 Replace older Windows machines
With a multi-core processor and solid-state storage, the VivoStick feel faster than a lot of old desktop PCs. It can cheaply replace aging machines while occupying less space, consuming less power, and making less noise. Thanks to x86 cores and Windows 10 Home, the VivoStick retains compatibility with loads of legacy software, from off-the-shelf programs to custom-built business utilities. In many cases, you can migrate older applications to the VivoStick without skipping a beat.
Turn any screen into a sign or slideshow
Whether it's plugged in directly or attached with the included extension cable and mounting bracket, the VivoStick makes any HDMI-equipped display a window on the digital world. Setting up signage is incredibly simple, allowing you to easily show static images, fluid videos, and dynamic presentations. There's even potential in the home, where the VivoStick can bring your favorite pictures to any TV or monitor. Making your own digital picture display doesn't get much easier.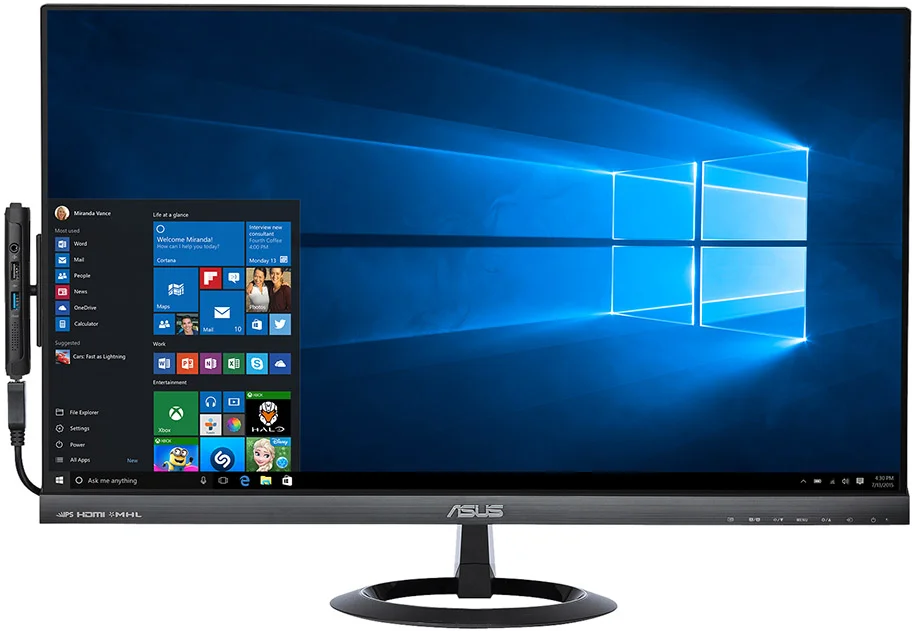 Power inexpensive kiosks and terminals
The ability to support touchscreens via USB makes the VivoStick a perfect candidate for building point-of-sale systems on the cheap. It's also great for basic kiosks that let customers get online or serve themselves. The small size and flexible mounting options make the VivoStick easy to integrate without interfering with the rest of your business. There's even a security eyelet that can be combined with a steel cable to prevent theft.
Accompany a projector
The VivoStick plugs into the back of a projector as easily as with a monitor or television, making it an ideal platform for presentations. It's portable enough to lighten the load for road warriors on the go and inexpensive enough to keep around in case guests arrive unprepared. Support for Windows applications and USB-attached storage lets you open just virtually any file from almost any source.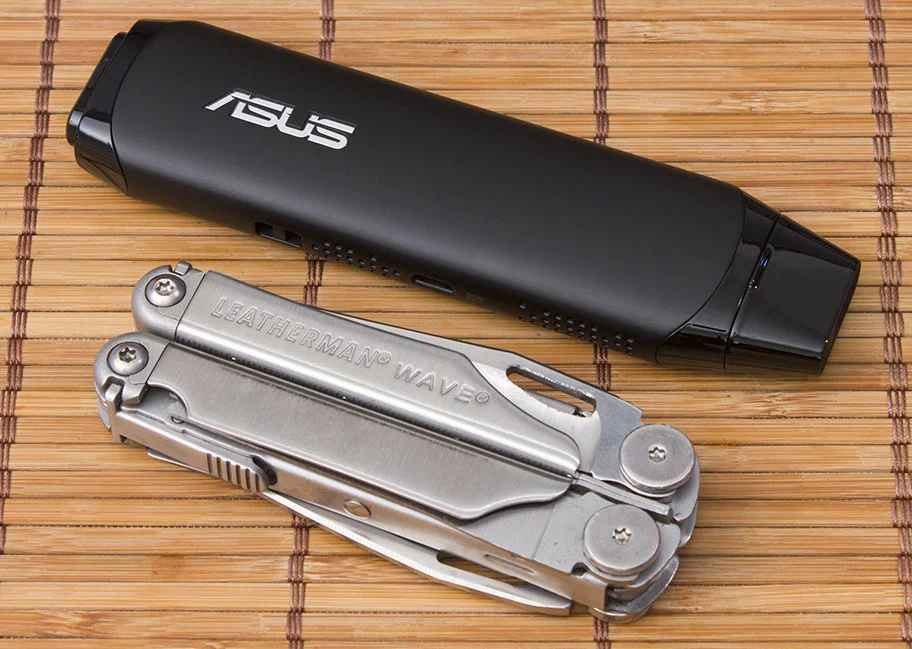 Your PC multitool
Versatility is undoubtedly the VivoStick's most appealing characteristic. The capable hardware and Windows 10 operating system are suitable for myriad tasks, while the pocket-sized design goes just about anywhere. This is the PC equivalent of a multitool, and it's nearly as small. Expect to see it on sale in North America in the next few weeks.