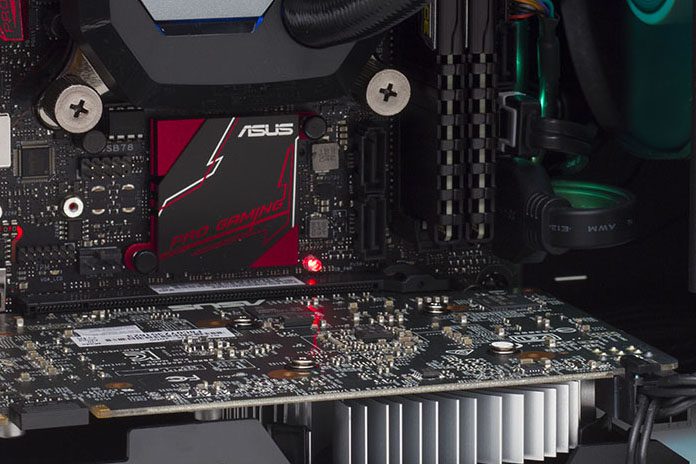 A lot of PC games are best played at a desk, a couple feet from a monitor, with a keyboard and mouse in hand. The action is more immersive when it's right there in front of you, and the tried-and-true PC inputs are much more precise than gamepads. Still, there's something to be said for sinking into a couch, putting your feet up, and basking in the glow of a big-screen TV.
Consoles had a leg up in this environment for a long time thanks to 10-foot user interfaces and smaller form factors that were a better fit for the living room—but not anymore. Steam's Big Picture GUI works great from the couch, and gaming rigs have been shrinking steadily. Even when they come in smaller packages, modern PCs can run games at smoother frame rates and higher resolutions than their cinematic counterparts, often with more eye candy.
To see what's possible with the latest generation, we put together a Mini-ITX system with variations targeting different resolutions. The 1080p config delivers great performance and unique lighting with our GeForce GTX 950 Mini graphics card and B150I Pro Gaming/WiFi/Aura motherboard, while its 4K sibling adds graphics power and premium overclocking with the Strix GTX 980 and ROG Maximus VIII Impact. Let's see what they can do.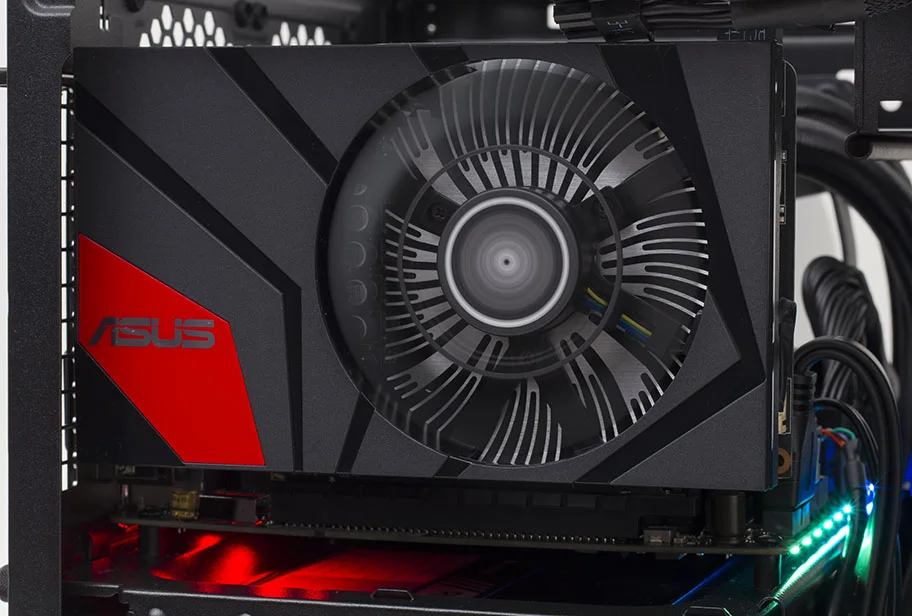 1080p is by far the most common resolution for TVs and monitors, making it a natural target for our entry-level build. You don't have to spend a lot to get great gaming performance at this resolution. NVIDIA's GeForce GTX 950 fits the bill, and we have a version designed specifically for Mini-ITX builds that sells for only $166 right now. The appropriately named GTX 950 Mini is just 6.7" long, exactly matching the width of the motherboard.
Despite shrunken proportions, the Mini doesn't pull back from the GTX 950's default clocks. Part of the credit goes to the CoolTech fan, which pairs traditional blades with a radial blower to suck in more air from multiple directions. The hybrid design makes the most of the limited airflow inside small-form-factor builds and directs warm air out exhaust vents in the I/O plate to help reduce system temperatures. It's also very quiet, emitting a low hum under lighter loads that's barely noticeable right next to the card, let alone across the room on the couch.
Our new B150I Pro Gaming/WiFi/Aura motherboard pairs particularly well with the GTX 950 Mini. The board is based on Intel's B150 chipset for 6th Generation Core processors, a similarly entry-level offering that cuts back on some of the frills and expansion capacity available in the high-end Z170. Most of what's missing is irrelevant given the constraints imposed by the Mini-ITX form factor, making the B150 a good trade-off if you want to save a few bucks. Asking price: $137 at Newegg.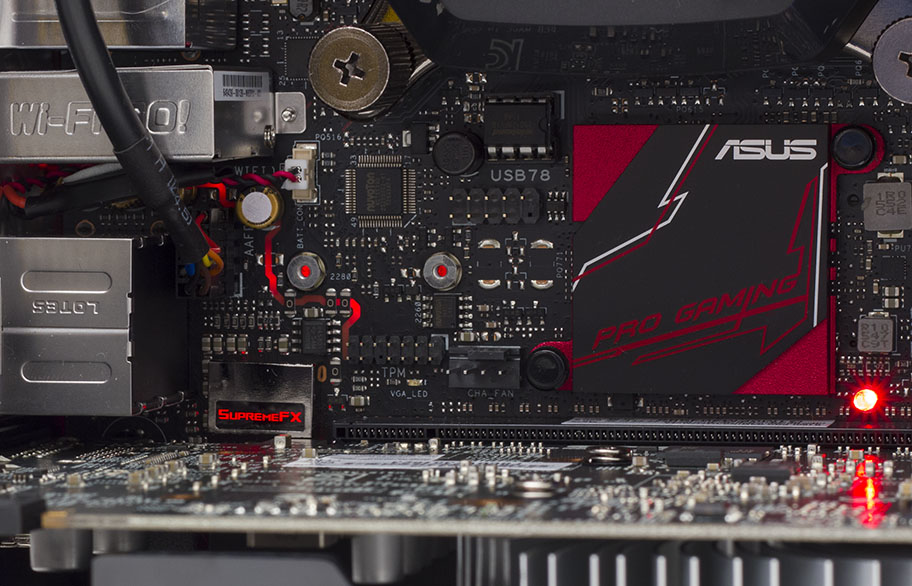 The B150I's budget is allocated to the features that matter most for small-form-factor gaming rigs, starting with the integrated SupremeFX audio. Minimizing interference is critical to preserving sound quality, so the codec is shielded, and the audio circuitry is isolated on its own island on the PCB. You can see the divide highlighted by the glowing red line. The gold Nichicon capacitors impart an acoustic warmth that makes everything from battlefields to music sound more natural. There's also a dedicated amplifier capable of driving headphones up to 300Ω.
Integrated 802.11ac Wi-Fi enables multiplayer gaming without running Cat 5 cable. The wireless module has MU-MIMO support for the cutting-edge routers and Bluetooth connectivity for cordless gamepads. If you prefer to be wired, the Intel Gigabit Ethernet NIC delivers dependable networking, while the reversible Type-C and traditional Type-A ports handle all things USB. Internal storage is split between four SATA ports topside and an M.2 slot on the underbelly. Although Intel doesn't make driver-level RAID support available on the B150 chipset, the M.2 slot gives "gumstick" PCIe drives up to 32Gbps of bandwidth—enough to outrun any four-drive SATA array.
Lots of little details streamline the process of assembling a system around the B150I Pro Gaming/WiFi/Aura. One of the three onboard fan headers is configured for water pumps by default, which let us plug in a liquid cooler with no additional setup. And our powerful fan controls make it easy to tune how each header responds to temperature changes. We also include a wiring harness to simplify front-panel connections, a cushioned I/O shield to ease motherboard insertion, and a CPU installation tool to prevent socket mishaps. There are even a few cable ties in the box to help clean up your internal wiring.
The piece de resistance is the lighting, which comprises 10 RGB LEDs aligned under one edge of the board. With 11 distinct effects and a palette of millions of colors accessible through our flexible Aura software, the LEDs can be customized to suit any system or style. Here's a taste of the different options:
While my nerdy side likes being able to assess the CPU temperature at a glance, my inner teenager loves seeing the LEDs pulsing to music. Aura offers something for everyone, from mild are wild. And yes, the lighting can be dimmed or turned off completely for a stealthier profile.
The system requirements for new games often demand a quad-core processor, so our baseline config has an Intel Core i5-6600. Despite its conservative 65W TDP, the chip has four Skylake cores with a 3.3GHz base frequency and 3.9GHz Turbo peak. Its dual-channel DDR4 memory controller is hooked up 16GB of memory split between two Corsair DIMMs. The Vengeance LPX modules are rated to run at DDR4-3200 speeds with reasonably tight timings, but we've backed off to 2133MHz to better suit the spirit of this config. We'll rev them up to full throttle for the 4K upgrade.
Before shifting into that gear, we should take a moment to detail some of the shared components contributed by our partners at Corsair. The system is built inside an Obsidian Series 250D case, whose reserved styling nicely blends in with home electronics. This isn't the smallest Mini-ITX chassis, but its extra volume is ideal for our purposes. There's enough room for plenty of high-end hardware, including a beastly graphics, serious liquid cooling, and copious storage. The additional space also makes it much easier to assemble the system, neatly organize cables, and swap parts for future upgrades.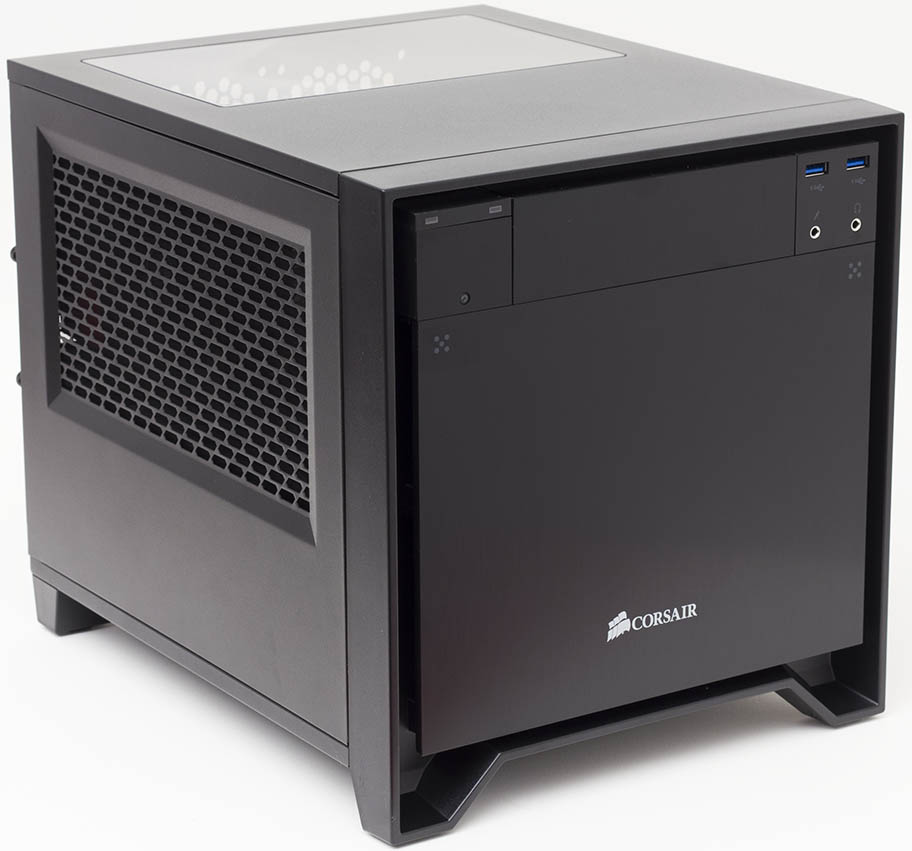 The 250D can accept a full-sized ATX power supply, so we paired it with one from Corsair's RMx Series. With 550W on tap, nearly all of which is available on the 12V line, the RM550x has sufficient power for both of our builds. Its fan spins down for silent operation under lighter loads, while its 80 Plus Gold rating guarantees high efficiency across the board. Perhaps more importantly for a small-form-factor system, its modular cables minimize the excess wiring that needs to be stashed inside the case.
Solid-state drives dramatically reduce game load times while also making overall system performance feel much snappier, so we selected Corsair's Neutron Series XT 240GB for these builds. While it doesn't match the benchmark scores of the latest PCI Express drives, its game load times are every bit as fast, and it's a good all-around performer compared to other Serial ATA SSDs. And the Neutron XT is red, which matches the whole crimson-on-charcoal vibe.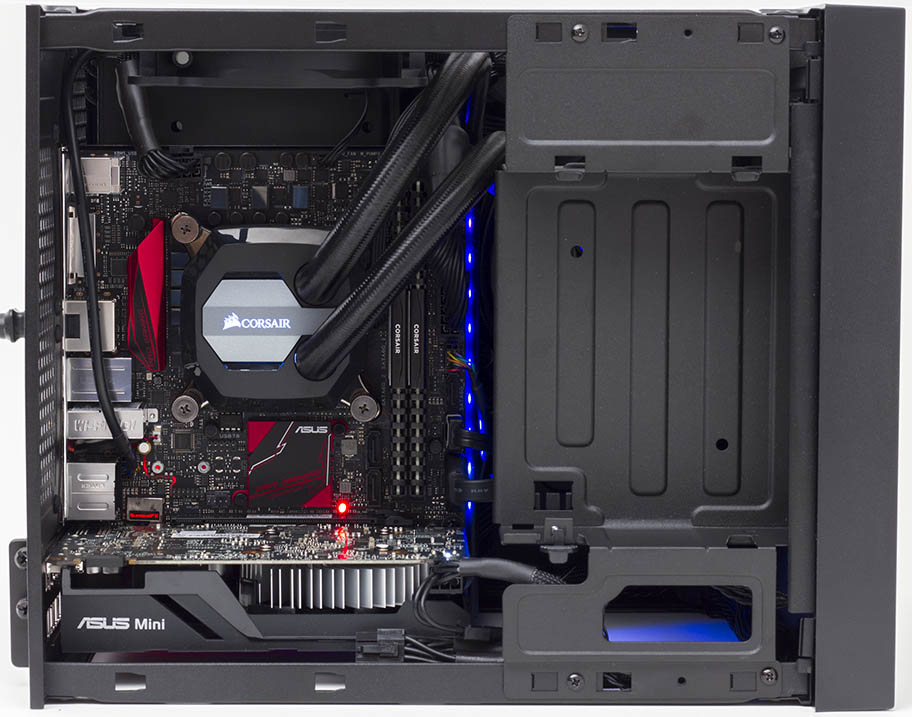 Corsair's closed-loop Hydro Series H80i V2 chills the CPU with liquid coolant. The monster radiator is nearly two inches thick and sandwiched between dual fans, an arrangement so big we had to remove the 250D's front intake fan just to make room. The dual radiator fans can be controlled by Corsair Link software or managed by our own onboard intelligence. You can also run the cooler with only one spinner attached, but we doubled up to maximize the overclocking potential for our 4K setup.
Before we go there, let's look at the performance of our baseline config at its target 1080p resolution. We tested a handful of games by logging individual frame times with Fraps and then converting the data to FPS for easier interpretation. This method is much better than using average frame rates, which can mask momentary stutters that noticeably disrupt the fluidity of gameplay. The following graphs chart performance over representative 60-second snippets of each game. Click the buttons to switch between them.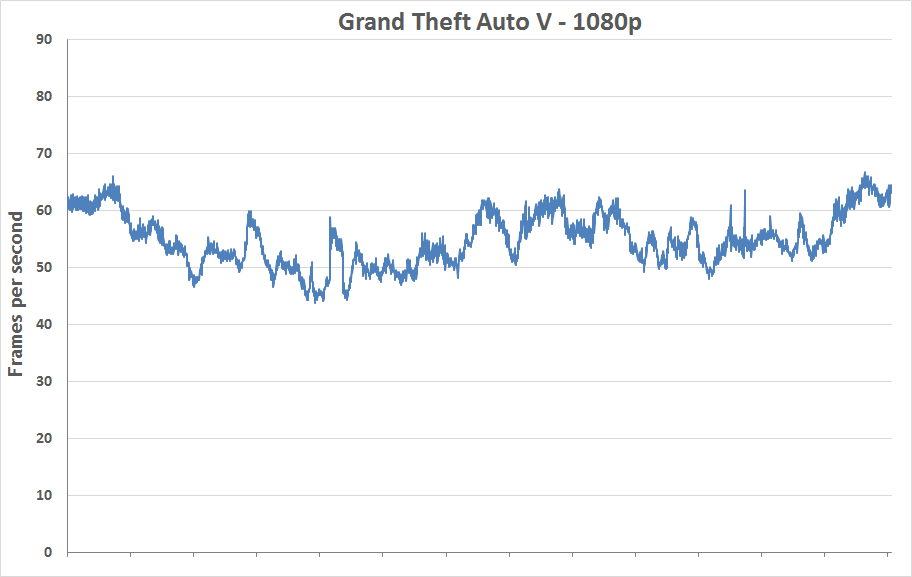 At 1080p, Grand Theft Auto V and Project CARS ran smoothly with most of the in-game details maxed out. The frame rate hovered around 50-60 FPS in the sequence we played, without any noticeable stuttering or jarring hitches.
The Witcher 3 is considerably more demanding. Even with HairWorks effects disabled and the other details dialed back from Ultra to High, the frame rate stuck closer to 40 FPS during our run through the countryside. The game still looked great and played smoothly, though. Rocket League was the polar opposite. Even with the graphics turned all the way up, the Fraps counter consistently showed over 100 FPS, and the action felt just as silky. Rocket League was even playable at 4K, albeit with frame rates just over 30 FPS. The graphics looked so sharp that I'd consider the trade-off for casual play, just perhaps not for a competitive match or with bragging rights on the line.
Otherwise known as Ultra HD, the 3840×2160 resolution commonly associated with 4K has four times the pixels of 1080p. A lot more rendering power is required to keep up, which is why we put together a second config with our Strix GTX 980 graphics card. The GTX 980 is based on a GM204 GPU that's nearly twice the size of the chip behind the GTX 950. It's more capable on every level, with almost three times the number of internal cores, double the memory bandwidth, and twice the associated VRAM. As an added bonus, it meets the requirements of the Oculus Rift and HTC Vive VR headsets. At $520 online, it had better.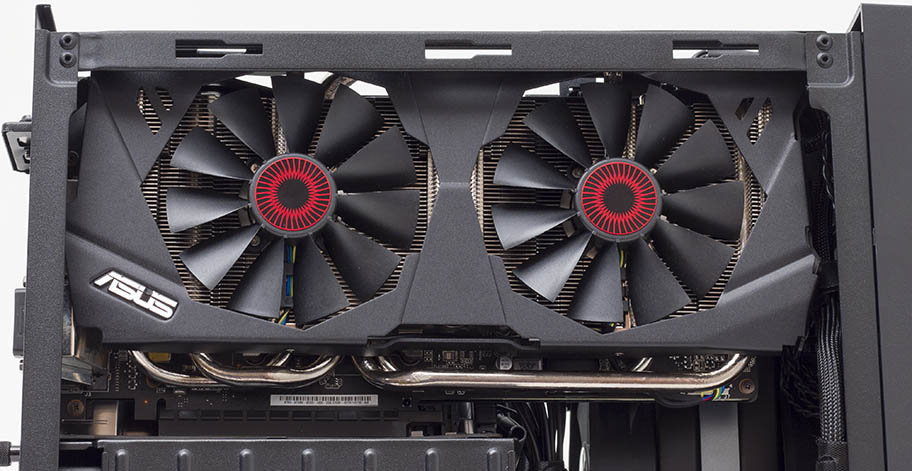 We initially wanted to squeeze in an even more potent GeForce GTX 980 Ti, but the triple-fan coolers on our Strix and Matrix cards are too big for the 250D. There's only just enough clearance for the dual-fan GTX 980, whose beefy cooler still required methodical maneuvering during installation. The cooler is well worth the effort, because its fans spin down completely under lighter loads. If you're just watching Netflix or playing something lightweight like League of Legends, the Strix doesn't make a sound.
Such a big graphics upgrade deserves proper accompaniment, which brings us to the $239 Maximus VIII Impact. There's no other Mini-ITX motherboard like it, in part because the board is only the beginning. Instead of compromising features to fit within the form factor's limited footprint, the engineers in our Republic of Gamers division expanded the surface area by building vertically with daughter cards. The ATX-grade power delivery system lives on its own daughter card, as does the integrated audio.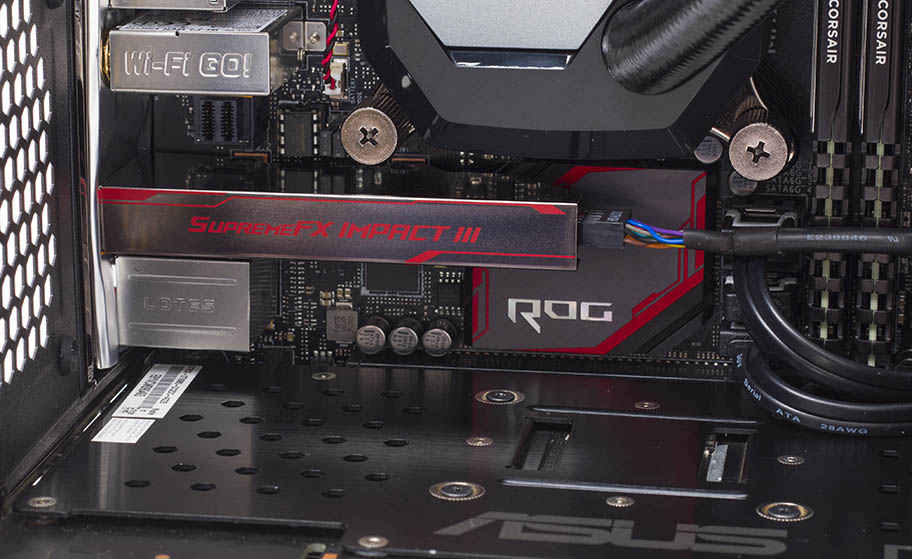 Now in its third generation, SupremeFX Impact squeezes our latest innovations into a tiny sound card plugged into a special connector. The shielded exterior protects a cocktail of complementary components, including a balanced ESS Sabre DAC with the added warmth of Nichicon caps. You can pump up to 2V RMS through high-end headphones, and our Sonic SenseAmp tech automatically detects and optimizes for impedances up to 600Ω. On top of that, there's a separate clock source to reduce jitter, a special relay to eliminate unwanted pops, and DTS connect encoding for multichannel digital audio. You basically get everything that's available on much bigger ROG boards.

Believe it or not, the integrated audio even has a modicum RGB lighting, though only in the literal sense; the analog outputs are illuminated to help you find them in the dark. They're part of a collection of extras in the I/O panel that includes a POST code display for troubleshooting boot problems, plus switches for power, reset, clearing the CMOS, and activating USB BIOS Flashback. Having those functions accessible from the outside means less awkward fumbling on the inside of a tightly packed Mini-ITX PC.
The Impact's onboard networking is the same as on the Pro Gaming, but the peripheral payload upgrades to USB 3.1 via Intel's Alpine Ridge controller. More changes are afoot with internal storage, where a U.2 port takes the place of an M.2 slot. The fastest M.2 SSDs throttle performance to prevent overheating under sustained loads, which is particularly troubling for the toastier confines typical of small-form-factor builds. U.2 offers the same bandwidth—32Gbps via four PCIe 3.0 lanes—through a cabled connection lets drives live in traditional bays, away from hot spots around the CPU and graphics card. Moving off the board also lets U.2 SSDs add heatsinks to aid cooling and NAND to increase capacity. While M.2 makes sense in some situations, a board like the Impact deserves the best solution around.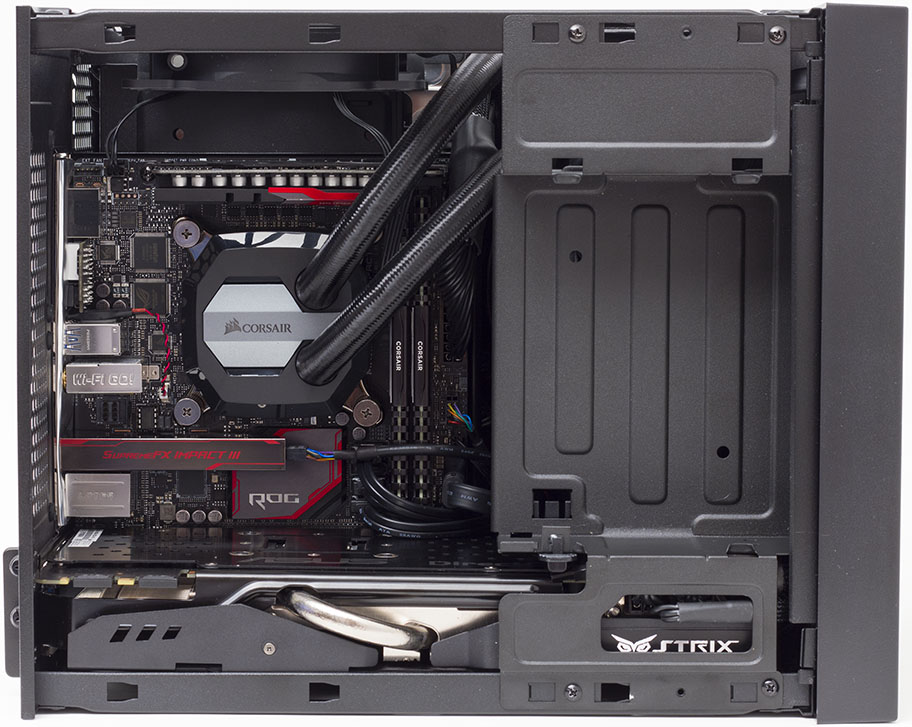 As you'd expect, the Impact has the same builder-friendly features as the Pro Gaming, including the all-important wiring harness and cushioned I/O shield. The onboard power plugs are also situated next to each other to make internal cable routing neater.
Because the PCB area is limited, the Impact splits its fan headers between the board and a bundled Fan Extension Card that can be tucked elsewhere in the system. The two headers on the board and three on the card all tied to the same UEFI and software interfaces, so you can easily manage the cooling for an entire build. Fans can be configured to react to temperature changes in specific components, like the CPU and chipset, or they can take cues from external probes attached to other parts, like the graphics card. The Impact supports up to four external probes between headers on the board and expansion card, and it comes with one probe in the box.
Although the Impact has the same number of SATA ports as the Pro Gaming, its Z170 chipset enables RAID support through the Intel driver. We couldn't resist taking advantage, so we added a couple of WD Black hard drives with a whopping 6TB of capacity each. That should be enough space for even the largest Steam libraries. The Black's 7,200-RPM spindle delivers good performance for a mechanical drive, which keeps load times reasonable, and the noise levels are surprisingly low. We recommend configuring twin drives in RAID 1, which mirrors the contents to protect against data loss in the unlikely event that one of them fails.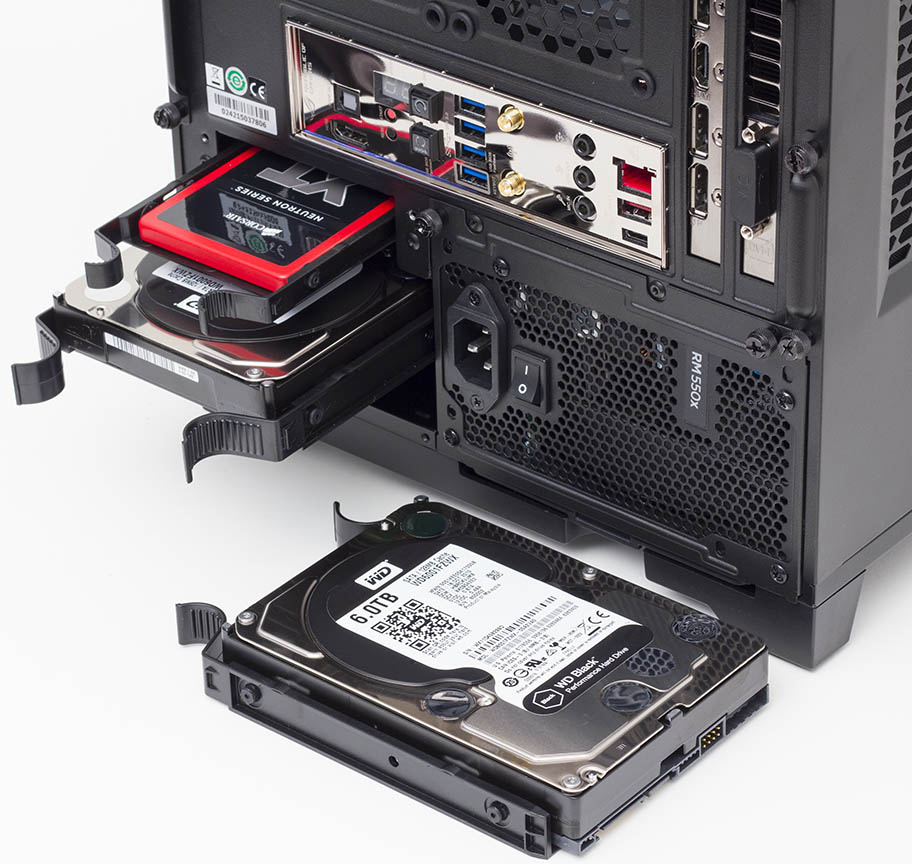 Overclocking support is the primary reason we chose the Z170 for this configuration. To take advantage, we swapped in a Core i5-6600K processor with a fully unlocked multiplier. Then we fired up the AI Suite 3 software that comes with the Impact and let it overclock the CPU automatically. Instead of relying on prebaked profiles that don't account for the natural variance between different chips, AI Suite's intelligent auto-tuner gradually increases the clock speed and tests stability at each step along the way. It operates much like an enthusiast would, and you can control multiple aspects of the process, from how the CPU is pushed to how stability is tested.
With only a few clicks, the auto-tuner took the CPU up to 4.5GHz, a 600MHz increase over the usual peak Turbo frequency. That's a nice boost for such a simple process, and it's very close to the chip's top speed. We managed to get the system perfectly stable at 4.7GHz and 1.45V. Even under a punishing AVX load, the CPU temperature stayed around 60°C. Your results may vary, of course, but the speeds we hit are fairly typical for the 6600K.
So, how does our upgraded and overclocked machine handle games at 4K? We used the same test methods as with our 1080p config to find out. Again, you can click the buttons below the graph to switch between the different games.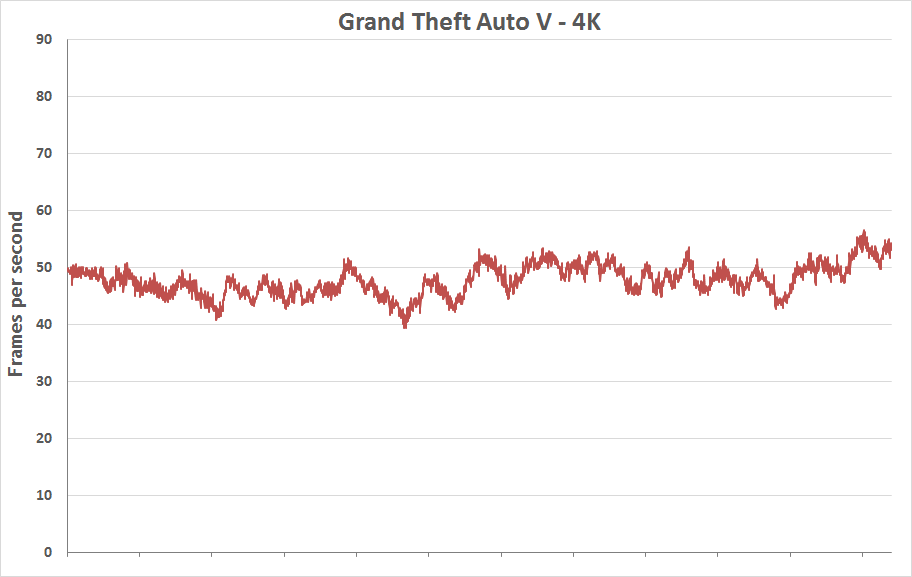 Grand Theft Auto V and Project CARS played extremely well at 4K with pretty much all of the in-game details maxed out. Both felt very fluid, with no obvious stuttering or other interruptions to the action, and the graphics looked incredibly crisp.
As expected, The Witcher 3 proved more challenging. We used the same graphical settings as our 1080p config but at a higher resolution, and we ended up with frame rates around 30-40 FPS—not as smooth as the other games, but definitely acceptable given the jaw-dropping detail. Rocket League, on the other hand, stayed close to 80 FPS throughout our test session.
Naturally, you can tweak the details and resolutions in all these games to strike a different balance between performance and eye candy. Some want a smoother experience, while others crave more eye candy. The beauty of PC gaming is getting to pick the graphics settings and system hardware that suits your tastes.
If you're on a tighter budget and won't be overclocking, the GeForce GTX 950 Mini and B150I Pro Gaming/WiFi/Aura make a nice team. The GTX 950 has enough oomph for 1080p and the ability to fit into tight spaces, while the B150I has the right features for gaming and thoughtful touches for building on Mini-ITX. If your pockets are deeper and clock aspirations higher, the Strix GTX 980 and Maximus VIII Impact take things to the next level. The Strix pumps out smooth frame rates at 4K and goes silent under light loads, while the Impact overclocks effortlessly and delivers an uncompromised ROG experience in a small form factor. Whether you're hooking up to a monitor or big-screen TV, you win either way. Just remember to pick the right rig for the resolution.