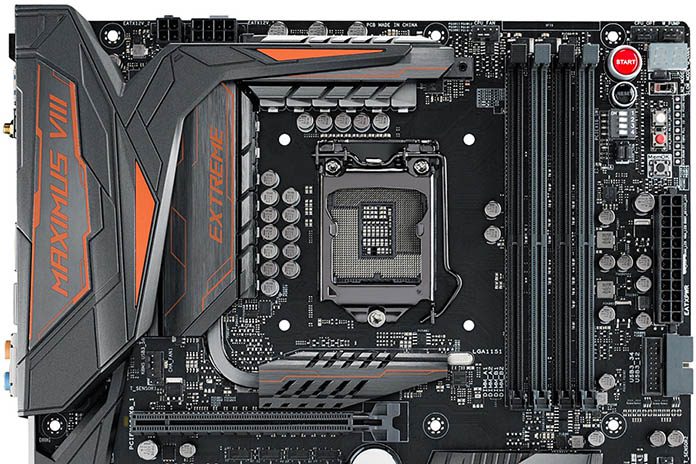 There is a restlessness at ASUS, especially within the Republic of Gamers division. We strive to create the best PC components, but despite our success, we are rarely satisfied.  We're constantly looking to improve, whether it's by boosting performance, adding features, or finding new ways to stand out in the crowd. This pursuit of perfection drove us to develop a new flagship, the Maximus VIII Extreme/Assembly.
Improving upon our ultimate Z170 motherboard is a tall order, so we've had to think outside the board. The Extreme/Assembly elevates the formidable foundation of the Maximus VIII Extreme to new heights with an audiophile-grade SupremeFX Hi-Fi module and ultra-fast ROG 10G Express networking card. It also adopts our unique Plasma Copper colorway to match the ROG Matrix 980 Ti.

The Maximus VIII Extreme's SupremeFX 2015 audio already delivers incredible sound for an integrated solution. But there are inherent issues associated with squeezing audio onto a motherboard. Limited real estate leaves little room for the circuitry, especially on a board loaded with expansion slots and other extras. Neighboring components can also generate noise that affects signal quality, with even small doses having a potential impact. The Extreme/Assembly overcomes these challenges by housing SupremeFX Hi-Fi audio in a separate module that fits standard 5.25" drive bays.
The dedicated module moves audio components away from noisy system hardware and lets us optimize the traces without interference from the motherboard circuitry. Output flows from an ESS Sabre ES9018K2M DAC that combines with dual Texas Instruments LM4562 op-amps and a TPA6120A2 headphone amp to produce richly detailed sound that's free of distortion. A Cirrus Logic CS5361 ADC handles input, letting your voice come through clearly when streaming to a Twitch audience or communicating with teammates in online games.
In addition to improving sound quality, we've added convenience. The SupremeFX Hi-Fi module puts a volume knob and analog ports within easy reach at the front of a case. Its ¼" jack is capable of driving over 6V RMS into 600Ω headphones, which is ideal for high-end cans.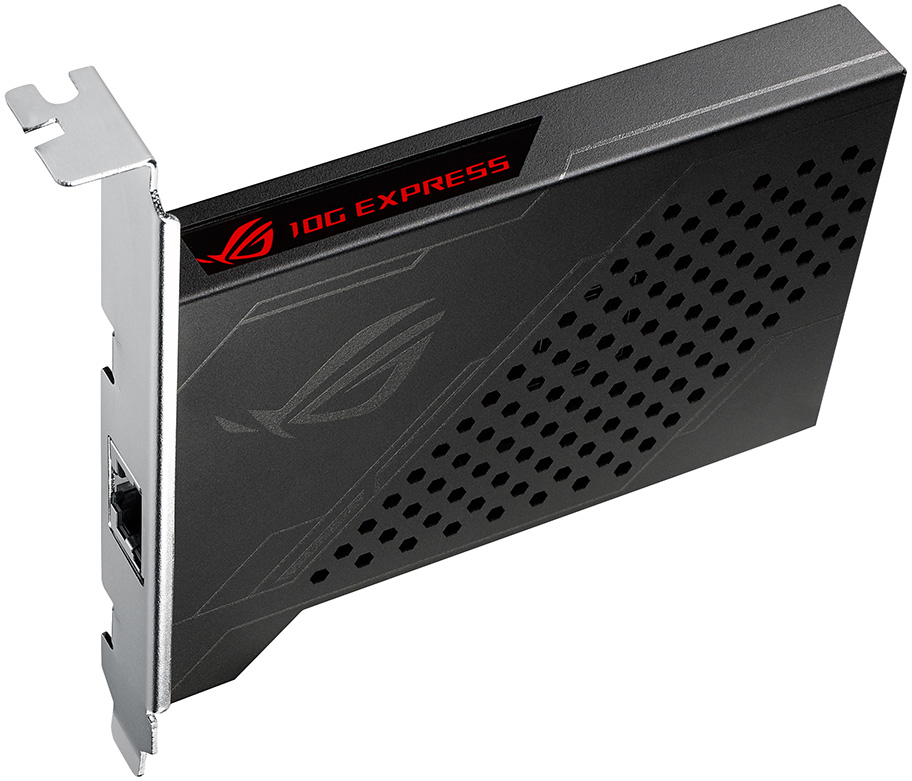 On the networking front, the Maximus VIII Extreme/Assembly uses the ROG 10G Express card to bring sever-class connectivity to the desktop. With data rates up to 10Gbps—ten times the speed of the integrated Intel Gigabit Ethernet—this card can transfer 4K videos, Steam backups, and other large files in a fraction of the time required by conventional networking gear. A compatible network and higher-grade Ethernet cables are required to hit top speed, but the ROG 10G Express is powered by Aquantia® and Tehuti Networks, which are working with the NBASE-T™ Alliance to create 2.5Gbps and 5Gbps standards that work with common Cat 5e cable. The card will support those intermediary standards when they're finalized.
The ROG 10G Express connects to the Extreme/Assembly using a PCI Express x4 interface. Thanks to the board's copious expansion capacity, the card can be installed alongside up to three graphics cards with dual-slot coolers.
Although most of the ROG family is clad in the black-and-red motif we popularized for gaming hardware, our designers need the same freedom to innovate as our engineers. They created a unique Plasma Copper colorway that makes the Maximus VIII Extreme/Assembly stand out in a sea of copycats. This fresh aesthetic mirrors the ROG Matrix 980 Ti, so you can run them together in a perfectly matched dream machine.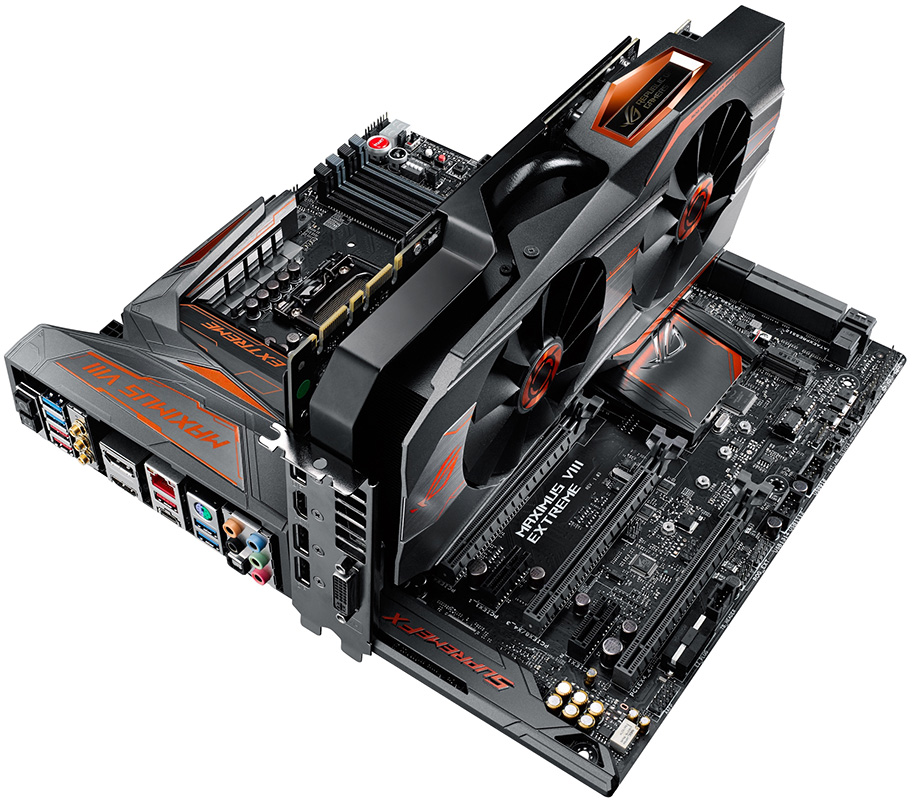 Underneath its new colors and extra hardware, the Extreme/Assembly has the same award-winning design as the Maximus VIII Extreme. It's based on Intel's Z170 chipset and built to push 6th Generation Core processors to their limits. Everything on the board is engineered for extreme overclocking, from the digital power circuitry that responds faster to transient loads to the T-Topology trace layout that enables DDR4-3866 speeds with all the memory slots populated. Our critically acclaimed UEFI and software provide powerful tools for overclockers along with auto-tuning options that help beginners optimize every aspect of their systems.
Overclocking and system monitoring are also available through the included OC Panel II module. Built to break records when the LN2 is flowing, this external device puts key overclocking controls at your fingertips and incorporates features designed specifically to expand headroom in sub-zero conditions. The OC Panel II can be used as an external accessory or docked in a 5.25″ bay.
The Maximus VIII Extreme/Assembly's overclocking prowess is complemented by extensive next-gen connectivity. The onboard U.2 port and M.2 slot can tap into 32Gbps of bandwidth, maximizing the performance of the fastest PCI Express SSDs. For external storage, four USB 3.1 ports supply double the bandwidth of USB 3.0, and one of them uses a reversible Type-C connector that can't be plugged in the wrong way around. Dual-band 802.11ac Wi-Fi supports speeds up to 1300Mbps, while Bluetooth 4.0 offers easy connectivity for wireless peripherals.
When combined with the proven core, upgraded audio and networking take the Maximus VIII Extreme/Assembly to a whole new level. This new pinnacle of Z170 motherboards is available now for $599.