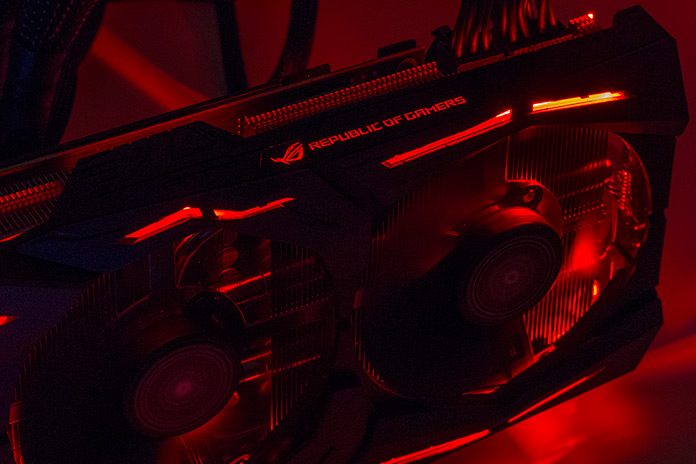 PCs have come a long way since the days of boring beige boxes. They're now available in myriad shapes, sizes, and colors, making it easy to build one that perfectly suits your personality and style. Most recently, RGB LEDs have revolutionized the industry by letting you choose your own colors and change them dynamically based on preset patterns and system variables.
ASUS has long given gamers and enthusiasts more control over their PCs, so customizable illumination is a natural fit. Whether you want to dazzle onlookers with seizure-inducing effects at the next LAN party or subtly match colors with other system components for a more elegant look, our Aura RGB lighting takes aesthetics to the next level. It's not limited to cosmetic flourishes, either; Aura boasts functional effects that use RGB LEDs to convey important information on temperatures, battery life, and other aspects of your system.
After debuting on our Z170 Skylake motherboards last year, Aura lighting has quickly spread to other platforms, including our latest X99 boards for Broadwell-E. Its scope has also expanded beyond motherboards and into graphics cards and peripherals, putting comprehensive system lighting within reach. Nearly 20 ASUS products are equipped with Aura lighting already, and that number continues to grow. To help you make sense of them all, we've put together a handy guide explaining what's what.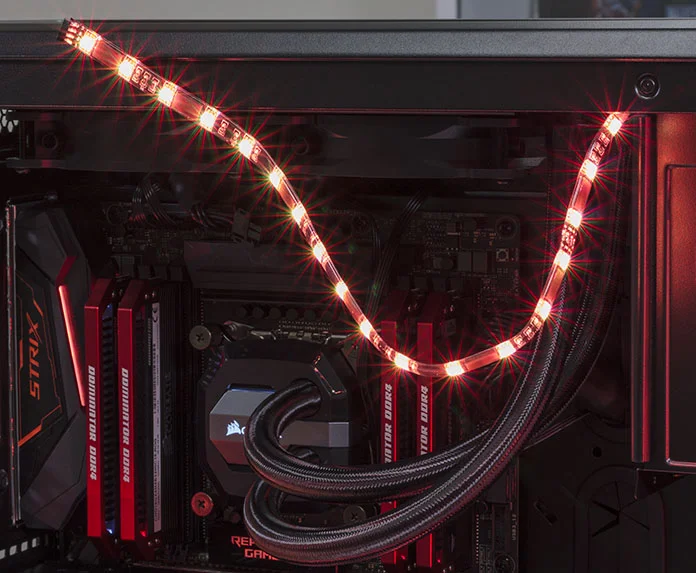 Highway to the RGB zone
While some of our motherboards confine RGB lighting to a single LED, others split multiple LEDs between different zones. These zones are typically associated with specific regions or features, like the I/O shroud or PCIe slots. Each one can be controlled independently to mix colors and effects, or they can be synchronized harmoniously for a cohesive glow.
In addition to sporting integrated LEDs, some of our motherboards have headers for external RGB strips. The four-pin headers are compatible with off-the-shelf "5050" LED strips. They can power up to two meters of lighting at optimal brightness, which is more than enough to light up an entire system. Each header is treated as a separate zone, providing maximum flexibility to configure strips just how you want them.
The table below summarizes the different zones and header configurations on our Aura-compatible motherboards. There's a lot of variety because we've been experimenting with different layouts and controllers to see what works best.
Motherboard
Chipset
Lighting zones
Strip headers
970 Pro Gaming/Aura
AMD 970
PCH
0
TUF Sabertooth 990FX R3.0
AMD 990FX
PCIe
0
B150 Pro Gaming/Aura
Intel B150
PCH & edge
0
B150I Pro Gaming/WiFi/Aura
Intel B150
Edge
0
ROG Maximus VIII Extreme
Intel Z170
PCH
0
ROG Maximus VIII Extreme/Assembly
Intel Z170
PCH
0
ROG Maximus VIII Formula
Intel Z170
I/O
PCH
PCIe
1
ROG Maximus VIII Hero
Intel Z170
PCH
0
ROG Maximus VIII Hero Alpha
Intel Z170
PCH
2
ROG Rampage V Edition 10
Intel X99
I/O & audio
ROG badge
Edge
PCH
PCIe
1
ROG Strix X99 Gaming
Intel X99
I/O
ROG badge
PCIe
1
X99-A II
Intel X99
PCH
PCIe
Audio
1
X99-Deluxe II
Intel X99
PCH
PCIe
Audio
1
X99-E
Intel X99
PCH
PCIe
0
Z170 Pro Gaming/Aura
Intel Z170
Edge x 4*
1
Z170-Deluxe
Intel Z170
PCH
0
Most of our early implementations were limited to a single zone, but our latest X99 boards split RGB lighting between up to five zones and one external header. The Rampage V Edition 10 goes the furthest, with independent controls for the strip header, central ROG badge, PCH heatsink, PCIe retention tabs, I/O & audio shrouds, and the entire right edge of the board.
It's hard to wrap your head around that many zones without a visual reference, so here you go. Click the buttons below the image to switch between boards.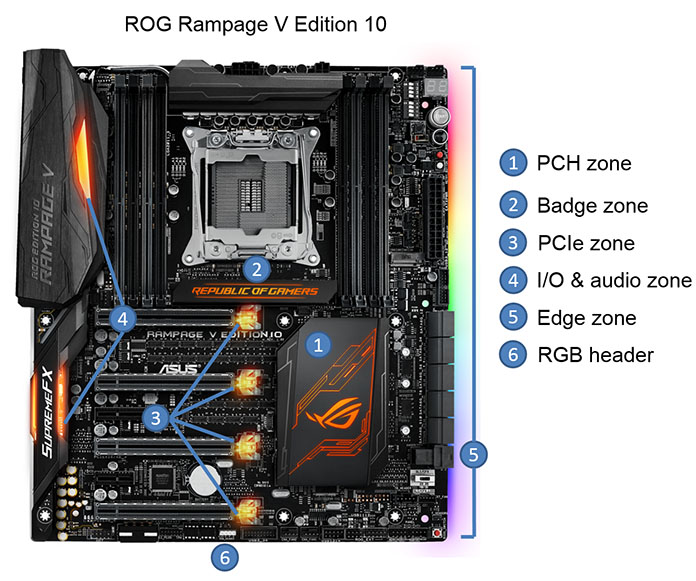 br>
While zones are typically reserved for specific regions, some boards consolidate them. The Rampage V, for example, combines the LEDs in its I/O and audio shrouds into one zone. Likewise, the B150 Pro Gaming/Aura uses a single zone to manage its PCH and edge-mounted LEDs.
The Z170 Pro Gaming/Aura goes in the opposite direction. It situates eight RGB LEDs along the edge of the board, but each pair is addressed as a separate zone, yielding a measure of freedom within a fixed region.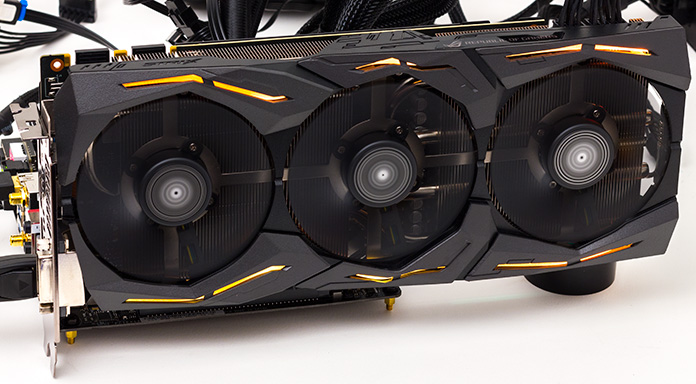 We've had multi-colored lighting on graphics cards for years, but the first Aura implementation appeared in the ROG Strix GeForce GTX 1080 pictured above. RGB goodness has since trickled down to other additions to the family based on the latest NVIDIA and AMD GPUs.
| Graphics card | Chipset | Lighting zones |
| --- | --- | --- |
| ROG Strix GeForce GTX 1080 | NVIDIA GP104 | Shroud & backplate |
| ROG Strix GeForce GTX 1070 | NVIDIA GP104 | Shroud & backplate |
| ROG Strix GeForce GTX 1060 | NVIDIA GP106 | Shroud |
| ROG Strix Radeon RX 480 | AMD Polaris 10 | Shroud & backplate |
| ROG Strix Radeon RX 470 | AMD Polaris 10 | Shroud logo |
| ROG Strix Radeon RX 460 | AMD Polaris 11 | Shroud logo |
Aura treats graphics cards as a single zone, with lighting distributed across multiple areas. All the cards have illuminated accents on the front face and top edge of their fan shrouds. The backplate on the Strix GTX 1080, GTX 1070, and RX 480 also has an RGB-infused ROG eye logo.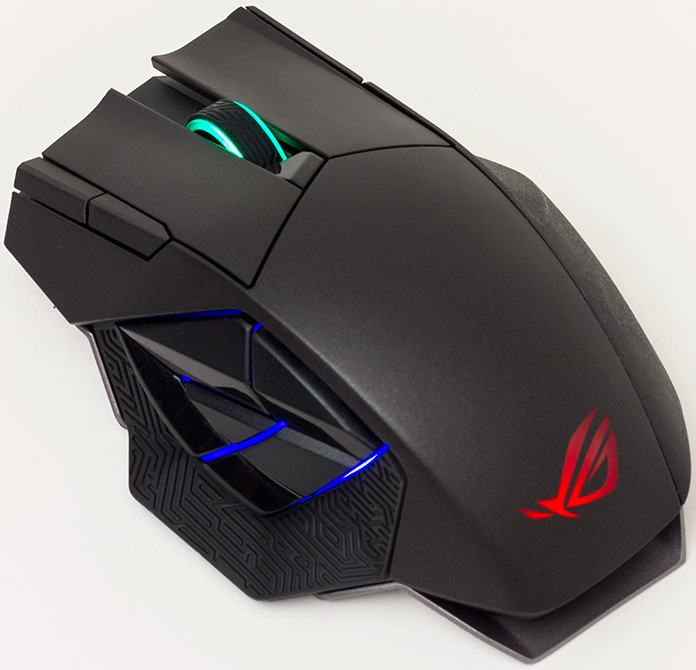 Peripheral
Type
Lighting zones
ROG Spatha
Mouse
Scroll Wheel
Logo
Side Buttons
The ROG Spatha gaming mouse is the only Aura-enabled peripheral available right now, but more are on the way, including the Claymore mechanical keyboard. While the keyboard will have per-key lighting, the Spatha offers three distinct zones around the scroll wheel, palm logo, and side buttons. As with our motherboards, you can control each zone independently or synchronize colors and effects across all of them.
A smorgasbord of illuminated effects
All Aura-compatible products put the full rainbow of colors at your fingertips. And they're not limited to a steady glow; they have a full slate of effects, with some offering a dozen choices. Everyone can find something that matches their personality.
Six core effects are supported across all motherboards with Aura lighting. There's a static glow at a steady intensity, a strobing flash at a fixed tempo, and slow breathing that fades in and out. Those effects are tied to a single shade, while color cycling smoothly transitions through the spectrum. Aura reacts to system behavior with a music effect that pulses with the audio output and a temperature effect that tracks CPU thermals.
The lighting controllers and LED layouts on some of our boards enable additional effects, like a streaking comet, rolling wave, moving rainbow, and glowing yoyo. Other options include flashes that dash around and stars that twinkle in the night. The following footage illustrates the range of effects on the B150I Pro Gaming:
As you can see, some of the effects require a linear path for maximum impact. You can't make much of a wave with a single LED.
Here are the effects available on each of our Aura-enabled motherboards:
| Motherboard | 6 core | Comet | Flash & Dash | Yoyo | Rainbow | Starry Night | Wave |
| --- | --- | --- | --- | --- | --- | --- | --- |
| 970 Pro Gaming/Aura | Y | | | | | | |
| TUF Sabertooth 990FX R3.0 | Y | | | | | | |
| B150 Pro Gaming/Aura | Y | | | | | | |
| B150I Pro Gaming/WiFi/Aura | Y | Y | Y | Y | Y | Y | Y |
| ROG Maximus VIII Extreme | Y | | | | | | |
| ROG Maximus VIII Extreme/Assembly | Y | | | | | | |
| ROG Maximus VIII Hero | Y | | | | | | |
| ROG Maximus VIII Formula | Y | | | | | | |
| ROG Maximus VIII Hero Alpha | Y | | | | | | |
| ROG Rampage V Edition 10 | Y | Y | Y | Y | Y | Y | Y |
| ROG Strix X99 Gaming | Y | Y | Y | Y | Y | Y | Y |
| X99-A II | Y | Y | Y | Y | Y | Y | Y |
| X99-Deluxe II | Y | Y | | Y | Y | Y | Y |
| X99-E | Y | | | | | | |
| Z170 Pro Gaming/Aura | Y | Y | Y | Y | Y | Y | Y |
| Z170-Deluxe | Y | | | | | | |
The newer boards generally have more effects. We've also been more aggressive about adding Aura lighting to our gaming products.
There's less variation on the graphics front, where all our Aura-enabled cards support the same six core effects.
| Graphics card | Static | Strobe | Breathe | Cycle | GPU temp | Music |
| --- | --- | --- | --- | --- | --- | --- |
| ROG Strix GeForce GTX 1080 | Y | Y | Y | Y | Y | Y |
| ROG Strix GeForce GTX 1070 | Y | Y | Y | Y | Y | Y |
| ROG Strix GeForce GTX 1060 | Y | Y | Y | Y | Y | Y |
| ROG Strix Radeon RX 480 | Y | Y | Y | Y | Y | Y |
| ROG Strix Radeon RX 470 | Y | Y | Y | Y | Y | Y |
| ROG Strix Radeon RX 460 | Y | Y | Y | Y | Y | Y |
Five effects are the same as on our motherboards: static, strobing, breathing, cycling, and music. The only one that differs is the thermal tracker, which follows the temperature of the GPU rather than CPU.
A subset of the core Aura effects is available on our peripherals, as well. The ROG Spatha gaming mouse features static, breathing, and cycling effects. It also has a few unique tricks tailored up its sleeve.
| Peripheral | Static | Breathe | Cycle | Trigger | Battery | Random |
| --- | --- | --- | --- | --- | --- | --- |
| ROG Spatha | Y | Y | Y | Y | Y | Y |
The trigger effect lights up the LEDs when the buttons are pressed, giving you instant visual confirmation of input. Spectators and audiences can see every click. Another effect changes colors based on the battery level, a handy reference when running wireless. The random effect is less functional than the others, but it's great if you crave variety or can't make up your mind.
Synchronized system lighting
ASUS produces a full range of PC components, peripherals, and complete systems, so we're uniquely positioned to spread Aura to an entire ecosystem of products. More importantly, we can make it easier to coordinate lighting across them. Our latest motherboards and graphics can synchronize effects, and they'll soon be joined by select gaming peripherals.
Aura Sync offers two kinds of choreography depending on the effect. Relatively simple patterns like static, strobing, breathing, color cycling, and music mirror themselves across all the LEDs unison. Everything glows the same way at the same time. Dynamic effects treat the system as a single canvas; comets streak and flashes dash across the LEDs on multiple components as if they were part of a larger whole. Here's some footage of the rainbow comet in action:
Aura's capabilities have grown considerably since the feature first appeared on motherboards more than a year ago. We've experimented with different layouts, circuitry, and effects in an effort to push the boundaries and see what PC builders prefer. Unfortunately, coordinating RGB lighting across all those implementations is prohibitively difficult. Older Aura products won't support synchronization as a result.
Starting with the refreshed X99 series introduced in May, all our new Aura-equipped motherboards support Aura Sync. So do all new graphics cards with Aura lighting starting from the Strix GeForce GTX 1080 onward. Synchronization already works with the GeForce cards in that group, and it's coming to the Radeons in a future software update.
The following products are compatible with Aura Sync:
Motherboards
Graphics cards
ROG Rampage V Edition 10
ROG Strix X99 Gaming
X99-Deluxe II
X99-A II
X99-E
Z170 Pro Gaming/Aura
ROG Strix GeForce GTX 1080
ROG Strix GeForce GTX 1070
ROG Strix GeForce GTX 1060
ROG Strix Radeon RX 480
ROG Strix Radeon RX 470
ROG Strix Radeon RX 460
We're refreshing our product pages and specifications to clearly identify support for Aura Sync. We'll update the table above as new hardare comes out, and you can check the ASUS Aura microsite for more details.
Simple software management
Whether you're synchronizing effects across multiple parts or tweaking a single component, the final ingredient is the software that puts customizable lighting at your fingertips. Intuitive Aura utilities manage the lighting for motherboards and graphics cards. For peripherals, RGB controls are built right into the Armory software that handles button mapping, macro programming, and other functions. Changing colors and effects takes no more than a few clicks.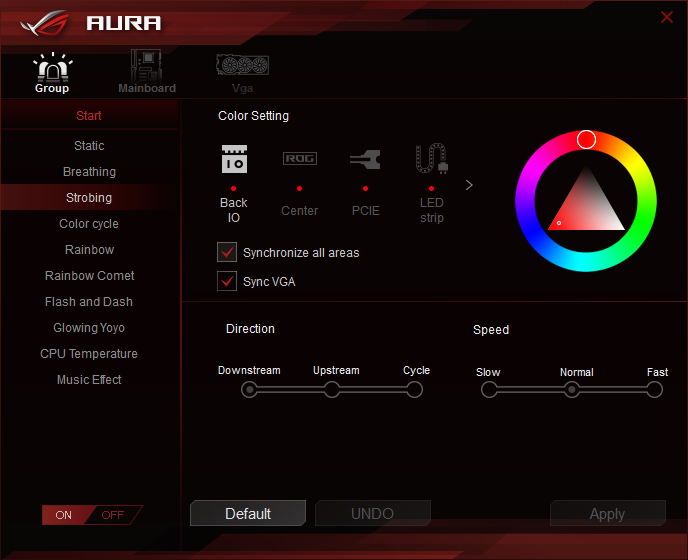 Synchronizing motherboard and graphics lighting is done with the motherboard utility. First, make sure you're running the latest firmware. Then, just click the "Sync VGA" checkbox and bask in the coordinated light show.