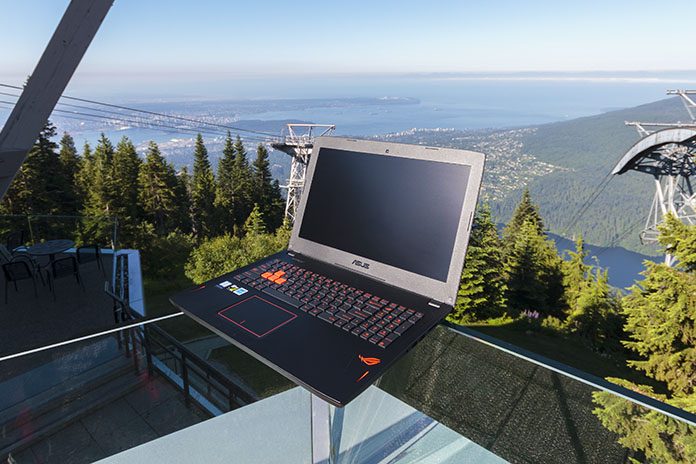 In the past, if you wanted a gaming laptop with serious horsepower, you had to lug around a bulky desktop replacement. But those days are over. ROG's Strix GL502 puts a quad-core Skylake processor and up to a GeForce GTX 980M graphics chip into a lightweight chassis you can take just about anywhere.
What does one do when asked to write about a portable powerhouse like this? Take it on the road, of course. Last week, the GL502 joined me on an epic field trip back and forth—and up and down—my stomping grounds in Vancouver, British Columbia. We worked, we played, and we ascended. Literally.
The day began at the bottom of the Grouse Grind, an infamous local hiking trail that scales 2800 feet in less than two miles. The steep, punishing climb encourages you to pack light, making it a perfect environment to test the GL502's portability. Much to my surprise, the laptop easily slid into the oversized hydration pack I normally take on excursions like this. At just 0.92" thick with a 15.4" x 10.5" footprint, the Strix is small enough to fit inside most backpacks and bags.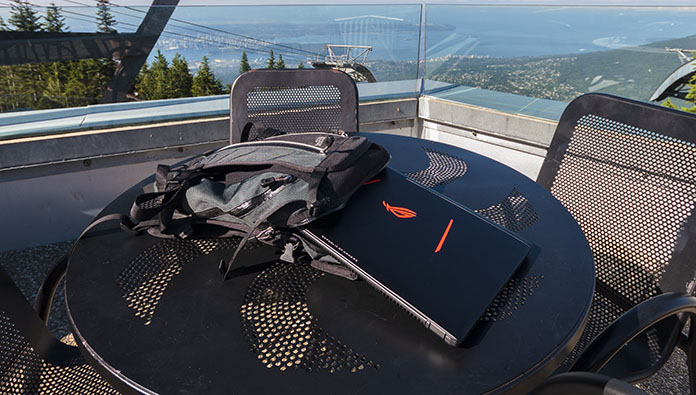 While the Grind left my lungs gasping and legs screaming, the GL502 hardly made the ascent more difficult. The laptop tips the scales at a mere 4.85 lbs, which practically feels like nothing hanging off my back. I wouldn't be surprised if I lost that much weight just sweating on the way up.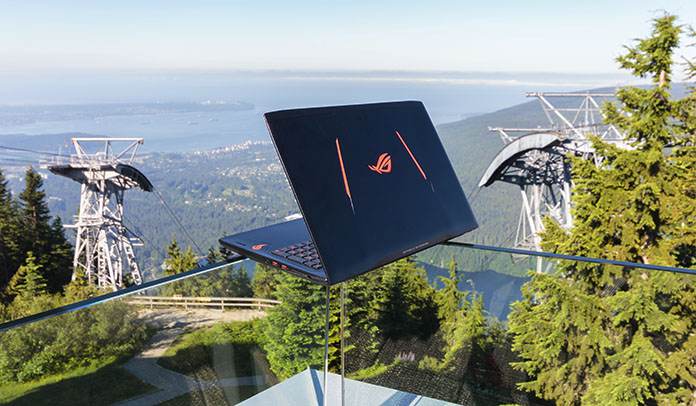 The view was worth it, and not just the backdrop. The GL502 is a looker, with brushed black surfaces punctuated by flashes of a color that falls somewhere between red and orange, depending on the light. Even the heatsink fins visible through vents in the back conform to the two-tone theme. That little touch is probably my favorite part, although the hairline metal lid comes a close second.

After snapping a few pictures in front of a small audience of panting, perplexed onlookers, I went through my usual morning email-and-browsing ritual with the GL502 tethered to the ZenFone 2. Although the system is designed for gaming, it's also a capable workhorse when you need to get things done.
The GL502VT-DS74 model that went on this little adventure has a Core i7-6700HQ processor that clocks quad cores and eight threads up to 3.5GHz to deliver desktop-like performance with everything from basic productivity to advanced content creation. 16GB of DDR4 memory provides ample capacity for large datasets and heavy multitasking, while a 128GB SSD accelerates load times and dramatically improves overall system responsiveness.
The solid-state drive goes up to 256GB in the top model, and it's backed by a 1TB hard drive across the lineup. The SSD has enough space for your favorite games, while the hard drive has enough capacity for the rest of your Steam library. Thanks to a 7,200-RPM spindle speed, the HDD is much faster than typical notebook drives.
Next stop: sea level, with a brief shower and conference call at home before crossing the city to the University of British Columbia. Portable gaming laptops like the Strix GL502 are ideal for students who want to mix work and entertainment on a machine they can carry around all day.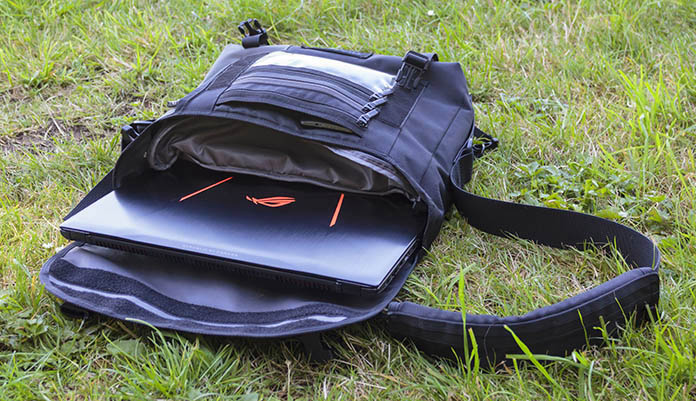 Since I traveled almost exclusively by bicycle while attending UBC years ago, that seemed like the most appropriate vehicle for the trip. It also gave me an excuse to stuff the GL502 into another small bag, this time a messenger-style affair designed for 13" notebooks. Despite having a much larger 15.6" screen, the GL502 squeezed into the main compartment with enough room left over for the power adapter, plus an ROG Spatha gaming mouse, Xbox 360 controller, and DSLR camera.
The ride from my home in North Vancouver to UBC goes through Stanley Park, a nice place for a little break. To be honest, I was looking for any excuse to rest my legs. So I stopped at Third Beach, found a cool spot in the shade, and played a quick round of Rocket League to catch my breath. Because why not?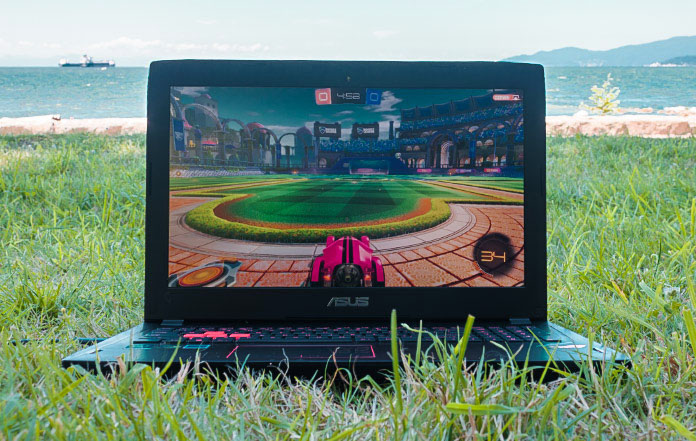 Although the GL502 scales back performance when running on battery power, it still has enough oomph for a good gaming experience on the go. The discrete NVIDIA GPU also boasts a useful BatteryBoost feature that caps the frame rate to extend run times. You can set the limit between 30 and 60 FPS to prioritize power savings or performance, which is a nice trick for longer trips away from a wall socket.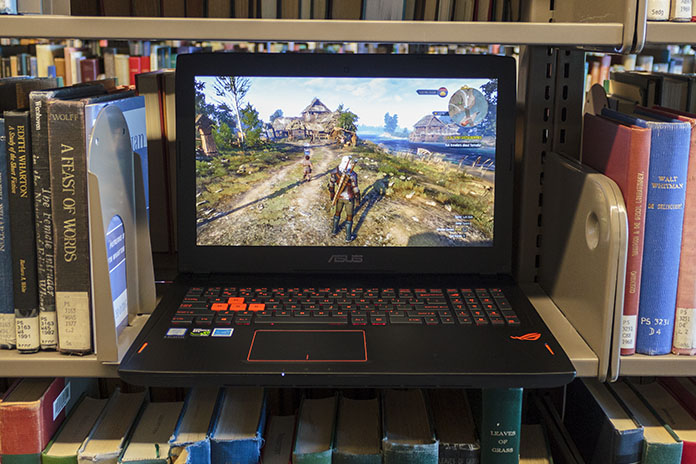 When I finally arrived on campus, I headed straight for my old study spot at the library and sat down for some more serious gaming. This particular GL502 comes with a GeForce GTX 970M graphics chip paired with 6GB of DDR5 memory, while the top configuration upgrades to a more powerful GTX 980M with 8GB of VRAM. Both solutions offer excellent performance at the system's native 1080p resolution, and you don't have to take my word for it. I made some pretty graphs using individual frame times logged by Fraps and converted to FPS for easy digestion.
Click on the buttons below the graph to switch between the different games. Most of them were run with the eye candy turned all the way up, though I scaled back to high details in Project Cars and The Witcher 3. Those games are considerably more demanding than the others—and they look better, too.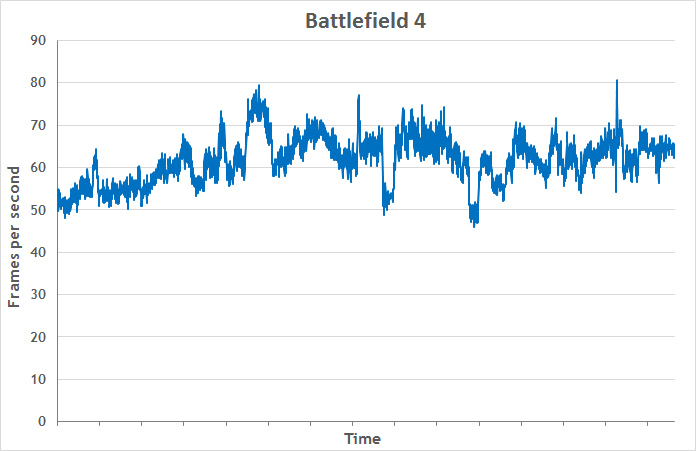 br>
Performance is great across the board, and that's just with the 970M. Expect even higher frame rates from its big brother. You can also tweak the in-game details to boost performance with this config; dropping The Witcher 3 to medium details ups the effective frame rate to around 60 FPS.
Note that the vertical axis is doubled for Rocket League, which is much less demanding than the other games. Plenty of popular titles have similarly lax system requirements, including Counter-Strike: Global Offensive and League of Legends. Those are great candidates for BatteryBoost.
Performance varies considerably from game to game and frame to frame. That's normal behavior, but it's not ideal for displays that run at a fixed refresh rate. GL502VY variants come with NVIDIA G-Sync technology, which varies the refresh rate to compensate for changes in the GPU's frame rate. This tight synchronization makes gameplay feel much smoother even at lower frame rates. It also reduces input lag and eliminates tearing, heightening the sense of immersion.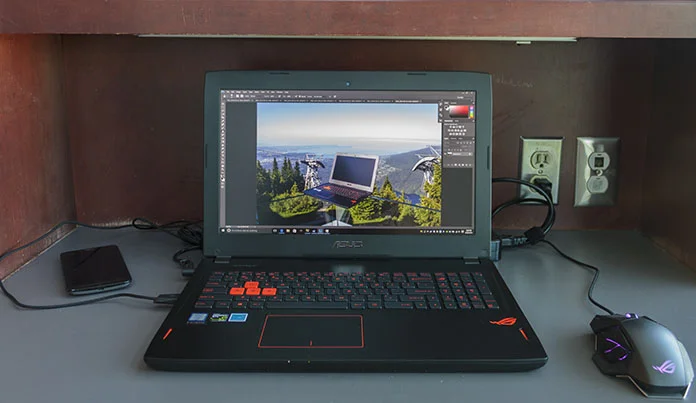 My time in the stacks wasn't entirely devoted to gaming. There was also some photo editing to confirm that I had enough good shots for this article. The Strix's integrated SD slot makes it easy to grab images from most cameras, and the potent hardware effortlessly slices through Photoshop work. The screen also looks great, with bright colors and sharp details. I particularly appreciate the matte finish, which prevents reflections from competing for attention with what's actually being displayed.

With three USB 3.0 ports onboard, the GL502 can power a mouse, gamepad, and external storage simultaneously. And that's without tapping the USB 3.1 port, which pushes transfer rates up to 10Gbps over a reversible Type-C connector that can't be plugged in the wrong way.
Video outputs include DisplayPort and HDMI, so you can easily connect monitors, TVs, and modern projectors. The Gigabit Ethernet port lets you jack into LAN parties with the lowest possible latency, while the integrated 802.11ac Wi-Fi can hop on the fastest wireless networks. Bluetooth 4.0 is supported, of course, and you get the usual 1.2MP webcam and 3.5-mm headset jack.
After snapping a few more shots in the library, I headed home to debrief and tear down. The GL502's back panel is held on with standard Philips screws, allowing easy access to the guts of the system.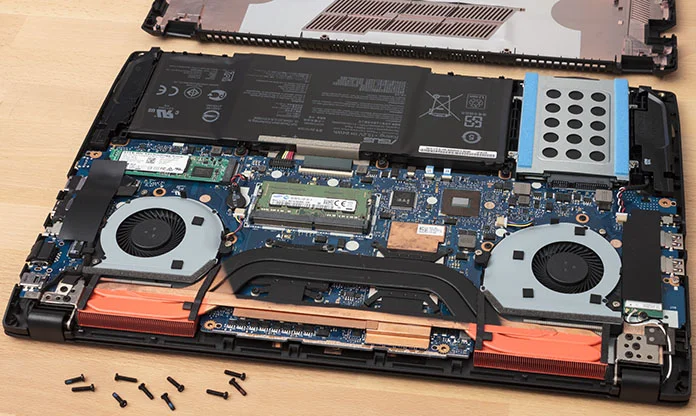 Removing the panel exposes pretty much everything, including the memory and storage. The GL502VT splits its DRAM between 8GB soldered to the motherboard and another 8GB in an SO-DIMM slot, while the GL502VY opts for dual SO-DIMM slots instead. Both split storage between an M.2 SSD and 2.5" hard drive. If I picked up one of these for myself, it would be tempted to swap the HDD for another SSD to create an all-solid-state config.
By this point, I was beat, but the GL502 was ready for more. It can surf the web for about six hours on a single charge, which is impressive for a gaming laptop of this caliber—and enough to get through a full day with periodic access to an electrical socket. Since the Strix was plugged during most of my afternoon stint at the library, there was nearly a full charge when I sat down to hammer out some notes in the evening.
The keyboard feels good regardless of whether you're typing or gaming. It has a full numpad, making numerical entry fast and efficient. And the scissor switches offer solid feedback, with a good overall feel aided by a generous 1.6 mm of travel.
Red backlighting illuminates the keyboard during late-night sessions, complete with extra highlighting for the vital WASD keys. There's also a special Eye Care mode for the display that dials back blue light emissions that can harm your eyes and disrupt natural sleep cycles. Reducing blue light output taints the color temperature too much to be appealing for everyday gaming, but it's perfect for taking the edge off in the evening.
And that's my cue to turn in and bring this field test to an end. If you're looking for a powerful gaming laptop that can do anything and go anywhere, the ROG Strix GL502 delivers. It's fast enough to play the hottest games and light enough to travel across town… or up a mountain. The GL502VT-DS74 model in this article sells for $1599, which includes a year of accidental damage protection for spills, drops, and other misadventures. Discerning gamers should opt for the GL502VY-DS71, which upgrades to G-Sync and faster GTX 980M graphics for only $1699, or the GL502VY-DS74, which further sweetens the pot with a 256GB M.2 SSD and 8GB of graphics memory for $1899.