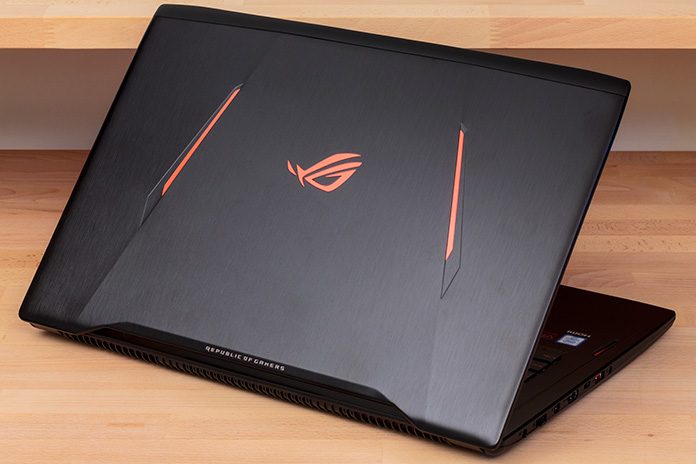 A wave of gamer-focused notebooks with next-generation Pascal graphics is upon us. NVIDIA's latest architecture brings desktop-class GPUs to portable form factors, enabling a new class of hardcore gaming and VR-ready machines that can go anywhere and do anything.
We debuted the GeForce 10 Series in our ROG G752VS OC Edition desktop replacement, a factory-overclocked beast with a massive 17.3" screen and GTX 1070 graphics. It's powerful enough to replace a high-end gaming desktop, but it's also a handful at 9.5 lbs and 1.9" thick.
Which brings us to the ROG Strix GL702VM. Despite having the same display size as its big brother, the Stix is much more portable at only 6 lbs and 1" thick. You still get a quad-core CPU and all the essentials, plus Pascal-based GeForce GTX 1060 graphics. And you get it for a lot less, with a starting price of just $1399. Naturally, we had to pull one of these off the shelf to see what it can do.
The right setup for gaming
Thanks to relatively narrow bezels, the screen feels bigger than its 17.3" diagonal. The large panel is perfect for entertainment, whether you're gaming on Steam or binging on Netflix. Ignore the slightly wonky colors in the picture above—it's hard to accurately capture on-screen graphics with a camera. The picture quality is great, with strong colors and surprisingly good viewing angles for a TN panel.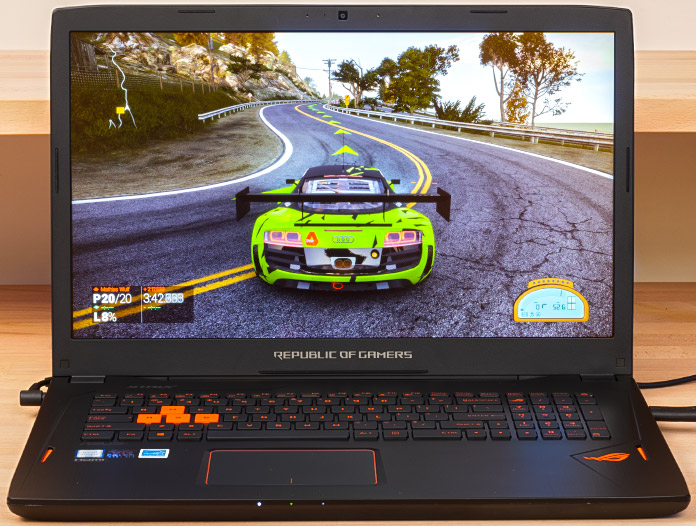 The fast pixel response times of TN technology are ideal for gaming, as are the display's other key attributes. Instead of being capped at the typical 60Hz, the refresh rate scales up to 75Hz, a 25% increase that makes gameplay feel noticeably smoother and more responsive. Then there's the inclusion of G-Sync technology, which synchronizes the refresh rate of the display with the frame rate of the GPU. This integration reduces stuttering and input lag, making games feel more fluid and engaging. It also eliminates visual tearing that can distract from your sense of immersion.
While not as exciting as 4K, the 1080p resolution is optimal for this class of notebook. The pixel density (or PPI) is higher than most of our desktop monitors, so details are crisp at normal viewing distances. Crucially for gaming, the resolution doesn't overwhelm the GeForce GTX 1060 GPU. The GL702VM maintains high frame rates even with the details turned up, as we will now illustrate with pretty graphs.
The following graphs show performance over 60-second snippets of various games. We collected individual frame times with Fraps and the converted the data to FPS for easy interpretation. All the games were run with maximum details with the exception of The Witcher 3, which we dialed back to "high" details. Click the buttons below the graph to switch between games.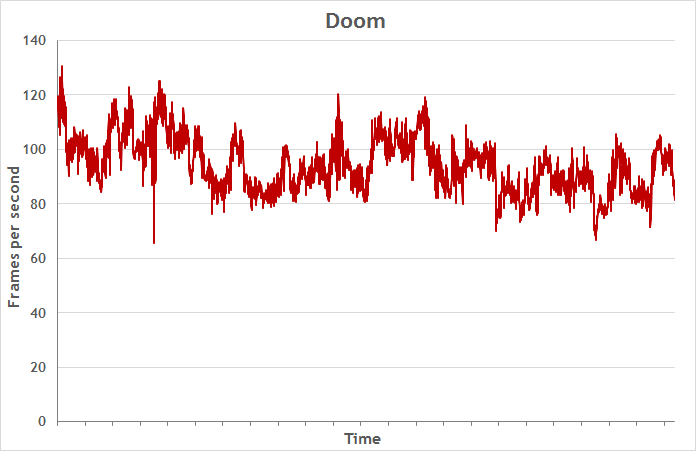 br>

Frame rates hit triple digits in Doom and Overwatch, and they hover around 50-75 FPS in most of the other games. When performance dips below the display's maximum refresh rate, G-Sync is there to smooth out the wrinkles. The gaming experience is simply phenomenal—not just for such a thin-and-light laptop, but period.
Much of the credit for the GL702VM's gaming prowess goes to the discrete GPU. The GeForce GTX 1060 may be the smallest member of the Pascal family, but don't take it lightly. The mobile chip is based on the same silicon as its desktop counterpart, just with slightly slower clocks, and it's paired with a whopping 6GB of dedicated GDDR5 memory running at full speed.
The GeForce 10 Series' advanced 16-nm fabrication process and power-saving features are ideally suited to notebooks. The new generation also packs more horsepower than its Maxwell predecessor via additional cores, higher clocks, and clever optimizations. Some of the most interesting additions let developers dramatically improve VR performance by exploiting the characteristics of modern headsets. For example, Pascal is capable of compensating for the distortion introduced by VR lenses and culling parts of the scene that aren't visible through their circular view of the world. To further reduce overhead, it can use a single rendering pass to create the two views of a scene required by dual-display goggles like the HTC Vive and Oculus Rift. Pascal also supports finer-grained preemption that lets the GPU quickly timewarp or reposition old frames if new ones can't be generated fast enough for the 90Hz refresh rate of those headsets.
Ready for virtual reality
We saw in our VR graphics performance comparison that the desktop GeForce GTX 1060 is the best baseline for a good experience. To find out how the ROG Strix GL702VM holds up, I spent a few hours flailing around in a room-scale Vive setup… and then a few more to, uh, confirm my findings.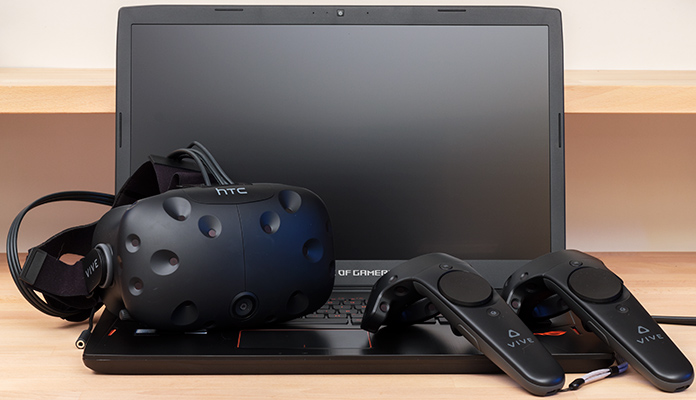 Performance varies depending on the game, which is typical for VR, but it's good overall. Audio Shield and Space Pirate Trainer run particularly well, without too many instances where repositioning is needed to keep up with the headset. Raw Data is more demanding, forcing almost continuous use of the technique.
The Vive's frame-fudging algorithm works pretty well in most games, though you can see some visual evidence if you look for it—and move fast enough. Still, it's amazing how quickly the imperfections melt away when you're surrounded by a horde of advancing robots in the creepy confines of Raw Data. Gaming in VR is so intense and engrossing that it's easy to look past the repositioning artifacts, relatively low resolution of current headsets, and lower graphical details of typical VR titles.
Peeking under the hood
Effective cooling is key to maintaining performance when you're lost in VR or traditional games for hours on end, so all our new GL-series notebooks have dual blowers, heatsinks, and pipes for the CPU and GPU. The GL702VM adds a third blower to bolster GPU cooling, giving the GTX 1060 room to reach well into Boost territory.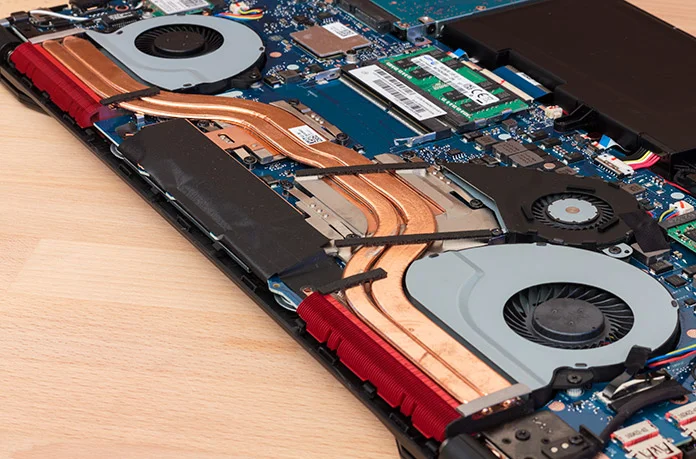 Intel provides the Core i7-6700HQ CPU, a quad-core Skylake chip that scales up to 3.5GHz with its own boost mechanism, dubbed Turbo. The blistering top speed for single-threaded tasks blitzes typical desktop work, while Hyper-Threading's ability to spread heavy lifting between eight virtual cores lets the CPU power through multitasking, content creation, and other strenuous workloads. This thing is fast enough to handle anything you throw at it—and stream the action to a live audience. No wonder XSplit GameCaster comes pre-installed.
The guts of the system are readily accessible with a standard Philips screwdriver and plastic prying tool. Memory is split between dual DDR4 slots; one is populated with 16GB of RAM, leaving the second available for an easy upgrade to 32GB.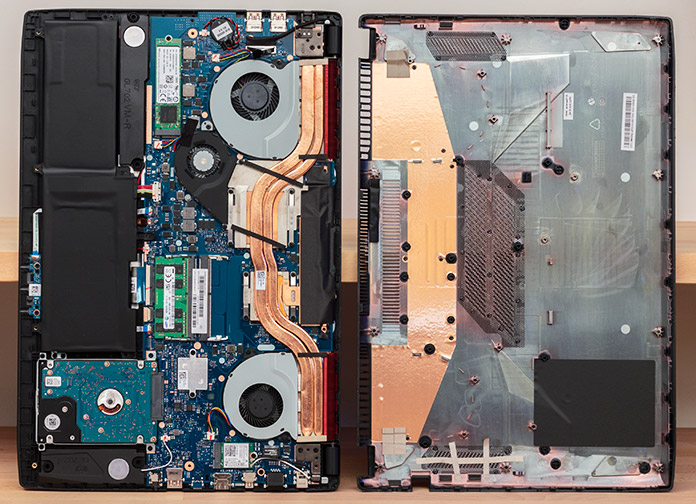 For storage, you get a M.2 slot for mini SSDs and a 2.5" bay with a 1TB 7,200-RPM hard drive. The M.2 slot is loaded with a 256GB SATA SSD in the GL702VM-DB74 config we tested, but it's compatible with NVMe drives if you crave something faster. SATA SSDs are more than quick enough for most applications, with game load times matching even cutting-edge NVMe alternatives.
The complete package
The GL702VM is well-equipped both inside and out. Its adjustable keyboard backlighting comes in handy when you want to play "just one more" level or slog through a last-minute term paper after the rest of the world has gone to sleep. Whether you're mashing keys in battle or typing sentences furiously in a word processor, n-key rollover ensures that every keystroke counts.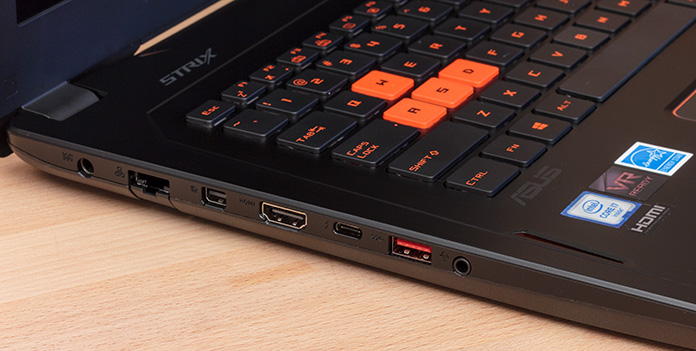 The edges of the chassis are riddled with connectivity, including a reversible Type-C port that supports both USB 3.1 and Thunderbolt 3. With quadruple the bandwidth of the latest USB standard, Thunderbolt 3 enables exotic devices like our upcoming ROG XG Station 2, which lets you connect a full-sized desktop graphics card and upgrade it as new GPUs come out.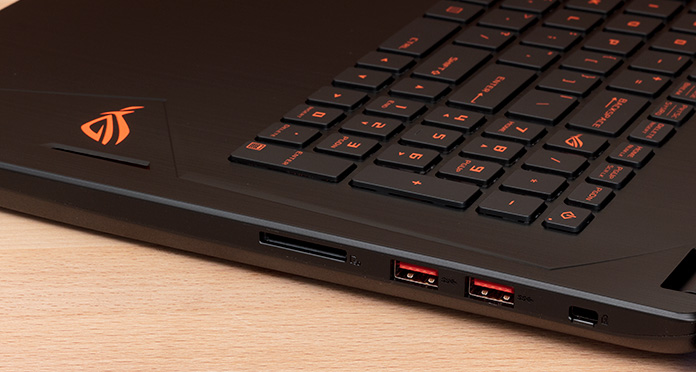 Mini DisplayPort and HDMI outputs are available to connect desktop monitors, big-screen TVs, and VR headsets. Gigabit Ethernet provides a flawless connection for serious multiplayer gaming, while dual-band 802.11ac Wi-Fi lets you hop on the fastest wireless networks. And the full-sized SD slot is perfect for DSLR owners. Other amenities include Bluetooth, three USB 3.0 ports, and the requisite headset jack.
Pricing and availability
The ROG Strix GL702VM is available in two configurations in the U.S. The GL702VM-DB74 comes with a 256GB SSD and 1TB hard drive for $1599, while the GL702VM-DB71 drops the SSD and sticks to mechanical storage for $1399. The GL702VM-DB74 is also available in Canada for $1999. SSDs dramatically reduce load times and improve overall system responsiveness, so I definitely recommend splurging on one, whether it's with the stock unit in the DB74 or an upgrade for the DB71. You can find the GL702VM at the following retailers:
Dollar for dollar and pound for pound, you'd hard-pressed to find a better all-around gaming laptop than the GL702VM. ROG's latest hits all the right notes for PC gamers on the move, and it's versatile enough to do serious work between bouts of play. That combination is perfect for students with extra-curricular gaming habits and for power users who want the latest GeForce graphics to go.