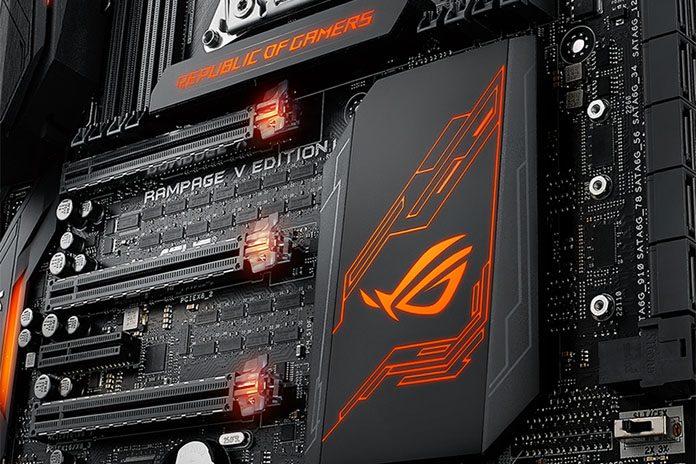 The Republic of Gamers celebrates its 10th anniversary this year. Ever since developing the original Crosshair motherboard, the ROG division has served as a proving ground for new ideas and technologies before they trickle down to more mainstream ASUS products—and are inevitably copied by the rest of the industry. In a sense, ROG provides a glimpse into the future of what gaming PC hardware will be.
If the new Rampage V Edition 10 is any indication, the future is very bright indeed. Introduced today at Computex in Taipei, Taiwan, this celebration of a decade of ROG motherboards embodies our enthusiast spirit and gaming pedigree with extensive customization options and premium features. It's designed for true aficionados and represents the pinnacle of what an X99 motherboard can be.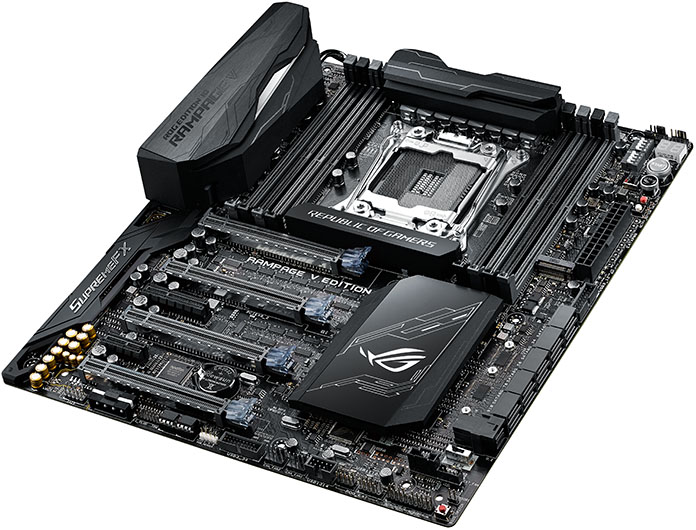 With chiseled lines and a black-and-gray colorway, the Rampage V Edition 10 wouldn't look out of place in one of Christopher Nolan's Dark Knight movies. But the aesthetics aren't static; they can be modified to suit different roles. Many of the board's accent pieces can be replaced with 3D-printed alternatives that you design, enabling a whole new level of personalization for modders, makers, and anyone else who wants their PC to stand out from the masses. 3D source files can be downloaded from the ROG website.
The malleable armor is complemented by customizable Aura RGB lighting. This is our most ambitious effort to date, with five separate zones split between the expansion slots, chipset heatsink, I/O shroud, ROG badge, and integrated backplate. The backplate illuminates the entire right edge of the board, which is perfect for the linear patterns in some of the available effects. You also get a four-pin header for standard "5050" RGB LED strips. The Rampage can power up to two meters of additional lighting at optimal brightness, which is easily enough to illuminate an entire case.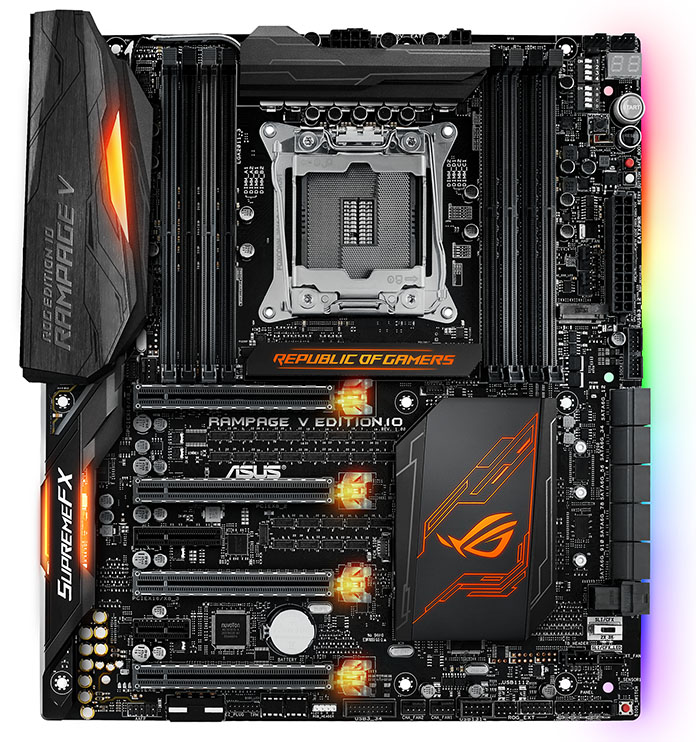 With a rainbow of colors on tap, Aura lighting makes it easy to match colors with other system components or define your own palette for an original look. It can be applied tastefully, to subtly enhance the look of your build, or brashly, to induce seizures in your opponents at the next LAN party. Aura lighting can also change colors based on the CPU temperature, a functional twist perfect for overclockers.
Each lighting zone can be configured independently or synchronized harmoniously. Future software updates will also extend synchronization to other Aura-compatible components, like our new Strix GeForce GTX 1080 graphics card, for truly cohesive system lighting.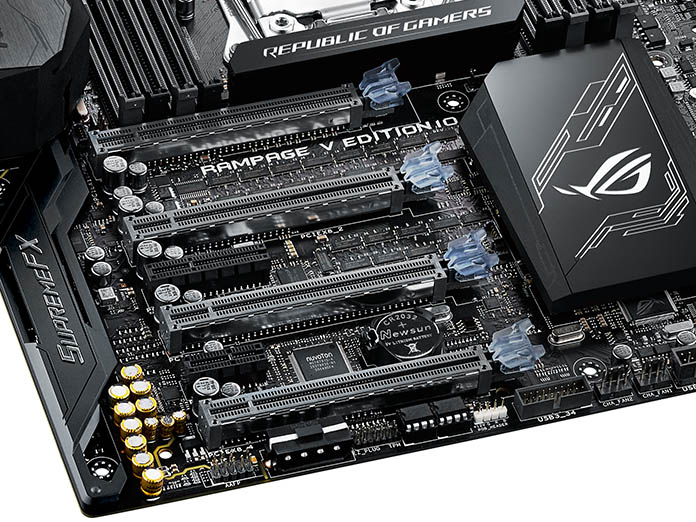 High-end graphics cards like the Strix have heavy coolers that put additional stress on PCI Express slots. If systems are jostled during shipping or while traveling to the next LAN, the weight can fracture the walls of the slot or pull it right off the board. To prevent this kind of damage, the Rampage V Edition 10 uses a SafeSlot design that integrates metal reinforcements into the walls of the slot and a matching hook anchored to the board. The slot is also secured with additional solder, further strengthening its connection to the motherboard.
Our internal testing shows that SafeSlot is stronger in every direction than the bolstered slots of our competitors. All four of the Rampage's x16 slots are fully fortified, and extra solder is also used for the rest of the PCIe and memory slots. While these other slots don't necessarily experience high shearing loads due to heavy heatsinks, the solder reinforcement protects against damage that can occur if components are installed and removed clumsily—or repeatedly over the lifetime of the board.
With four evenly spaced x16 slots ready for high-end graphics cards and eight DIMM slots with support for up to 128GB of memory, the Rampage V Edition 10 is equipped to power truly extreme machines. Its LGA 2011-v3 socket is compatible with not only the current generation of Haswell-E processors, but also the next wave of Core i7 chips. The Edition 10's OC Socket design uses extra pins in the CPU to improve power delivery, while its T-Topology trace layout optimizes signal timing for the eight-DIMM configurations popular on high-end builds.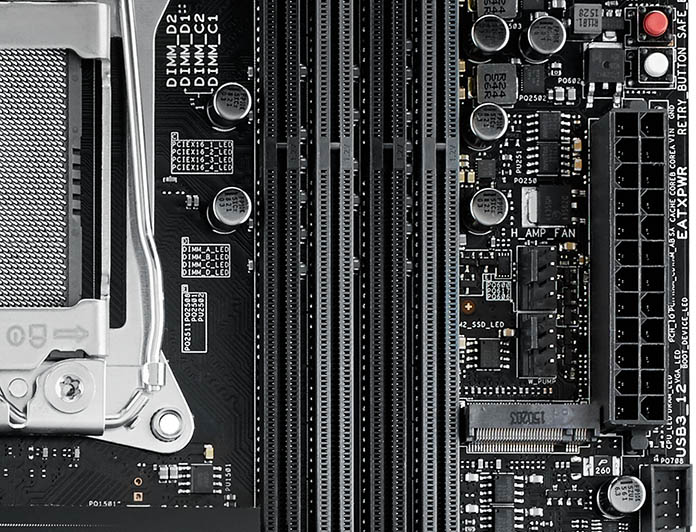 LGA 2011-v3 processors require serious cooling, and the Rampage is ready. It has a dedicated header for water pumps, so you can plug in liquid coolers without additional configuration. There's also a dedicated header the industrial-grade, high-amperage fans favored by some hardcore overclockers. For more conventional cooling, all of the onboard fan headers auto-detect the presence of three-pin DC or four-pin PWM fans and adjust accordingly.
Our critically acclaimed cooling controls are available in both the UEFI and Fan Xpert 4 software. For this generation, we've added the ability to control how quickly fans respond to temperature changes, so transient loads don't produce jarring acoustic transitions. We've also retained all your favorites, like integration calibration, graphical profiles, and the ability to tie fans to different onboard temperature sensors and wired probes.
Manual tweaking and overclocking can be intimidating for beginners—and tedious for veterans—so we've automated the process with 5-Way Optimization software. With a single click, our algorithms will not only tune all of the fans connected to the motherboard, but also overclock the CPU. The auto-overclocker uses an iterative approach that slowly increases the clock speed and tests stability at each step, so it does a much better job of finding the maximum speed possible with your individual chip and cooler.
Even hardcore overclockers can use 5-Way Optimization to find a starting point for more extreme tweaking. The Rampage V Edition 10 is loaded with advanced tuning options, including ones specifically designed for sub-zero cooling. Whether you're overclocking a personal rig with a closed-loop liquid cooler or trying to set benchmark records with an LN2 pot, the board has you covered.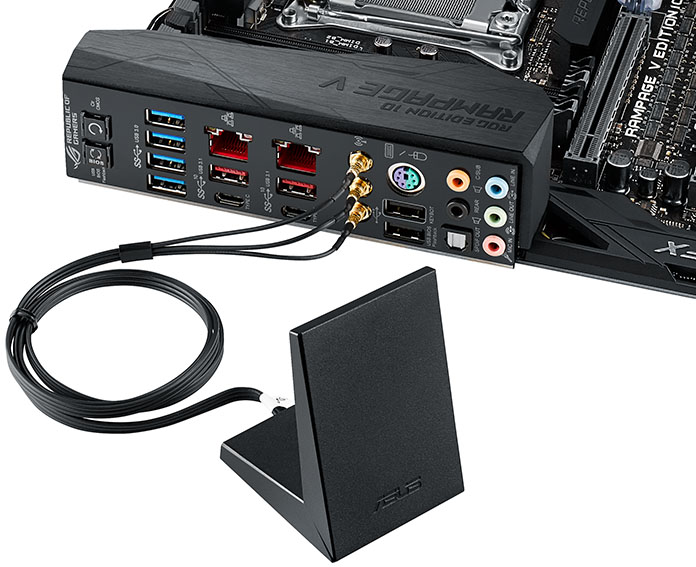 The I/O cluster is loaded with all kinds of connectivity, including four 10Gbps USB 3.1 ports, two of which follow the reversible Type-C format. You also get dual Intel Gigabit Ethernet jacks, plus dual-band 802.11ac Wi-Fi with a 3×3 antenna and built-in Bluetooth. While the sheer selection and volume of ports is impressive, the most unique element is the surrounding shield, which is part of the motherboard instead a separate piece. This integration looks fantastic, and it simplifies setup—you'll never forget to install the shield before putting the motherboard in a case!

In addition to excellent onboard audio accessible via the rear I/O panel, the Rampage comes with a separate SupremeFX Hi-Fi DAC that fits in a 5.25" bay. Putting audio circuitry in a completely separate module isolates it from board-level interference and provides more room for additional components, which lets us take sound quality to the next level. The Hi-Fi module is loaded with appropriately high-fidelity components, including an ESS Sabre DAC, multiple op-amps, and a dedicated headphone amp that lets you power high-end cans up to 600Ω. As an added bonus, it puts a slick volume dial within reach alongside a selection of headset jacks.
The Rampage V Edition 10 takes full advantage of the X99 platform's opulent array of Serial ATA, but if you want peak performance, PCIe SSDs are where it's at. The board supports both flavors, with a U.2 port on the edge and a 110-mm M.2 slot tucked behind the SATA stack. We carefully positioned the M.2 slot away from hot spots around the graphics card and processor to help keep thermal throttling at bay. If you want the best performance for sustained storage loads, U.2 drives incorporate heatsinks that ensure more consistent performance. For the best of both worlds, the Rampage can run M.2 and U.2 drives simultaneously, each with a full 32Gbps of bandwidth via four PCIe 3.0 lanes connected directly to the CPU.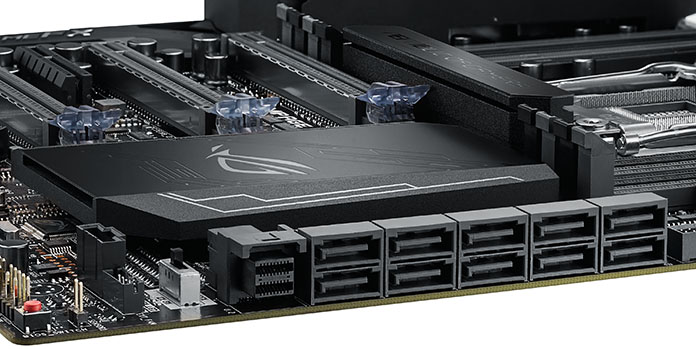 ROG motherboards come with exclusive software specifically designed to enhance your gaming experience. Our GameFirst IV utility intelligently optimizes networking traffic to minimize lag for multiplayer gaming, a useful feature if you're playing and streaming on the same machine. Sonic Radar II maps the origin and direction of in-game sounds on a visual overlay to give you a clearer picture of the battlefield—and a cheeky competitive edge. And Keybot II brings customizable macros and shortcuts for standard keyboards, compete with Turbo App integration that loads profiles automatically based on what you're doing. Keybot even goes beyond the best gaming keyboards by offering hotkeys for motherboard functions like clearing the CMOS, booting into the UEFI, turning the system on, and activating XMP profiles and auto-overclocking, all of which work when the system is powered off.
With a $599 asking price, the Rampage V Edition 10 is reserved for elite rigs. But that's appropriate, because the LGA 2011-v3 platform is all about pushing the limits of what can be squeezed into a desktop PC. The Edition 10 is the culmination of a decade of ROG motherboards, and it more than lives up to its heritage.