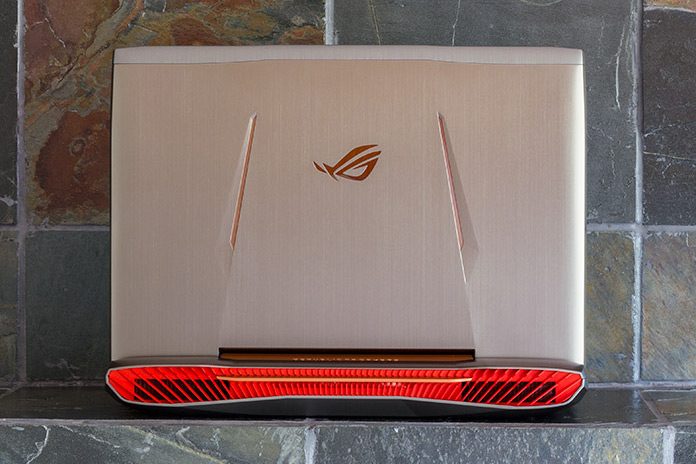 For years, gaming laptops have been an exercise in compromise. They've done a great job of bringing PC gaming to easily portable chassis, but they've relied on scaled-back graphics chips that can't keep up with their full-fat siblings. As a result, even beefy desktop replacement notebooks have failed to truly live up to the experience they claim to recreate.
But the times, they are a changin'. NVIDIA's new Pascal GPUs have migrated to mobile fully intact, bringing desktop-class performance to gamers on the go. The sweet spot in the lineup is the GeForce GTX 1070, which we've injected into our new ROG G752VS OC Edition gaming laptop.
With factory-overclocked components and premium features like G-Sync technology, wide viewing angles, NVMe storage, and Windows 10 Pro, the G752VS OC Edition is equal parts hardcore gaming machine, portable VR rig, and powerful workhorse. I've spent the last week with one and, let me tell you, it'll redefine what you expect from desktops, let alone something that fits neatly into a backpack.
Maximum eye candy at over 60 FPS
The GeForce GTX 1070 GPU deserves much of the credit for allowing the G752VS OC Edition to redefine expectations. It's built with an advanced 16-nm fabrication process that squeezes 7.2 billion "3D" FinFET transistors onto a single piece of silicon. That sounds like a lot, and it's even more than you think. Intel's quad-core Skylake processors pack just 1.75 billion transistors.
The new fabrication process and updated power management make the GTX 1070 incredibly efficient, allowing it to live inside a laptop without sacrificing performance. Even the memory interface is untouched, with a full 256-bit pipe to 8GB of GDDR5 RAM. We didn't stick to stock clocks, either. The GPU base and boost frequencies are factory overclocked to 50MHz above stock, while the memory gets an extra 150MHz.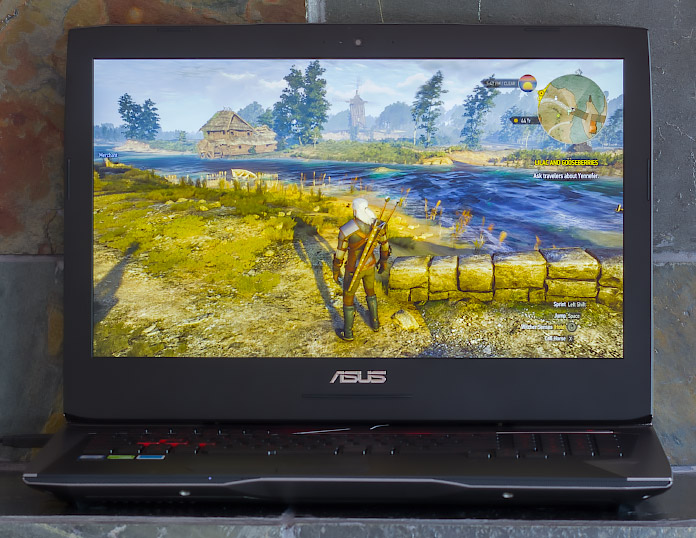 While the graphics chip is vitally important to the gaming experience, it's only one part of the equation. All the action goes down on a 17.3" display with a 1920×1080 resolution. We paired the GTX 1070 with a 1080p screen to deliver the best performance and visual fidelity. PC gaming is all about getting better graphics at higher frame rates, and this combination lets you maximize the details while maintaining smooth gameplay.
Most notebook displays refresh at a fixed 60Hz, but the G752VS goes all the way to 75Hz. More importantly, it uses NVIDIA's G-Sync technology to vary the refresh rate based on performance. Synchronizing the refresh rate of the display with the frame rate of the GPU reduces perceptible stuttering and input lag, making animation and movement feel much more fluid and engaging. G-Sync also eliminates tearing, an ugly visual anomaly that disrupts immersion.
To evaluate the G752VS OC Edition's gaming chops in the real world, I tested a stack of titles with the details turned all the way up. In most cases, this involved going beyond the maximum preset to ensure that every single checkbox was enabled and slider dragged to the limit. I used Fraps to log individual frame times during 60-second snippets of gameplay and then converted the data to FPS for easy interpretation. Click the buttons below the graph to switch between plots for different games.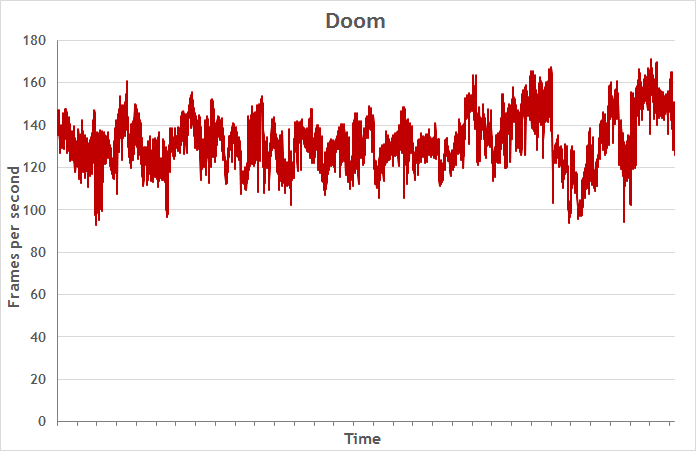 br>
I'm not sure what's more impressive, that the G752VS runs Doom at ~120 FPS or Crysis 3 at ~60 FPS. But both games look and feel fantastic, as does everything else I've tried. Performance is simply phenomenal across the board, especially with G-Sync stepping in to smooth out dips below the display's maximum refresh rate.
In some cases, the raw performance is even higher than the graphs indicate. The frame rate hovers around 75 FPS with G-Sync enabled in a lot of the games, matching the screen's 75Hz refresh rate. Battlefield 4 and Overwatch were tested with G-Sync disabled, showing what's possible with the GTX 1070 fully unleashed. The Doom results have V-Sync disabled, which appears to unlock the frame rate in that game.
Virtual Reality you can take anywhere
In addition to running traditional games with ease, the G752VS OC Edition is ready for VR. In fact, Pascal includes numerous enhancements directly applicable to virtual reality.
NVIDIA has integrated dedicated hardware for a new feature called Simultaneous Multi-Projection, which allows the GPU to render multiple views of a scene without having to redo the geometry. The two views required by headsets like the Oculus Rift and HTC Vive can be rendered in a single pass, improving performance, and multiple views can be arranged for each eye to compensate for the optical distortion produced by headset lenses. It's also possible to lower the sampling rate around the periphery to increase performance without noticeably reducing image quality.
Pascal's fine-grained preemption pays dividends for VR, where maintaining a constant 90 FPS to match 90Hz headsets is crucial to the experience. If the GPU can't render a new frame fast enough to keep up, a technique called asynchronous time warp (or reprojection on the Vive) uses the contents of an old frame to approximate a new one. The GTX 1070 reduces the latency associated with this approach by interrupting workloads at the instruction level, allowing the GPU to quickly save its work and reallocate resources to repurposing the old frame.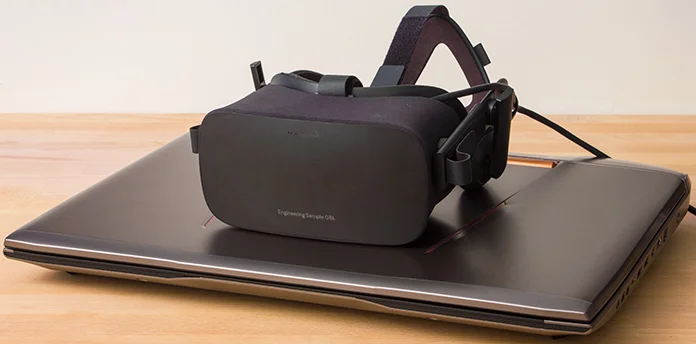 We're still working on how to best depict VR performance using the data and tools available, but I can share some impressions from several hours in VR with the Oculus performance HUD enabled. My time was split between Lucky's Tale, Elite Dangerous, and Project Cars, all of which run great. Lucky's Tale barely scratches the surface of what the G752VS can do; it runs at a constant 90 FPS with the details turned up, often while using only ~50% of the GPU's resources.
Elite Dangerous' three-dimensional combat is perfect for VR, and again, the OC Edition nails it. With the game's "VR High" graphics preset, the Oculus HUD shows a steady 90 FPS with GPU resources in reserve. Everything is buttery smooth, which is important for avoiding motion sickness when you're pulling extreme maneuvers in the midst of a frantic dogfight.
My other VR favorite is Project Cars, an admitted performance hog that leans heavily on time warping to keep up with the Rift's 90Hz refresh rate. But the technique is executed so well that it appears to be seamless. The game feels great despite the frame rate varying a fair bit based on the weather, particle effects, and number of other cars in view. It's easily one of the most intense VR experiences around.
Overclocked at the factory and beyond
The ROG G752VS OC Edition has a 6th Generation Intel Core i7-6820HK processor with quad Skylake cores and eight threads via Hyper-Threading. The default Extreme profile overclocks the CPU to 3.8GHz, putting enough power at your fingertips to make short work of video editing, 3D rendering, and other demanding workloads. Up to 64GB of DDR4 memory rides shotgun, and as you might expect, it also lives up to the OC moniker. The DDR4-2400 modules run 266MHz faster than standard sticks.

Hot-clocked components require serious cooling, and the G752VS obliges with an exclusive 3D Vapor Chamber that efficiently wicks heat away from the silicon. The CPU and GPU have independent coolers, including dedicated blowers that pump hot air out the back. Special channels catch dust to prevent it from accumulating on the heatsink and hampering thermal dissipation. This important enhancement preserves cooling performance over the long haul and can ultimately lengthen the life of the silicon.

The dust channels are protected by rubber plugs that should be removed when the system is in use. Covering the channels prevents particles from sneaking into the blowers when there's no airflow.
We go to such lengths with cooling to ensure the factory overclocked components can maintain top speed, but you don't have to stop there. ROG's Gaming Center software lets you crank the unlocked CPU multipliers to 40X, add 100MHz to the GPU clock, and bump up the graphics memory by 300MHz. There's no guarantee of success beyond the factory speeds, of course, but the sample I pulled from our inventory runs benchmarks and games for hours on end with the maximum OC.



Impressively, the CPU holds 4GHz even with all its cores fully loaded. That's a huge improvement over the stock all-core speed of 3.2GHz, resulting in 18-23% performance gains for video encoding, image processing, and 3D rendering.
Even without manual tweaking, the G752VS OC Edition is potent enough to serve as a portable workstation for content creators, developers, and other professionals. It comes with Windows 10 Pro, whose enterprise-friendly features include domain support, enhanced encryption, improved virtualization, and remote desktop hosting. If you need to justify the G752VS to management, also be sure to mention the GTX 1070's ability to dynamically balance graphics and compute workloads. Pascal can do much more than gaming and VR.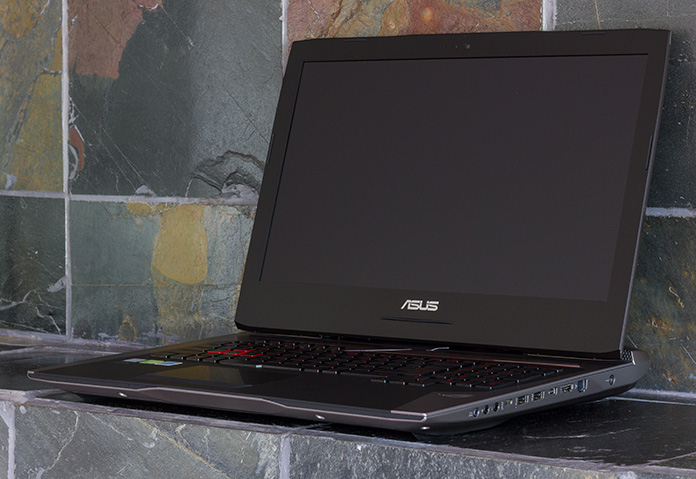 All the right other stuff
Building a good gaming laptop requires more than just cutting-edge chips. You have to pay attention to all the other little details that elevate the experience. The display, for example, is based on an AHVA panel with richer colors and wider viewing angles than lesser TN technology. You can share the screen for a Street Fighter showdown, Rocket League match, or Netflix binge without the picture washing out for people on the periphery. As an added bonus, the matte screen coating keeps unwanted reflections from obscuring your view of the action.
Storage is split between dual M.2 slots and a single 2.5" SATA bay. The M.2s have four lanes of PCI Express 3.0 each, so there's no shortage of bandwidth, and they support the new NVMe protocol, which has lower overhead than its AHCI predecessor. That translates to higher throughout and lower latency, all in an SSD about the size of a stick of gum.
The OC Edition comes with NVMe SSDs up to 512GB alongside a 1TB, 7,200-RPM hard drive. This combo provides the best of both worlds: an ultra-fast system drive for the OS, applications, and games, plus copious secondary storage for downloads, media, and Steam overflow. Both drives are accessible through a removable panel in the bottom of the chassis.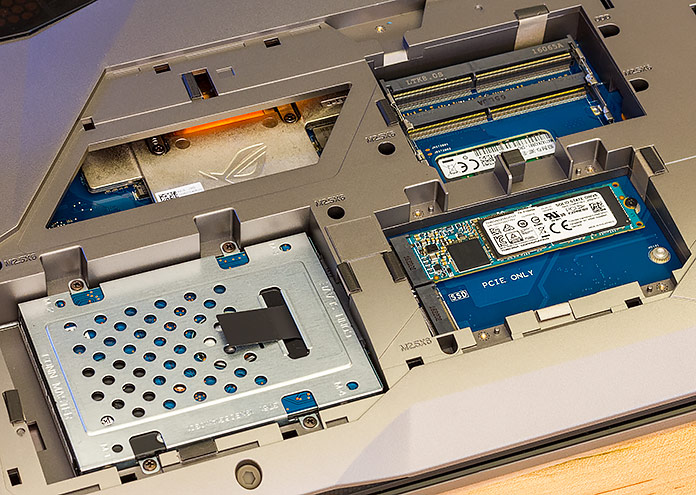 This particular model is the G752VS-XB72K, which pairs 32GB of memory with a 256GB SSD. There's still one M.2 slot available for another SSD, and the 2 x 16GB memory config leaves two SO-DIMM slots empty for upgrades. (The populated memory slots are tucked under the keyboard.)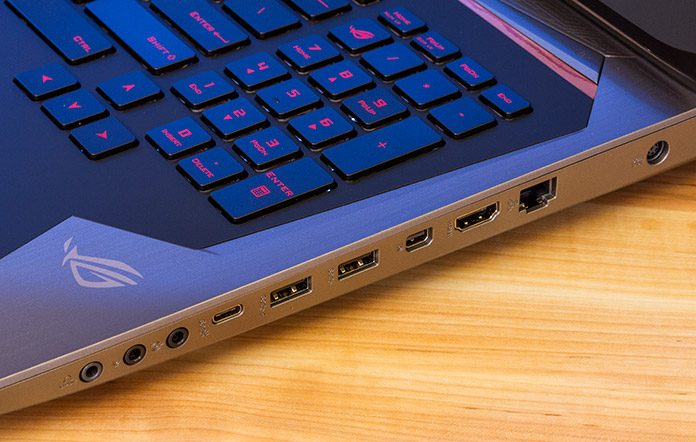 Next-gen connectivity is available both inside and out. The G752VS OC Edition has a reversible Type-C port that connects to USB 3.1 or Thunderbolt 3 devices, plus enough Type-A USB for a VR headset, controller, and mouse. You can power a G-Sync monitor over Mini DisplayPort or a big-screen TV at 4K60 over HDMI 2.0. All the networking bases are covered by a Gigabit Ethernet adapter and 802.11ac Wi-Fi with a 2×2 antenna.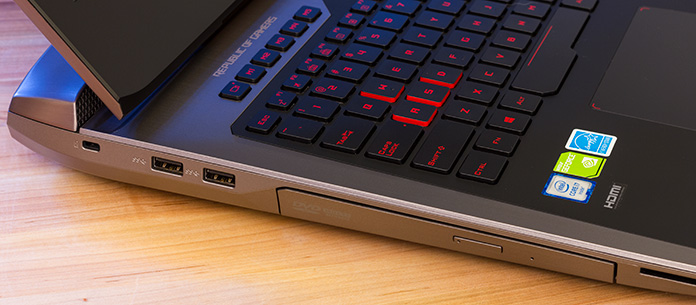 Because sometimes you just need an optical drive, there's a DVD writer onboard. Personally, I find the full-sized SD slot more useful. It has a speedy USB 3.0 connection that's great for quickly grabbing images from my DSLR camera.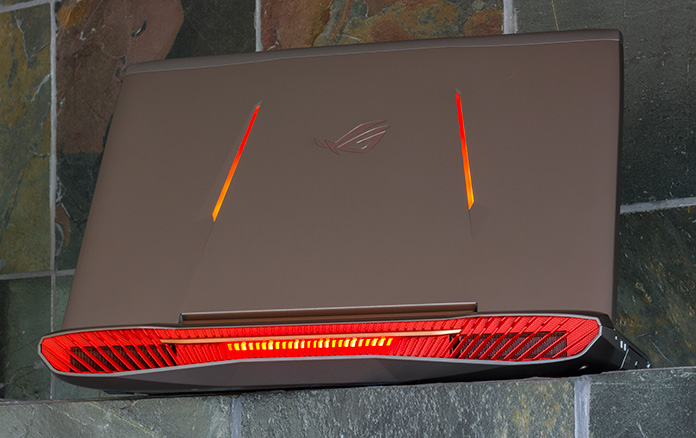 Although the chassis' brushed and soft-touch surfaces look professional, the brilliant red grill at the back reveals the true nature of the beast. Embedded LEDs add a fiery glow to the lid and exhaust that nicely stands out in dimly lit LAN parties.
The chassis lighting can be disabled with a click, so it's easy to switch to stealth mode. The same goes for the adjustable backlight on the keyboard.
The keyboard has something for everyone, with a highlighted WASD triangle for gamers, a full numpad for data entry, and a separate directional pad for easy navigation. Five programmable macro keys offer instant shortcuts for complex combos, while a dedicated streaming button hooks into the lifetime XSplit Gamecaster license bundled with the machine. Gamers will also appreciate the anti-ghosting tech, which can track up to 30 simultaneous keypresses—enough for even the most frantic button mashing.
More importantly, the keyboard feels good whether you're tying or gaming. Its hybrid switches mate a scissor mechanism and rubber dome to deliver reliable feedback with ample travel. Below, a ginormous touchpad provides plenty of tracking area for those moments when you don't have the time or space to connect a mouse.
Pricing and availability
In North America, the G752VS OC Edition gaming laptop is available starting today in two configurations. The G752VS-XB72K establishes a solid baseline with 32GB of RAM and a 256GB SSD for $2499 ($3299 in Canada). That's all you need for uncompromised gaming and serious work, but if you have deeper pockets, the G752VS-XB78K upgrades to 64GB of RAM and a 512GB SSD for $2999 ($3999 in Canada). The extra memory is especially useful for heavy multitasking, and the additional solid-state storage provides ultra-fast access to even more of your data. You can find the OC Edition at the following retailers:
Either way, gamers and power users get true desktop-class performance to go. The glorious future of Pascal gaming notebooks is here, now, and the G752VS OC Edition isn't the only way to get in on the action. Check out this Edge Up guide to all our new ROG gaming laptops with GeForce 10 Series graphics.